Experience Israel's Culture and Lifestyle with a Working Holiday Visa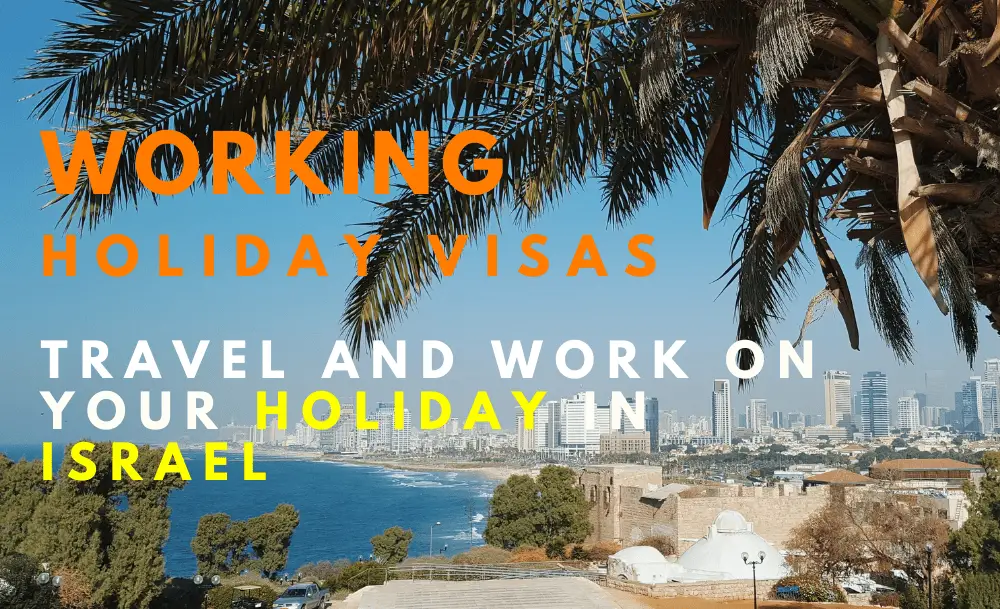 Israel is known for its lively youth culture, offering young visitors a variety of activities such as outdoor adventures, iconic historical sites, and bustling city life.
Do you want to go on an adventure in Israel? Look no further than the Working Holiday visa, a perfect opportunity for young travellers seeking an exciting and fulfilling experience.
The visa is like a golden ticket for young adventurers seeking to explore Israel, work with a wide range of industries, and soak up all the wonderful culture, traditions, and history the country has to offer for a whole year.
A working holiday visa is a special type of visa that allows young people to travel to Israel for up to one year and work to support themselves during their stay. The visas are available to citizens of certain countries that have an agreement with Israel.
Who is Eligible for a Working Holiday Visa to Israel?
To be eligible for a working holiday visa in Israel, the rules can vary depending on where you're from. 
Israel has reached a Working Holiday agreement with the following countries:
You need to be between 18-30 years old, have a valid passport, enough money to support yourself during your stay, and medical insurance that covers your entire time in Israel.
Only those who have never applied before are eligible for this program.
The duration of employment with each employer is restricted to six or three months. Everyone can study for up to four months in Israel.
Interested applicants can apply for the Working Holiday visa to Israel anytime, but it's best to do it one to two months before your trip. 
Israel's visa quota arrangements for participating countries are:
Australia: 500 entry visas
Austria: 200 entry visas
Czech Republic: 200 entry visas
Germany: 500 entry visas
New Zealand: 200 entry visas
South Korea: 200 entry visas
Documents are Required for a Working Holiday Visa
Ready to apply for a Working Holiday visa to Israel? 
Applicants for the Working Holiday visa to Israel are generally required to submit a range of documents, which typically include the following.
Valid passport
Completed visa application form
Medical certificate
Proof of medical insurance that covers the entire stay in Israel
Proof of sufficient funds to support themselves during their stay in Israel
Police clearance certificate
Flight itinerary or proof of onward travel
It is important to note that the specific requirements may vary depending on the applicant's country of citizenship. Therefore, it is recommended to check with the Israeli embassy or consulate in your home country for detailed information on eligibility criteria and application procedures.
You can submit your application at the nearest Israeli embassy or consulate.
It should be noted that the initial entry to Israel must occur within 3 months from the date that the visa is granted.
Job Opportunities
There are paid employment opportunities within the tourist industry, particularly in resorts. Work may be found teaching English in Tel Aviv, Jerusalem, and Nazareth.
One of the most effective ways for foreigners to find employment in Israel is to begin their job search online before their arrival in the country. This strategy enables job seekers to schedule interviews once they arrive in Israel.
You can also search online for job opportunities on online websites like LinkedIn.
If your country does not have a Working Holiday Visa agreement with Israel, don't worry as there are also other countries that offer Working Holiday Visas such as the UK and France. See a full list of countries who has working holiday visa agreements.
Are you ready to visit Israel? Talk to us in the comment section below. Or if you need more advice on the above, contact us for further travel & immigration advice.
Check out the deals we have found below and tell us your travel plans.
Check out the offers and discounts from:
And because of the pandemic, don't forget to get your travel insurance, which will cover you for flight disruptions and pandemic related matters.
IaM can help with your visa application to Europe, the United States, the UK & other countries
If you need help with a US visa, a UK Visa, or a visa to Europe, including help with appointment booking obligations, IaM can help. For more information and advice on US immigration, UK immigration law and US visa applications or if you need any help or assistance please, reach out to your Visa Coordinator at IaM.
Some of our posts include affiliate links. If you choose to purchase any of these products, we might get a small commission. For more information, check out our TOS.