British Passport Fees To Increase From February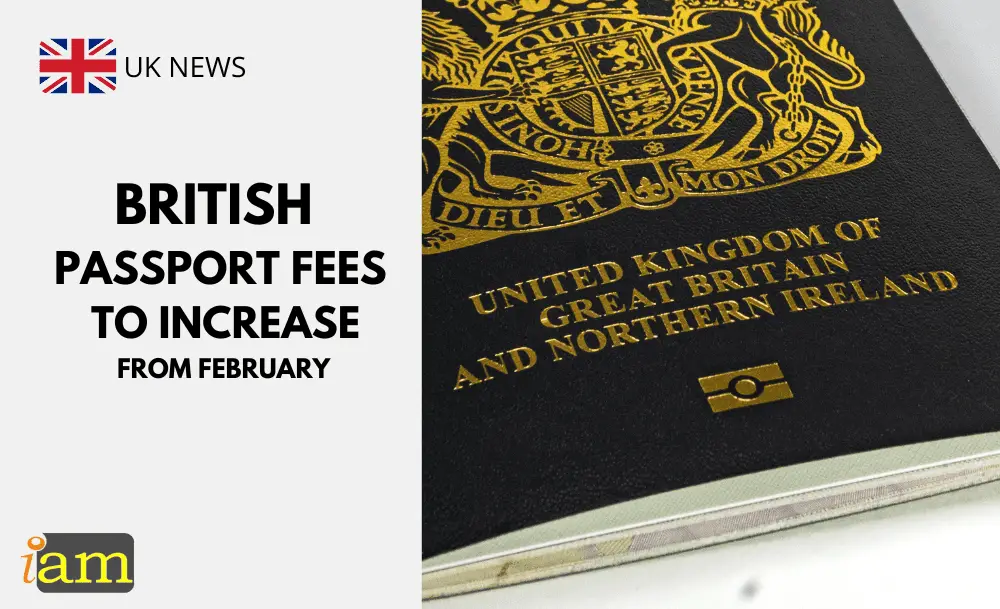 The cost of a new British passport and renewal is set to increase from 02 February. This will be the first time in five years the fee has increased.
The proposals are subject to Parliamentary scrutiny but the price of passport applications for adults and children are expected to rise.
"The new fees will help the Home Office move towards a system that meets its costs through those who use it, reducing reliance on funding from general taxation."

The UK Government's web page
It said it does not make any profit from the cost of passport applications and that fees would also contribute to consular support overseas. This is often used to help people who have lost or had their passports stolen while on a holiday.
It added that the new cost would help the Government to improve its services for users and cover the fees of processing British citizens at UK borders.
How Much Is The New Fee
The cost of a standard online application for an adult made within the UK will jump from £75.50 to £82.50. 
Meanwhile, the fee for a child's passport under the same conditions will rise to £53.50 from £49.
The change will also affect postal applications which will increase from £85 to £93 for adults and £58.50 to £64 for children.
It is the first time in five years that the cost of applying for a passport has increased, the Home Office said, adding that the proposals are subject to parliamentary scrutiny.
A UK passport usually expires after 10 years but in some cases, tourists may need to renew it earlier. Since the UK left the EU, British tourists are counted as non-EU citizens if they want to travel to the bloc. This means their passport must be valid for at least three months on the date they want to exit the EU. Some travel experts advise people to travel with at least six months left on their passport to be on the safe side.
If you need to renew your passport, British holidaymakers are advised to apply as early as possible as there can be a long wait.
Who Can Apply For A British Passport
A passport is a travel document that will allow you to enter and leave 187 countries free from immigration controls. British citizenship is a prerequisite to being granted a British passport.
There are different ways to become a British citizen. The most common is called 'naturalisation'.
Once you have attained British Citizenship, you are permitted to proceed with an application for a British passport.
If you are applying for your first British passport, you should expect to have to attend an interview and answer questions to verify your identity.
If you need assistance with your British Passport needs, you can reach out to IaM for assistance.
What are your thoughts on this issue? Talk to us in the comment section below. Or if you need more advice on the above, contact us for further travel & immigration advice.
Check out the deals we have found below and tell us your travel plans.
Check out the offers and discounts from:
And because of the pandemic, don't forget to get your travel insurance, which will cover you for flight disruptions and pandemic related matters.
IaM can help with your visa application to Europe, the United States, the UK & other countries
If you need help with a US visa, a UK Visa, or a visa to Europe, including help with appointment booking obligations, IaM can help. For more information and advice on US immigration, UK immigration law and US visa applications or if you need any help or assistance please, reach out to your Visa Coordinator at IaM.
Some of our posts include affiliate links. If you choose to purchase any of these products, we might get a small commission. For more information, check out our TOS.