US Reinstates COVID Testing For Travellers From China, Hong Kong, And Macau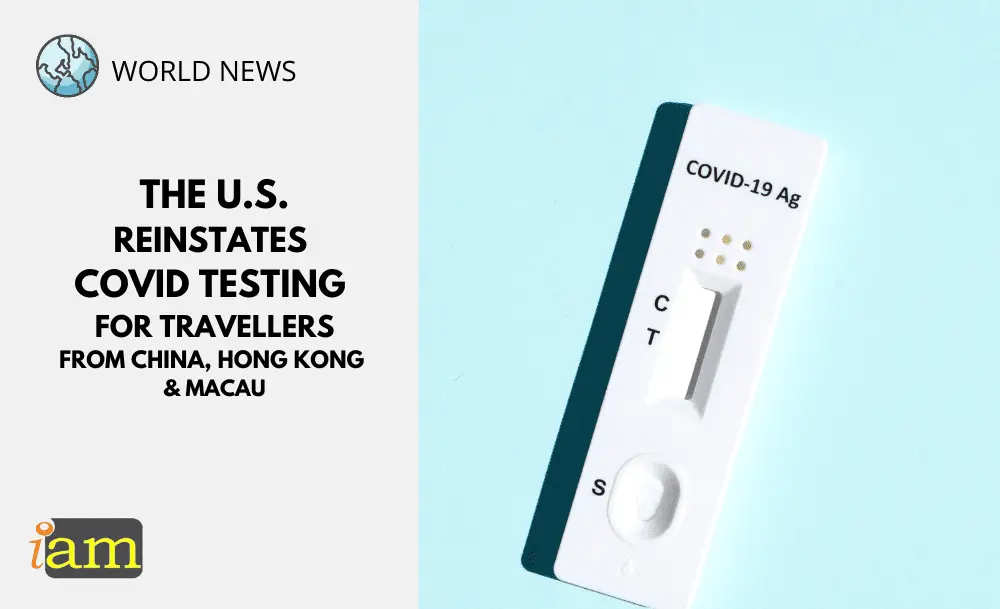 Due to a surge in the number of COVID cases in China, the US Centers for Disease Control (CDC) announced the reinstatement of COVID testing requirements for air passengers from the People's Republic of China and the Special Administrative Regions of Hong Kong and Macau.
From 05 January 2022, travellers will need to provide the airline with either a negative COVID-19 viral test taken within two days of boarding the flight or proof of recovery from the virus. Documentation of a negative COVID-19 test result may be in either paper or digital format. 
Passengers who tested positive for COVID-19 more than ten days before the flight may provide documentation proving recovery from the virus in lieu of a negative COVID-19 viral test.
Additionally, the COVID vaccination requirements remain in place for non-US nationals and non-US Immigrants travelling to the United States.
China has been lifting its strictest rules such as mass testing, lockdowns, and mandatory quarantines in the past month and announced previously that it would be removing the requirement for overseas travellers to quarantine upon arrival. 
Affected Travellers
The COVID test results or COVID recovery documentation is required for the following passengers to the US.
Passengers aged two and older who are boarding flights to the United States from China, Macau or Hong Kong.
Passengers aged two and older who are boarding flights to the United States from South Korea's Incheon International Airport, Canada's Toronto Pearson International Airport, and Vancouver International Airport who have been in China, Macau or Hong Kong within the ten-day period preceding the flight.
Travellers from China, Macau or Hong Kong arriving in the United States from a third country 
Travellers from China, Macau or Hong Kong who are only in the United States on a layover or connection when travelling onward to another destination.
The requirement applies to the above travellers irrespective of their nationality or COVID vaccinations.
At this time there is no quarantine requirement upon arrival to the United States however, all travellers are encouraged to wear a mask during travel and self-monitor for COVID symptoms. Taking a COVID test during the three-day period upon arriving in the US is also recommended.
What are your thoughts on this issue? Talk to us in the comment section below. Or if you need more advice on the above, contact us for further travel & immigration advice.
Check out the deals we have found below and tell us your travel plans.
Check out the offers and discounts from:
And because of the pandemic, don't forget to get your travel insurance, which will cover you for flight disruptions and pandemic related matters.
IaM can help with your visa application to Europe, the United States, the UK & other countries
If you need help with a US visa, a UK Visa, or a visa to Europe, including help with appointment booking obligations, IaM can help. For more information and advice on US immigration, UK immigration law and US visa applications or if you need any help or assistance please, reach out to your Visa Coordinator at IaM.
Some of our posts include affiliate links. If you choose to purchase any of these products, we might get a small commission. For more information, check out our TOS.