British Passports Lost Or Stolen Overseas: How To Travel Back To The UK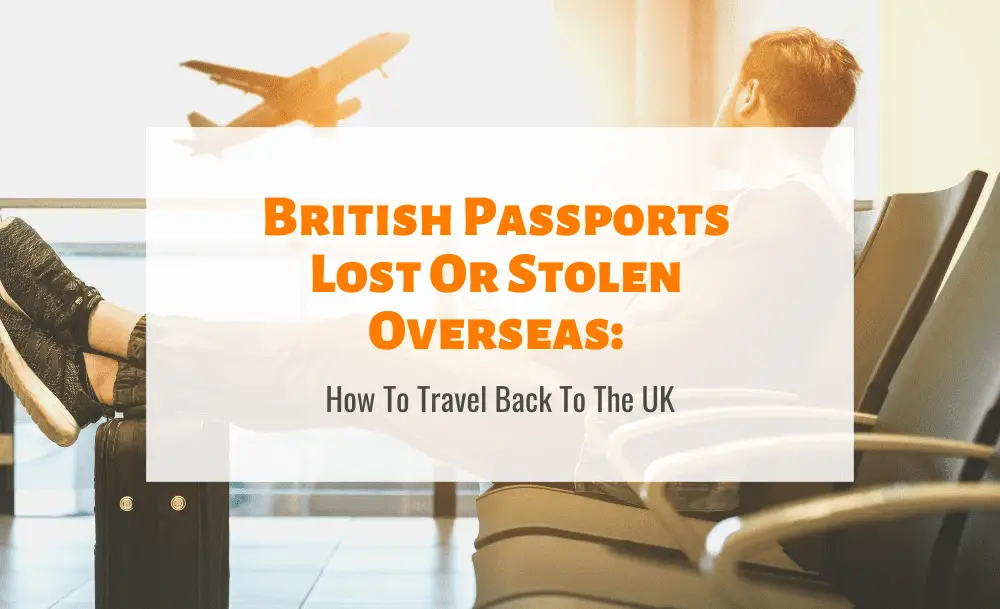 One of the worst things that can dampen your holiday getaway is to lose or have your passport stolen while overseas. Losing your passport abroad is an inconvenience nobody wants but it's a reality travellers have to face. 
The fear of being stranded overseas is daunting. Although it sounds like a nightmare, authorities know that these things happen and knowing what to do makes things a little bit easier.
The British government has guidelines in place so there is no need to panic and worry about what to do. And, the process can be done online so wherever you are on the planet, you can resolve this predicament.
What To Do With Lost/Stolen British Passport
If your passport is lost or stolen abroad, immediately report it to the nearest police station. You should be getting a written statement from the local police department about your stolen passport and you may need the police report later to get a new passport. 
You must also cancel a lost or stolen passport as soon as possible to reduce the risk of anyone else using your passport or your identity. Fortunately, this can be done online at GOV.UK. 
Once the passport has been cancelled, it can no longer be used even if your passport miraculously turns up. 
How To Get Home
If your British passport has been lost or stolen abroad and you are pressed for time, then the only option is to try to secure a one-way UK Emergency Passport or better known as an emergency travel document from the British embassy, and use that to get yourself home on a new flight. 
A UK Emergency Passport is issued to enable a British national stranded abroad without a passport to get home. It is basically a temporary substitute for a passport, but valid only for a specific journey. 
The emergency travel document will be issued if you need to travel and do not have time to renew or replace your passport abroad. If you are able to wait for over a month, you can apply for a new passport.
How To Apply for An Emergency Passport
To apply for a UK Emergency Passport, you can do so online as long as the following eligibility criteria apply:
You are a British citizen
You currently find yourself outside of the United Kingdom
Your current UK passport has either been stolen, misplaced, or damaged. If your passport has recently expired, is full (you don't have any empty stamp pages left), or is with a foreign embassy or HM Passport Office, you can apply for an emergency travel document as well.
You do not have enough time to apply for a new passport before your trip
You are able to provide proof of your travel plans in the form of airline tickets and accommodation confirmations. If not, you will need to provide a complete, written itinerary detailing your travel plans.
It would cost £100 to apply for an emergency travel document. 
It normally takes around 2 working days to be ready. However, during the current Covid-19 pandemic and due to high demand, this may take a little longer, so it is recommended to take action as soon as possible.
You can submit your application online at the official government website. You should prepare your photo, contact details and your travel plans.
How to Replace Your Lost/Stolen British Passport Overseas
If your British passport was lost or stolen while abroad but you are not in a hurry to travel, then you can apply online to replace your passport. Gone are the days when you needed to visit a local embassy and wait in a seemingly endless queue to submit your application.
The process has now been made very straightforward and has three stages:
Get a digital passport photo (which must meet the standards required)
Complete the online application form and pay the application fee
Confirm your identity and submit supporting documents
To confirm your identity online, you will be given instructions once you complete the application process.
To ensure your UK passport replacement application does not get delayed, follow the instructions given on the government's website thoroughly, and submit all the necessary documents. 
The standard processing time can take up to 3 to 7 weeks. The shipping may get delayed if you submit incorrect documents.
If you need assistance with your British Passport needs, you can reach out to IaM for assistance.
What are your thoughts on this issue? Talk to us in the comment section below.
Check out the deals we have found below and tell us your travel plans.
Check out the offers and discounts from:
And because of the pandemic, don't forget to get your travel insurance, which will cover you for flight disruptions and pandemic related matters.
IaM can help with your visa application to Europe, the United States, the UK & other countries
If you need help with a US visa, a UK Visa, or a visa to Europe, including help with appointment booking obligations, IaM can help. For more information and advice on US immigration, UK immigration law and US visa applications or if you need any help or assistance please, reach out to your Visa Coordinator at IaM.
Some of our posts include affiliate links. If you choose to purchase any of these products, we might get a small commission. For more information, check out our TOS.