What To Do When You Lost Your US Passport Abroad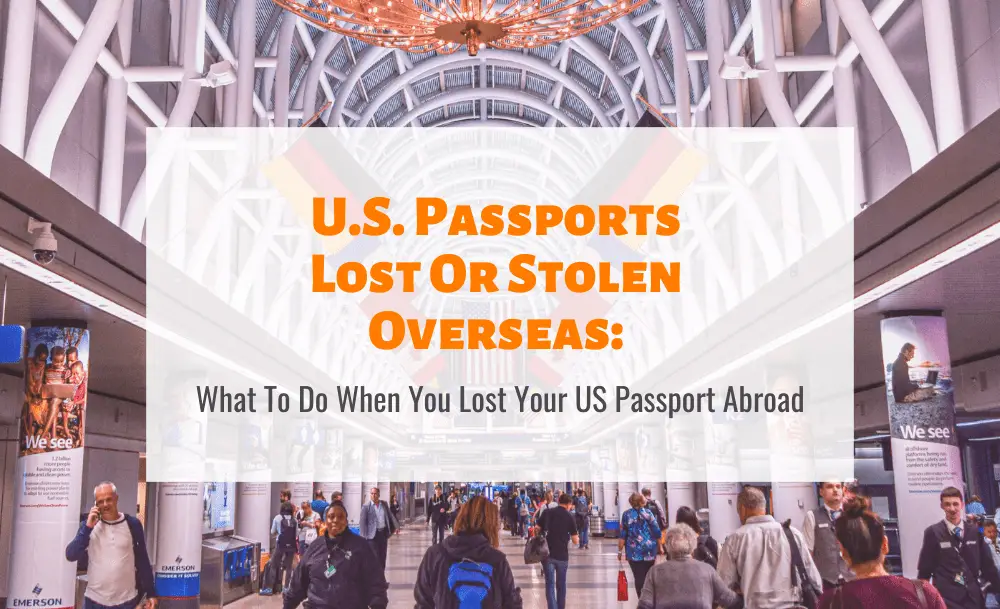 A passport is the most important document you carry while travelling abroad. Losing a passport in a foreign country is the ultimate nightmare for travellers and a tricky situation to navigate but it doesn't mean you will be stuck in that country forever.
The US Department of State's website states what American travellers should do if they find themselves without a passport while abroad.
Here are the 4  steps you should take if you lose your passport while travelling in another country. 
1. Contact the nearest US embassy or consulate.
You will need to report your lost or stolen passport to the consular section specifically. The contact information for US consulates and embassies around the world can be found on the department of state's country-specific information page of their website.
Make sure to inform the consular officer you're speaking with if you've been the victim of a crime. It's also important to let the officer know if you urgently need to leave the country so they know whether to get you a limited validity emergency passport or a full validity passport.
Reporting a lost or stolen passport to American authorities is the first and most important step in the process of replacing a passport. If the wrong person gets hold of your passport they can steal your identity or use it to commit a crime. If your passport was stolen, file a police report with local authorities.
When a lost or stolen passport has been reported, it will be completely invalidated so if you happen to find your passport later, you will not be able to use it and will still need to get a new one. 
2. Prepare Documents To Support Your Identity
Arriving at the embassy or consulate with the following documents will help speed up the process of getting a replacement passport.
1 Passport Photo 
Proof of Identification (e.g. driver's licence, expired passport etc.)
Evidence of US citizenship (e.g. birth certificate, photocopy of your missing passport)
Travel Itinerary 
Police Report 
DS-11 Application for Passport
DS-64 Statement Regarding a Lost or Stolen Passport
A police report is not mandatory but can help confirm the circumstances of the loss or theft of your passport.
3. Fill out an application for a new passport and a statement regarding your lost or stolen passport.
There are two forms that you'll need to fill out. One is a standard application for a US passport (DS-11) and one is a statement regarding a lost or stolen passport (DS-64), which will ensure your passport is invalidated, preventing anyone else from being able to use it.
4. Go to the nearest US embassy or consulate and pay the fee
To replace your passport, you need to appear in person at the nearest US embassy/consulate and bring your supporting documents and the 2 forms mentioned above. Replacement passports are normally valid for ten years for adults or five years for minors. Replacement passports usually take four to six weeks and the wait time is significantly reduced if you're renewing a passport abroad due to theft or you losing it.
However, if you have urgent travel plans, the embassy can issue a limited-validity, emergency passport that can be produced more quickly to allow you to return to the US or continue on your trip. Those issued with an emergency passport need to get a full-validity passport once they're back in the US. 
Unless you've been a victim of a disaster or serious crime, you'll be expected to pay the normal passport fee for your replacement passport. If you can't afford the fee, you'll have the opportunity to name someone who can pay the fee. Regular passport fees apply, and expedited service is available for an additional fee. All-in-all you can expect to pay somewhere around $130-140 for your replacement passport.
US consulates or embassies can't issue passports on weekends or holidays. The only exception to this is life or death emergencies, in which case travellers can contact an after-hours duty officer to issue a passport.
What are your thoughts on this issue? Talk to us in the comment section below.
Check out the deals we have found below and tell us your travel plans.
Check out the offers and discounts from:
And because of the pandemic, don't forget to get your travel insurance, which will cover you for flight disruptions and pandemic related matters.
IaM can help with your visa application to Europe, the United States, the UK & other countries
If you need help with a US visa, a UK Visa, or a visa to Europe, including help with appointment booking obligations, IaM can help. For more information and advice on US immigration, UK immigration law and US visa applications or if you need any help or assistance please, reach out to your Visa Coordinator at IaM.
Some of our posts include affiliate links. If you choose to purchase any of these products, we might get a small commission. For more information, check out our TOS.