EU Council Approves Visa-Free Entry For Kosovo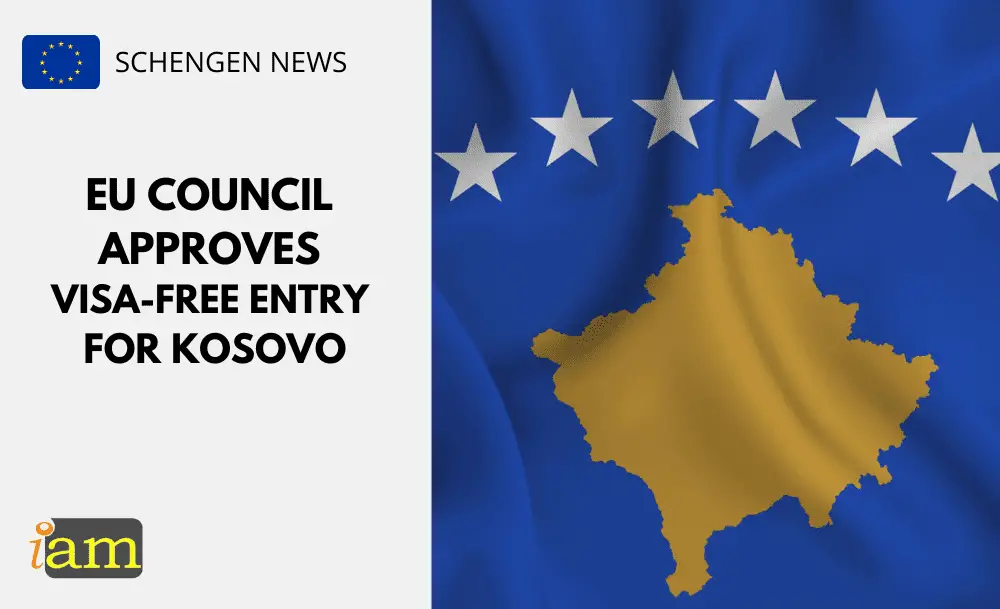 The Council of the European Union recently gave Kosovo the green light for visa-free travel.
The new changes will permit holders of Kosovo's passports to travel visa-free to EU countries for 90 days in a 180-day period. 
The decision was made after the EU assessed Kosovo's progress in meeting the necessary requirements for visa liberalisation.
"Kosovo has made great efforts to improve its security and migration management and to align its visa policy with that of the European Union. We hope our cooperation in these fields will continue to be fruitful,"

The Swedish Minister for Migration, Maria Malmer Stenergard
The new rules confirmed by the European Council need to be adopted by the European Parliament before they can be signed and published in the EU's journal.
The new visa rule is expected to enter into force in 2024.
This decision is a significant move toward integrating Kosovo into the EU.
The only Western Balkan nation without visa-free travel to the EU is Kosovo. As a result, it has grown increasingly challenging for Kosovars to visit, study, and work in other EU member states which have disadvantageously affected Kosovo.
Road To EU Visa Liberalisation
Since February 2012, Kosovo has been striving to provide its residents visa-free travel to EU members however, the process has not yet been completed despite the fact that the European Commission determined in 2018 that the Balkan state met all requirements for this procedure to be finalised.
Last year, several EU member states including France, Sweden, Belgium, the Netherlands, and Spain slowed down the push to end the EU visa requirement for Kosovo citizens as they are reportedly demanding additional security guarantees.
France said that Kosovo's visa liberalisation process should be linked with the launch of the European Travel Information and Authorisation System (ETIAS) and the proposal was also supported by the Czech Presidency of the European Union.
However, the launch date of ETIAS was once again postponed to 2024 and the exact date is not yet available.
In the recent statement from the EU Council,
"this exemption from the visa requirement will apply as of the date when the European Travel Information and Authorisation System (ETIAS) comes into operation or from 1 January 2024, whichever comes first."
At the moment, citizens of Kosovo need a Schengen Visa to travel to any of the Schengen member states.
To know how to apply for a Schengen Visa from the UK, check our blog post. To know how much a Schenge Visa cost
If you need assistance getting a Schengen Visa, feel free to contact IaM.
What are your thoughts on this issue? Talk to us in the comment section below. Or if you need more advice on the above, contact us for further travel & immigration advice.
Check out the deals we have found below and tell us your travel plans.
Check out the offers and discounts from:
And because of the pandemic, don't forget to get your travel insurance, which will cover you for flight disruptions and pandemic related matters.
IaM can help with your visa application to Europe, the United States, the UK & other countries
If you need help with a US visa, a UK Visa, or a visa to Europe, including help with appointment booking obligations, IaM can help. For more information and advice on US immigration, UK immigration law and US visa applications or if you need any help or assistance please, reach out to your Visa Coordinator at IaM.
Some of our posts include affiliate links. If you choose to purchase any of these products, we might get a small commission. For more information, check out our TOS.