Post Study Work Visa: A Post Study Guide to Staying in Italy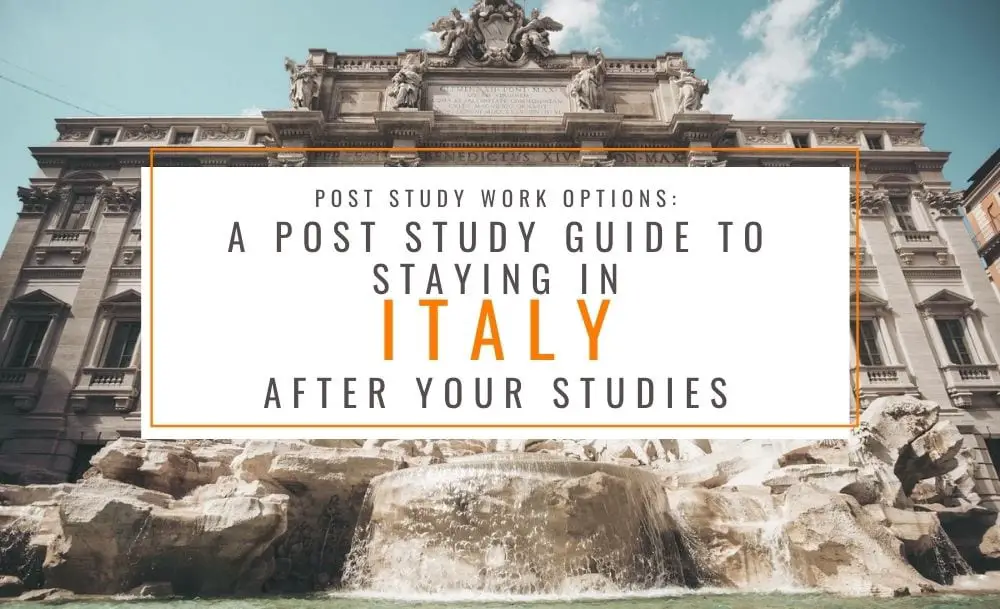 Italy's ancient arts, popular destinations and splendid cuisine continue to draw visitors as they have done for centuries. It's not surprising that many international students feel at home in Italy. The country is also home to some of the most prestigious and oldest universities. Students whose interest lean towards arts, architecture or world history find Italy as the ideal place to study.
As a non-English speaking country, learning the local language would help you fare better and live comfortably in Italy.
As a Schengen member state, foreign EU/EEA students are not required to have a specific work permit to work in the country however, they cannot work for more than 20 hours a week during the academic session.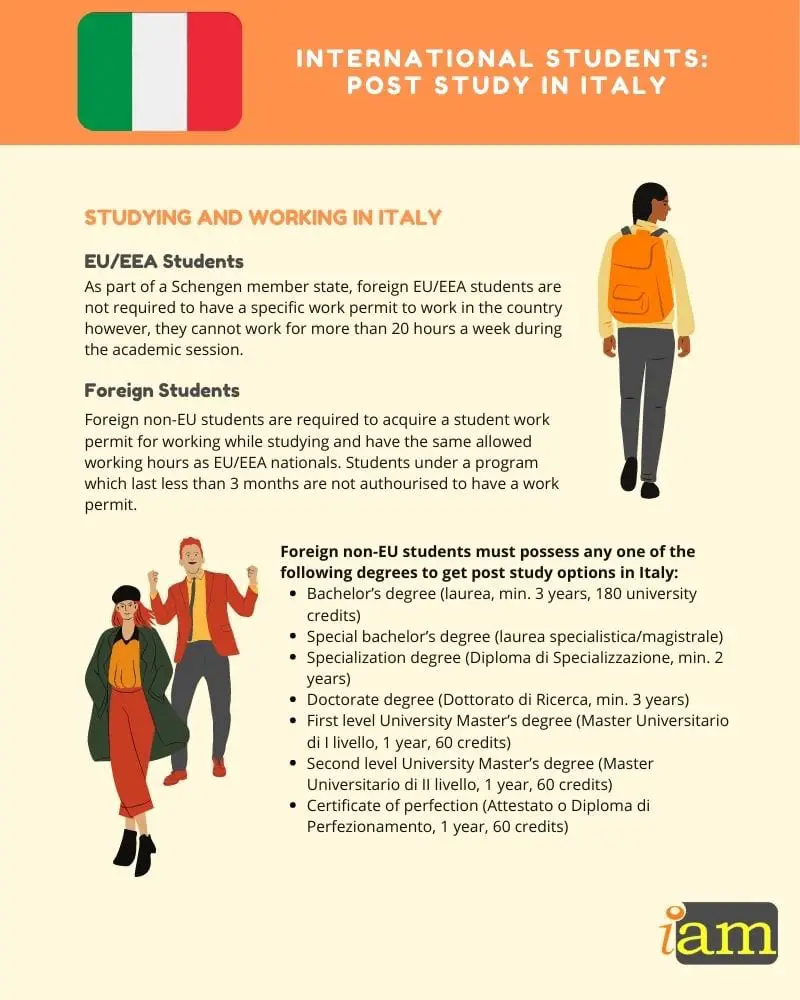 Foreign non-EU students are required to acquire a student work permit for working while studying and have the same allowed working hours as EU/EEA nationals. Students under a program which last less than 3 months are not authourised to have a work permit.
Italy only offers post study options for foreign non-EU students who are qualified and possess any one of the following degrees in Italy :
Bachelor's degree (laurea, minimum three years, 180 university credits)
Special bachelor's degree (laurea specialistica/magistrale)
Specialization degree (Diploma di Specializzazione, minimum two years)
Doctorate degree (Dottorato di Ricerca, minimum three years)
First level University Master's degree (Master Universitario di I livello, one year, 60 credits)
Second level University Master's degree (Master Universitario di II livello, one year, 60 credits)
Certificate of perfection (Attestato o Diploma di Perfezionamento, one year, 60 credits)
Residence Permit
also known as Permesso di Soggiorno
Based on the course and university, non-EU students need to apply for the permit which will allow you stay for up to 6 to 12 months after you completed your studies. It is important to have a job before the extension period ends. If you are not able to find a job for the duration of the permit, then you can prepare to head back to your home country. You also have an option to apply for internships for up to 12 months.
To apply you should prepare the following requirements.
Proof of financial means (your bank statement should have at least €8,500)
Proof of valid accommodation
Health Insurance
Valid passport
Passport photos
Certificate of course completion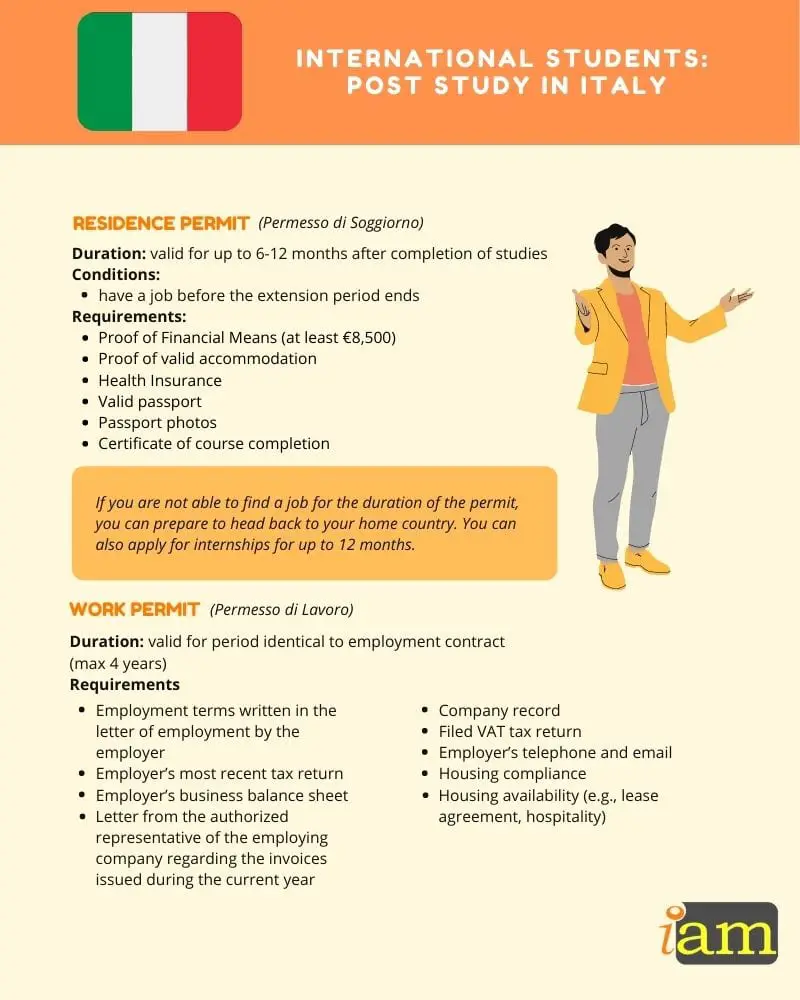 Work Permit
also known as Permesso di Lavoro
Once you have a job, you can switch to a work permit.
The average pay in Italy can be around 1300 euro for 14 months, based on the academics and the experience you possess.
You should prepare the following to apply.
Employment terms written in the letter of employment by the employer
Employer's most recent tax return
Employer's business balance sheet
Letter from the authorized representative of the employing company regarding the invoices issued during the current year
Company record
Filed VAT tax return
Employer's telephone and email
Housing compliance
Housing availability (e.g., lease agreement, hospitality)
Self Employment
also known as Lavoro Autonomo
This is the type of visa you must apply for if you intend to work as a freelancer or open a start-up business in Italy. You need to remember the annual quota set by the government. In 2019, the Italian government offered 30,850 work visas overall, out of which, 2,400 were for self-employment.
There are three types of self employment visas:
The Italy Startup Visa – a permit that allows you to open an innovative company in Italy or those who want to join an existing company in an executive role. This permit is for foreign nationals who intend to build an innovative business from scratch on the Italian territory.
The Italy Freelancer Visa – a permit that allows non-EU nationals who intend to take up self-employed, freelance work and do not have a company who want to hire them.
The Italy Entrepreneur Visa – a permit that allows foreign nationals to implement an investment plan (of no less than €500,000) that is beneficial to the Italian economy.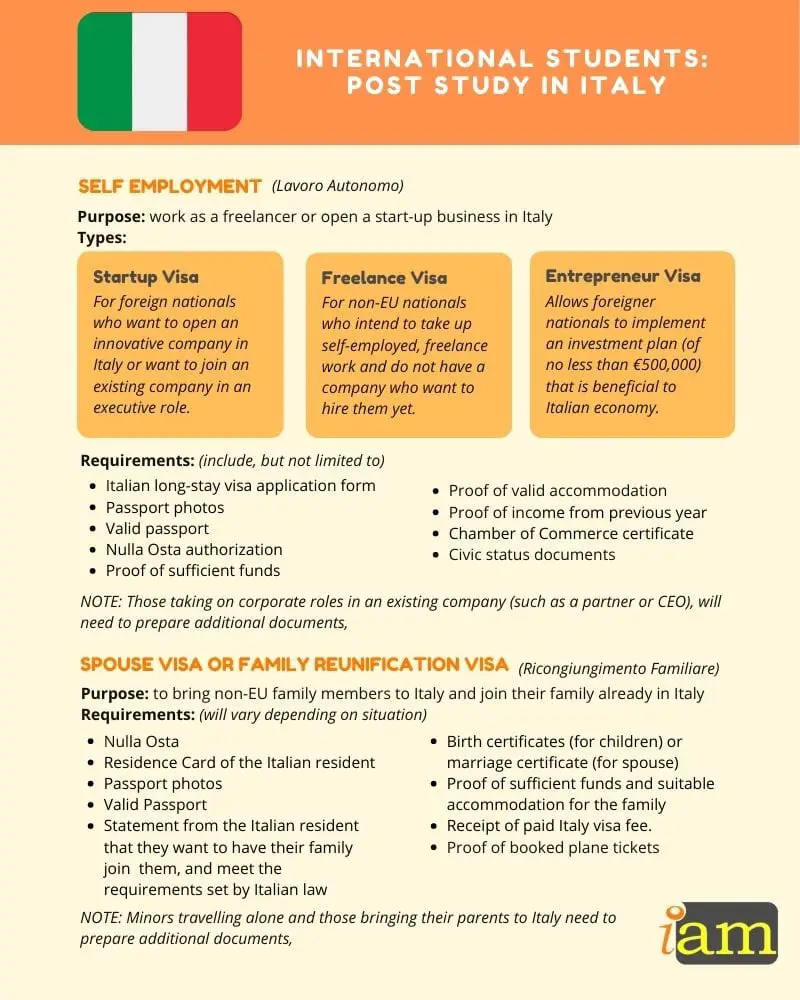 The requirements for an Italy Self-Employment Visa include but not limited to:
Italian Long-stay visa application form
Passport photos
Valid passport
The Nulla Osta authorization (original and photocopy).
Proof of sufficient funds
Proof of valid accommodation
Proof of income from the previous year – must be higher than the minimum level required by law for exemption from health care contribution (€8,400).
Certificate issued by the Chamber of Commerce in the area you will be working on, recognising you have the resources necessary for the self-employed activity you will be doing. The resources cannot be less than the annual amount of the minimum income (€4,962.36).
Civic status documents
If you will be taking on a corporate role within an already existing company (such as a partner or CEO), you will also need to prepare the following documents:
Proof the company is enrolled in the Chamber of Commerce Business Registry.
The company's registration number.
Your position within the company.
Copy of an official declaration of responsibility which states that you will not be working in a subordinate role. It must be issued by the local County Labor Office (Direzione Territoriale del Lavoro).
Proof you will receive a salary higher than the minimum level required for exemption from health care contribution (€8,400).
Related posts:
Spouse Visa or Family Reunification Visa
also known as Ricongiungimento Familiare
Once you have a valid residence permit, then you are eligible to apply to bring your non-EU family members to live with you. The Italy Family Visa is one type of the Italian long-stay visa. It allows the holder to enter Italy with the purpose of remaining longer than three months and joining a family member already residing in Italy.
You have to prepare the following documents:
Nulla Osta
Residence Card of the Italian resident
Passport photos
Valid Passport
Statement from you (the Italian resident) declaring that you want to have your family members with you, and you meet the requirements for family reunification set by Italian law.
Proof of family relationship, as applicable: Birth certificates for children and marriage certificate for your spouse.
Proof you have sufficient required funds and suitable accommodation to welcome your family members.
Receipt of paid Italy visa fee.
Proof of booked plane tickets.
For minors travelling alone:
Written permission from the child's other parent allowing them to travel to Italy.
In case you are bringing your parent/s to Italy:
Original copies of your birth certificate.
Proof your parent/s are dependent on you (such as money transfers).
A written statement from your parent/s, declaring they are dependent on you
Proof of Financial Means (at least € 5.830,76 annually and then have 50% of that amount for any family members who will join you in Italy. So, if your spouse and one child will join you, you must have €11,661.52.)
Proof of valid accommodation
Additional documents may be required.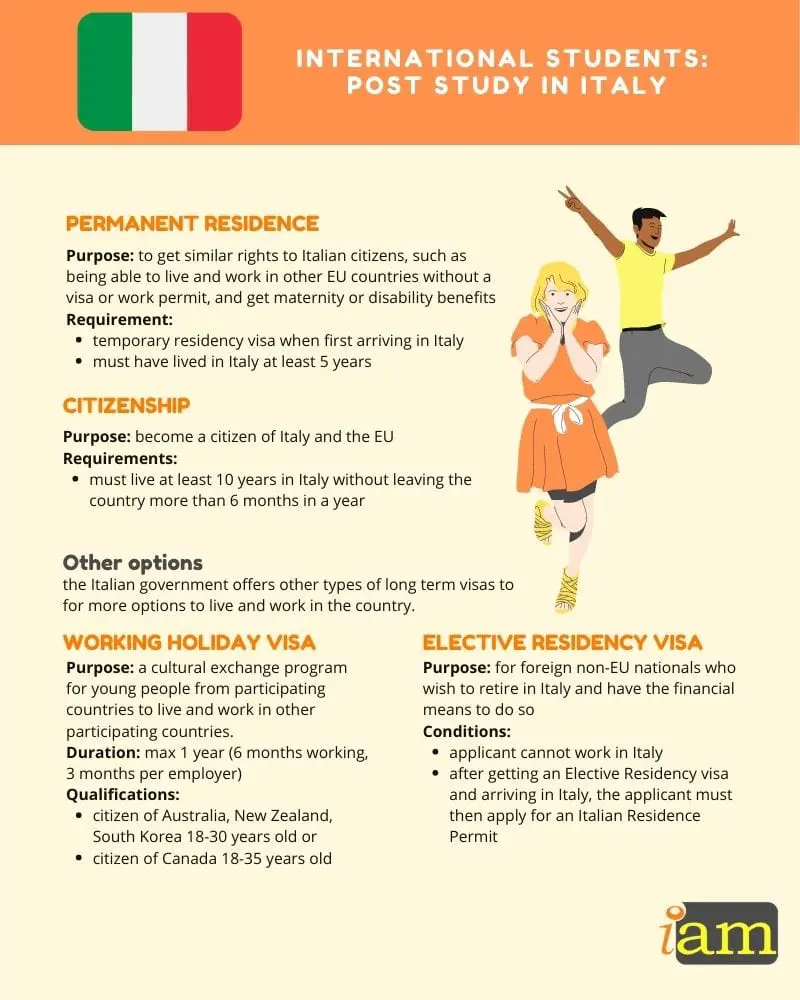 Permanent Residence
The temporary residency visa must be obtained when first arriving in Italy by non-EU citizens. Only then can you apply for a Permanent residence permit. The student must live for a minimum period of 5 years before applying for permanent residence in Italy.
Permanent residence permit grants you similar rights to Italian citizens, such as being able to live and work in other EU countries without a visa or work permit. You also become eligible to receive state benefits, like maternity or disability benefits.
Citizenship
As a general rule, for non-EU foreigners, legal permanent residence on the territory of the Italian State for at least 10 years is required and you are not allowed to leave Italy for longer than six months within a year or you will lose your residence permit.
Other Options
Did you know that the Italian government offers other types of long term visa allowing you to stay and an option to work in the country?
Italy Working Holiday Visa
Italy takes part in the Working Holiday Program, which is a mutual cultural exchange program that makes it possible for young people between18 and 30 (with an exception of Canada) from a participating country to live and work in another participating country.
Italy has Working Holiday Visa agreements with the following countries:
Australia
Canada (18-35 years old)
New Zealand
South Korea
This visa allows the youthsto live and work in Italy for up to a year. However, they can only work for six months, and for no more than three months per employer.
A total of 1,000 visas are usually issued to young people from all participating countries. Once you enter Italy you have 8 days to apply for an Italian residence permit (Permesso di Soggiorno). This permit allows you to stay in Italy long-term. If you want to work, your prospective employer must apply for a work permit (Nulla Osta al lavoro) on your behalf and must be submitted within 20 days upon entry.
Elective Residency Visa
also known as Residenza Elettiva
This permit is for foreign non-EU nationals who wish to retire in Italy and have the financial means to do so (savings, investment or pensions). This is often referred to as an Italy retirement visa because these funds cannot come from active work. An Italian Elective Residency visa does not allow the applicant to work in Italy.
After getting an Italian Elective Residence visa and arriving in Italy, the applicant must then apply for an Italian Residence Permit that lets them stay in Italy for longer than 90 days.
Interested to live and work in Italy? Comment below.
IaM can help with your visa application to the United States, the UK & other countries
If you need help with a US visa, a UK Visa, or visa to Europe, including help with appointment booking obligations, IaM can help.For more information and advice on US immigration, UK immigration law and US visa applications Or If you need any help or assistance please, reach out to your Visa Coordinator at IaM.