Post Study Work Visa: Guide to Staying in Spain After Your Studies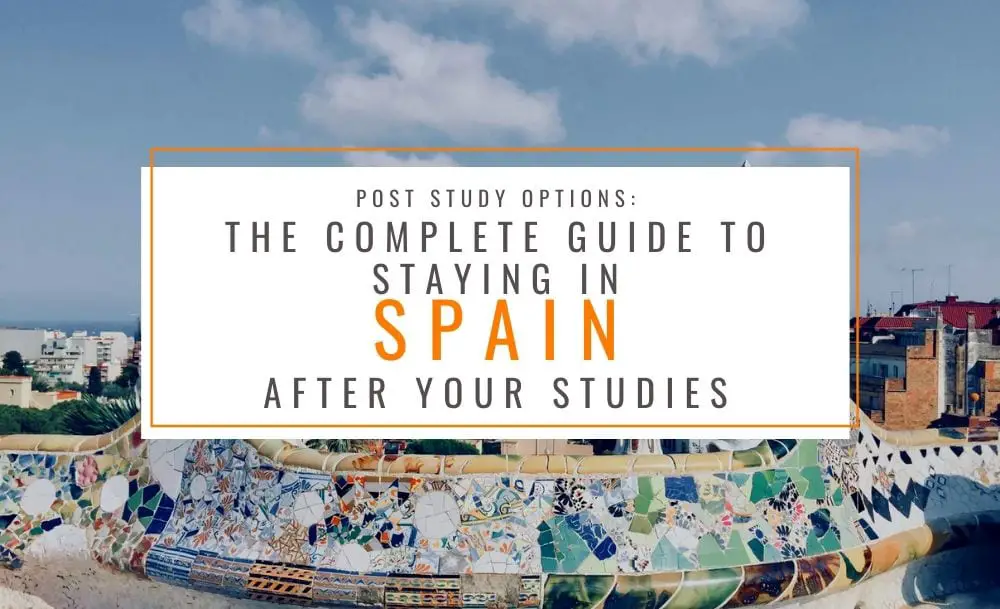 Spain has been consistently on the top 5 list of European countries international students choose to further their educational knowledge. This amazing country has excellent learning opportunities, immaculate culture and combined with an amazing climate and historical buildings who can escape the country's magnetic appeal. So what are the Spain post study work visa options to stay afterwards?
Spain is one of the Schengen countries in Europe. You've probably already travelled there for tourism and fun. It's also the second most visited country in the world. And that goes without saying considering the architecture of Gaudi and his masterpiece of La Sagrada Familia and other places of interest. With so much to do, you can travel to Spain on a Schengen visa.
If you want to stay in the country after completing your degree, it is essential to choose your location where you want to settle down carefully and plan accordingly for your Spain post study work visa. The cost of living in Spain varies by location, it can be expensive to find accommodation in large cities like Madrid and Barcelona but in general, it is easy to live well in Spain. Just be prepared to brush up on your Spanish speaking skills, as many of the programs in the country are taught in Spanish.
Like other EU Members, Spain allows unrestricted freedom to live, study and work in Spain for EU/EEA nationals. You need to be registered at the Social Security Office, as well as to have a DNI Extanjero, both of which require nothing more than your passport to obtain. Once this is arranged, you have the same chances of getting a job as someone who is from Spain.
Check out our previous article to see the post-study options of other EU members like the United Kingdom, Switzerland and Germany.
Check out the option for non-EU nationals.
JOB SEARCH VISA
A special kind of permission to remain in the country for a limited amount of time. The "job search visa", formally known in Spanish as "estancia por estudios superiores que cesa, para búsqueda de empleo", is a one-time 1-year residency permit that allows graduates to search for a job in Spain without any problems while it lasts. This permit cannot be extended and non-renewable. It does not come with the same rights that come with formal residency. However, if you successfully find a job during the period, you would then be able to apply for residency with permission to work.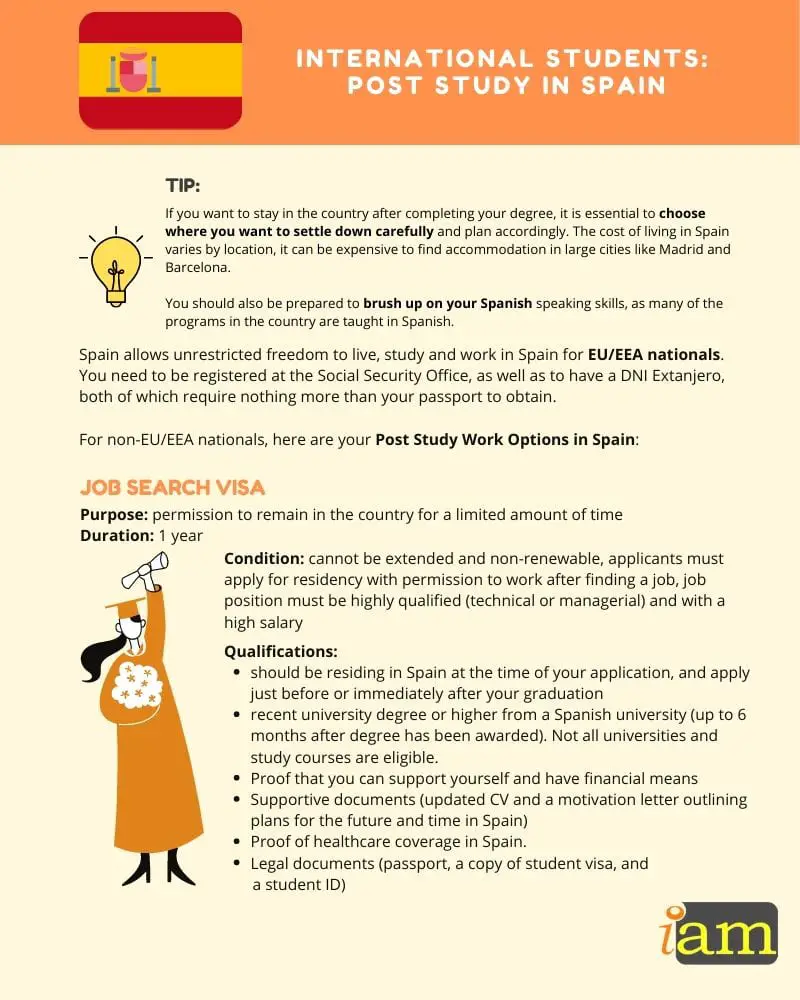 You can apply for this permit 60 days before the expiry of your student Foreigners Identity Number (NIE) or until 90 days after the expiration. The process may take between 20 days to 3 months the earlier you apply the better. You can include any dependents in the visa who relied on you during your studies.
To qualify for the permit, you should meet the following criteria:
You should be residing in Spain at the time of your application, and you should apply just before or immediately after your graduation for the best chance of approval.
A recent university degree or higher from a Spanish university (Level 6 or above). You can apply up to six months after your degree has been awarded. Not all universities and study courses are eligible so you should check the official website to confirm.
Proof that you can support yourself during your stay in Spain and have the financial means 
Supportive documents, such as your updated CV and a motivation letter which outlines your plans for the future and your time in Spain.
Proof of healthcare coverage in Spain.
Legal documents including your passport, a copy of your student visa, and a student ID (NIE)
If you go for this route, the job position you are searching for must be highly qualified. It cannot be a regular job, it must be a technical or managerial position, with a high salary.
SPAIN POST STUDY WORK VISA
Non-EU/EEA citizens need to obtain a Work Visa to be able to live and work in Spain. Without a Work Visa a company cannot legally employ non-EU/EEA nationals.
Spain is one of those countries where it is very difficult for non-EU students to obtain a work permit after graduation. There is no visa specifically designated for foreign graduates of Spanish universities. Before getting a work permit, you need to land a job. Your employer then has to authorise your hiring by proving that the job has been advertised but there were no suitable candidates from Spain or the EU. After you obtain the work and residence permit with the help of your employer, you then can apply for a work visa. In Spain, unlike in many other EU countries, a permit and a visa are not the same thing.
There are various types of Work Visas for Spain for different types of jobs and for different lengths of employment.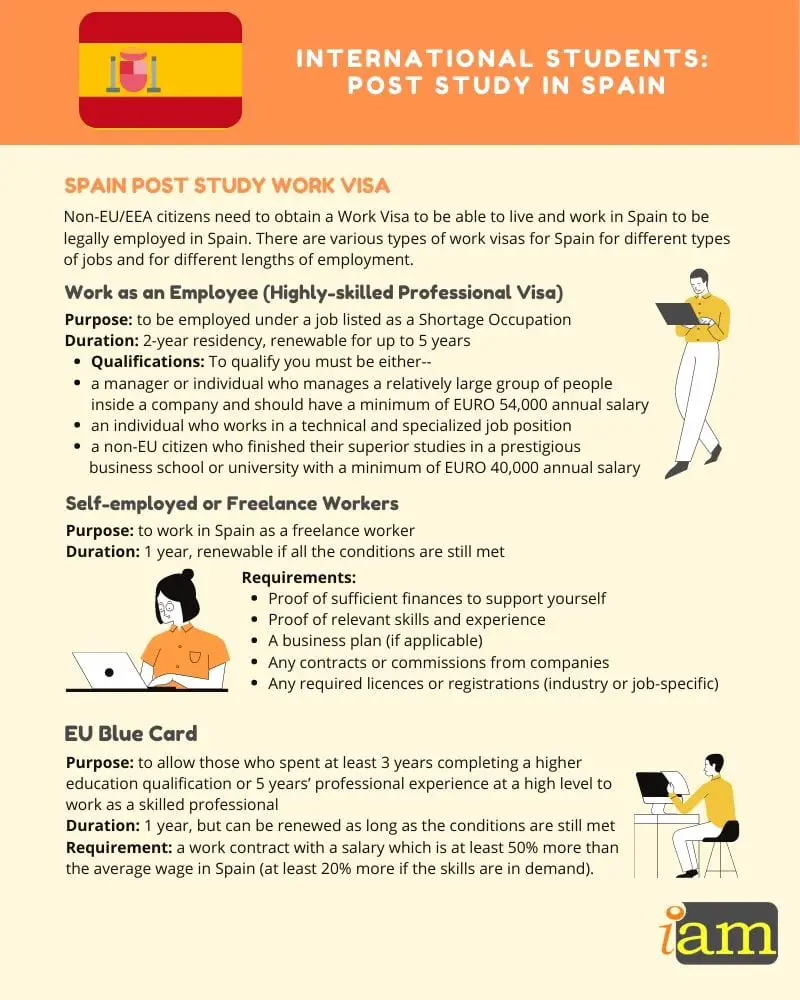 Work as an Employee (Highly-skilled Professional Visa)
Non-EU citizens need to find a job which is listed as a 'Shortage Occupation'. This is a job for which there is a lack of suitable candidates within the EU. The employer must then request a Work Visa from the Ministry of Labour.
Work permit applications can take up to 8 months to process so forward planning is needed. Once the Ministry of Labour has approved the application, the embassy or consulate issues the work and residence visa. The permit grants you two-year residency and renewable for up to five years.
To qualify you should meet one of the following criteria
Managers and individuals who manage a relatively large group of people inside a company and should have a minimum of EURO 54,000 annual salary.
Individuals who work in really technical and specialized job positions
Non-EU citizens who finished their superior studies in a prestigious business school or university with a minimum of EURO 40,000 annual salary.
Self-employed or Freelance Workers
To work in Spain as a freelance, it is necessary to apply for a Work Visa at a Spanish consulate or embassy. The work visas are valid for one year but can be renewed if all the conditions are still met. The required documentation includes:
Proof of sufficient finances to support yourself
Proof of relevant skills and experience
A business plan (if applicable)
Any contracts or commissions from companies
Any required licences or registrations (industry or job-specific)
EU Blue Card
The EU Blue Card is for people who spent at least 3 years completing a higher education qualification which allows them to work as a skilled professional. People who have a minimum of 5 years' professional experience at a high level are also eligible. Once you have the job offer, the employer submits the application on your behalf.
A work contract that includes a salary which is at least 50% more than the average wage in Spain (or at least 20% more if the skills are in demand) is a requirement. Once approved, you also need to apply for a visa from a Spanish embassy. Blue cards are valid for one year but can be renewed as long as the conditions are still met.
ENTREPRENEUR VISA
You can start a business and get the residency.  With this Spain post study work visa permit, you can stay in the country without a minimum time spent in Spain. 
To be eligible for this permit, the Government is much stricter and more selective. They only accept projects with a big potential to grow, which are innovative and involve an important technological component. 
To renew this permit, you must make sure that the business is performing as you detailed on the business plan during the upcoming years.
SPOUSE OR FAMILY REUNIFICATION VISA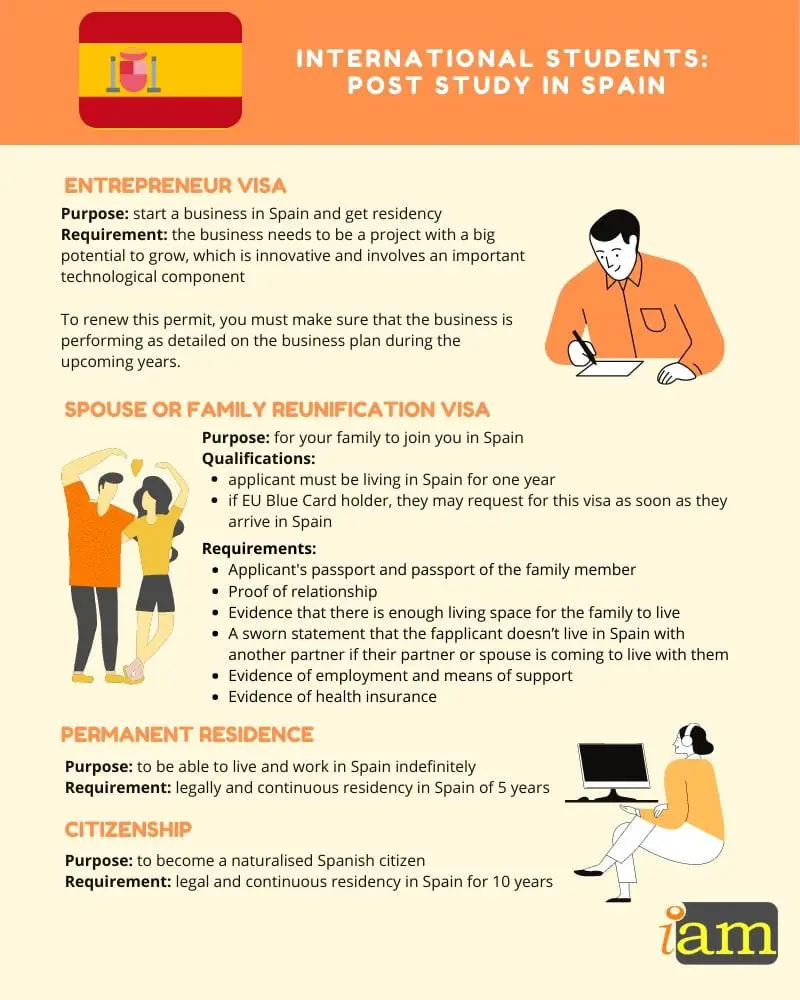 Once you've been living in Spain for a year, you can request for your family to join you. If you have an EU long-term residence permit from another state, an EU Blue Card or you're a student or researcher, you can request your family to join you as soon as you arrive. 
In order to do this,you will need to complete an application form and hand over proof of I.D. and your relationship to the person who already has a visa. You can either apply with your Spanish embassy or consulate at home where you can also apply for a residents permit, or when you arrive in Spain, where they will need to present the following documents:
Your passport and passport of the family member
Proof of relationship
Evidence that there is enough living space for you to live
A sworn statement that you don't live in Spain with another partner if your partner or spouse is coming to live with you
Evidence of employment and means of support
Evidence of health insurance
PERMANENT RESIDENCE
Permanent residency is the penultimate step of getting a Spain post study work visa. You can apply for permanent residency in Spain after having legally lived in the country for a period of five continuous years. When you fulfil this specific condition, you can apply for permanent residency and then gain the right to live and work in the country indefinitely.
CITIZENSHIP
Once you are a resident in Spain for a certain time period, you have the right to apply for Spanish citizenship. The general requirement is a legal and continuous residency for 10 years,
Being a Spanish citizen, you also gain the EU perks like freedom of movement and the right to vote. You will have the right to work and live in any country part of the European Union or the European Economic Area, plus some minor advantages such as EU citizen rates for museums and other institutions.
Spain does not charge a fee for citizenship applications.
So, are you ready to make the move to Spain? Comment below.
IaM can help with your visa application to the United States, the UK & other countries
If you need help with a US visa, a UK Visa, or visa to Europe, including help with appointment booking obligations, IaM can help. For more information and advice on US immigration, UK immigration law and US visa applications or if you need any help or assistance please, reach out to your Visa Coordinator at IaM.