Post Study Work Options: How to Get a Work Visa in Romania After Your Studies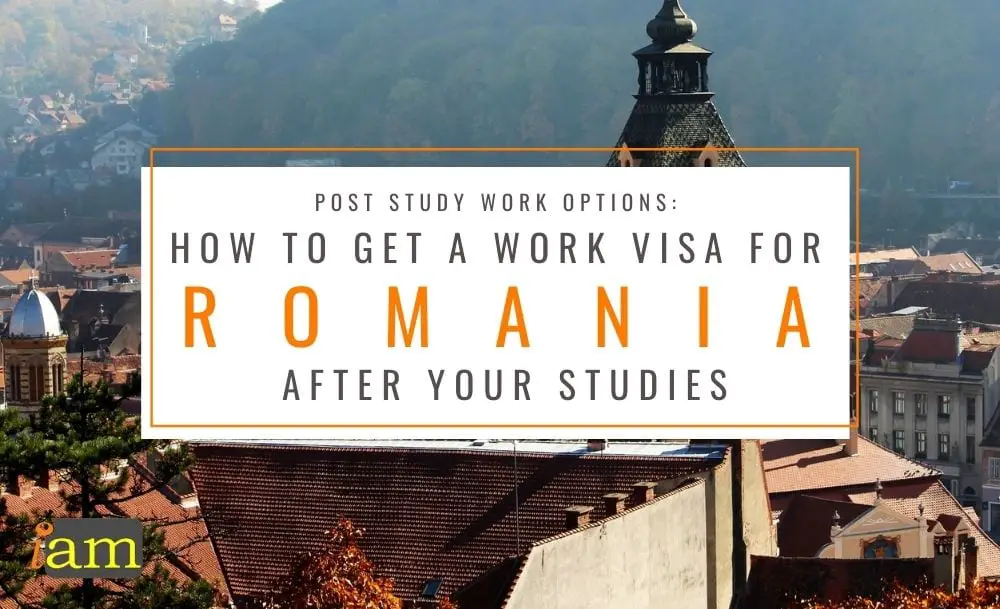 Romania is located in Southeastern-Central Europe, bordering the Black Sea, between Bulgaria and Ukraine. It is home to seven UNESCO world heritage sites including Villages with Fortified Churches in Transylvania where Dracula's legend was born.
Romania has an economy predominantly based on services, and is a producer and net exporter of machines and electric energy. The country is one of Europe's fastest-growing economies, a fact that has attracted foreign professionals over the years. Slowly, Romania became a popular tech destination that is constantly growing overseas investments.
Romania is only one option of many for both EU/EEA citizens and non-EU/EEA citizens to do their post-study abroad. If you want to know your other post-study options like the UK, the USA, Canada, Australia, New Zealand, or the rest of Europe, check out our other post-study blog posts!
Romania is a member state of the European Union (EU), so the laws regarding work visas and permits are similar to those of other countries in the EU. Citizens of other EU member states do not need a permit to work in Romania, nor do citizens of Switzerland and other countries in the European Economic Area (EEA).  EEA countries include Norway, Iceland, and Liechtenstein.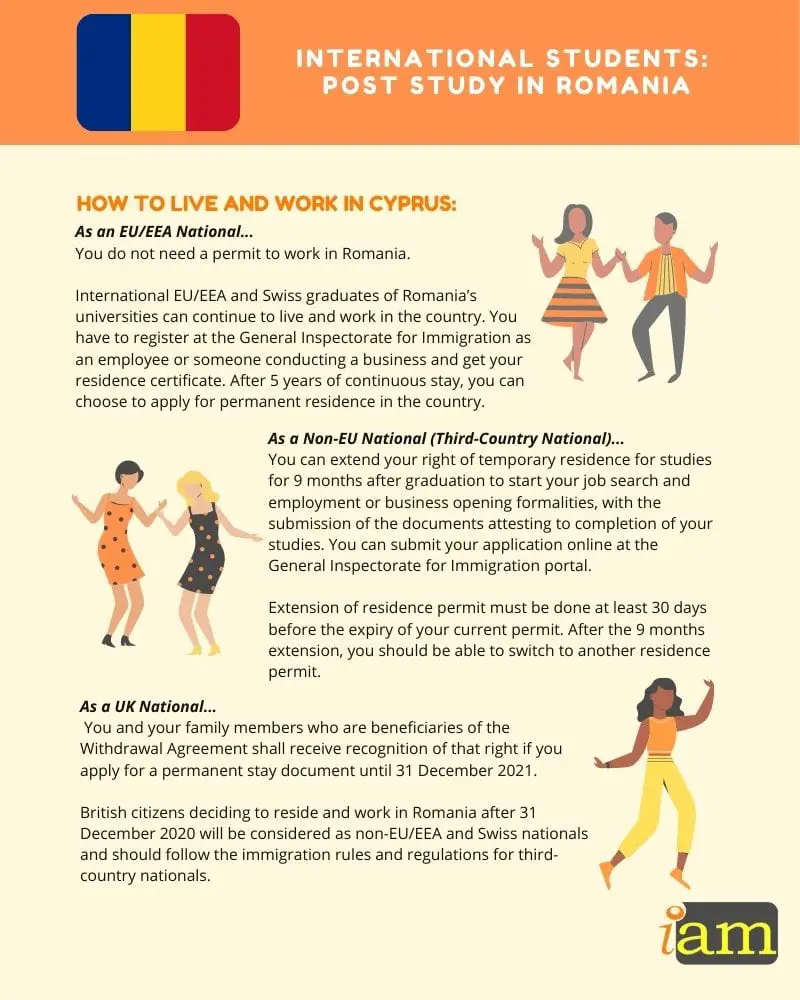 International graduates of Romania's universities from EU/EEA and Switzerland can continue to live and work in the country with the same rights and obligations as Romanian nationals. You have to ensure that you are registered at the General Inspectorate for Immigration as an employee or someone conducting a business and get your residence certificate. After five years of continuous stay, you can choose to apply for a permanent residence in the country.
Non-EU/EEA and Swiss students can extend their right of temporary residence for studies for 9 months after graduation to start their job search and employment or business opening formalities, with the submission of the documents attesting completion of the studies. You can submit your application online at the General Inspectorate for Immigration portal. 
Extension of residence permit must be done at least 30 days before the expiry of your current permit. After the additional 9 months extension, you should be able to switch to another residence permit.
British citizens and their family members who are beneficiaries of the Withdrawal Agreement, shall receive recognition of that right if they apply for a permanent stay document until 31 of December 2021. 
British citizens deciding to reside and work in Romania after 31 December 2020 will be considered as non-EU/EEA and Swiss nationals and should follow the immigration rules and regulations for third-country nationals.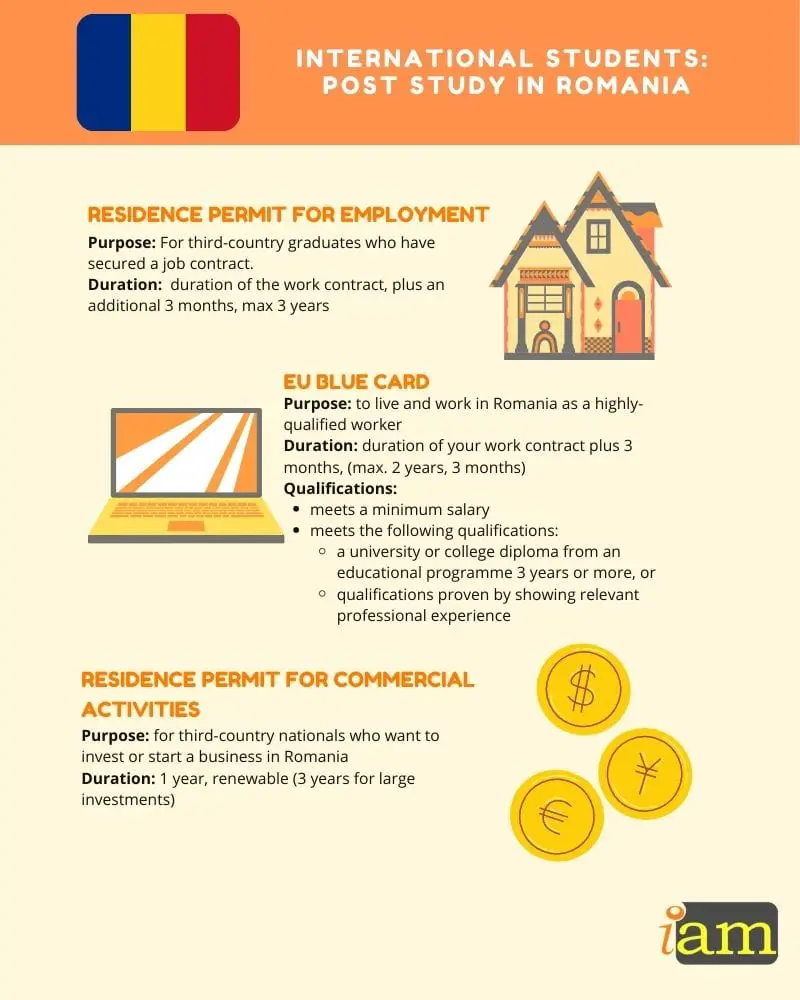 Residence Permit for Employment
Once you have obtained a job contract, you can apply for this permit.
Your should prepare the following documents:
Application form
Original and copy of your valid passport
Original and copy of proof of accommodation in Romania 
Your employment contract
A statement regarding your salary
A medical certificate issued by any public or private sanitary institution declaring that you do not suffer from any disease that is a threat to public health.
Proof you have paid the residence permit fee.
*Additional documents may be required
A residence permit for employment purposes is issued for the duration of the work contract, plus an additional three months. However, it cannot be for longer than three years.
EU Blue Card
To live and work in Romania as a highly-qualified worker, your employer must first obtain a work authorisation for highly-qualified workers on your behalf. 
You must hold a university or college diploma from an educational programme that lasted three years or more. Alternatively, you must be able to prove your qualifications by showing relevant professional experience.
The gross annual salary resulting from the monthly or annual salary specified in the work contract or binding job offer must be equal to or higher than the relevant salary threshold defined by Romania. For 2020, Romania set the minimum salary threshold at €2,250.
The EU Blue Card serves as a residence and work permit and is valid for the duration of your work contract plus three months, and for a maximum term of two years and three months.
Residence Permit for Commercial Activities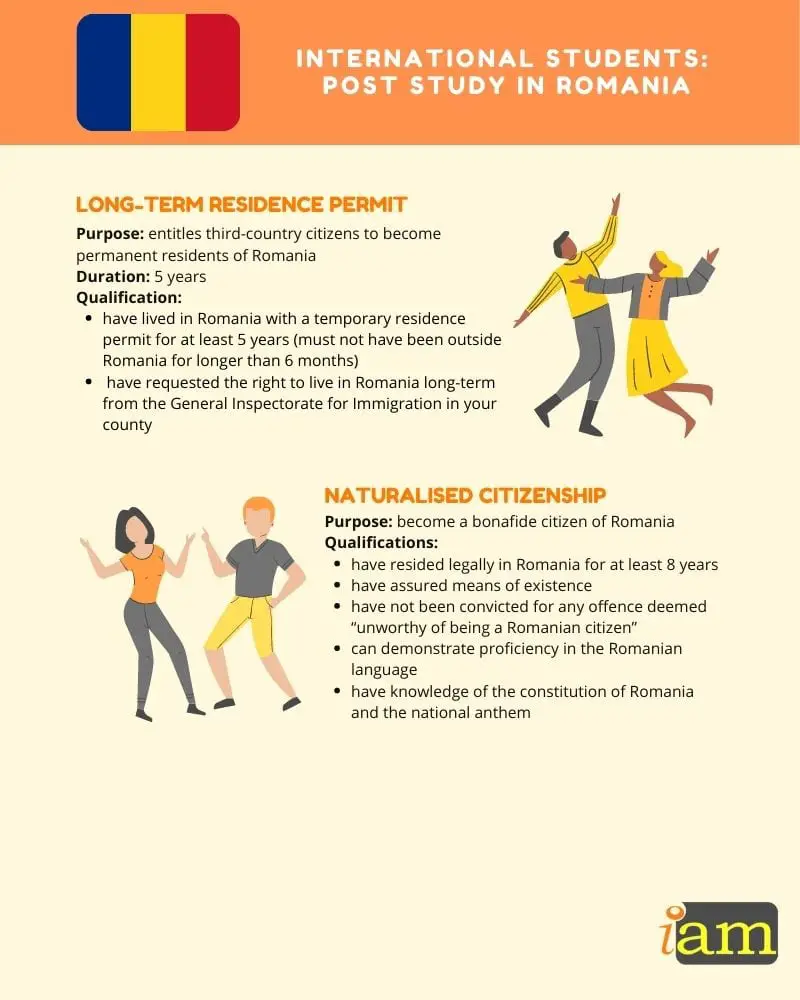 The right of temporary residence for commercial activities is valid for a year and can be renewed for successive periods of one year. You should submit your renewal request 30 days prior to the expiration of your current permit.
If you can prove you have made a minimum investment of €500,000 or created more than 50 full-time jobs, the right to stay lasts for 3 years.
Documents you need to prepare:
application form
original and a copy of valid travel document
confirmation of company details;
notice of the Romanian Centre for the Promotion of Foreign Investments
original and a copy of the Company's registration certificate 
original and a copy of  articles of incorporation 
original and a copy of registration court order 
proof of financial means 
original and a copy of proof of legal possession for the registered office 
original and a copy of proof of legal possession for the registered residence address
proof of social insurance
 medical certificate
*Additional documents may be required
Long-term Residence Permit
You can apply for a Romanian long-term residence permit after you have lived in Romania with a temporary residence permit for at least five years. During these five years, you cannot have been outside Romania for longer than six months.
This residence permit is valid for five years. 
To get a long-term residence permit, you must first request the right to live in Romania long-term from the General Inspectorate for Immigration in your county. If they approve your request, you must submit the following documents:
Application form
Original and copy of valid passport
Proof of accommodation in Romania, the original and a copy
Proof of sufficient financial means (except in the case of family members of Romanian citizens)
Proof of social health insurance in Romania
Certificate of police clearance issued by the Romanian authorities
Any required civil status documents
*Additional documents may be required
Naturalised Citizenship
Once you have resided legally in Romania for at least 8 years then will be eligible for naturalised citizenship. By gaining citizenship in Romania you are entitled to all the rights and duties associated with the Constitution and the Romanian laws.
To qualify, you need to meet the following conditions:
You have assured means of existence
You have not been convicted for any offense deemed to make you "unworthy of being a Romanian citizen"
You can demonstrate proficiency in the Romanian language
You have knowledge pertaining to the constitution of Romania and the national anthem.
You also need to provide the following documents:
Original passport as well as notarised copy
A statement showing legal residence in Romania for at least 8 years
A certified affidavit showing that you currently do not support the actions taken against the legal order or against national security and have never conducted any such activities
Original and certified copies of documents stating civil status
Original and certified copy of criminal record in Romania
A character reference from the country in which applicant resides at time of application
Certified copy of proof of residence in one of the following forms: a lease agreement registered by financial administration or paperwork relating to the purchase of a property.
Proof of legal means for a decent existence in Romania under the conditions set by the law
*Additional documents may be required
So, are you ready to make the move to Romania? Comment below.
IaM can help with your visa application to the United States, the UK & other countries
If you need help with a US visa, a UK Visa, or visa to Europe, including help with appointment booking obligations, IaM can help. For more information and advice on US immigration, UK immigration law and US visa applications or if you need any help or assistance please, reach out to your Visa Coordinator at IaM.