The UK Wrongly Issued Post-Brexit Benefits To EU Citizens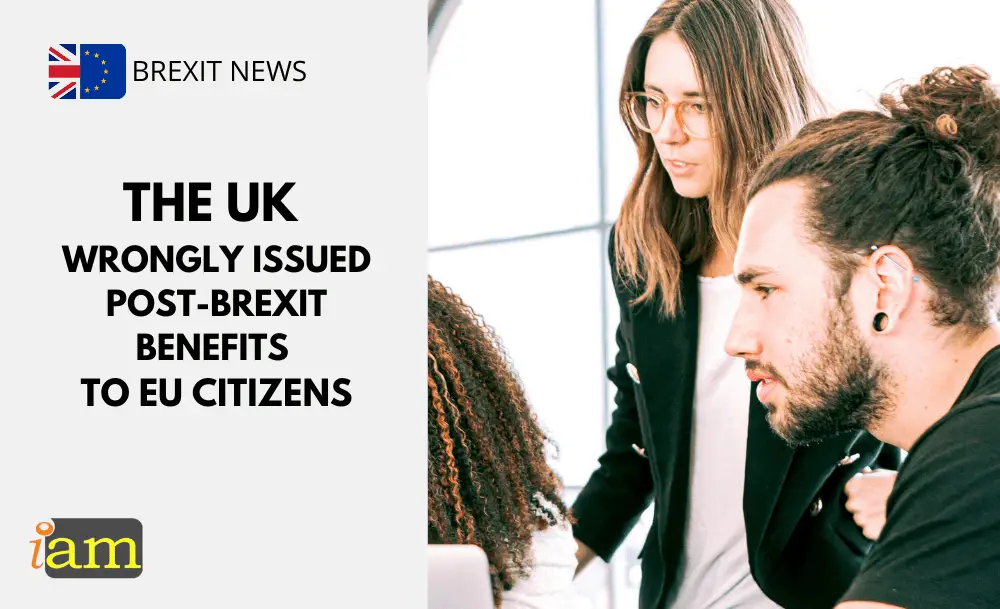 It is being claimed that as many as 141,000 EU citizens living in the UK after Brexit may have received considerable amount of money they were not entitled to due to an error made by British civil servants.
The error affects people who applied for EU settled status, but were not granted it, and covers an application period from June 2021 to April 2022.
The Independent Monitoring Authority (IMA), the statutory body charged with protecting EU citizens' rights post Brexit, has expressed concern that the situation arose and the impact it could have on those affected.
It said it was made aware of the issue and has now written to the Home Office to "seek clarity on what steps have already been taken to remedy it and what further steps will be taken".
The government could decide to demand millions of pounds in refunds from EU citizens or may opt not to pursue those who have wrongly received benefits and are no longer living in the country.
What Happened
The error came to light after the Home Office conducted an exercise to update UK Visa and Immigration (UKVI)'s register of individuals who have been refused settled or pre-settled status in the post-Brexit EU settlement scheme (EUSS).
Records of those who had decisions pending were given a "certificate of application" to allow them to enjoy rights, guaranteed by the EU-UK withdrawal agreement, while their case was being investigated. These rights included access to benefits.
According to reports, as many as 141,000 had continued to show a certificate of application status rather than "refused" status. This means that they still had access to benefits although they had been denied the right to stay in the UK.
"We are seeking assurance that the EUSS digital system is fit for purpose, maintained and audited to reflect accurate digital statuses, and accurately available on demand for all eligible citizens. We will consider the response of the Home Office to our request for information before deciding on what next steps we may take."

Independent Monitoring Authority (IMA)
The Home Office updated "refused" statuses on the eVisa database on 18 January 2023. It did not disclose how many people have been impacted or how much money is estimated to have been wrongly paid out. 
According to the latest Home Office quarterly figures 5.36 million adult EU citizens have settled or pre settled status along with 1.15 million children and 171,000 aged over 65, bringing the total to 6.67m.
375,000 applications were refused, withdrawn or void.
What are your thoughts on this issue? Talk to us in the comment section below. Or if you need more advice on the above, contact us for further travel & immigration advice.
Check out the deals we have found below and tell us your travel plans.
Check out the offers and discounts from:
And because of the pandemic, don't forget to get your travel insurance, which will cover you for flight disruptions and pandemic related matters.
IaM can help with your visa application to Europe, the United States, the UK & other countries
If you need help with a US visa, a UK Visa, or a visa to Europe, including help with appointment booking obligations, IaM can help. For more information and advice on US immigration, UK immigration law and US visa applications or if you need any help or assistance please, reach out to your Visa Coordinator at IaM.
Some of our posts include affiliate links. If you choose to purchase any of these products, we might get a small commission. For more information, check out our TOS.