Travel by Car to European Countries After Brexit: Everything You Need to Know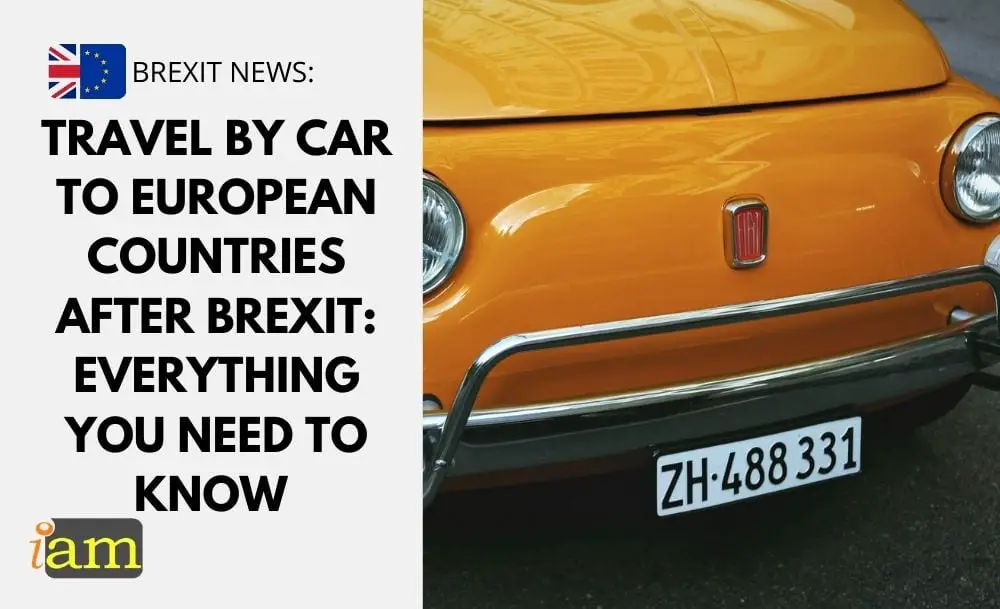 If you are looking for European trip by car from the UK either with friends, family or even alone and you are not sure about what is required to make a road trip easy and possible, in this article you are going to know all the information you need to know before finalising your plan…
Before starting to pack your luggage, just make sure that important documents are ready, here is your documents checklist, you just need to pick (if you already have) or apply for (if you haven't). 
Check your required documents
A valid driving licence
Valid passport
Vehicle insurance
Vehicle registration certificate (if you are taking your own car)
Motor insurance certificate (if you are taking your own car)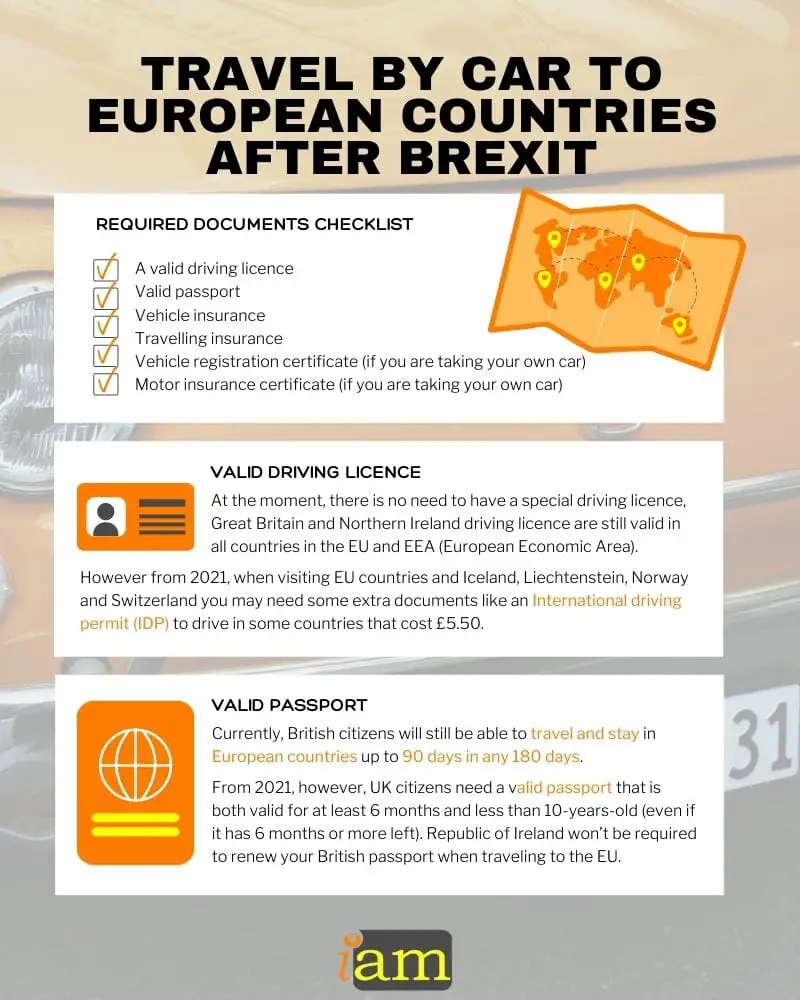 Valid driving licence
You need to take your valid driving licence (not provisional) with you when traveling by car in Europe. At the moment, there is no need to have a special driving licence, Great Britain and Northern Ireland driving licence are still valid in all countries in the EU and EEA (European Economic Area). 
However from 2021 (after the transition period of Brexit), when visiting EU countries and Iceland, Liechtenstein, Norway and Switzerland you may need some extra documents like an International driving permit (IDP) to drive in some countries. You can get one over the counter at the Post Office for £5.50.
To get one, you need to meet the following reqirements:
live in Great Britain or Northern Ireland
have a full UK driving licence
be 18 or over
IDP is a requirement in more than 140 countries globally. For instance, in Andorra and Hungary you will need one even if you have got a green paper UK driving licence, on the other hand in Turkey you will need an IDP if you plan to stay more than three months. 
As Switzerland is not in either the EU or EEA, UK driving licences are also valid there for age 18 or over.
Valid passport
Make sure your passport date is still valid and has at least 6 months left to expire. UK citizens still can travel visa-free towards the EU and Iceland, Liechtenstein, Norway and Switzerland.
Even after Brexit, during the transition period, you will be able to travel and stay in European countries for up to 90 days in any 180 days. Valid passports can still be used and you do not need to have six months left on your passport to travel to the EU. Your passport does, however, need to be valid for the whole of your trip.
However from 2021, when you need to travel for these areas from the UK you'll need your passport to both: at least six months left to expire and be less than 10-years-old (even if it has six months or more left).
So, if you are travelling from 1st January 2021, you may need to renew your British passport earlier than normal.
This is not needed when visiting every EU country, because the Republic of Ireland passport holders won't be required to renew their British passport when travelling toward that country.  
Related Articles:
Vehicle insurance
Currently, under EU rules, if you have a UK car insurance policy, you will automatically receive third-party protection while driving within the EU or EEA –that is, if you wreck another vehicle, the insurer will pay it out, but not if you harm your own car or it is stolen. Some detailed UK policies go further and provide a broad European coverage as well–test if in doubt.
But from next year travelling on your own vehicle, you might also need a 'green card' this is an international certificate of coverage issued by insurance providers within the UK, ensuring that the motorist has the necessary minimal level of third-party cover (you may need to pay if you want a higher stage of cover). To get one, touch your insurer. They will send you your inexperienced card and you need to carry the physical document whilst you travel. You'll also need a GB sticker.
According to the Association of British Insurers (ABI), any domestic UK car insurance policy which provides the legal minimum coverage for travel in countries in the European Economic Area (EEA) will still be valid in the event of no deal with the EU – provided you are travelling with a green card.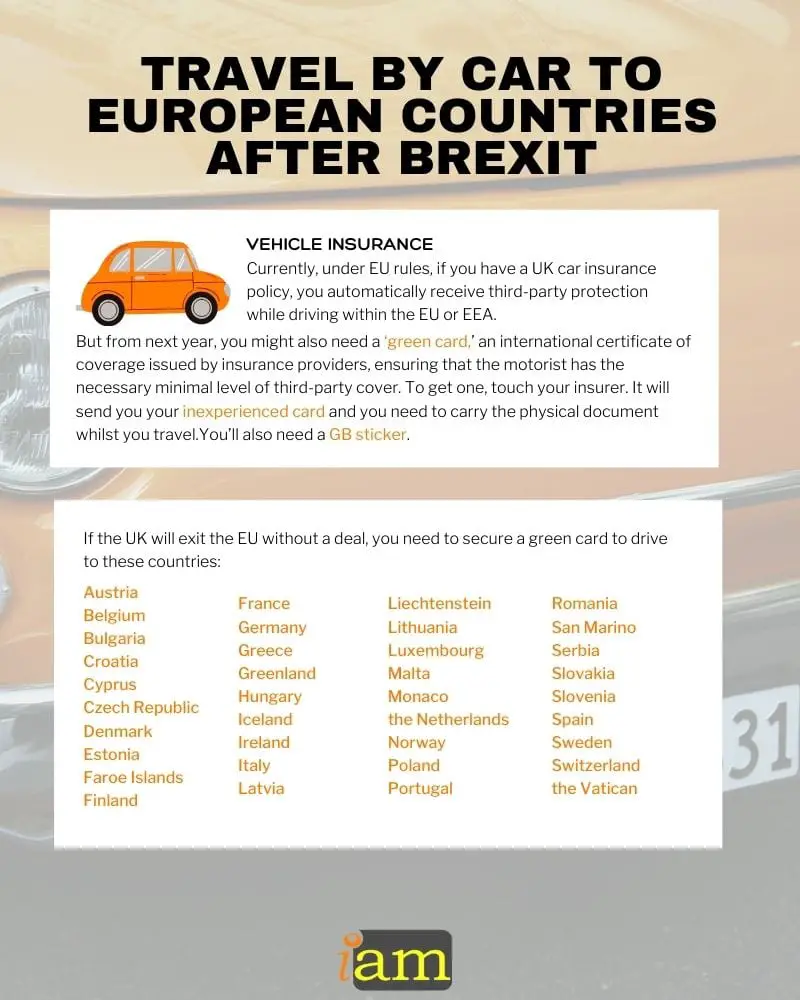 A green card is a certificate of insurance issued by a UK insurance provider that guarantees a motorist has the necessary third-party insurance to travel in Europe. You have to request this document with your insurer ideally a month prior to your European adventure. It will be illegal to drive without a green card in the event of a 'no-deal' Brexit.
In the event that the UK will exit the EU without a deal, you need to secure a green card to drive to these countries:
Austria
Belgium
Bulgaria
Croatia
Cyprus
Czech Republic
Denmark
Estonia
Faroe Islands
Finland
France
Germany
Greece
Greenland
Hungary
Iceland
Ireland
Italy
Latvia
Liechtenstein
Lithuania
Luxembourg
Malta
Monaco
the Netherlands
Norway
Poland
Portugal
Romania
San Marino
Serbia
Slovakia
Slovenia
Spain
Sweden
Switzerland
the Vatican
Travel and health insurance 
The aim of travel insurance is to cover the cost of the unexpected, such as illness and injury or theft of your personal belongings while you're on vacation. The basic travel insurance for a single entry can just cost about £6 to £10- so it is quite affordable, don't forget to get it. 
So, as a UK resident you can avail free European Health Insurance Card (EHIC) which entitles you the similar treatment at European state-run hospitals and GPs as locals are granted to, at the same cost in the EU and Schengen area as well. This facility will be continued for the rest of 2020 however it will not be valid from January 1, 2021.
So when you arrange your travel insurance you should make sure it has health cover. Don't waste time thinking, avail of this limited-time opportunity and make plans with your travel partners.
Find out how to choose a Schengen medical and travel insurance in this blog post!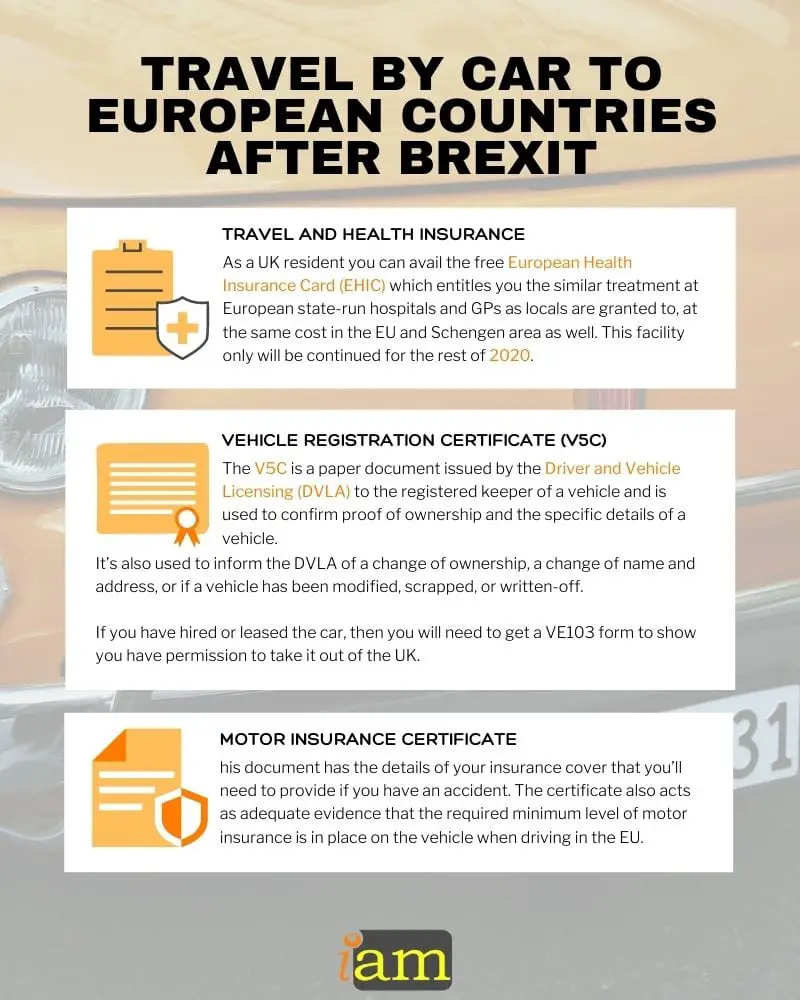 Vehicle Registration Certificate (V5C)
The V5C is a paper document issued by the Driver and Vehicle Licensing (DVLA) to the registered keeper of a vehicle and is used to confirm proof of ownership and the specific details of a vehicle. It's also used to inform the DVLA of a change of ownership, a change of name and address, or if a vehicle has been modified, scrapped, or written off.
If you have hired or leased the car, then you will need to get a VE103 form to show you have permission to take it out of the UK.
Motor Insurance Certificate
This document has the details of your insurance cover that you'll need to provide if you have an accident.
Its primary purpose is to provide evidence that at least the minimum level of insurance cover required by the Road Traffic Act is in place on a given vehicle. According to the Road Traffic Act 1988, "a policy of insurance shall be of no effect until (a certificate) is delivered by the insurer to the person by whom the policy is effected.'
The certificate also acts as adequate evidence that the required minimum level of motor insurance is in place on the vehicle when driving in the EU.
Are you planning to drive to EU from the UK? Comment below.
IaM can help with your visa application to the United States, the UK & other countries
If you need help with a US visa, a UK Visa, or visa to Europe, including help with appointment booking obligations, IaM can help. For more information and advice on US immigration, UK immigration law and US visa applications or if you need any help or assistance please, reach out to your Visa Coordinator at IaM.