Post-Brexit: Eurostar Decreased Peak Capacity Due To Border Checks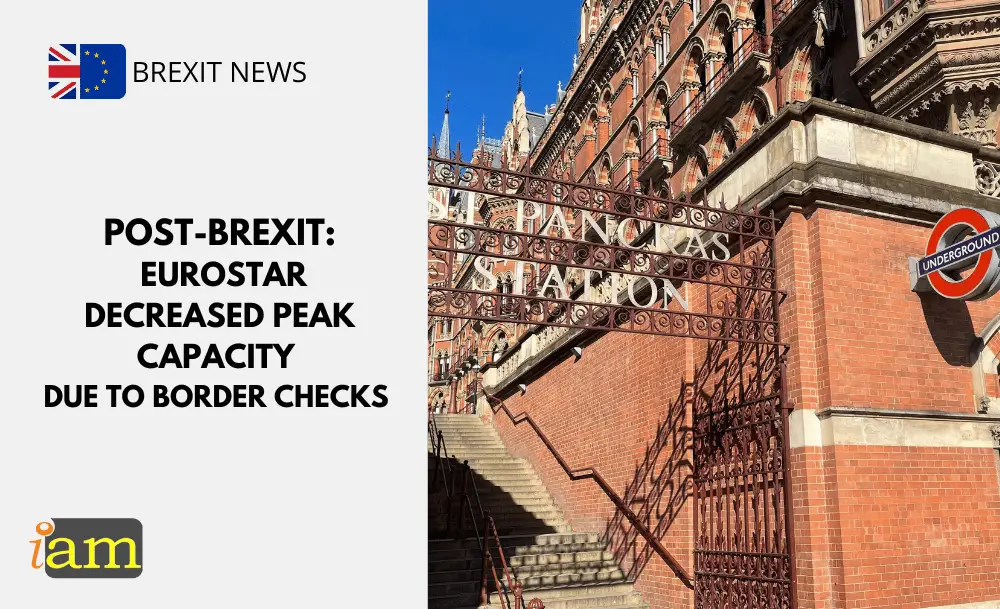 Border checks for British travellers introduced after Brexit have caused Eurostar's peak capacity to drop by 30 percent.
The rail operator is also facing financial pressures in the aftermath of the pandemic and it is also dealing with a shortage of engineers.
MP Huw Merriman, chair of the UK's transport select committee, recently wrote to Eurostar enquiring about the closure of Ebbsfleet and Ashford international stations in Kent and the end of the company's Disneyland Paris service.
Cause of Delay
Eurostar Chief Jacques Damas listed the issues the company was facing.
"Following the UK's departure from the European Union, additional border checks apply to UK citizens seeking to enter Schengen,"  

Jacques Damas
Since roughly 40 percent of Eurostar's customers are British, this has caused a "significant increase in the processing times at these stations."
Stamping passports adds at least 15 seconds to each passenger's border crossing time. While that may not seem like a lot with millions of people boarding the service every year, it adds up. 
On top of that, it makes electronic passport gates less effective as they don't accept British passports in most EU countries.
In London and Paris, Eurostar says it is trying to remedy the problem. Space is extremely restricted at St Pancras Station but another passport control booth is currently being installed. French passport gates have been upgraded and, in Paris, more UK gates are being added.
But still, peak capacity through the stations is now around 30 percent lower than it was before Brexit.
According to Damas, the only way that the company can manage the situation is by continuing to impose restricted timetables and limited capacity trains.
This means that Eurostar is unable to respond to the "high demand" for services linking capital cities. Reopening the Ebbsfleet and Ashford International stations in Kent would put too high of a strain on local police resources.
EU's Entry/Exit System (EES)
The rail operator is also anticipating facing other problems leading to more delays due to the Entry/Exit System (EES).
The EU is looking to introduce EES by the end of May 2023. 
This large-scale IT system will see third-country nationals, including British travellers, automatically monitored at border crossings.
The aim is for this to replace passport stamps at border crossing points into the Schengen area like airports and seaports. Jacques Damas writes that the uncertainty regarding the EES "hangs over" Eurostar.
Damas also lists other concerns around the current economic climate in the UK and EU. People are working from home more, cutting the number of commuters using the service. While the energy crisis means costs are going up putting both passengers and the company under pressure.
Merriman posted the responses on Twitter, saying that the UK's transport select committee will write to the "new Minister and Rail Regulator" sharing these "observations and interventions to support Eurostar.
What are your thoughts on this issue? Talk to us in the comment section below.
What are your thoughts on this issue? Talk to us in the comment section below.
Check out the deals we have found below and tell us your travel plans.
Check out the offers and discounts from:
And because of the pandemic, don't forget to get your travel insurance, which will cover you for flight disruptions and pandemic related matters.
IaM can help with your visa application to Europe, the United States, the UK & other countries
If you need help with a US visa, a UK Visa, or a visa to Europe, including help with appointment booking obligations, IaM can help. For more information and advice on US immigration, UK immigration law and US visa applications or if you need any help or assistance please, reach out to your Visa Coordinator at IaM.
Some of our posts include affiliate links. If you choose to purchase any of these products, we might get a small commission. For more information, check out our TOS.