Work Remotely With Colombia's New Digital Nomad Visa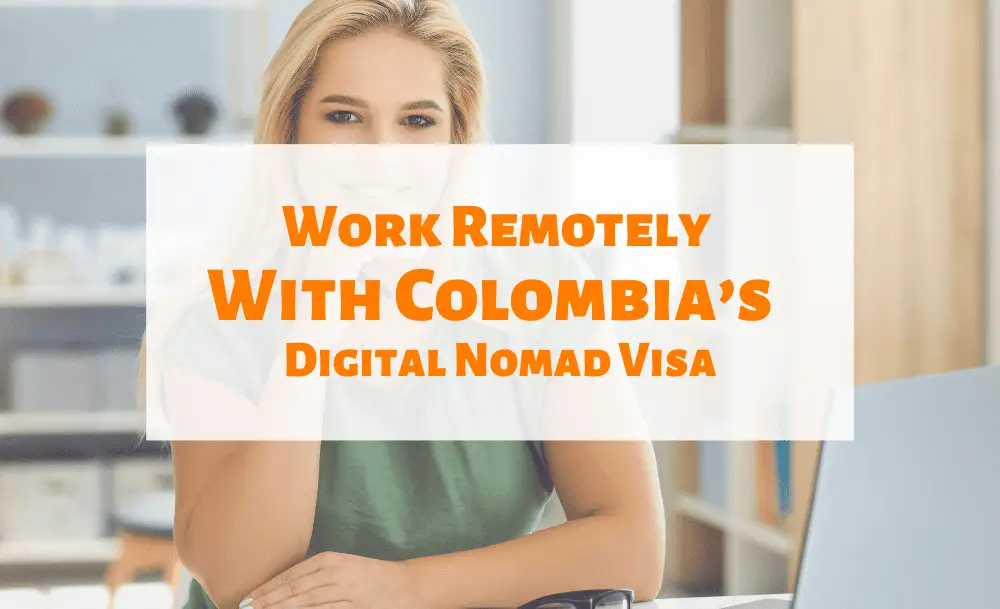 Colombia launched its digital nomad visa in March 2023 to allow remote workers to live and work in the country for up to two years. 
The government aims to lure remote workers to live in the country by highlighting the benefits of moving to Colombia.
Colombia has recently exploded in popularity as digital nomads flock to experience fantastic year-round weather and a low cost of living. Safety has significantly improved in the last decade, making it an enticing and easily accessible place for those from North America and Europe.
Who Are Qualified for Colombia's Digital Nomad Visa?
To apply for Colombia's digital nomad visa you'll need a valid passport from a country on the list of those exempt from needing a short-stay visa (see the list below).
Interested applicants must be able to prove that they can provide remote work or teleworking services, from Colombia, through digital media and the internet, exclusively for foreign companies, as independent or labour-related, or to start a digital content or information technology venture of interest to the country.
The minimum monthly income requirement is 3 million Colombian pesos which is around £567.
To apply, you need to prepare the following supporting documents:
a valid passport from a country on the list of those exempt from needing a short-stay visa, 
a letter proving your employment in your home country 
health insurance. 
bank statements for the past 3 months
Colombia's tourism board launched a website sharing resources for digital nomads, including a list of cities that offer the best accommodations for long-term visitors.
Those granted the visa can get a form of state identification known as 'Cedula de Extranjeria'. This is needed to access a number of services in the country including signing up for a mobile phone contract or renting a property.
Nationalities Exempt From Colombia's Short-Stay Visa
Albanian
Germany
Andorra
Old and bearded
Argentina
Australia
Austria
Azerbaijan
Bahamas
Barbados
Belgium
Belize
Bolivian
Bosnia and Herzegovina
Brazil
Brunei Darussalam
Bulgaria
Bhutan
Canada
Czech (Republic)
Chili
Cyprus
Korea (Republic of)
Costa Rica
Croatia
Denmark
Dominica
Ecuador
The Savior
United Arab Emirates
Slovakia
Slovenia
Spain
United States of America
Estonia
Fiji
Philippines
Finland
France
Georgia
Grenade
Greece
Guatemala
Guyana
Honduras
Hungary
Indonesia
Ireland
Iceland
Marshall Islands
Solomon Islands
Israel
Italy
Jamaica
Japan
Kazakhstan
Latvia
Liechtenstein
Lithuania
Luxembourg
North Macedonia
Malta
Morocco
Mexico
Micronesia
Moldova
Monaco
Montenegro
Norway
New Zealand
Netherlands
Oman
Palau
Panama
Papua New Guinea
Paraguayan
Peru
Poland
Portugal
Qatar
United Kingdom of Great Britain and Northern Ireland
Dominican Republic
Romania
Russia (Federation of)
Saint Kitts and Nevis
Samoa
San Marino
St. Lucia
Holy See
St. Vincent and the Grenadines
Serbian
Singapore
Sweden
Swiss
Surinam
Trinidad and Tobago
Türkiye
Ukraine
Uruguay
Venezuela
If you want to look for other destinations to work remotely, you may want to check the European countries that offer permanent visa routes for digital nomads. If you are curious about other digital nomad visas from other countries, check out the other countries that provide visas to digital nomads.
Do you have plans to visit Colombia? Talk to us in the comment section below. Or if you need more advice on the above, contact us for further travel & immigration advice.
Check out the deals we have found below and tell us your travel plans.
Check out the offers and discounts from:
And because of the pandemic, don't forget to get your travel insurance, which will cover you for flight disruptions and pandemic related matters.
IaM can help with your visa application to Europe, the United States, the UK & other countries
If you need help with a US visa, a UK Visa, or a visa to Europe, including help with appointment booking obligations, IaM can help. For more information and advice on US immigration, UK immigration law and US visa applications or if you need any help or assistance please, reach out to your Visa Coordinator at IaM.
Some of our posts include affiliate links. If you choose to purchase any of these products, we might get a small commission. For more information, check out our TOS.