Norway Urges to Avoid Travel to Germany and Liechtenstein, Imposes Quarantine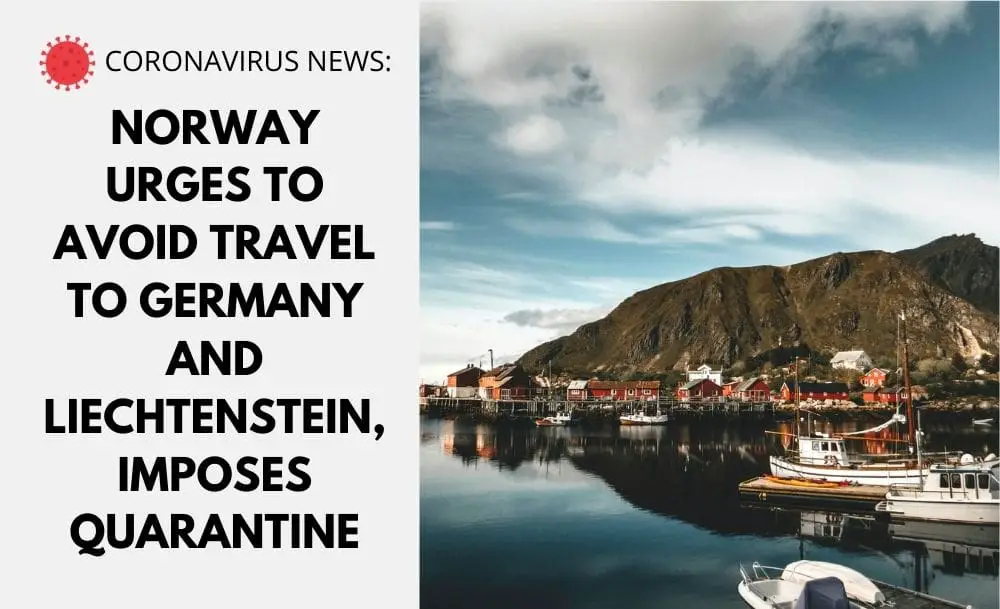 The Norwegian authorities are now advising citizens to avoid non-essential travel to Germany, Liechtenstein and Sweden's part of Västerbotte, because of an increase in COVID-19 cases in those countries.
Travellers arriving from those countries will also be subject to 10 days quarantine, from August 29.
"These countries and regions are being changed from 'yellow' to 'read' on the map showing the status for quarantine on entry to Norway from Europe. From August 29, anyone arriving in Norway from these countries and regions will be required to go into quarantine for ten days,"

the statement reads.
Norway's government had already announced to place on their red list of countries; Andorra, Austria, Bulgaria, Belgium, Croatia, Ireland, Cyprus, Denmark, the Faroe Islands, Greece, France, Iceland, Luxembourg, Portugal, Malta, Monaco, the Netherlands, Romania, Poland, Spain, the UK and Switzerland following an increase in their Coronavirus numbers.
It means that as well as having to quarantine, if you arrive from one of these countries, Norwegians are also advised to avoid unnecessary travel to these countries, unless necessary.
Norway Opens Visa Application Centres Worldwide
Despite the placing of countries on to their red list, Norway proceeded to reopen a number of its visa application centres abroad, after being closed for five months due to the weakening of the Coronavirus outbreak.
Yesterday, in the UK, the Norwegian Visa Application Centre in Edinburgh resumed limited visa applications and the centre in London is now accepting long-stay applications.
In the Philippines all categories, except tourism, resumed at the Visa Application Centre in Cebu resumed from last week on Thursdays and Fridays from 9 AM to 1 PM. Additionally, the centre in Manila is also accepting limited applications.
In Nigeria, the Visa Application Centres in Abuja and Lagos have resumed accepting long stay (resident permit and Students) visa applications every Monday from 9 AM to 2 PM.
Russia Application Centres in Kaliningrad and Murmansk have resumed accepting long stay and exceptional case applications for Norway. 
India is only having resumed passport pass back services in New Delhi.
And Houston (USA) has resumed accepting limited long-stay category applications
The centres in Addis Ababa (Ethiopia) and Kampala (Uganda) are now operating on select days.
The centres in Kenya and Tanzania will operate every Monday and Wednesday from 8 AM to 1 PM, accepting residence applications and re-submissions to obtain D-visas (entry visa to Norway) via prior appointment.
The centre in Jakarta (Indonesia) is now accepting long-stay applications.
The Norwegian Embassy in Ankara (Turkey) will open for applications for residence permits to Norway from Turkey (Ankara, Antalya, Izmir – 1 July, Istanbul – 8 July), Ukraine, Kosovo and Serbia from 1 July 2020. This does not yet include short-stay visa applications.
All applications for residence permits must be handed in at one of the VFS Global centres by prior appointment only.
The centre in Kuala Lumpur (Malaysia) is currently accepting short stay and long stay applications.
The centres in Accra (Ghana), Tehran (Iran), Tel Aviv (Israel), Tokyo (Japan), Amman (Jordan), Beirut (Lebanon), Abuja and Lagos (Nigeria), Ramallah and Gaza (Palestinian Territories), Al Khobar. Jeddah and Riyadh (Saudi Arabia), Dubai and Abu Dhabi (UAE), Hanoi and Ho Chi Minh City (Vietnam), Cape Town, Durban and Pretoria (South Africa) are currently accepting long-stay applications.
Currently, other than essential travel, no other countries, except the European or Schengen countries are permitted to travel to Norway.
Norway mandates wearing of masks for the first time since the Coronavirus pandemic began
From the 17th August,  the Norwegian government-imposed face coverings for anyone using public transit in and around Oslo and the Indre Østfold area during busy times.
This came after the Norwegian Directorate of Health and the Norwegian Institute for Public Health (FHI) recommended the wearing of masks. But at the same time, the Directorate's Espen Ropstrup Nakstad insisted that face coverings are not a substitute for social distancing: "It is also important to emphasize that keeping a good distance from others is the most important infection control measure we have."
The recommendation is not for staff or children in schools and kindergartens as well as those with chronic lung diseases who may not be able to use a mask safely.
What are your thoughts on Norway's quarantine measures? How do you think they are handling the coronavirus pandemic? Comment below.
If you need any help or assistance, reach out to your Visa Coordinator at IaM