Switzerland Opens Its Doors: Visa-Free Travel Granted to Kosovars from 2024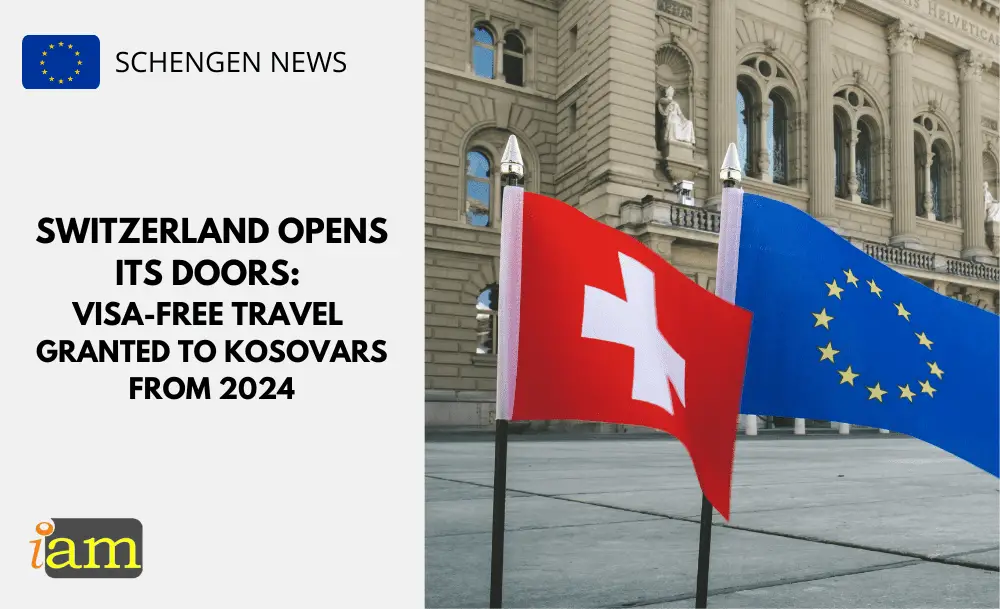 Switzerland has made a significant announcement that will undoubtedly bring joy to many citizens of Kosovo. 
Starting in 2024, Switzerland will grant visa-free travel to Kosovars, allowing them to enter the country without the need for a visa. 
In April, the EU Council passed a regulation that Kosovo has met the visa waiver requirements that prove security, border controls, and migration management. 
This means that Kosovo nationals are exempted from visa requirements to enter the Schengen area for short stays of 90 days every 180 days. 
Switzerland, a member of the Schengen Area but not the EU, has also confirmed that it would also lift its visa requirements correspondingly.
The 90-day visa regulation already applies to the Western Balkan countries, such as Serbia and Montenegro.
Enhancing Economic Cooperation
The visa-free travel agreement is expected to bolster economic cooperation between Switzerland and Kosovo.
The removal of short-stay visa requirements will facilitate easier travel for Kosovar entrepreneurs, investors, and professionals, creating opportunities for collaboration, trade, and investment between the two countries.
However, a visa will still be required to take up gainful employment in Switzerland. 
Kosovar nationals will only be allowed to take up gainful employment on the condition that they are professionally well qualified and that no equivalent workers can be found on the Swiss labour market or in EU/EFTA states.
Most UN member states, including the US, UK, France, and Germany, recognised Kosovo as a separate country after it declared independence from Serbia 15 years ago. Switzerland also recognised Kosovo in February 2008, soon after it declared independence.
What are your thoughts on this issue? Talk to us in the comment section below. Or if you need more advice on the above, contact us for further travel & immigration advice.
Check out the deals we have found below and tell us your travel plans.
Check out the offers and discounts from:
And because of the pandemic, don't forget to get your travel insurance, which will cover you for flight disruptions and pandemic related matters.
IaM can help with your visa application to Europe, the United States, the UK & other countries
If you need help with a US visa, a UK Visa, or a visa to Europe, including help with appointment booking obligations, IaM can help. For more information and advice on US immigration, UK immigration law and US visa applications or if you need any help or assistance please, reach out to your Visa Coordinator at IaM.
Some of our posts include affiliate links. If you choose to purchase any of these products, we might get a small commission. For more information, check out our TOS.