Beyond Brexit: Spain Remains The Top Choice for British Retirees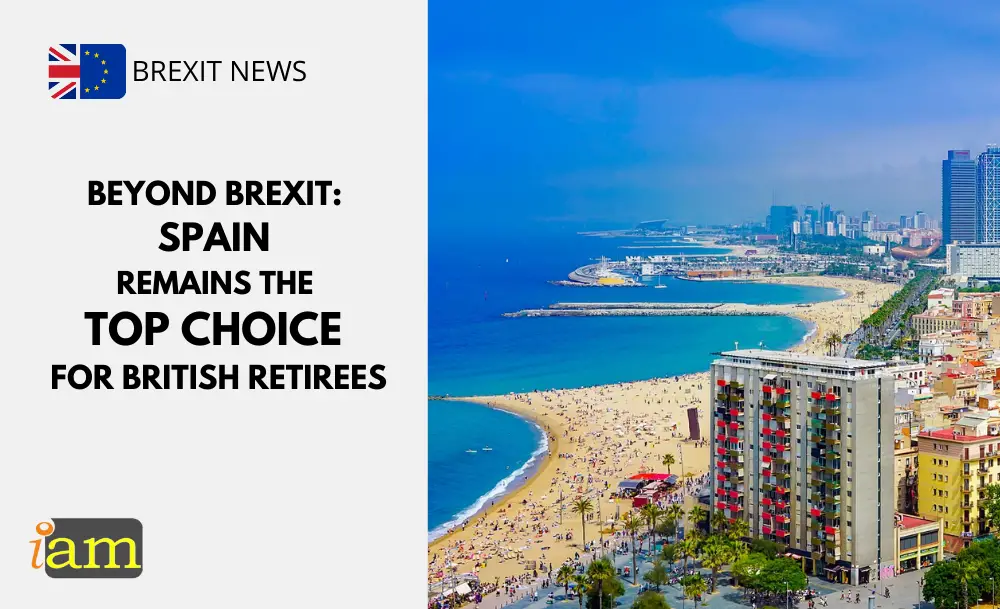 Retiring overseas has become a popular choice for many British citizens seeking a new adventure and a better quality of life.
Spain has been named the most popular destination in the world for British nationals who want to retire abroad, according to a new survey. 
Spain remains a popular choice for British expats despite the bureaucratic complications of Brexit. According to  Spain's National Statistics Institute (INE), even after Brexit Spain's British population continues to grow.
The survey, which was conducted by a UK-based financial services firm, asked over 1,000 British expats who had retired overseas about their experiences and preferences. Spain came out on top, with 27 percent of respondents saying they would choose to retire there.
Spain's warm climate, relaxed lifestyle, and lower cost of living are some of the key factors that make it an attractive destination for retirees.
In addition, Spain's excellent healthcare system and easy access to the UK were also noted as major advantages.
Most Popular Spanish Regions For Brits
It might not come as a surprise to discover that in early 2023 the biggest number of Brits in Spain lived in the southern region of Andalusia, home of the famous Costa del Sol, with a total of 92,180.
This was followed closely by the Valencia region, which includes Alicante province, with a total of 87,699, and then the Canary Islands with 29,631. 
Other autonomous communities with a sizable British population are Catalonia with 24,689, the Balearic Islands with 19,569, Murcia with 17,562, and the Spanish capital of Madrid with 11,831.
Top Ten Retirement Destinations
Spain came out on top in the rankings, and the rest of the top 10 was made up of familiar retirement destinations.
2nd Australia 
3rd Portugal 
4th Thailand  
5th Canada 
6th France 
7th India
8th New Zealand
9th Italy 
10th Greece
Spain's Long Stay Visa For Retirees
Post-Brexit, British nationals staying in Spain for more than 90 days in a 180 period need a visa.
Spain does not issue specific visa retirement however, there are other alternative visa routes that allow British nationals to move for the purpose of retirement in Spain.
The most popular visas for retirement in Spain are the Golden Visa and the Non-Lucrative Visa.
The Spain Golden Visa is a popular option amongst wealthier retirees as the holders will enjoy the benefit of making investments in Spain, as well as working and living in Spain.
To qualify for the Spain Golden Visa, you must invest substantially in Spain. The investment options include real estate, bonds, company creation, etc.
The Spain Non-Lucrative Visa (NLV) is created for non-EU nationals who have the financial means to live in Spain without working. One of the benefits of the visa is that it allows holders to bring along their entire family, provided that they can meet the minimum financial requirements.
For young travellers who work remotely, Spain has officially launched a Digital Nomad Visa. To know more about the visa, check out our blog post.
Getting a permanent residency visa in the EU will be easier as the EU is planning to reform EU visa rules. Check out our blog post here to get more information.
What are your thoughts on this issue? Talk to us in the comment section below. Or if you need more advice on the above, contact us for further travel & immigration advice.
Check out the deals we have found below and tell us your travel plans.
Check out the offers and discounts from:
And because of the pandemic, don't forget to get your travel insurance, which will cover you for flight disruptions and pandemic related matters.
IaM can help with your visa application to Europe, the United States, the UK & other countries
If you need help with a US visa, a UK Visa, or a visa to Europe, including help with appointment booking obligations, IaM can help. For more information and advice on US immigration, UK immigration law and US visa applications or if you need any help or assistance please, reach out to your Visa Coordinator at IaM.
Some of our posts include affiliate links. If you choose to purchase any of these products, we might get a small commission. For more information, check out our TOS.