Easter Travel 2023: European Destinations You Should Not Miss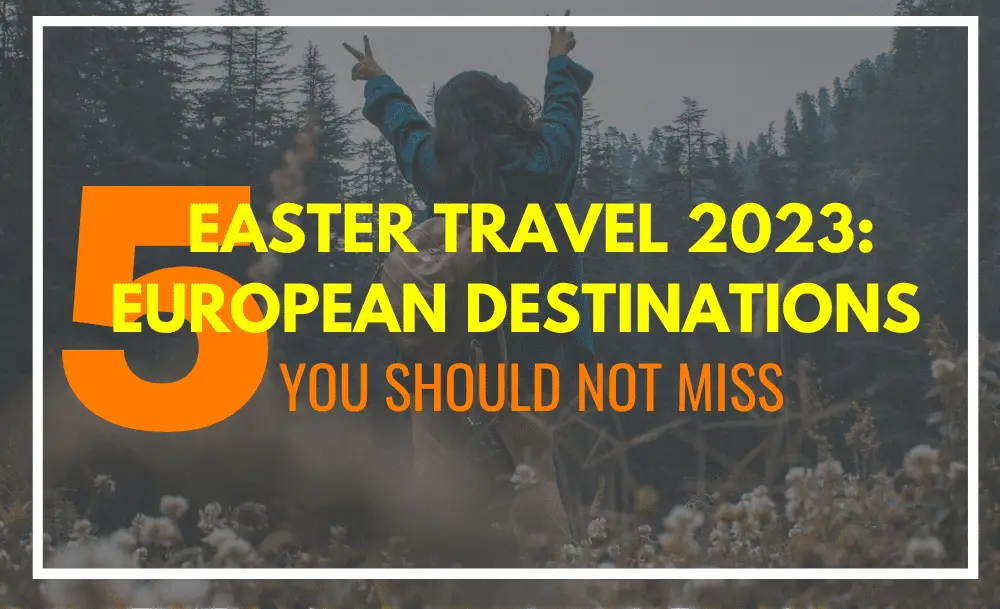 The Easter holidays are just around the corner and it could be the perfect time travel.
Whether you're looking to escape the cold weather and enjoy some sunshine, going for a slow journey to see various landscapes in Europe or simply taking a break from the daily schedule, there are plenty of options for an Easter holiday getaway.
If you have not decided where to go this Easter, here are 5 fantastic destinations in Europe where you can spend your East holidays alone or together with your friends and family.
Canary Islands, Spain
The Canary Islands are a popular travel destination for Europeans. With its year-round warm climate, stunning beaches, and unique volcanic landscapes, it's no wonder why the Canary Islands are known as the "Islands of Eternal Spring."
The Canary Islands offer a variety of activities for visitors of all ages. Beach lovers will enjoy the many stunning beaches, including Playa del Inglés in Gran Canaria and Playa de las Teresitas in Tenerife. Those seeking adventure can explore the unique volcanic landscapes of Lanzarote and Tenerife.
The islands are also home to several national parks, including Teide National Park, which is home to the highest peak in Spain. 
Whether you're seeking adventure, relaxation or a bit of both, the Canary Islands are the perfect destination for your next vacation.
Sicily, Italy
Sicily is a beautiful island with a rich history and culture. 
From stunning beaches and rugged coastlines to ancient ruins and delicious cuisine, Sicily has something to offer every visitor.
Sicily, Italy is a great travel destination due to its diverse offerings. The island has beautiful beaches, mountains, and even active volcanoes, making it an ideal location for adventure travellers. Additionally, the island has a unique cuisine that blends Italian and Mediterranean flavours.
Overall, Sicily is a beautiful and diverse island that caters to every type of traveller.
Rhodes, Greece
Rhodes is Greece's fourth largest island and offers plenty of attractions for tourists from ancient history to adventure activities such as kitesurfing.
The mediaeval city of Rhodes is a UNESCO World Heritage site with well-preserved walls, gates, and buildings. The Village of Lindos and its Acropolis are also popular attractions, boasting ancient ruins and stunning views of the sea. 
During summer, Rhodes is packed with tourists like most of Greece but rest assured that the island is big enough to avoid crowds.
As a whole, Rhodes is a terrific holiday destination since it combines a rich historical past with breathtaking natural beauty and family-friendly attractions.
Normandy, France
Normandy, France is a must-visit destination with its long stretches of beach, chalk cliffs and its green meadows.
Mont Saint-Michel is a UNESCO World Heritage Site and an important mediaeval pilgrimage destination.
You may also consider going to Honfleur, Normandy which is a few hour's drive from London. With its picturesque old harbour on the Seine estuary, Honfleur is one of the most charming towns in France.
The locals are quite friendly to travellers and the areas around the D-Day Beaches are used to American tourists. 
This makes it a great way to bridge the cultural divide and learn more about the history of one of the most significant events of the 20th century.
Cornwall, UK
Cornwall is a popular Easter destination in the UK.
Cornwall offers a wide range of activities to enjoy. From the rugged cliffs and beaches of the Cornish coast to the picturesque countryside dotted with ancient landmarks.
The top attractions to visit in Cornwall are the Cornish Coastal Path, Fistral Beach, Bude Tunnel, Barbara Hepworth Museum and Sculpture Garden, and the Minack Theatre.
The region also hosts a variety of Easter events and activities for families, including egg hunts and adventure quests at historical sites.
Once you have decided where to spend your Easter break, plan your trip and start packing your bags.
If you need a visa to visit these destinations, check out how to apply for Tourist Schengen Visa and how much it cost. If you need advice with a UK Visit visa, you can book an immigration consultation.
What are your thoughts on this issue? Talk to us in the comment section below. Or if you need more advice on the above, contact us for further travel & immigration advice.
Check out the deals we have found below and tell us your travel plans.
Check out the offers and discounts from:
And because of the pandemic, don't forget to get your travel insurance, which will cover you for flight disruptions and pandemic related matters.
IaM can help with your visa application to Europe, the United States, the UK & other countries
If you need help with a US visa, a UK Visa, or a visa to Europe, including help with appointment booking obligations, IaM can help. For more information and advice on US immigration, UK immigration law and US visa applications or if you need any help or assistance please, reach out to your Visa Coordinator at IaM.
Some of our posts include affiliate links. If you choose to purchase any of these products, we might get a small commission. For more information, check out our TOS.