UK To Ban International Students From Bringing Family Over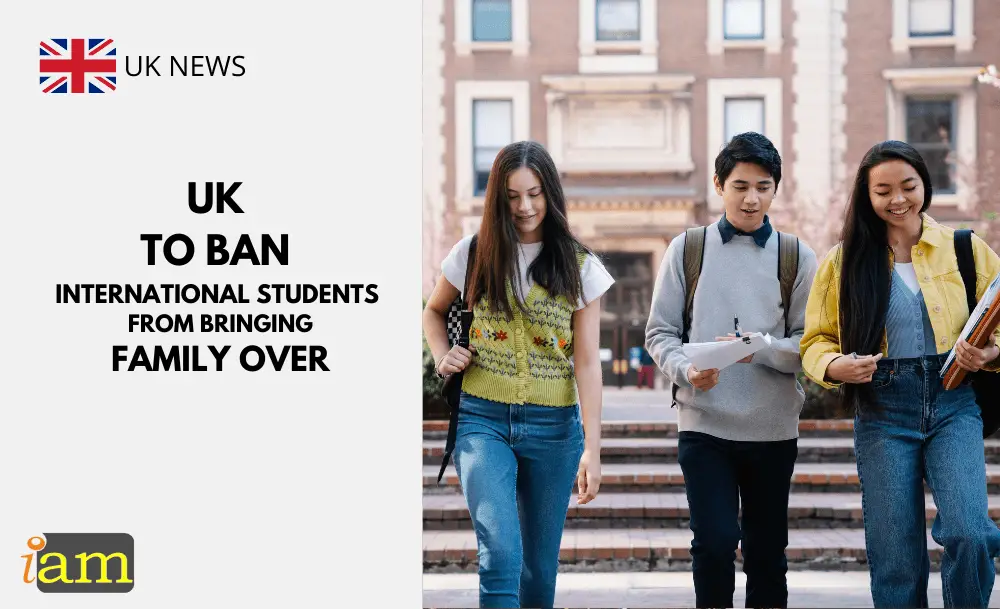 The United Kingdom is preparing to announce new measures preventing international students from bringing family dependents into the country.
According to reports, the Department of Education, the Home Office, and the Treasury are set to finalise plans that prevent master's students on one-year courses from bringing family members to the UK with them. 
UK net migration figures are predicted to show a record high when they are released later in May, putting pressure on the government to take action to tackle immigration. 
The number of students bringing family members with them increased by almost 30% in 2022, making up 135,788 student visas. Almost 100,000 of these were granted to family members of Indian and Nigerian students. 
Currently, a graduate visa allows master's students to bring their partners and children to the country with them. They can stay for 24 months after the students' courses finish.
"The public rightly expect us to control our borders and we remain committed to reducing net migration over time, while ensuring we have the skills our economy and public services needs."

A spokesperson from the Home Office
The proposed policy may not be a blanket ban, but dependent visas could instead be limited to students at top universities or studying "high-value" courses.
Where International Students Can Bring Their Family
Living and adapting to a new country alone can be a daunting experience. Bringing your family with you can help ease the emotional changes that come with living in a foreign country.
Here are countries that offer dependent visas for international students.
Australia
An Australian student visa is a temporary visa that allows you and your family to stay in Australia for the duration of your study course. You can apply to bring your family to Australia on your initial student visa application, or you can apply to have your family join you after your course begins.
Canada
International students may be able to bring their spouse or common-law partner and dependent children to Canada. They may be eligible for a study or work permit, or a visitor visa. You must submit their applications online when you apply for a study permit.
Germany
International students in Germany are allowed to bring their family members to live with them at least during the study period, but, both parties must meet some requirements. They can apply for a German Reunion Visa.
New Zealand
Qualified international students can support visitor visas for their partners and children. Some can also support a work visa for their partners, or student visas for their children.
What are your thoughts on this issue? Talk to us in the comment section below. Or if you need more advice on the above, contact us for further travel & immigration advice.
Check out the deals we have found below and tell us your travel plans.
Check out the offers and discounts from:
And because of the pandemic, don't forget to get your travel insurance, which will cover you for flight disruptions and pandemic related matters.
IaM can help with your visa application to Europe, the United States, the UK & other countries
If you need help with a US visa, a UK Visa, or a visa to Europe, including help with appointment booking obligations, IaM can help. For more information and advice on US immigration, UK immigration law and US visa applications or if you need any help or assistance please, reach out to your Visa Coordinator at IaM.
Some of our posts include affiliate links. If you choose to purchase any of these products, we might get a small commission. For more information, check out our TOS.