US Air Travel Rules: What You Need to Know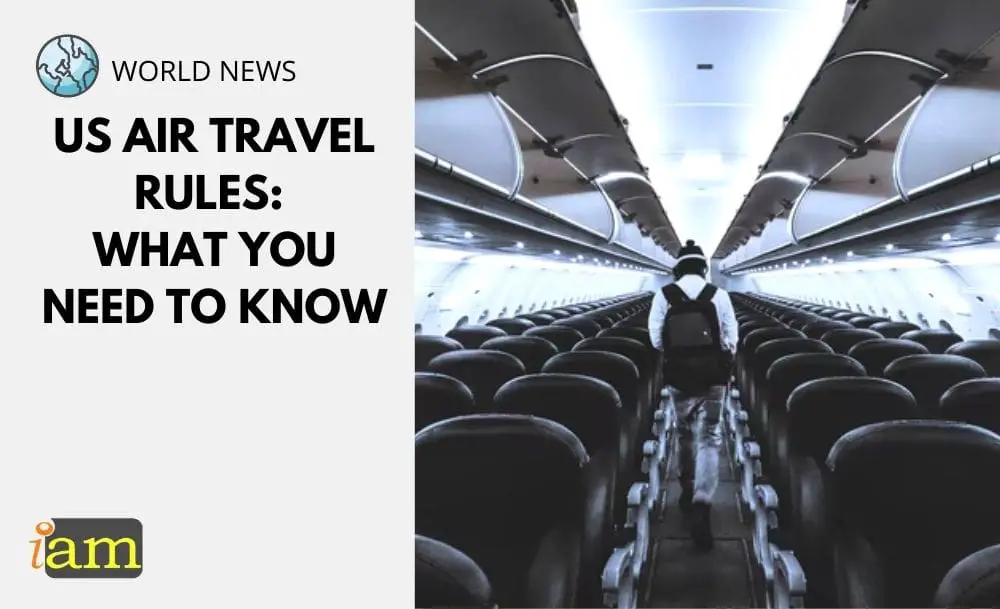 The United States has lifted travel restrictions for fully vaccinated passengers starting 8 November. Visitors can now enter the US from over 30 countries that were previously banned.
It marks the first time in roughly 18 months that non-essential travel has been permitted from 33 countries to the United States. The reopening, which comes ahead of the holiday season, is a major development for the travel industry, which has lost billions of dollars while the international borders were closed to specific countries.
The US has maintained tight coronavirus travel restrictions throughout the COVID-19 pandemic. The decision to lift them is a significant move towards a return to pre-pandemic.
The US has also brought an end to the travel restrictions at its land borders with both Canada and Mexico, also requiring vaccination from travellers.
Airlines are required to collect contact information for all passengers, regardless of whether they are vaccinated or not, to enable contact tracing.
Airlines will be required to verify vaccine records and match them against identity information. Airlines that don't enforce the requirements could be subject to penalties of up to nearly $35,000 per violation.
Quarantine officers from the Centers for Disease Control and Prevention will spot-check passengers arriving into the US for compliance.
Non-US Citizens Allowed in the US
Anyone who has been fully vaccinated against coronavirus can now visit the US, providing they have a certificate to prove they are vaccinated.
This update is particularly good news to those travelling from 33 countries previously banned from entering the US.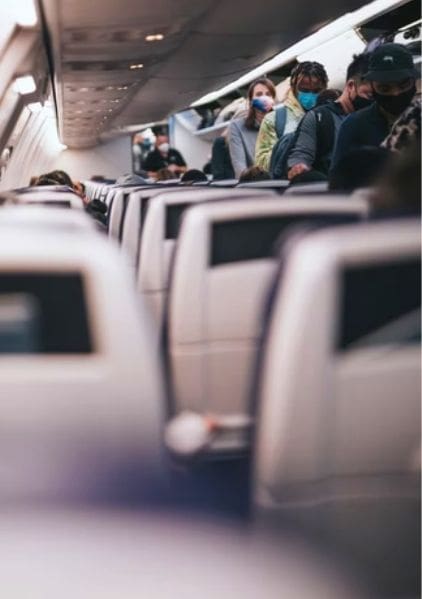 Many of these banned countries are part of the US Visa Waiver Program (VWP). The decision to lift travel restrictions means citizens of these nations can visit the US visa-free once again by registering online with the ESTA.
Vaccinated passengers from the following 33 countries can now enter the US.
The 26 member states of the Schengen Area
Brazil
China
India
Iran
The Republic of Ireland
South Africa
The United Kingdom (UK)
Returning US Citizens and Lawful Permanent Residents
Vaccinated US citizens and lawful permanent residents will be required to present a negative COVID-19 test taken no more than 72 hours prior to their departure for the US, regardless of their citizenship. 
Returning US residents who are unvaccinated or only partially vaccinated will be subject to stricter requirements than they are now, and will need to produce a negative test taken no more than 24 hours before boarding their flight.
Conditions for Visiting the US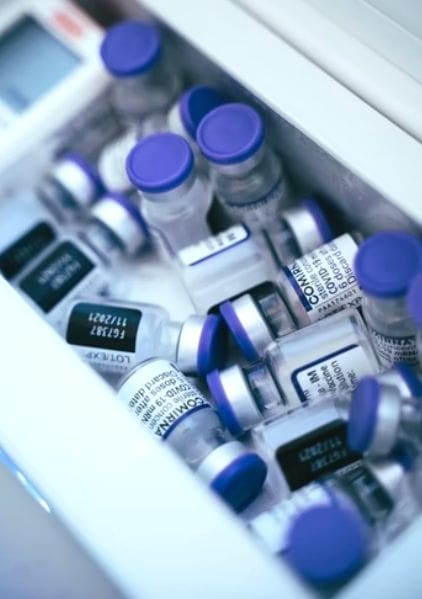 All foreign adults must have a COVID-19 vaccination certificate to enter the US. Children under 18 are exempt. Other exceptions may be made for those with a legitimate medical reason.
The certificate must show that the traveller received their final dose a minimum of 15 days before arriving in the United States.
Accepted vaccines include the following:
AstraZeneca
Covishield
Janssen (Johnson & Johnson)
Moderna
Pfizer-BioNTech
Sinopharm
Sinovac
Covaxin
Although CDC has not recommended the use of mix-and-match COVID-19 vaccine primary series, the CDC will accept vaccination records with combinations of acceptable COVID-19 vaccines.
If you don't meet the vaccination conditions, you are NOT fully vaccinated and are not permitted to enter the US for tourism or business purposes.
Travellers must take a viral test with a negative result for COVID-19 no more than 1 day before setting off for the US. This will be required to gain entry to the country. The types of accepted tests include antigen tests and nucleic acid amplification tests such as:
reverse transcription-polymerase chain reaction (RT-PCR) tests
reverse transcription loop-mediated isothermal amplification (RT-LAMP) tests
transcription-mediated amplification (TMA) tests
nicking enzyme amplification reaction (NEAR) tests
helicase-dependent amplification (HDA) tests.
Tests must be authorised for use in the country it was administered, according to the CDC.
Travellers who recently recovered from COVID-19 may instead travel with documentation of recovery from COVID-19. They should provide the positive COVID-19 viral test result and should be dated no more than 90 days before boarding the flight to the US and a letter from a licensed healthcare provider or a public health official stating that they were cleared to travel.
At present, there are no vaccination exceptions for religious reasons or other moral convictions.
Proof of vaccination should indicate the following information:
Personal identifiers (full name plus at least one other identifier such as date of birth or passport number) that match the personal identifiers on the passenger's passport or other travel documents
Name of official source issuing the record (e.g., public health agency, government agency, or other authorized vaccine provider)
Vaccine manufacturer and date(s) of vaccination
Acceptable Proof of COVID-19 Vaccination
| | |
| --- | --- |
| Documentation Type | Examples |
| Verifiable records (digital or paper) | Vaccination certificate with QR code1, digital pass via Smartphone application with QR code1 (e.g., United Kingdom National Health Service COVID Pass, European Union Digital COVID Certificate) |
| Non-verifiable paper records | Printout of COVID-19 vaccination record or a COVID-19 vaccination certificate issued at national or subnational level or by an authorized vaccine provider (e.g., the CDC vaccination card) |
| Non-verifiable digital records | Digital photos of vaccination card or record, downloaded vaccine record or vaccination certificate from an official source (e.g., public health agency, government agency, or other authorized vaccine providers), or a mobile phone application without QR code |
Find out how unvaccinated travellers can enter the USA in our blog post: New US Travel Rules: How Unvaccinated Travellers Can Go to the USA.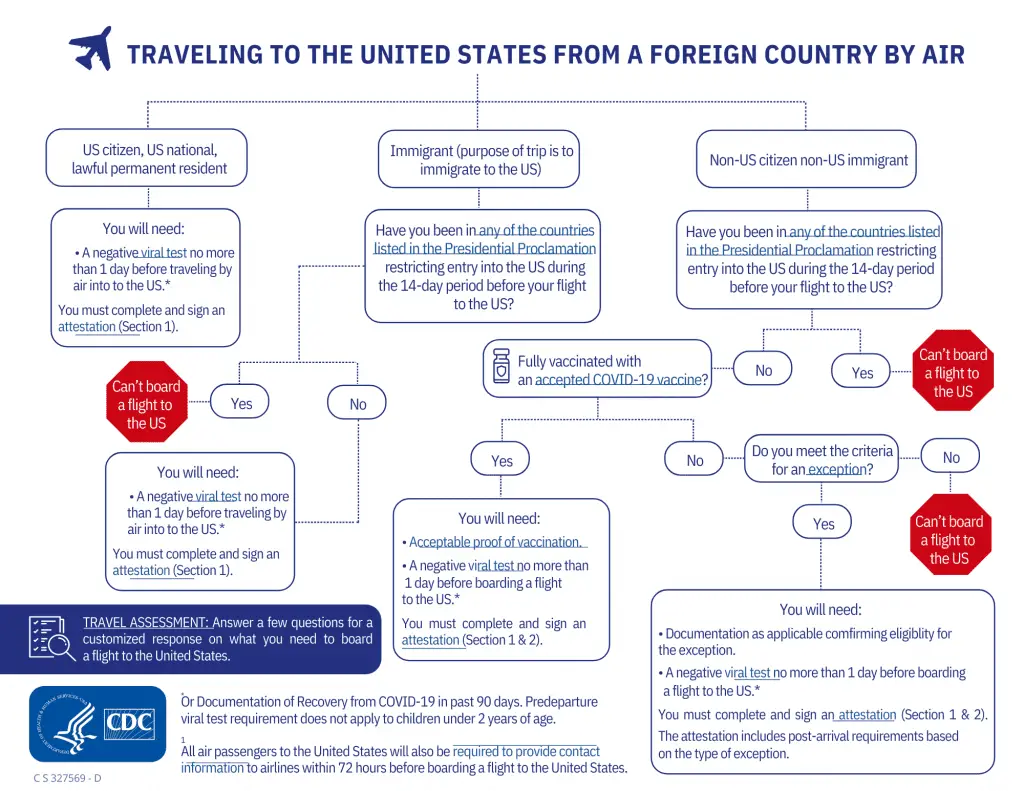 Banned Countries
The United States announced it is restricting travel from eight southern African countries over fears of the Omicron variant.
Travel will be mostly banned starting 29 November from South Africa, Botswana, Zimbabwe, Namibia, Lesotho, Eswatini, Mozambique, and Malawi.
Only US citizens and permanent residents will still be able to travel from the eight countries, the official, who spoke on condition of anonymity, added.
Travel Loopholes
Since half the world remains unvaccinated and vaccine distribution has been so skewed to rich countries, the current US administration is leaving a loophole for people who live in countries where vaccines are scarce.
These 50 countries have fewer than 10% of people having been vaccinated:
Afghanistan
Algeria
Angola
Armenia
Benin
Burkina Faso
Burundi
Cameroon
Central African Republic
Chad
Congo
Cote d'Ivoire
Democratic Republic of the Congo
Djibouti
Egypt
Ethiopia
Gabon
Gambia
Ghana
Guinea
Guinea-Bissau
Haiti
Iraq
Kenya
Kiribati
Liberia
Libya
Madagascar
Malawi
Mali
Myanmar
Nicaragua
Niger
Nigeria
Papua New Guinea
Senegal
Sierra Leone
Solomon Islands
Somalia
South Sudan
Sudan
Syrian Arab Republic
Togo
Uganda
United Republic of Tanzania
Vanuatu
Yemen
Zambia
Travellers from these countries will need permission from the US government to travel to the US but it cannot be just tourism or business.
They also need to provide proof of a negative COVID test result taken within 24 hours before boarding the flight to the US.
What are your thoughts on this issue? Talk to us in the comment section below.
Check out the deals we have found below and tell us your travel plans.
Check out the offers and discounts from:
And because of the pandemic, don't forget to get your travel insurance, which will cover you for flight disruptions and pandemic related matters.
IaM can help with your visa application to Europe, the United States, the UK & other countries
If you need help with a US visa, a UK Visa, or a visa to Europe, including help with appointment booking obligations, IaM can help. For more information and advice on US immigration, UK immigration law and US visa applications or if you need any help or assistance please, reach out to your Visa Coordinator at IaM.
Some of our posts include affiliate links. If you choose to purchase any of these products, we might get a small commission. For more information, check out our TOS.