The Best European Cities To Move To In 2023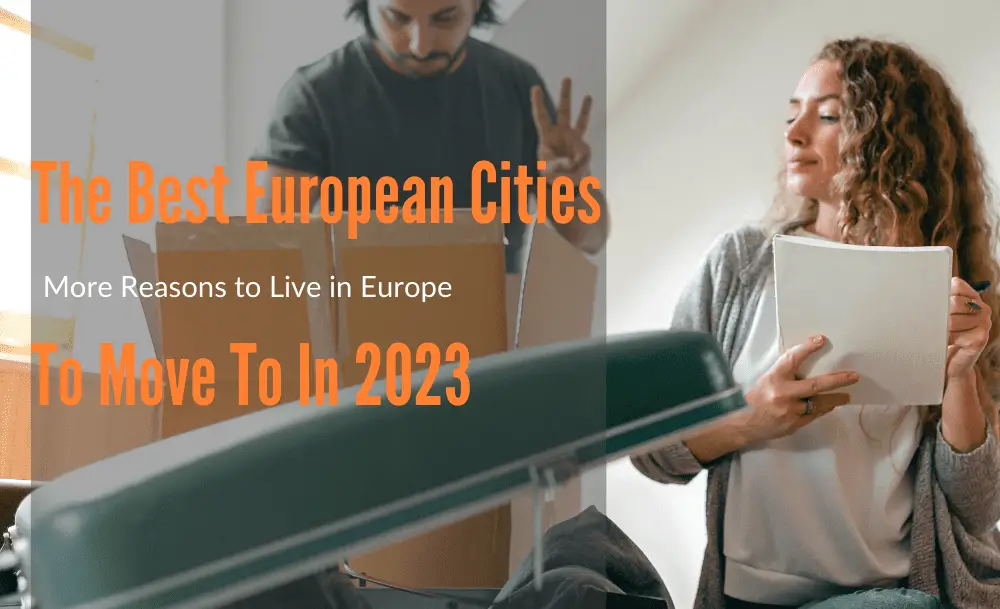 As remote work becomes more popular, many countries have started offering visas specifically for digital nomads. If you're thinking about moving abroad, it's important to choose a destination that offers the necessary services for teleworking and aligns with your lifestyle. To help you make an informed decision, InterNations, a global community for people who live and work abroad, has published its annual Expat Insider survey.
The Expat Insider 2022 report ranked 50 expat destinations based on the quality of life for expats. The survey asked expats to evaluate the ease of settling in, working abroad, and personal finances in the city where they live. The ranking also included an Expat Essentials index, which looked at factors such as digital life, administration, housing, and language.
For 2022, four European cities made it into the top ten: Valencia, Spain; Lisbon, Portugal; Madrid, Spain; and Basel, Switzerland.
Valencia, Spain was ranked the best city in the world for expats in 2022. Expats praised the city's affordable public transportation and opportunities for playing sports. Nine out of ten expats said they feel safe in Valencia, and three-quarters said they feel at home and happy with their social life. The city also scored well in the personal finance category, with 83% of expats rating the cost of living positively. However, the job market and work opportunities were a cause for concern, as Valencia came in last place for career prospects.
Lisbon, Portugal was ranked fourth overall, but it was one of the highest-rated cities for weather. Expats also enjoyed the culture and nightlife options in the city. Lisbon scored highly for safety, with 94% of expats saying they felt safe, compared to the global average of 81%. However, the city's rankings suffered in the working opportunities category, with 27% of expats saying they did not feel they were paid fairly. Check out Portugal's Digital Nomad visa.
Madrid, Spain was ranked just ahead of Lisbon in the overall rankings, and like Lisbon, it was known for its sunny climate. The city was highly rated for its nightlife and culture, and was considered the most welcoming destination for expats. Three out of four survey respondents said they found it easy to get used to the local culture. Like Valencia, however, Madrid's rankings were dragged down by concerns about the job market, with nearly a third of expats expressing worry about job security. Spain has recently approved a law to provide a Spain Digital Nomad Visa.
Basel, Switzerland came in seventh overall, but it was voted the second-best city globally for personal finances. Expats reported that their disposable household income was sufficient to lead a comfortable life, and four out of five felt they were paid fairly for their work. Almost all survey respondents said they enjoyed the natural environment and felt safe in the city. However, Basel ranked low in the ease of settling in index, with 30% of expats describing local residents as unfriendly and 58% saying they struggled to make friends.
The Worst European Countries to Live In for 2023
In terms of the worst European cities for expats, Paris was ranked second to last. Expats criticized the city for its expensive housing and high cost of living. They also reported that local residents were unfriendly and that it was difficult to make friends. However, Paris was highly ranked for its dining and nightlife options. Two Italian cities, Milan and Rome, also made it into the bottom ten. Expats in these cities reported dissatisfaction with their working hours and the cost of living.
More Reasons to Live in Europe
To add to these rankings, another survey of the top 10 cities for expats to live and work in 2022, conducted by InterNations, a global online community for people who live and work abroad, also provided a boon for Spain. 
Valencia, Spain, was ranked the top city for its "excellent climate," vibrant nightlife and culture, and affordable cost of living. Dubai, United Arab Emirates, came in second place for its good job prospects and thriving social scene, while Mexico City, 
Mexico, was ranked third for its welcoming culture and high satisfaction with life in general. The other cities in the top ten were Lisbon, Portugal; Madrid, Spain; Bangkok, Thailand; Basel, Switzerland; Melbourne, Australia; Abu Dhabi, United Arab Emirates; and Singapore.
Europe got another boost in rankings of the best cities in Europe, according to the readers of Condé Nast Traveller. The criteria for making the list included a world-class food scene, plenty of smart hotels, friendly locals, and intriguing history. 
Cities in Italy and Spain were particularly well-represented on the list, with three cities from Scandinavia also making the top five. The top city was Bilbao, Spain, followed by Copenhagen, Denmark; Stockholm, Sweden; Stavanger, Norway; and Seville, Spain. Other cities in the top ten were Palma, Spain; Florence, Italy; Munich, Germany; Barcelona, Spain; and Amsterdam, the Netherlands. This is a further boost to Europe as it adds to the list of top European destinations for solo travellers.
Overall, Valencia, Lisbon, Madrid, and Basel are some of the best European cities to move to in 2023 if you're looking for a high quality of life and good opportunities for teleworking. These cities have a great climate.
What are your thoughts on this issue? Talk to us in the comment section below. Or if you need more advice on the above, contact us for further travel & immigration advice.
Check out the deals we have found below and tell us your travel plans.
Check out the offers and discounts from:
And because of the pandemic, don't forget to get your travel insurance, which will cover you for flight disruptions and pandemic related matters.
IaM can help with your visa application to Europe, the United States, the UK & other countries
If you need help with a US visa, a UK Visa, or a visa to Europe, including help with appointment booking obligations, IaM can help. For more information and advice on US immigration, UK immigration law and US visa applications or if you need any help or assistance please, reach out to your Visa Coordinator at IaM.
Some of our posts include affiliate links. If you choose to purchase any of these products, we might get a small commission. For more information, check out our TOS.