7 Best European Cities For Solo Travel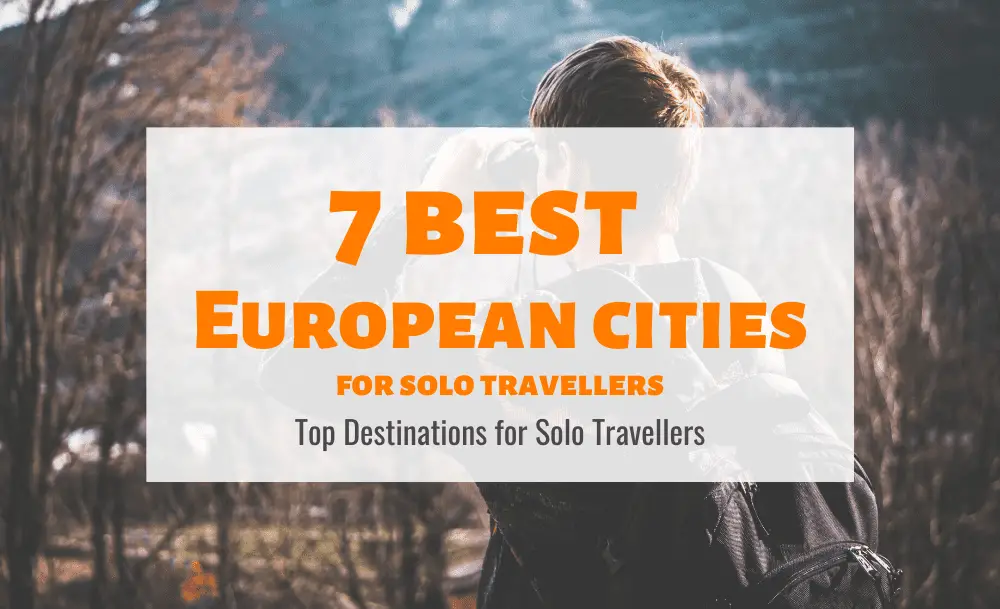 After two years of travel restrictions and with more countries welcoming back tourists, we are more than ready to get out there and explore the world. A growing number of people are booking solo trips, it seems many don't want to wait around for others to explore the countries on their bucket list.
However, travelling solo for the first time can be a daunting experience, but there is no better continent to do so than in Europe. Europe offers a myriad of destinations to choose from and the European cities provide endless opportunities to learn, grow and explore on your own journey. 
Here are some of the best places you can start your journey.
Amsterdam, The Netherlands
If you want to just wander along 17th-century canal houses with a camera on hand, there is perhaps no European capital city quite as suited to solo travel as that of Amsterdam.
Filled with quirky museums, stunning vistas, and plenty of unusual things to do, you can't go wrong by dedicating at least a long weekend to discovering the delights of this city.
The city has a wide, vibrant community of travellers, be it leisure travellers or freelance digital nomads.
The best time to visit Amsterdam is between April and May or September and November which is before and after the summertime high tourist season.
Athens, Greece
Athens is a wonderful destination for solo travellers. Not only is it friendly, welcoming, and easy to get around, but it is home to some spectacular attractions that you don't want to miss out on just because you don't have a travel buddy.
If you like to explore with a smaller crowd then the months of May, June, September, and October are ideal for visiting Greece. But, if having more people around makes you feel secure as a solo traveller, then summertime could be the season for you, the warmer summer months are when crowds swell throughout the country.
Edinburgh, Scotland
Edinburgh is one of Scotland's most beautiful cities. As the capital city of Scotland, it's clear that there's no shortage of amazing things to do in Edinburgh. Between scouting out Harry Potter inspiration locations and drinking some of the best local beers that the city has to offer, you're guaranteed to have an amazing time wandering around the city, especially if you're travelling alone and are free to set your own schedule!
The perfect time to visit Edinburgh is June through August which is the warmest but also the busiest time for tourism.
Istanbul, Turkey
Istanbul is the only city in the world which is divided between two continents and therefore it is natural for it to be very touristy and crowded.
This massive city hub at the crossroad of Europe and Asia is also affordable to travel around. Istanbul is full of cultural and historic experiences with its dazzling mix of old and new.
Lyon, France
The Eastern French city of Lyon is best-known for its world-famous foodie scene, impressive Roman ruins, and wealth of stunning architecture. Lyon also happens to have a fantastic international airport not far from the city centre!
Whether you enjoy wandering around historic museums, taking day trips to the nearby wine country, or simply enjoy soaking up the sights of an old town, Lyon is perfect for a solo traveller in France.
The most important factor in deciding when to visit France is tourism itself. As most French people holiday in their own country, consider avoiding the main French holiday periods which are mid-July to the end of August.
Rome, Italy
Rome is a top choice for solo travellers. With the highest number of places to stay and most activities to choose from.
Rome is a huge city full of history, culture and food so there is plenty for you to discover. To keep travel costs low, look at purchasing a pass for public transport to make your way around this metropolitan centre.
Zurich, Switzerland
Zurich is a stunning Swiss destination that should be on any European itinerary. Beautiful to visit during any time of the year, visit Zurich in the winter and you can expect to see the snow, while the summer offers a tranquil lakeside experience.
Located in the North of this land-locked country, some of the best things to do in Zurich on your own include exploring the Altstadt and catching the best view of the city from the top of the 12th-century Grossmünster cathedral.
Though the city is beautiful to visit during any time of the year, it's worth noting that while the summer months promise the best weather, the winter months coat the city in a stunning blanket of snow and the Christmas Markets of Zurich are easily among some of the best in Europe.
When it comes to solo travel in Europe, a chief concern of many visitors is whether or not it's safe to travel alone. Typically, travelling around Europe is as safe as travelling around your hometown but you should take the same precautions as you would if you were back home.
It's normal to get nervous when travelling alone but it should not stop you from having a fantastic time.
Where do you plan to travel? Talk to us in the comment section below.
Check out the deals we have found below and tell us your travel plans.
Check out the offers and discounts from:
And because of the pandemic, don't forget to get your travel insurance, which will cover you for flight disruptions and pandemic related matters.
IaM can help with your visa application to the United States, the UK & other countries
If you need help with a US visa, a UK Visa, or visa to Europe, including help with appointment booking obligations, IaM can help. For more information and advice on US immigration, UK immigration law and US visa applications or if you need any help or assistance please, reach out to your Visa Coordinator at IaM.
Some of our posts include affiliate links. If you choose to purchase any of these products, we might get a small commission. For more information, check out our TOS.