What you need to Know about Mayweather vs. Pacquiao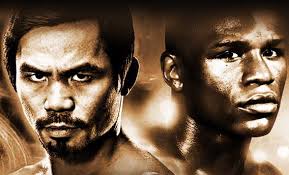 What you need to Know about Mayweather vs. Pacquiao?
Being a fan of boxing or even not being a fan at all, no one will remain indifferent to the classic on Saturday between Pacquiao and Mayweather.
For most people around the world, after years of waiting, they are just days away from Floyd Mayweather Jr vs. Manny Pacquiao.
Manny Pacquiao born is 1978 is a Filipino world champion professional boxer. Floyd Mayweather, Jr. born in 1977 is an American professional boxer.
Apart from of the rumours of Pacquiao turn down this Saturday, we can say that in iam we are for Pacquiao. Not discrediting the opponent, of course.
Mayweather is more "money-focus" and, that all of us know already. He will do business from this fight but Pacquiao will give us what we deserve, a magical fight.
Do not forget that, Pacquiao comes from poverty, became successful and still humble. If you would like to know more about the life of Emmanuel "Manny" Pacquiao, iam suggest that you watch the movie << Kid Kulafu >>, the life story of Pacquiao.
Manny Pacquiao bids to be the first man ever to beat Floyd Mayweather, the 'richest fight in history'.
By knowing both playing strategy, Pacquiao will do 5 things:
1. Hit him coming in.
2. Keep on moving.
3. Maintain distance.
4. Show defensive discipline.
5. Stay back.
Quoting Carl Froch (English professional boxer and columnist): "This is a global, once-in-a-lifetime fight. It should have already happened.", I couldn't agree more.
Pacquiao takes on Floyd Mayweather in Las Vegas on Saturday, May 2, 9:00PM ET and London time 2:00AM, after three months of intense build-up from both sides. For KO or decision, we wish both all the best.
And what about your predictions? Tell us your thoughts about the most epic boxing fight in 2015 by leaving a comment below.
Latest posts by Maria Pintado
(see all)