Canada Immigration: Parents and Grandparents Program Reopens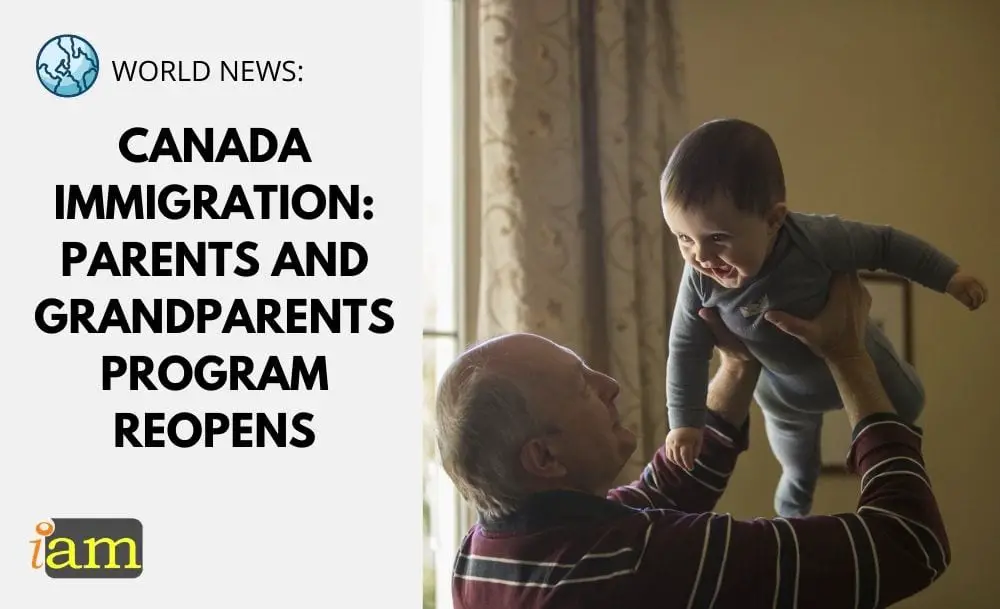 As immigration chaos envelops the developed nations, with the current U.S. administration trying to curb immigration to the U.K battling the Brexit immigration rules, Canada is set to welcome immigrants.
Canadian citizens and permanent residents can now apply to sponsor their parents and grandparents for Canadian immigration
Canada's immigration department is reopening the Parents and Grandparents Program (PGP) from October 13 (12 pm EDT) to November 3 2020 (12 pm EDT).
This will give applicants the chance to express interest for parents and grandparent sponsorship to Canada before starting the actual visa application process.
This is an important step of the process and Immigration Refugees and Citizenship Canada (IRCC) will then choose which applicants with Expressions Of Interest (EOIs) will receive invitations to apply for family sponsorship through the PGP and will then have 60 days to accept the invitation.
The IRCC will only accept 10,000 applications in 2020 and will then reopen in 2021 to accept another 30,000 EOIs.
IRCC has stated that this may take place in January and February 2021.
Because the program has reopened so late this year, IRCC has noted that it will not be increasing the income requirement for 2020 tax year.
This is to ensure that those who were affected financially by the COVID restrictions will not be unfairly disadvantaged.
How to Apply for Canadian Family Sponsorship
Before you start the process of expressing interest in sponsoring your parent or grandparent to join you in Canada it's important to make sure that you qualify for the Parent and Grandparents Program.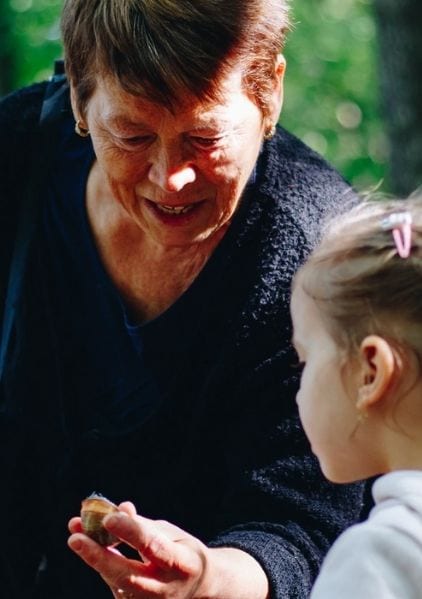 Eligibility
Below are the key eligibility factors that need to be met under this Canadian family sponsorship program.
18 years old or older;
Live in Canada;
Be a Canadian citizen or Permanent resident
Have proof of enough sponsorship funds to support your parent or grandparent.
How much money will I need to sponsor my parent(s) or grandparent(s) to live in Canada?
This depends on whether you live in Quebec or not.
Quebec has its own immigration program and with it, its own set of requirements.
Below is a breakdown of the necessary income requirements for Quebec and Federal Income requirements for those who want to apply to sponsor their parents or grandparents in 2020/2021.
Federal Income Requirements
The Federal income requirements include having proof of income for three tax years prior to your application date.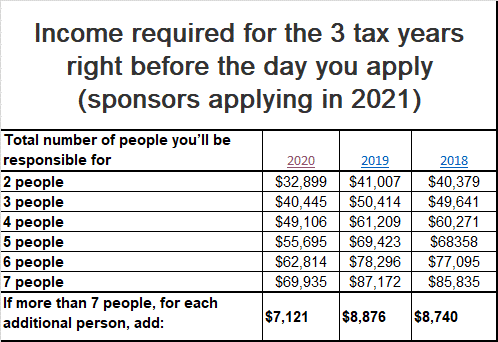 Quebec Income Requirement
The Quebec income requirements only include having proof of income for 12 months prior to your application date from both the potential sponsor and their co-signer.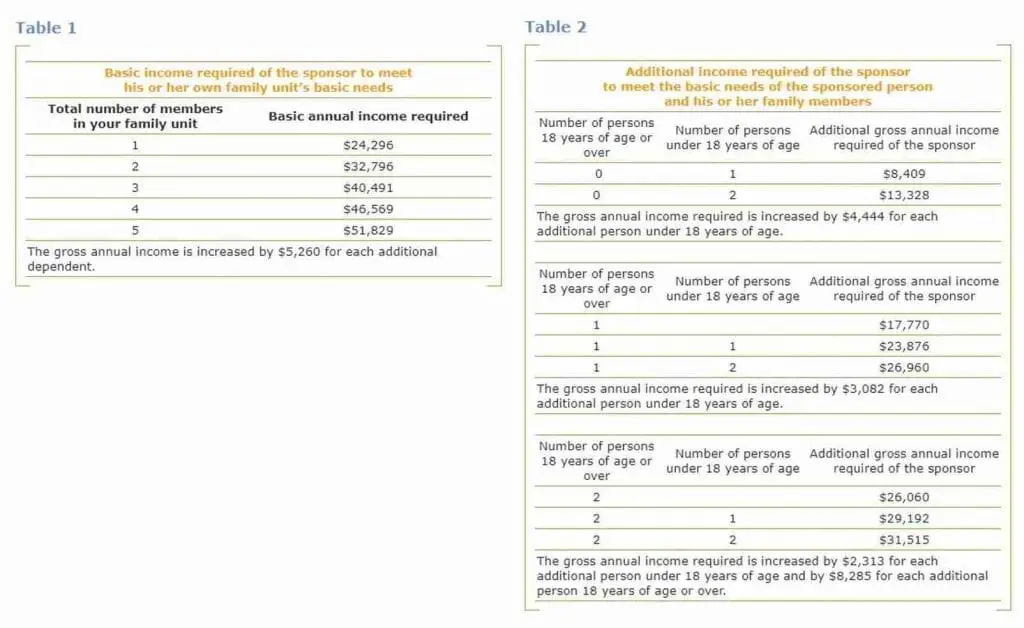 How long will I be financially responsible for my parent(s) or grandparent(s)?
The length of sponsorship or undertaking depends on who you will be sponsoring through Canada's Family Sponsorship Program and whether or not you are in Quebec.
To sponsor your parents or grandparents to live with you in Canada you will be required to be able to sponsor them for 20 years whereas in Quebec you will only be financially responsible for them for 10 years.
Should You Submit your Application this year?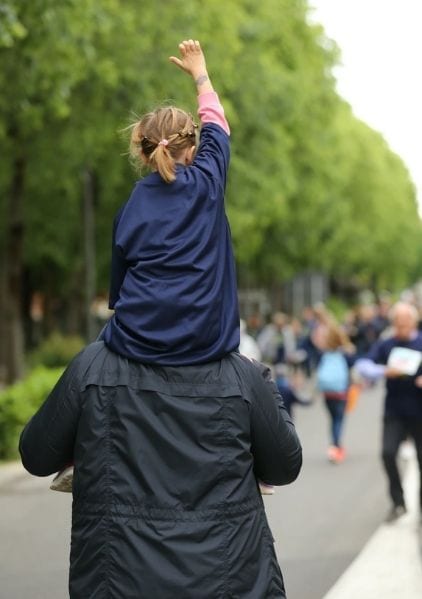 Lower Income Requirements for 2020 Applications
Due to the strain caused by unemployment due to COVID restrictions, the Government has decided not to increase the income requirement for those applying for Canadian family sponsorship in 2020.
The Government will also be accepting Employment Insurance (EI) Benefits when calculating overall income for the tax year of 2020.
This is a temporary policy, which may not apply for the 2021 taxation year.
Usually, sponsor applicants would be required to have the minimum income plus 30%.
The Family Sponsorship Road to Canada is a Long One
For those who have not yet applied, the application process can range anywhere from 20 to 24 months.
This includes the time you need to supply your biometrics.
This means that you don't have to worry about the current restriction on travel to Canada.
If you have already applied and are concerned about the travel restrictions, the government recently announced that as of October 18 that extended family will be able to enter Canada provided they are planning to stay for 15 days or longer, which included grandparents.
Do you plan to sponsor your loved ones to join you in Canada? Comment below.
IaM can help with your visa application to the United States, the UK & other countries
If you need help with a US visa, a UK Visa, or visa to Europe, including help with appointment booking obligations, IaM can help. For more information and advice on US immigration, UK immigration law and US visa applications or if you need any help or assistance please, reach out to your Visa Coordinator at IaM.