Everything you need to know about the UK Global Talent visa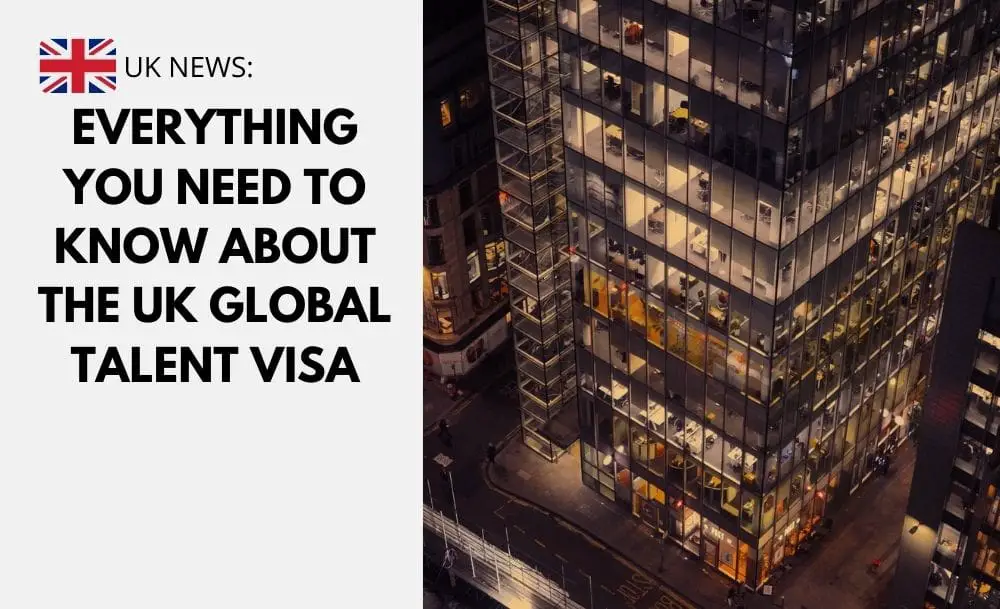 In January 2020, the UK government has introduced the Global Talent visa which will replace Tier 1 Exceptional Talent visa effective 20 February 2020.  The visa was introduced to encourage talented minds to work and settle in the UK. The Tier 1 Exceptional Talent route remains open for indefinite leave to remain (ILR) applications only.
The permit is harder to obtain as limited people are qualified however the government no longer sets any cap on the number of visas available annually. The Global Talent visa is a UK immigration category for talented and promising individuals in specific sectors wishing to work in the UK. 
To apply, you should meet the following conditions
Received an endorsement from the endorsing body as a leader or potential leader in the field of academia or research, arts and culture or digital technology
Non-EU/EEA and Swiss national
Education and work experience for a minimum of 5 years in the stream of Science, Mathematics, Engineering, and Arts.
3 Recommendation Letters from your seniors
Reference letters from present and senior employers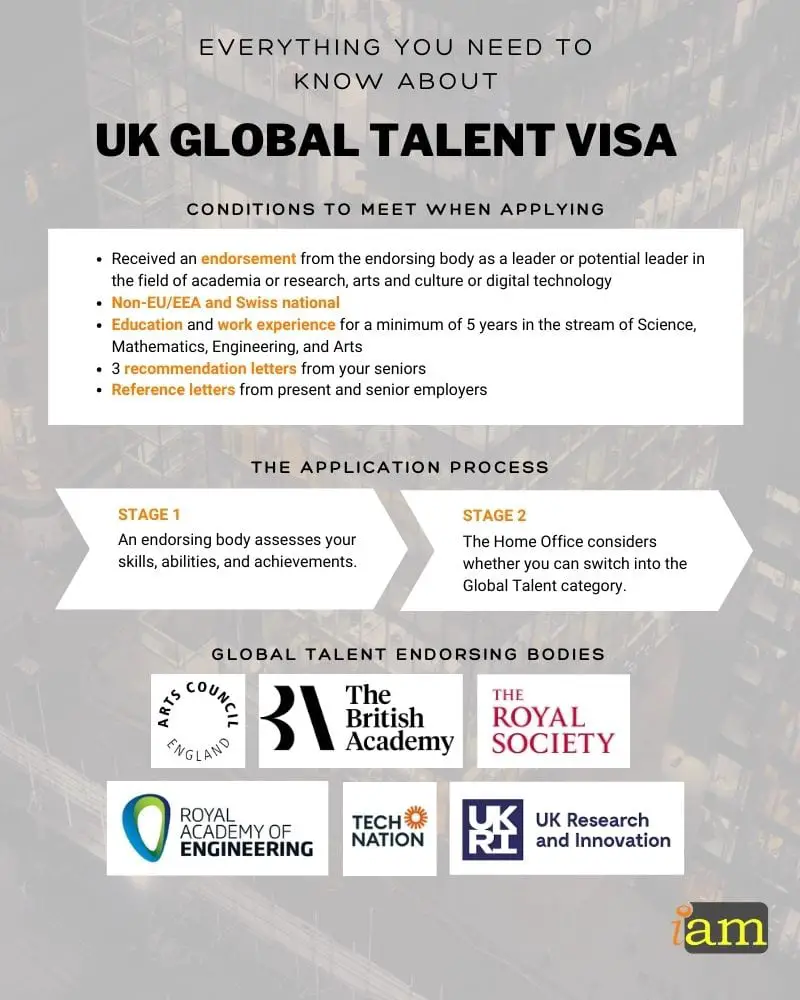 The application process
Stage 1 – An endorsing body assesses your skills, abilities, and achievements. During this process, your current immigration permit is not affected while in the country. If your permit will expire during this process, then you will be considered overstaying your visa.
Stage 2 – The Home Office considers immigration aspects, such as whether general grounds for refusal of application and, if you are already in the UK, whether you can switch into the Global Talent category. If your visa expires during this stage, then your visa will be extended while your application is being considered.
If you have not held any Tier 1 visa before, then you need to undergo both processes. You can apply for both stages at the same time however if you fail the endorsement process then you will automatically be rejected for the visa application and the fee for both will not be refunded. If you wish to extend your current Global Talent visa then there is no need for the stage 1 process as long as the endorsing body has not withdrawn their decision.
You can get endorsements in two categories:
Exceptional talent– this is given to individuals who are highly talented in their field
Exceptional promise– this is given to individuals who show exceptional promise in their field
Global Talent Endorsing Bodies:
Arts Council England – for arts, culture, fashion, film, and television
The British Academy – for humanities and social science
The Royal Society – for natural sciences and medical science research 
The Royal Academy of Engineering – for engineering
Tech Nation – for digital technology
UK Research and Innovation (UKRI) – for research 
Documents needed for the second stage
Once you have the endorsement you need to apply for a Tier 1 Exceptional Talent visa and must provide certain documents with your application.  Some people based in the UK can switch to this UK visa category.
Current passport and/or other travel documents 
A separate passport photograph (depending on the circumstances). 
A letter of endorsement from the designated competent body 
Clear tuberculosis (TB) test result letter, if the applicant is from one of the countries on the Home Office's TB testing list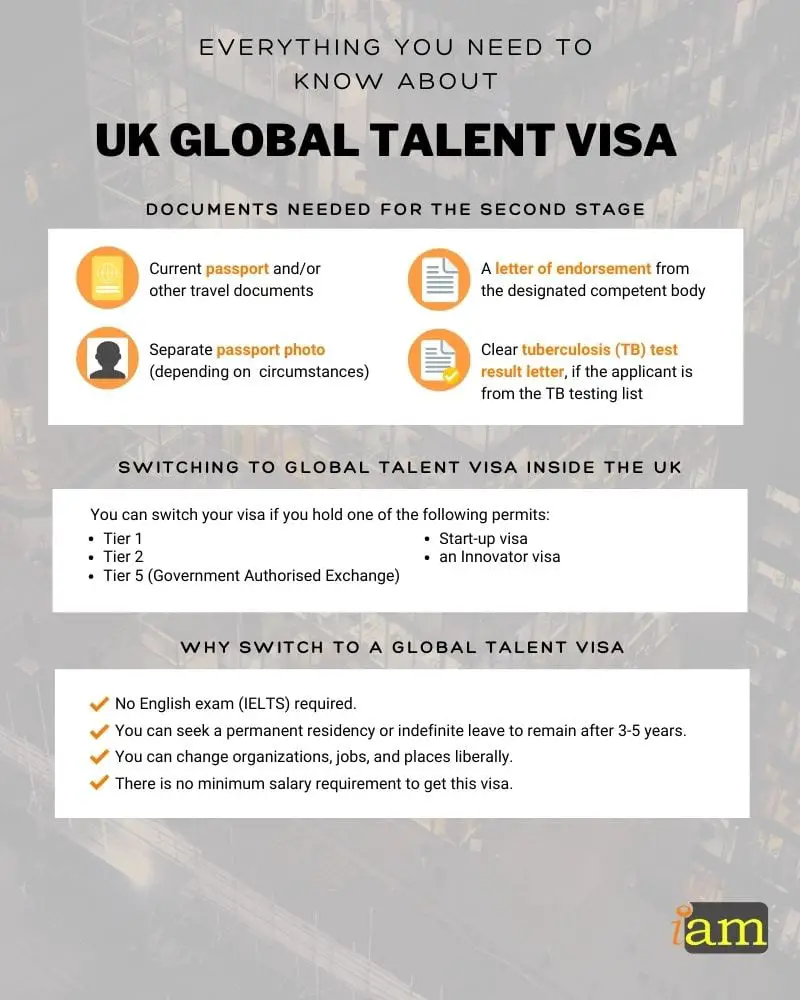 Switching your current permit to Global Talent Visa inside the UK
It is possible to switch into a Global Talent visa following a successful endorsement application. You can switch your visa if you hold one of the following permits:
Tier 1
Tier 5 (Temporary worker – Government Authorised Exchange) on an exchange scheme for sponsored researchers
a Start-up visa
an Innovator visa
Applicants who do not hold permission in one of the categories above will need to apply for a global talent visa from overseas.
Advantages of the UK Global Talent Visa
No English exam (IELTS) required.
You can seek a permanent residency or Indefinite Leave to Remain after staying in the country for 3 or 5 years.
You can change organizations, jobs, and places liberally.
There is no minimum salary requirement to get this visa.
Global Talent Visa vs Tier 1 Exceptional Talent Visa
Global Talent visa has no limit for the number of applicants per year who can get the visa. The Tier-1 Exceptional Talent visa has a limit of 2000 individuals per year
Global Talent visa has easier rules to get the visa compared to Tier 1 Exceptional Talent visa
Global Talent visa does not form a part of the points-based system (PBS) category of visas unlike the Tier 1 Exceptional Talent visa
Global Talent visa holders under the fields of Science, Medicine, Engineering, and Humanities, their absences from the UK for the purposes of their research undertaking(s) would not count as absences for the purpose of applying for settlement in the UK.
What do you think of the Global Talent Visa? Will you be switching? Sound off in the comments below!
Reach out to your IaM Visa Coordinator if you have any questions.