Post-Brexit EU Residency – Number of British Nationals Denied of EU Residency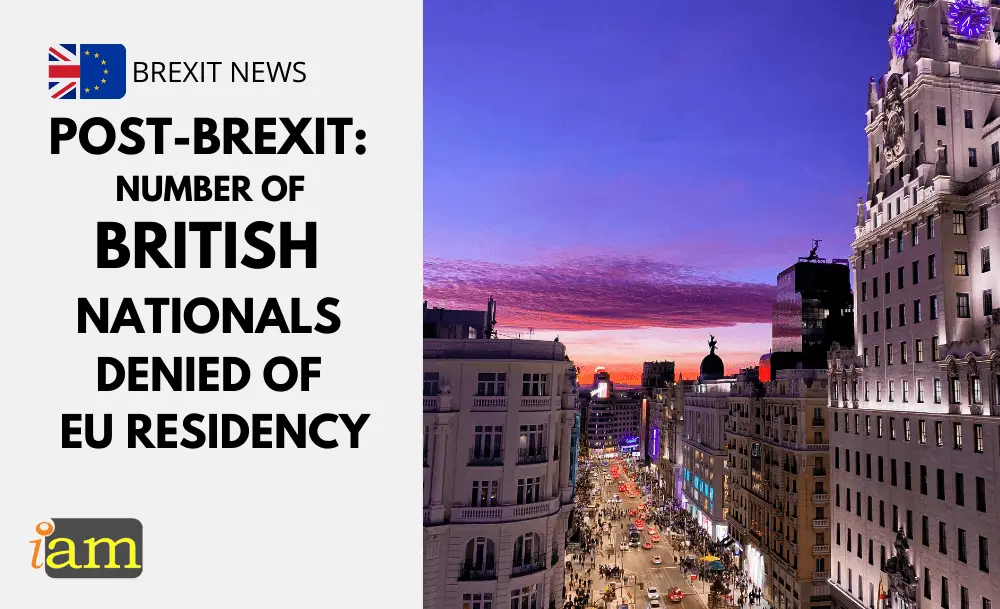 New figures have been released revealing how many British nationals living in the EU have acquired post Brexit residency permits, and how many were refused the status.
The numbers were laid out in the latest report by the joint EU/UK Specialised Committee on Citizens' Rights, which was set up to keep a check on whether the Citizen's Rights aspect of the Brexit Withdrawal Agreement was being properly enforced.
In total, some 497,100 British nationals in the EU out of an estimated 1.093 million have acquired a post-Brexit residence status. Although this doesn't tell the full story because British nationals living in many EU countries have not been obliged to apply for a post-Brexit residence permit.
EU countries could choose whether to grant post-Brexit residence status under a constitutive system, where applicants had to apply directly to government agencies to be awarded residence status, or a declaratory system where applicants' rights were not dependent on a government decision.
The report shows the number of British citizens who applied for post-Brexit residency permits in those countries where it was obligatory to do so, how many were successfully granted, and a number for how many were rejected.
Out of 289,900 British nationals living in countries that obliged them to obtain a residence permit some 258,400 successfully acquired it.
The report also revealed that Sweden rejected over 10 percent of applications for post-Brexit residence status, the highest rejection rate per number of applicants than any other EU country.
Numbers Lower Than Estimates
In most EU countries that implemented a constitutive system the number of applications was similar to the estimated number of British nationals who would apply. However, in Belgium, only half of the estimated 18,000 British nationals living in the country acquired a post-Brexit residence permit whilst France was the only country that received more applications compared to the estimated number of applicants.
In countries like Spain and Italy, they have however been encouraged to apply for a post Brexit residence document.
In Spain, out of an estimated 430,000 British residents only 187,000 have acquired the new document. In Italy, the figure is 12,900 out of an estimated 33,800 British residents.
The report also shows very few residents in declarative countries have been refused the Brexit document apart from in Spain where some 3,400 have been rejected. It is unclear whether this figure includes duplicate applications that were later successful.
In Italy, only 2 applications have been officially rejected.
What are your thoughts on this issue? Talk to us in the comment section below. Or if you need more advice on the above, contact us for further travel & immigration advice.
Check out the deals we have found below and tell us your travel plans.
Check out the offers and discounts from:
And because of the pandemic, don't forget to get your travel insurance, which will cover you for flight disruptions and pandemic related matters.
IaM can help with your visa application to Europe, the United States, the UK & other countries
If you need help with a US visa, a UK Visa, or a visa to Europe, including help with appointment booking obligations, IaM can help. For more information and advice on US immigration, UK immigration law and US visa applications or if you need any help or assistance please, reach out to your Visa Coordinator at IaM.
Some of our posts include affiliate links. If you choose to purchase any of these products, we might get a small commission. For more information, check out our TOS.