Vaccination Required for All Non-US Citizens Crossing US Land Border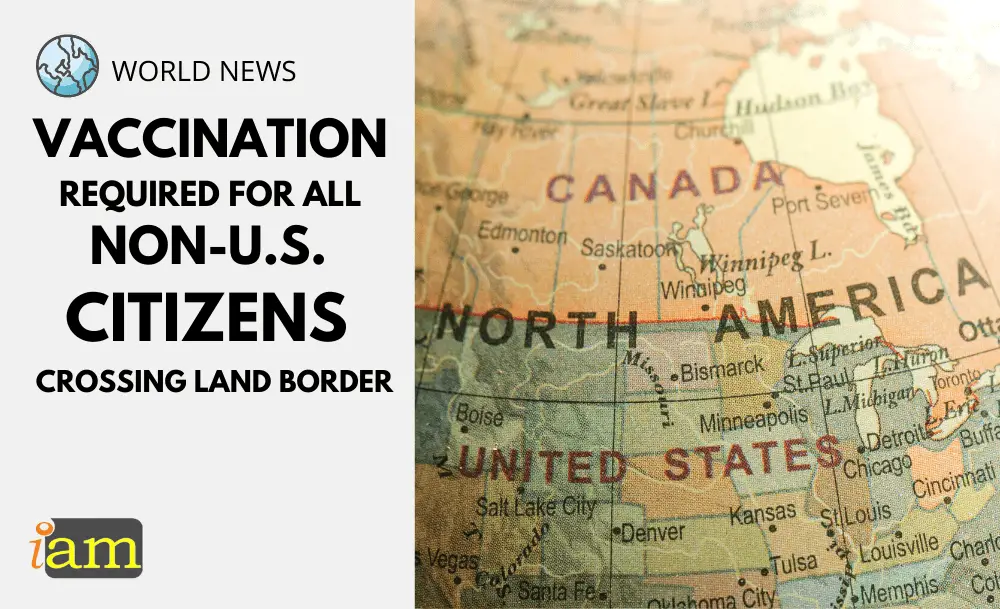 As of 22 January 2022, all non-US citizens entering the United States by land or ferry crossings now need to be fully vaccinated against COVID-19, even if their trip purposes are considered "essential".
The shift in border policy was initially announced back in October. It brings the US' rules for entry by land and water in closer alignment with the current rules for international arrivals by air, which were also announced in October and took effect on 8 November 2021.
Previously, non-US citizens could enter the country by land or ferry without being fully vaccinated if travel is for "essential" reasons, including for work, trade, educational or medical purposes.
Non-citizens seeking to enter the US by land or ferry need to verbally attest that they're fully vaccinated and be able to prove they've received a CDC-approved vaccination, and provide any other relevant travel documentation.
The DHS website also states that no COVID-19 testing is required for fully-vaccinated foreign travellers arriving via land port or ferry terminal.
Non-vaccinated travellers, who make a stop in either Canada or Mexico and then attempt to enter the US either through the land or ferry, will not be able to do so.
Those who've come down with COVID-19 within the past 90 days can provide documentation of recovery along with "a letter from a licensed healthcare provider or a public health official stating that you were cleared to travel," the CDC website explains.
The new entry regulations don't affect US citizens, US nationals and lawful permanent residents, who retain the ability to enter the country at land or ferry crossings whether vaccinated or not. However, such travellers are still required to provide a negative COVID-19 test taken no more than one day prior to travel in order to cross the border.
US Vaccination Exemptions For Travel
An unvaccinated non-US traveller must qualify for one of the following exceptions to enter the US:
Certain categories of individuals on diplomatic or official foreign government travel as specified in the Centres for Disease Control (CDC) Order
Children under 18 years of age
Certain participants in certain COVID-19 vaccine trials as specified in the CDC Order
Individuals with medical contraindications to receiving a COVID-19 vaccine as specified in the CDC Order
Individuals issued a humanitarian or emergency exception by the Secretary of Homeland Security
Members of the U.S. Armed Forces or their spouses or children (under 18 years of age) as specified in the CDC Order
Individuals whose entry would be in the U.S. national interest, as determined by the Secretary of Homeland Security
Exceptions to the vaccination requirement are limited and do not include exceptions for religious or personal beliefs. Both the Department of Homeland Security and the US Department of State have deferred to the CDC to evaluate and approve national interest exceptions to the vaccination requirement. 
The CDC has released limited guidance on exceptions to the vaccination requirement and required travel attestations to date.
Based on the information provided by these agencies since the air-travel vaccination requirement was first implemented, non-US travellers should anticipate such exceptions will be issued sparingly by the CDC.
Do you have plans to visit the United States? Talk to us in the comment section below. Or if you need more advice on the above, contact us for further travel & immigration advice.
Check out the deals we have found below and tell us your travel plans.
Check out the offers and discounts from:
And because of the pandemic, don't forget to get your travel insurance, which will cover you for flight disruptions and pandemic related matters.
IaM can help with your visa application to Europe, the United States, the UK & other countries
If you need help with a US visa, a UK Visa, or a visa to Europe, including help with appointment booking obligations, IaM can help. For more information and advice on US immigration, UK immigration law and US visa applications or if you need any help or assistance please, reach out to your Visa Coordinator at IaM.
Some of our posts include affiliate links. If you choose to purchase any of these products, we might get a small commission. For more information, check out our TOS.