Post Study Work Options: How to Get a Work Visa in China After Studies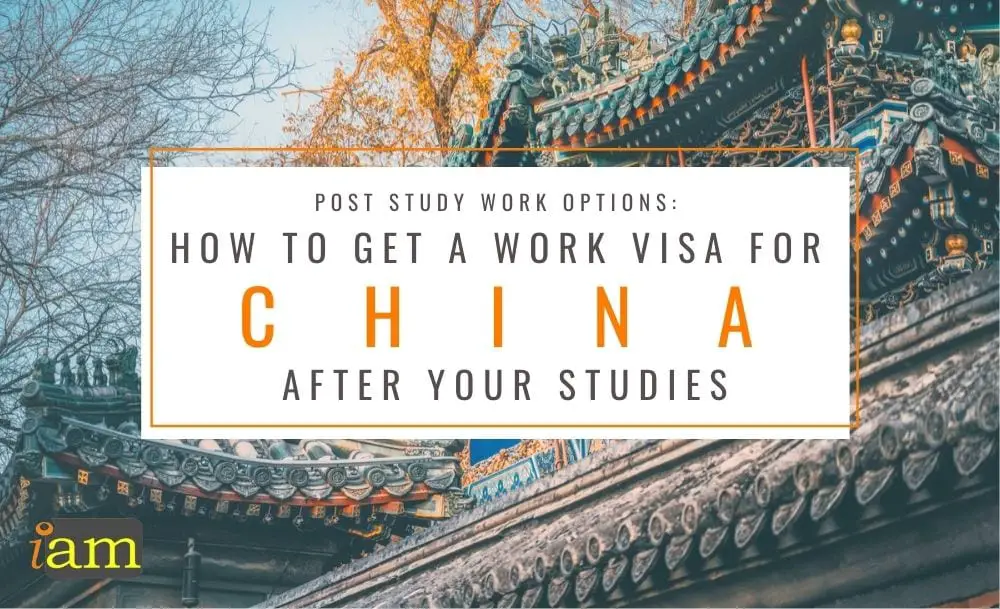 China is located in East Asia, the largest of all Asian countries and has one of the biggest economies in the world. The country has a rich history extending further than 5,000 years.
China is emerging as a major competitor in the IT industries, economy and higher education. Although the country is known to be the top country sending students to study overseas, it is also a known fact that China has been wooing international students to study in the country and continue to work in its local companies after completing their studies.
According to data from the Ministry of Education of China, a total of 492,185 foreign students, from 196 countries and regions, attended higher education institutions in the Chinese mainland in 2018.
A lot of foreign nationals are drawn by the fascinating Chinese culture, sophisticated urban cities and rural cities close to nature. The country exudes both traditional and contemporary living.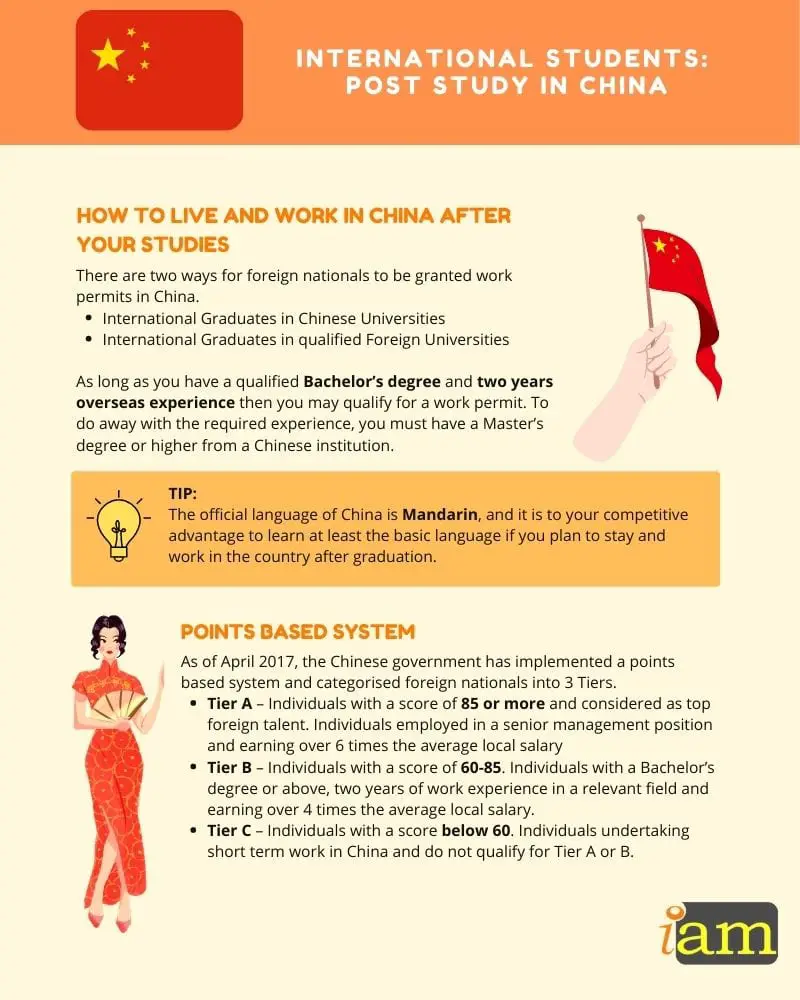 The official language of China is Mandarin, and it is to your competitive advantage to learn at least the basic language if you plan to stay and work in the country after graduation.
China has the largest population in the world, so you can expect a large number of graduates every year. But do not let this hinder your plans as the Chinese markets have multiple trade and investment opportunities.
Some of the major sectors currently experiencing rapid growth are processed food and beverages, transportation, IT and telecommunications, education, energy and environment protection, building construction products and services.
There are two ways for foreign nationals to be granted work permits in China.
International Graduates in Chinese Universities
International Graduates in qualified Foreign Universities
As long as you have a qualified Bachelor's degree and two years overseas experience then you may qualify for a work permit. To do away with the required experience, you must have a Master's degree or higher from a Chinese institution.
If you have recently started planning to pursue higher education in a new country, it pays to look into post-study work visas. Find out other post-study options like in the UK, USA, Canada, Australia, New Zealand, Europe or other countries in Asia, or read on to explore your post-study options to stay in China after you graduate from a Chinese higher institution!
Points Based System
As of April 2017, the Chinese government has implemented a points based system and categorised foreign nationals into 3 Tiers.
Tier A – Individuals with a score of 85 or more and considered as top foreign talent. Individuals employed in a senior management position and earning over six times the average local salary
Tier B –  Individuals with a score of 60-85. Individuals with a Bachelor's degree or above, two years of work experience in a relevant field and earning over four times the average local salary. 
Tier C – Individuals with a score below 60. Individuals undertaking short term work in China and do not qualify for tier A or B.
See how you score on the tables below.
Annual Salary
| | |
| --- | --- |
| Clauses | Points |
| Under 50,000 CNY | 0 |
| 50,000 – 70,000 CNY | 5 |
| 70,000 – 150,000 CNY | 8 |
| 150,000 – 250,000 CNY | 11 |
| 250,000 – 350,000 CNY | 14 |
| 350,000 – 450,000 CNY | 17 |
| 450,000 CNY or more | 20 |
Educational Qualifications / Vocational Skills
| | |
| --- | --- |
| Clauses | Points |
| None | 0 |
| Bachelor's degree/high-level worker | 10 |
| Master's degree/technical expert | 15 |
| Doctor's degree/highest possible international vocational qualification | 20 |
Work Experience
| | |
| --- | --- |
| Clauses | Points |
| Under 2 years | 0 |
| 2 years | 5 |
| Over 2 years (+1 with every year, up to 20) | 6-20 |
Time Spent Working in China (per year)
| | |
| --- | --- |
| Clauses | Points |
| Under 3 months | 0 |
| 3-6 months | 5 |
| 6-9 months | 10 |
| Over 9 months | 15 |
Location of Employment
| | |
| --- | --- |
| Clauses | Points |
| Western Regions, Northeast region's industrial areas, areas of interest (impoverished counties) | 10 |
Age
| | |
| --- | --- |
| Clauses | Points |
| 18-25 years | 10 |
| 26-45 years | 15 |
| 46-55 years | 10 |
| 56-60 years | 5 |
| Over 60 years | 0 |
Mandarin Proficiency
| | |
| --- | --- |
| Clauses | Points |
| None | 0 |
| *HSK level 1 | 1 |
| *HSK level 2 | 2 |
| *HSK level 3 | 3 |
| *HSK level 4 | 4 |
| *HSK level 5 or above | 5 |
| Bachelor's degree or above that was taught in Chinese | 5 |
| Former Chinese national | 5 |
* HSK (Hanyu Shuiping Kaoshi) – Mandarin Proficiency Test
Extras
| | |
| --- | --- |
| Clauses | Points |
| Graduating from a high-level university | 5 |
| Work experience at a Fortune 500* company | 5 |
| Patent or intellectual property rights | 5 |
| 5+ years' work experience in China | 5 |
| (Regional level) Talent needed for the development of regional economy | 1-10 |
*Fortune 500 – an annual list of top 500 corporations around the globe, compiled and published by Fortune magazine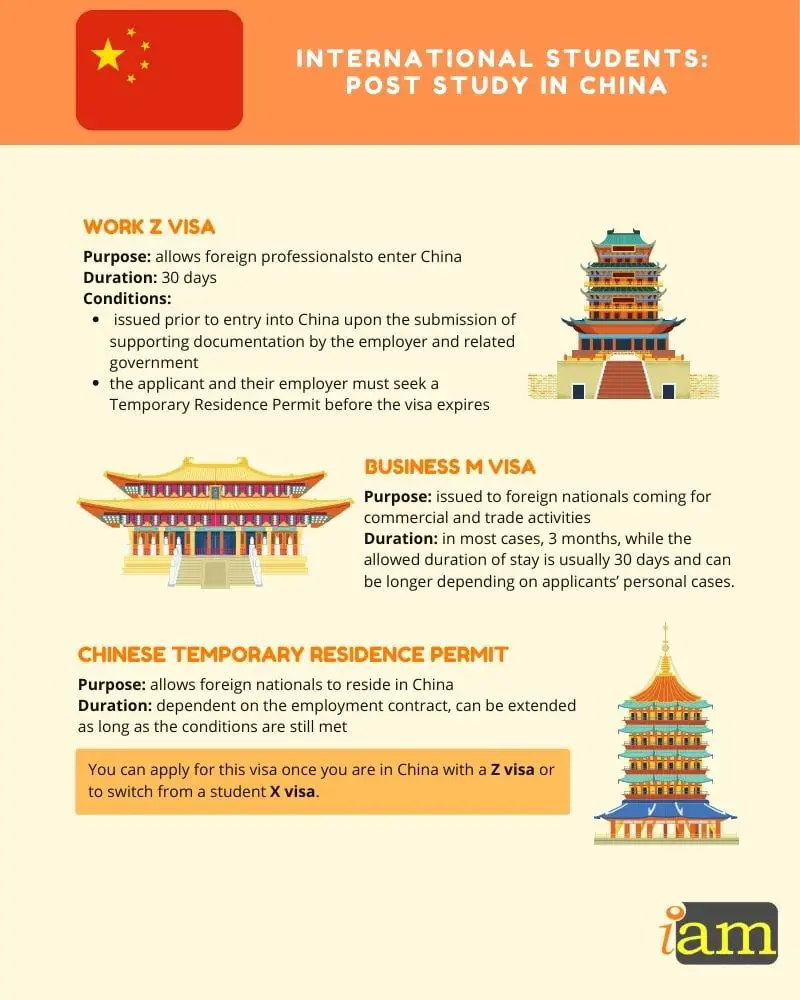 Work Z Visa
Z Visas are issued prior to entry into China upon the submission of supporting documentation by the employer and related government departments. This permit only allows a stay duration of 30 days from the date of arrival in China, during which time you and your employer must seek a Temporary Residence Permit for the duration of your contract.
To apply for a Z visa, you need to prepare the following documents:
Valid passport
Application form
Recent photo
Invitation letter obtained by your employer
Notarized and authenticated medical record and criminal background history
*Addition documents may be required
You can submit your application to the Chinese embassy, consulates or other diplomatic missions in person for application. It usually takes 4 working days to process your application.
Business M Visa
Permit issued to foreign nationals coming for commercial and trade activities, such as attending trade fairs, visiting clients and factories, negotiating with clients, and signing contracts.
In most cases, this visa is valid for 3 months, while the allowed duration of stay is usually 30 days and can be longer depending on applicants' personal cases.
Chinese Temporary Residence Permit
Once you are in China with your Z visa or you want to switch from your student X visa, you need to submit your residence permit application to the Public Security Bureau (PSB) Exit and Entry Administration office and attend an interview.
To apply, you need the following documents:
Passport
Accommodation registration printout from the police
Physical examination results
Employment documentation or contract
The validity of your permit is dependent on your employment contract. You can request for an extension as long as you are still able to meet the conditions. The processing of your application usually takes at least 14 days.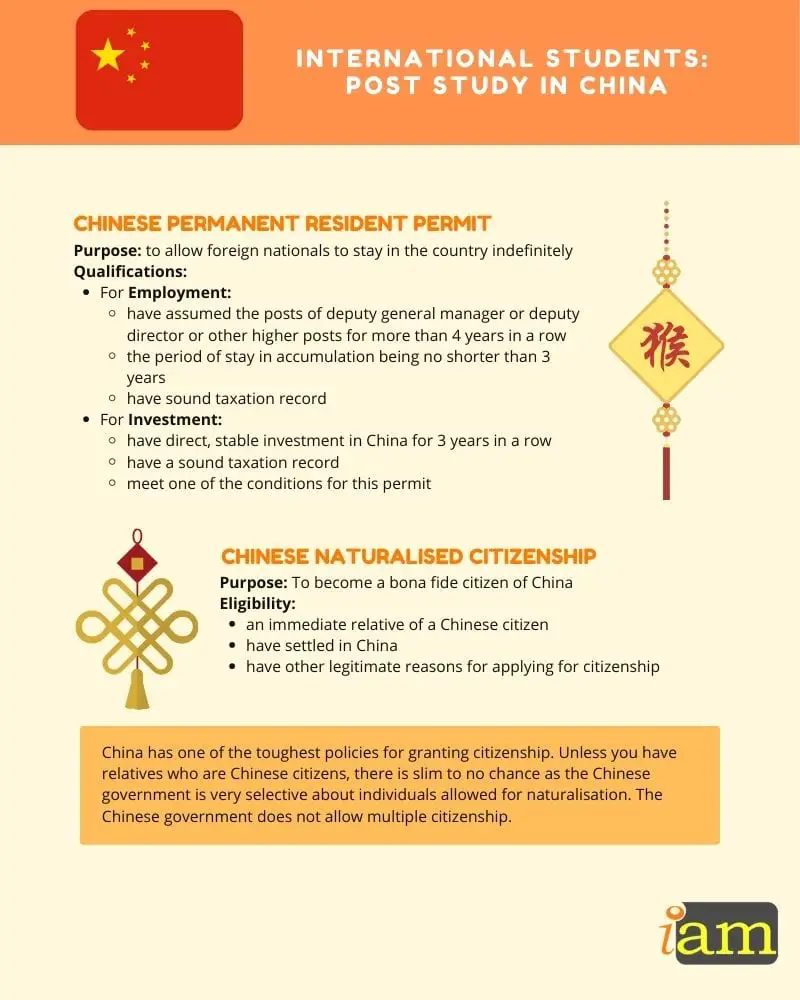 Chinese Permanent Resident Permit
To qualify for for unlimited stay in the country, you need to meet the following conditions:
For Employment –  You have assumed the posts of deputy general manager or deputy director of plants or higher level posts or posts of associate professors or associate research fellows and similar posts for more than four years in a row, and the period of stay in accumulation being no shorter than three years and having sound taxation record
For Investment – You have direct investment, stable investment in China for three years in a row, have a sound taxation record and meet one of the following conditions:
Investment of over USD 500,000 in industries of encouraged type as specified in the Catalogue of Industries of Foreign Investment released by the State
Made total investment of over USD 500,000 in counties in the western part of the country or in counties which are major targets of poverty relief work undertaken by the State;
Have total investment of over USD 1 million in the central part of the country
Have total investment of over USD 2 million in China
To apply, you need to prepare the following:
Completed Application Form of Aliens for Permanent Residence 
Four recent 2-inch color photos with blue background
Valid foreign passports 
Certificate of health 
Proof of no criminal record abroad
Proof of post or title of the persons issued by the units where you work
Certificates of foreign experts or certificates of employment of aliens
Registration certificate, annual inspection proof and personal tax payment proof of the units where they work;  
 One of the below documents:

units are foreign-funded enterprises, the certificate of approval of foreign-funded enterprises and proof of combined annual inspection should also be provided; 
persons of enterprises or institutions executing major engineering projects or scientific projects of the State should provide testifying documents for the projects issued by the competent authorities of the provincial-level people's governments or ministries; 
persons working for high-tech enterprises should provide certificates of high-tech enterprises; 
persons working for encouraged type foreign-funded enterprises should provide a letter of confirmation of the encouraged type foreign-invested projects;
persons working for foreign-invested advanced technology enterprises should provide a letter of confirmation of foreign-invested advanced technology enterprises;
persons working for foreign-invested export-oriented enterprises should provide a letter of confirmation of foreign-invested export-oriented enterprises.
*Additional documents may be requested
Chinese Naturalised Citizenship
China has one of the toughest policies for granting citizenship. Unless you have relatives who are Chinese citizens, there is slim to no chance, as the Chinese government is very selective about individuals allowed for naturalisation. The Chinese government does not allow multiple citizenship.
On paper, individuals eligible for Chinese citizenship are:
an immediate relative of a Chinese citizen
have settled in China
have other legitimate reasons (not specified)
To apply, you need to prepare the following documents:
birth certificate
proof of the qualifying clause (e.g.: relationship with the near relative)
passport or other travel documents
additional documents (letters of employment, schools attended, tax returns, or other proofs of residence)
*Additional documents may be required
So, are you ready to make the move to China? Comment below.
IaM can help with your visa application to the United States, the UK & other countries
If you need help with a US visa, a UK Visa, or visa to Europe, including help with appointment booking obligations, IaM can help. For more information and advice on US immigration, UK immigration law and US visa applications or if you need any help or assistance please, reach out to your Visa Coordinator at IaM.