Post Study Work Options: How to Get a Work Visa in Kenya After Studies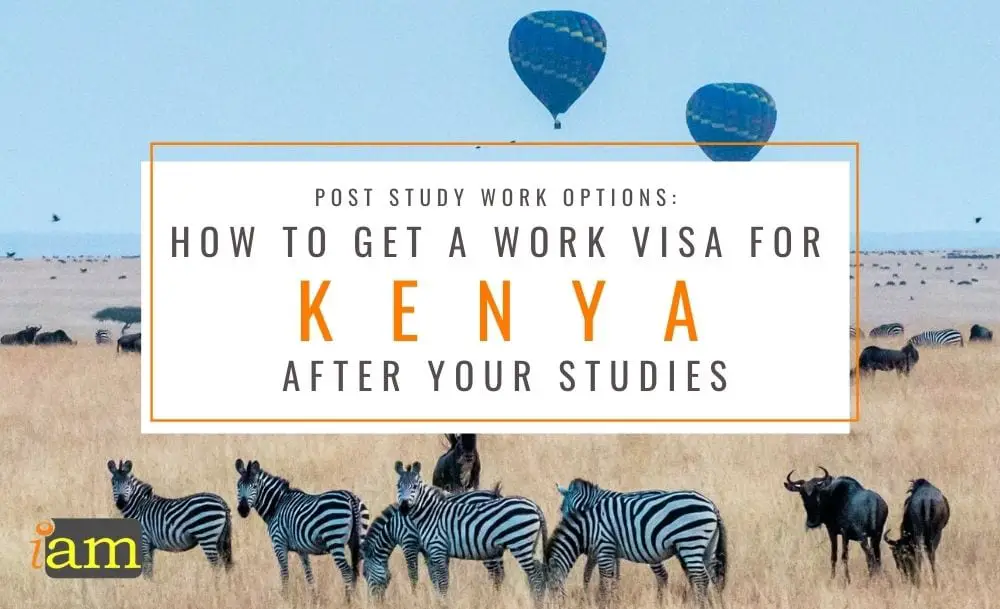 Kenya is a country in East Africa with a coastline on the Indian Ocean. Kenya boasts savannas, lakelands, mountain highlands, and the dramatic Great Rift Valley. It is home to the famous Amboseli National Park where a glance south rewards the eyes with views of towering Mt. Kilimanjaro, and each year thousands of wildebeest and zebras pound through the plains on their Great Migration. Kenya's terrain rises from a low coastal plain on the Indian Ocean to mountains and plateaus at its centre.
The economy in Kenya has a great potential for growth, benefitting from a skilled and youthful workforce constantly improving infrastructure and its geographical location as an economic hub in East Africa. 
Kenya has a tropical climate along the coast and an arid climate in the highlands. There are two official languages in the country, Kiswahili (also referred to as Swahili) and English. The cost of living in Kenya is not very high, but accommodation tends to be pricey.
Kenya has been planning to attract international students from across Africa and turn it into a regional higher education hub, a position currently held by South Africa. Kenya takes in as many as 5,000 foreign students each year mainly in private institutions, and predominantly from the Eastern Africa region. 
Foreign students who want to stay and live in Kenya after completing their studies need to secure a job contract to switch their student pass to a work permit. Your employer will make the application on your behalf.
Industries that most likely employ foreign nationals include telecommunications, IT, oil and gas, and exploration and productions. 
Before you take the plunge, you should know your options so you can plan ahead. Check out your permit options in Kenya or, if Kenya is not for you or you want to explore your other options, read our other blog posts on post-study options to know how to get a work visa for the UK, USA, Canada, Australia, New Zealand, or countries in Europe, Asia, and other countries in Africa!
Work Permits
Kenya organizes its work permits into different classes based on what activities a foreigner will undertake in the country. The categories include:
Class A: For individuals entering the prospecting and mining industries.
Class B: For individuals interested in agriculture or animal husbandry.
Class C: For anyone who is a member of a prescribed profession who will practice it alone or in a partnership in Kenya.
Class D: This permit is meant for people offered specific employment with an employer, the Kenyan government, any authority under the Kenyan government, the United Nations (U.N.), or another approved agency. Anyone applying for a class D Kenya work permit must have skills and qualifications not available in the country.
Class F: For people who want to engage in specific manufacturing activities.
Class G: For anyone who wants to enter a certain trade, business, consultancy role, or profession.
Class I: For individuals undertaking religious or charitable activities.
Class K: For ordinary residents at least 35 years old with an annual income of a certain amount from sources other than employment.
Class M: This permit is for anyone granted refugee status in the country.
Kenya emphasizes hiring locals over foreign nationals, which is why a committee decides whether to approve or reject a work permit application based on the impact the employment will have on the country's economy.
Obtaining work permits and visas to Kenya has become more difficult and time consuming in recent years.  Although applications can be submitted online, manual applications have to be sent at the same time.
Each type of Kenya work permit has its own specific documentation, but they all require the following:
Signed application form
Cover letter from the employer
Copies of your  passport
Two colored passport-size photos
Payment of the application fee
The application process usually takes 2 to 6 months so you should consider this when you plan to stay in Kenya after completing your studies.
Work permits are typically valid for 2 years with the option to renew for an extra 2 years. Renewals should be done 3 months prior to the expiry date of the current permit. You are also allowed to bring your dependents to Kenya with this permit.
Permanent Residence
Permanent Residency (PR) status grants you the right to enter and remain in Kenya without any time limit. 
To qualify, you must have been continuously residing in Kenya for three years immediately preceding the permanent residence application. Your spouse and children are also qualified to apply in line with the primary applicant.
You must prepare the following documents:
Application letter
Duly filled Form 23
Duly filled questionnaire for intending applicants- Category B
Duly filled residence status form
Copy of the work permit(s)
Copy of the passport
2 passport size photos
Police Clearance Certificate (Original)
Processing fees KSHS: 10,000.00 (non-refundable)
Issuance fees KSHS: 500,000.00 (payable once upon approval)
Naturalised Citizenship in Kenya
You will be eligible to be naturalised citizen of Kenya if you satisfy the government that you meet these conditions:
Has ordinarily and lawfully resided in Kenya for the 12-month period immediately preceding their application. 
Has ordinarily and lawfully resided in Kenya for a period of, or for periods amounting in the aggregate to, not less than 4 years in the 7 years immediately preceding the most recent 12 months. 
Is of good character. 
Has adequate knowledge of the Swahili language.
 Intends to continue to reside in Kenya.
What are your thoughts on the Post Study Options in Kenya? Is there anything we missed or anything you need clarification on? Comment below.
IaM can help with your visa application to the United States, the UK & other countries
If you need help with a US visa, a UK Visa, or visa to Europe, including help with appointment booking obligations, IaM can help. For more information and advice on US immigration, UK immigration law and US visa applications or if you need any help or assistance please, reach out to your Visa Coordinator at IaM.