Post Study Work Options: How to Get a Work Visa in Hong Kong After Studies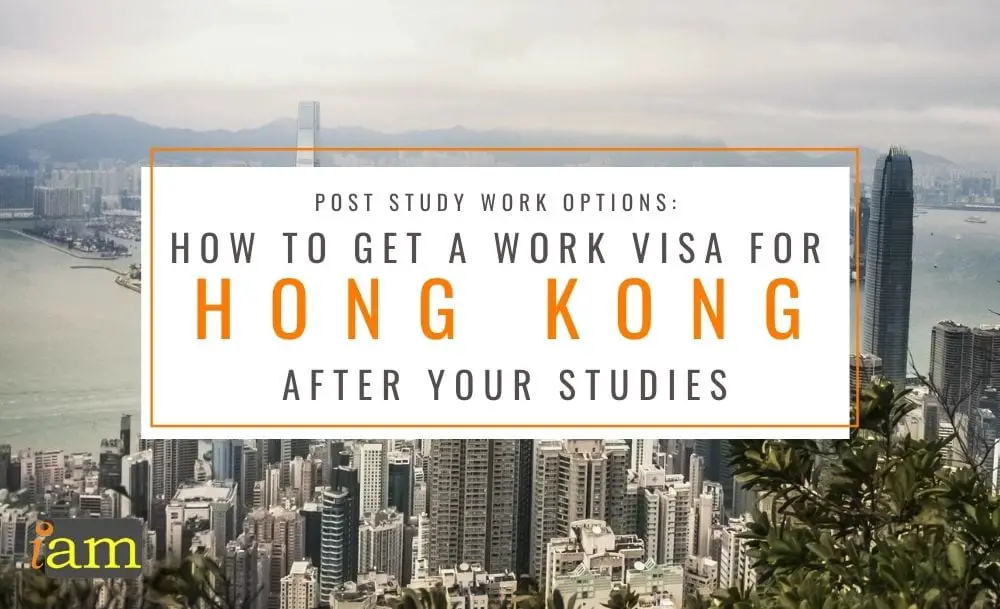 Hong Kong is officially known as the Hong Kong Special Administrative Region of the People's Republic of China (HKSAR). Hong Kong was previously a British colony and was transferred to China in 1997. As a special administrative region, Hong Kong maintains separate governing and economic systems from that of mainland China. Even though Hong Kong is part of China, you need a separate visa to cross the border.
Hong Kong showcases traditional Chinese culture and architecture alongside the iconic skyline of modern skyscrapers which is a visible reminder of Hong Kong's status as a world-leading hub for commerce, finance, trade and logistics. Many financial institutions are located here from international businesses, industrial factories to entertainment.
Hong Kong is also a popular holiday destination with large entertainment centers, and enormous tourist infrastructure. The service sector accounts for the majority of its GDP.
Hong Kong consistently ranks as one of the most expensive cities in the world in which to live. This is especially so for the housing sector. On a positive note, food can be cheap and public transport is also cheap and reliable.
The majority of Hong Kong's Chinese population speaks Cantonese as their first language. However, English remains a common language and it is still largely applied as the official language of business. Foreign nationals will not find it too hard to relocate in Hong Kong due to a language barrier. Recently, however, there is increasing importance being placed upon Mandarin, the official language of mainland China. More and more companies are demanding that their staff have a working knowledge of this language.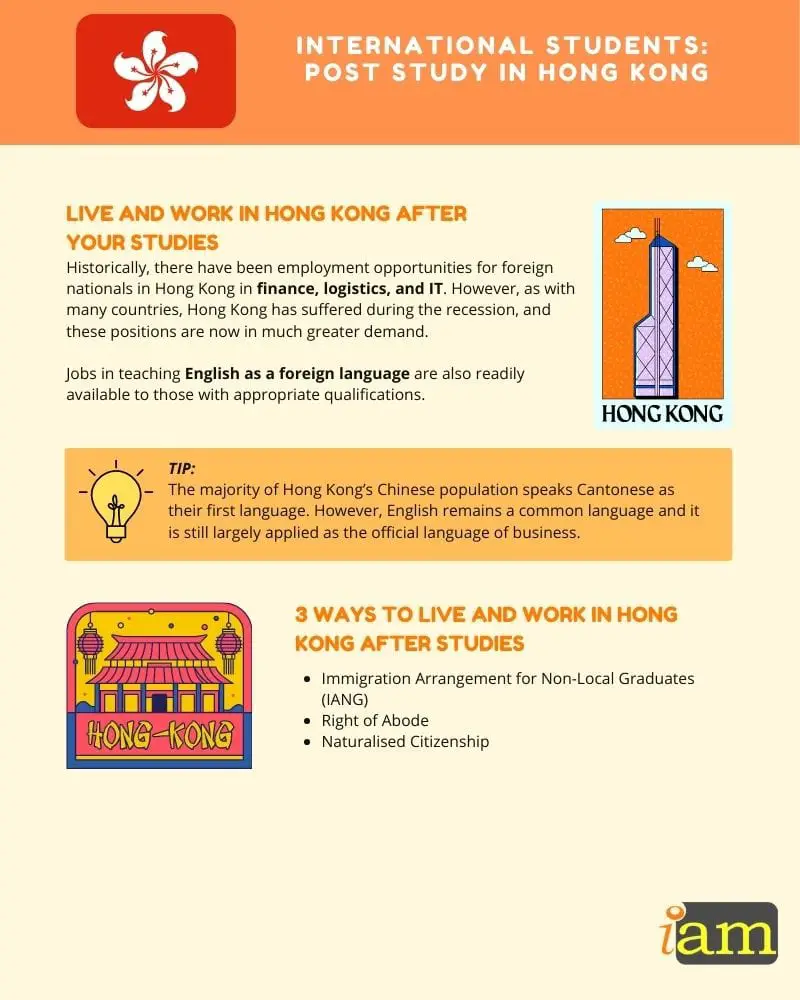 Historically, there have been employment opportunities for foreign nationals in Hong Kong in finance, logistics, and IT. However, as with many countries, Hong Kong has suffered during the recession, and these positions are now in much greater demand. Jobs in teaching English as a foreign language are readily available to those with appropriate qualifications.
The Hong Kong government also places importance on retaining international talents after graduating in the local institutions. One of the main draws of Hong Kong is the opportunity for career growth. Whether you are working in finance, trade, education or technology, these areas offer real growth and career opportunities.
Moving to another country is hard for everyone, and Hong Kong is a place full of opportunities and might be the best place for you to realise your career advancement. If you want to stay and live in Hong Kong after completing your studies, you should plan your next steps ahead of time.  
If you have recently started planning to pursue higher education in a new country, it pays to look into post-study work visas. Read our blog posts to find out your other post-study options in the UK, USA, Canada, Australia, New Zealand, Europe or other countries in Asia, or read on to explore the pathways for international students to stay after graduation in Hong Kong!
Immigration Arrangement for Non-Local Graduates (IANG)
To attract and retain talents to strengthen Hong Kong's competitiveness and long-term development, they have a policy for international students to stay in Hong Kong for 12 months after graduation without any restrictions to look for employment.
A non-local graduate is a student originally from outside of Hong Kong who has graduated from a higher education course at a locally accredited Hong Kong institution.
If you have graduated in the last 6 months and have begun the visa process, you do not have to have a job offer upon application. If it has been 6 months or longer since you graduated, you must have a job offer to secure your visa under the IANG.
Foreign nationals admitted under IANG will be able to bring their spouse as dependent and the length of stay is usually linked to the sponsor's visa.
To apply, you should prepare the following documents:
Application for Entry for Employment as Professionals in Hong Kong
Recent photo
Copy of valid passport or travel document
Copy of Hong Kong ID
Copy of transcript of academic records, graduation certificate and supporting letter from the awarding institution
Additional documents required for those applying after 6 months or longer
Upon receipt of the complete documents, it usually takes 2 weeks to process the application. Individuals admitted under the IANG will normally be granted an initial stay of 12 months on time limitation only without other conditions of stay upon entry. 
Graduates on this visa are free to take up and change employment during the permitted stay without the need to seek prior approval from the Director of Immigration.
You may apply for extension of stay within 4 weeks before the limit of stay expires. Visa extension can be granted for 2 more years and can be extended thrice. On the third extension, the visa is valid for 3 years. 
To apply for an extension, you need to be able to demonstrate to the Immigration Department that you're being paid compensation that's broadly commensurate with market rates and that you are engaged in work that's related in some way to your education and background. If you have established a business or joined a company, proof of business is required upon extending this visa.
Right of Abode
Right of abode in Hong Kong entitles an individual to live and work in the territory without any restrictions or conditions of stay. Non-Chinese citizens who have resided in Hong Kong for a continuous period of not less than 7 years and have taken Hong Kong as their place of permanent residence are eligible to apply for this permit.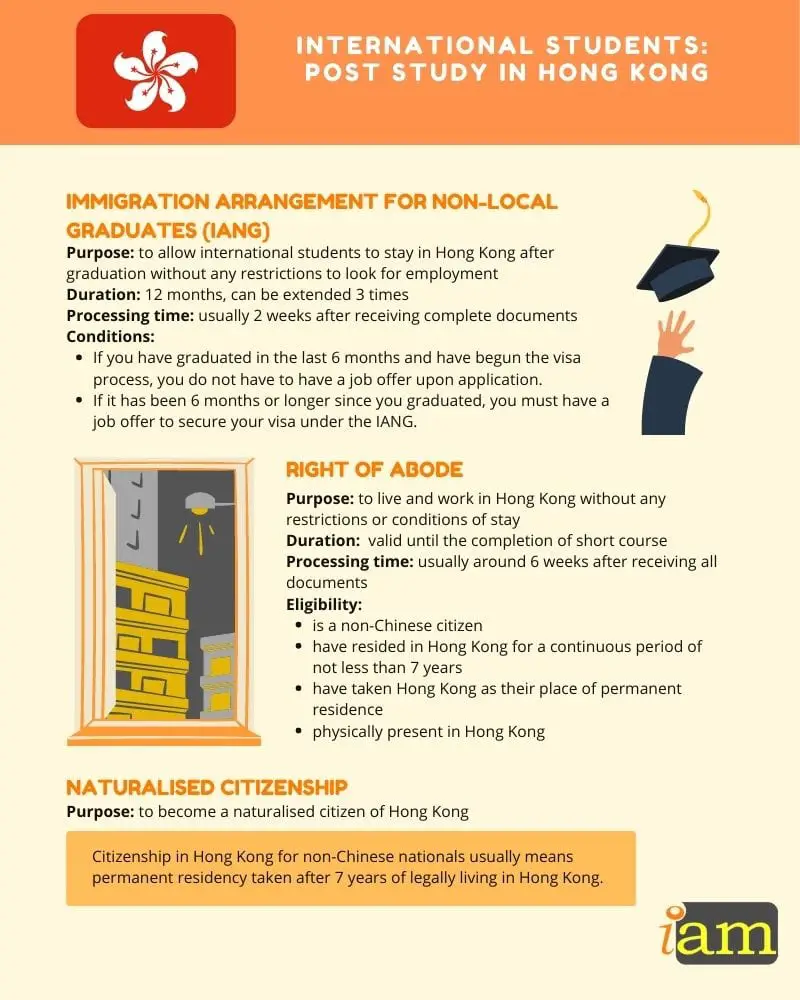 Before application, you should apply for verification of your eligibility for a permanent identity card and you must be in Hong Kong legally when submitting the request. You should ensure that your current permit is valid, otherwise your application will be compromised.
To apply, you need to have the following documents:
Proof of 7 years continuous ordinary residence in Hong Kong immediately before the date of the application, such as school documents, employment proof, official receipts, bank statements or income tax receipts
Travel document showing entry to Hong Kong and your current condition of stay
Form ROP146 to declare that you have taken Hong Kong as your only place of permanent residence.
You can submit your application by post, drop your application in the Immigration Department or submit it online.
Upon receipt of complete documents, it usually takes 6 weeks to process your application.  If you are not physically present in Hong Kong when you apply, your application will not be processed and will be treated as closed.
Naturalised Citizenship
The Hong Kong Special Administrative Region retained a separate legal system from Mainland China, however, sovereignty falls into a part of Mainland China. Thus, citizenship in Hong Kong for non-Chinese nationals usually means permanent residency taken after 7 years of legally living in Hong Kong.
To know how to get naturalised citizenship in China, check our Post Study Work Options in China.
What are your thoughts on the Post Study Options in Indonesia? Is there anything we missed or anything you need clarification on? Comment below.
IaM can help with your visa application to the United States, the UK & other countries
If you need help with a US visa, a UK Visa, or visa to Europe, including help with appointment booking obligations, IaM can help. For more information and advice on US immigration, UK immigration law and US visa applications or if you need any help or assistance please, reach out to your Visa Coordinator at IaM.