How to get my UK visa application checking service?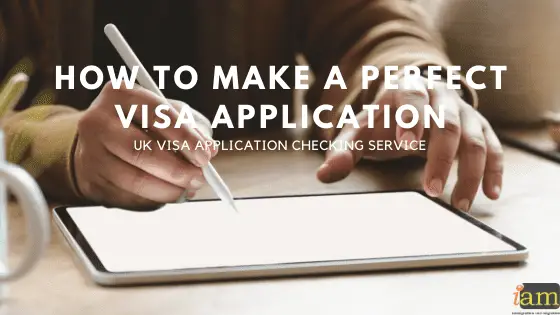 Ever wondered whether or how you can get a visa application checking service for your UK visa? You've already done your research, prepared the application form, and have the documents ready for submission…
…But you want to have your visa application checked by a qualified immigration lawyer or immigration advisor without paying for their full-service fees?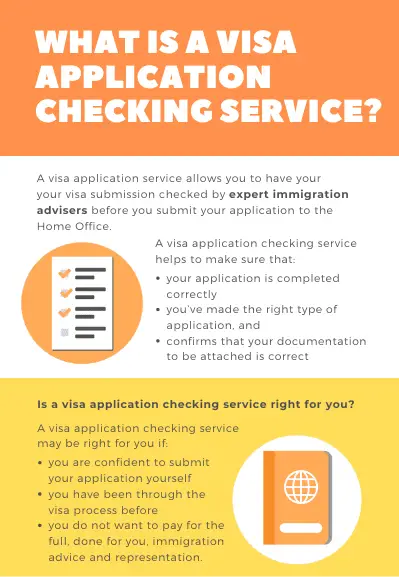 What is a visa application checking service for the UK?
A visa application service allows you to have your visa submission checked by expert immigration advisers before you submit your application to the home office. It helps you to make sure that your application is completed correctly that you've made the right type of application in the first instance as well as confirming that your documentation to be attached is correct.
A UK visa application checking service may be the right service for you if either:
you are confident to submit your application yourself. OR
have been through the visa process before, AND
you do not want to pay for the full, done for you, immigration advice and representation.
In particular, you want to make sure that your intended submission to the Home Office is well prepared. You may also have questions as to whether you're making the right type of application or whether you have completed the form correctly. Other questions you may have is whether you have supplied the correct documentation or is it too much or the right type. 
These are just some of the questions and worries you may have with your application and want to make sure that you have prepared it correctly to achieve a successful outcome. 
Stages of a visa application checking process – How your visa application should be checked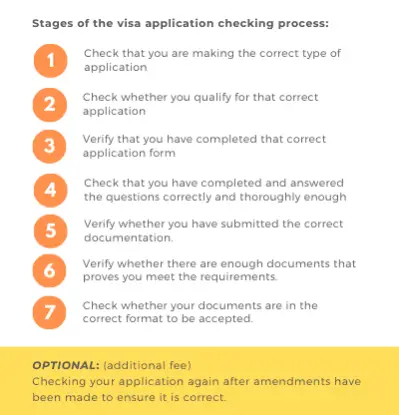 Essentially, the visa application checking service goes through seven stages before it is confirmed as having been verified.
First is to check that you are making the correct type of application. We need to make sure you're not refused on this basic ground of refusal. Making the wrong application is a general ground of refusal. 
The second step is to check whether you qualify for that correct application. You also want to make sure that you do not fall for refusal under any of the other general grounds for refusal.
Once it has been verified that you meet the requirements of your visa, it's now time to verify that you have completed that correct application form. 
Once the correct visa application form has been verified,  the fourth stage is to check that you have completed and answered the questions correctly and thoroughly enough. It is also important to check that you have not given confusing information or answers that may hamper your application.
Once the application form has been verified as complete and correct for your application type then a number of further checks on your documentation should take place. Your visa documentation will need to verified for;
Whether you have submitted the correct documentation.
Whether there are enough documents that prove you meet the requirements.
whether your documents are in the correct format to be accepted.  
Shall the need arise you can opt for additional services such as a documents request pack and/or application cover letter templates in order to prepare your application to be checked.
At the end of the visa application checking service, you will then be given a report card. The report card details the strength of your application and includes a traffic light summary. You will then have the opportunity to edit or amend your application before you submit it to the Home Office.
Should you wish to have your application checked once more, you can decide to book another application checking service at a reduced fee.
Alternatively, you can have your documentation submitted on your behalf and uploaded to the government portal for an additional fee. This helps to make sure you have submitted the documents in the correct format and quality for your application.
This process is the same process used for full paying clients under the done for you service. You will be given a money-back guarantee if you obtain a green light on all the documentation you submit.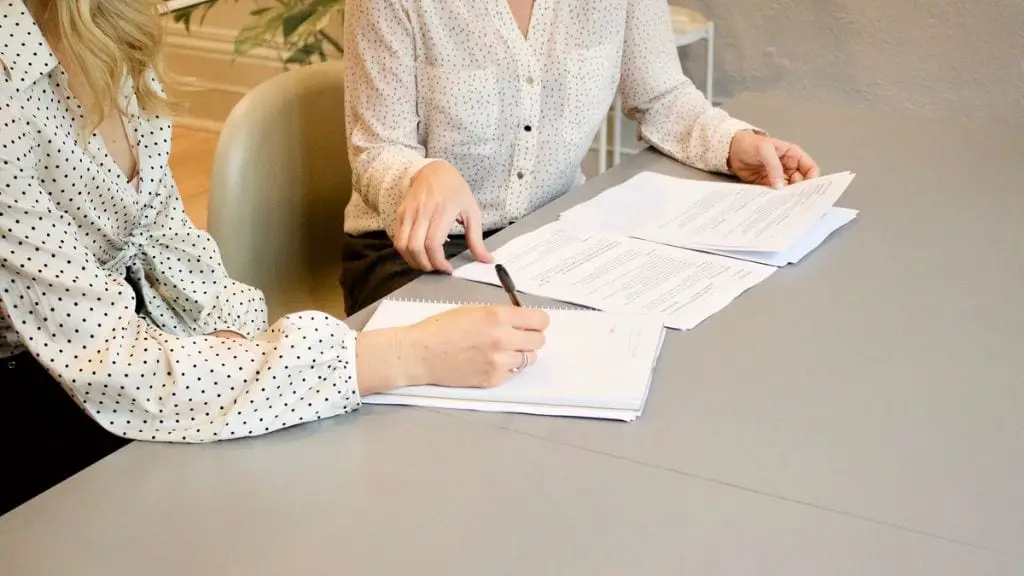 Why do I need my visa application checked?
Visa applications can be refused for a number of reasons. From minor administrative reasons to major requirement deficiencies.  If you want to make sure that all details of your visa application are checked to the highest standards to increase your chances of success, it's a smart move to go for an application checking service.
For example; visit visas that have minor mistakes, such as not applying for the right type of visit visa, can lead to refusal.  Timings for Student visa applications are crucial to not being refused. Family type applications not having the finances in the correct format or even selecting the incorrect type of finance can lead to refusal. Work type Applicants choosing the wrong level of income will lead to refusal. For ancestry type applications, showing that you have not been working is fatal to your application.
How you answer questions on the application form could lead to a refusal, especially if contradictory information has been provided. Finally, verifying the documents in support of your claim will make a difference to success or failure.
When do I need to have my application checked?
You should have your application checked before you submit it to the Home Office. You need to give  48 hours (during workdays) for your application to be verified under the application checking service. Therefore you should give the process enough time for you to make further changes and get new documents before it is submitted to the home office.
If there were gaps in your application, you may also want to go through a second application check to confirm that you have addressed any issues or gaps in your prior check.  It is therefore advisable for you to have your application checking service completed at least a week or two before your planned submission.

Most UK visa applications can be submitted up to 28 days before your visa application expires or your planned date of travel. You may want to consider having your application checked 14 days before your 28-day period.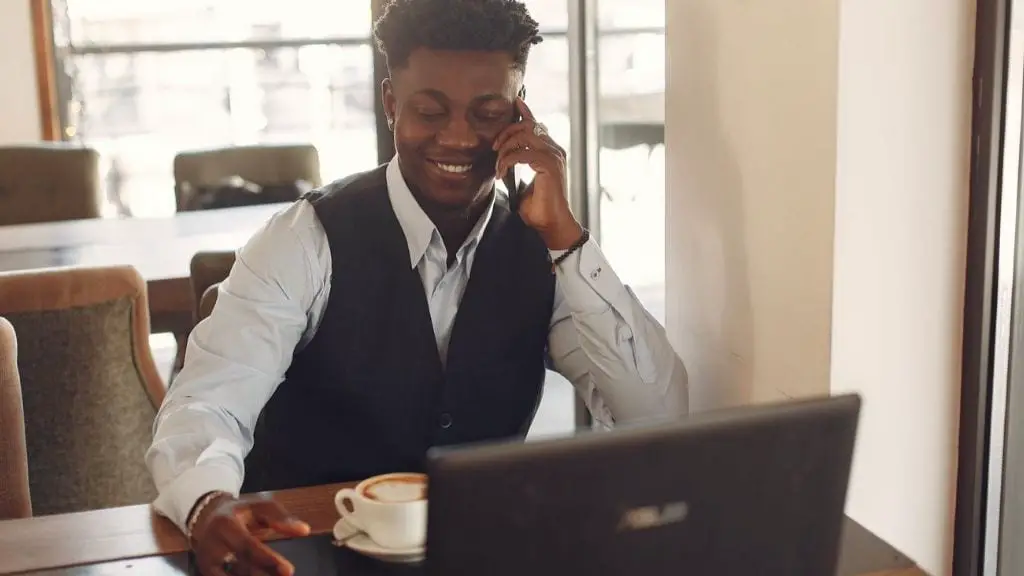 Does having my visa application checked improve my chances of success?
Yes.  Having your visa checked by a regulated and trained immigration advisor will increase your chances of success.  With over 385,780 UK visa refusals in 2017 alone (and not including asylum applications, you will stand a better chance of success if you have made sure you meet the requirements of your visa. Your application will have gone through a seven stage process to make sure that it is ready to be submitted.
You should expect your visa application to be successful through the application checking service as all errors and issues will have been addressed.  We are so confident of the seven-stage checking process that there's a money-back guarantee if your application is refused. 
With a high success record coupled and the know-how of what makes a successful UK visa application, your submission stands a higher chance of success.
How do I know that my application has been checked to a high enough standard?
Your application will go through a 7 stage checking process.  At the end of which you should have a report as well as a traffic light card highlighting strengths and weaknesses of your application.
From the report, you should be able to easily see the amount of detail and checks that have taken place.  You will have the ability to make any further amendments to address any issues that have been highlighted through the application checking process. 
You get the same level of attention to detail in your application as our full service clients.
Who can check my visa application?
Your application will be checked by a regulated and experienced immigration lawyer.  Our immigration advisers have over 17 years of experience in making successful visa applications. Using our seven-step process, we have a high success record for UK immigration applications.
You will also be assisted by a support team that will ensure your application is handled to the highest standards. On average, the application checking service takes just under 2 hours to complete for each pass. You should have submitted all your information and your documentation online using our online portal prior to the check beginning.
If you decide to have your documents sent to us via post or in-person, please do so by sending photocopies to our visa application checking service London office address. The documents you send to us will not be returned to you unless you provide a self-addressed paid envelope. Having the physical documents sent to our address incurs an additional fee. 
If you prefer to attend the office in London, once you have purchased the application checking service, you will be given the opportunity to schedule a drop-off time for the documentation and have your application checked within a 2-hour window. This service is by prior arrangement only. 

UK visa application checking service FAQs