Difference Between UK Residence Visa And UK Residence Permit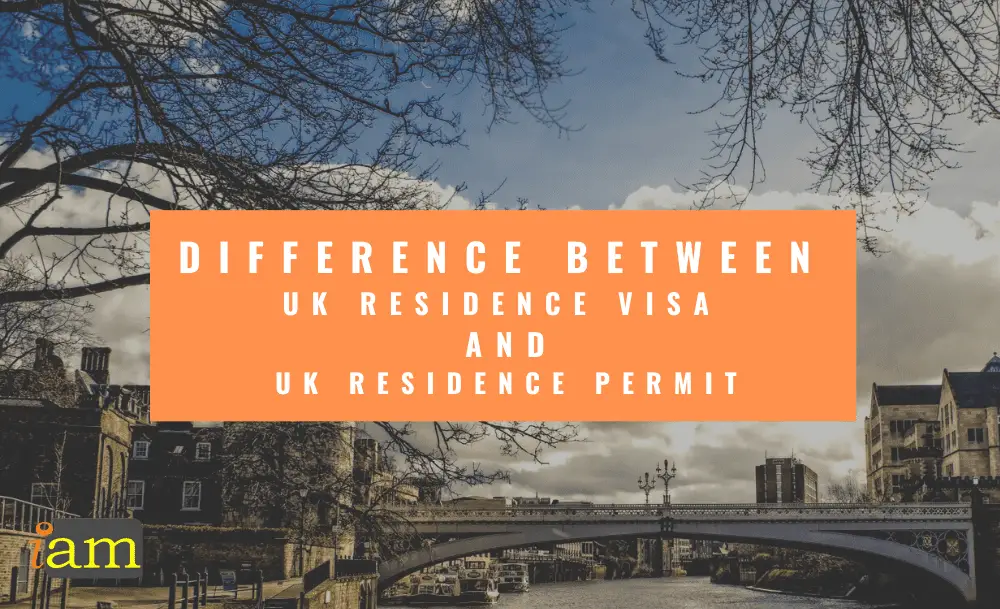 Foreign nationals living in the United Kingdom require immigration permission. A residence permit is often confused with a residence visa but there is a stark difference on both documents.
A UK residence visa is an immigration document that allows a person to cross the border and stay in the country for a certain amount of time.
On the other hand, a UK residence permit is issued by the Home Office and allows the holder to prove their identity and their rights to live, study, work, and/or access public services while in the country.
The most commonly held type of UK residence permit is the Biometric Residence Permit (BRP). BRPs contain an individual's personal details which include their name, date, and place of birth, and biometric information such as facial images and fingerprints. BRPs also show the holder's immigration status and entitlements in the UK. 
How To Apply For A Residence Permit
To obtain a Residence Permit (BRP), you will normally apply at the same time as applying for your visa, whether this is done inside the UK or outside. 
You will need to book and attend an appointment at a visa application centre (VAC) if you are outside the UK or at a UKVACS office if inside the UK. The details of how to do this will be provided during the visa application process.
Please note it is no longer possible to apply for a UK residence card (also referred to as an EEA biometric residence card (or BRC). Instead, applicants should consider applying for pre-settled or settled status under the EU Settlement Scheme (EUSS).
Types of UK Residence Permits 
There are many different kinds of UK residence permits appropriate for people of various professions, family structures, and nationalities.
There are two main types of British resident permits which are Leave To Remain and Indefinite Leave to Remain (ILR). There is also another type of residence permit which is known as Leave Outside The Rules, which is granted in exceptional circumstances.
Leave to Remain
If a residence permit shows that an overseas national has to leave to remain in the UK, it means they have permission to stay here for a certain amount of time and for a specific purpose. This permit could be for work visas, business visas, and family visas.
Those who have Leave to Remain are subject to immigration control and must adhere to the conditions attached to their leave. 
Holders of Leave to Remain needs to take appropriate action before their leave expires. This means they will either need to leave the UK, apply for another visa for which they are eligible, or extend their visa. Depending on the type of visa you hold and after a qualifying period, you may be able to apply for ILR.
Indefinite Leave to Remain
An individual with Indefinite Leave to Remain (ILR) has permission to remain in the UK permanently. It should be noted, however, that ILR can be lost if you leave the UK for more than 2 continuous years. Holders of an ILR residence permit can live, study, work, access healthcare, access some benefits and travel freely.
ILR is typically gained by living in the UK on a visa that qualifies for ILR for the required amount of time. In most cases, a foreign national must live continuously in the UK for 5 or more years on a qualifying visa to gain ILR, although this can be achieved in 3 years in some cases, e.g. for those with a Global Talent visa.
Leave Outside The Rules (LOTR)
Leave outside the rules (LOTR) is granted to an overseas national in circumstances where the normal immigration rules do not apply. LOTR is typically only granted in very limited situations, including where there are compelling, compassionate factors where refusal would result in "unjustifiably harsh consequences for the applicant or their family"; this may include:
To grant LOTR  typically granted for a short period of no more than 30 months.
What are your thoughts on this issue? Talk to us in the comment section below.
Check out the deals we have found below and tell us your travel plans.
Check out the offers and discounts from:
And because of the pandemic, don't forget to get your travel insurance, which will cover you for flight disruptions and pandemic related matters.
IaM can help with your visa application to Europe, the United States, the UK & other countries
If you need help with a US visa, a UK Visa, or a visa to Europe, including help with appointment booking obligations, IaM can help. For more information and advice on US immigration, UK immigration law and US visa applications or if you need any help or assistance please, reach out to your Visa Coordinator at IaM.
Some of our posts include affiliate links. If you choose to purchase any of these products, we might get a small commission. For more information, check out our TOS.