EU Settlement Scheme: EU Citizens Staying in the UK After Brexit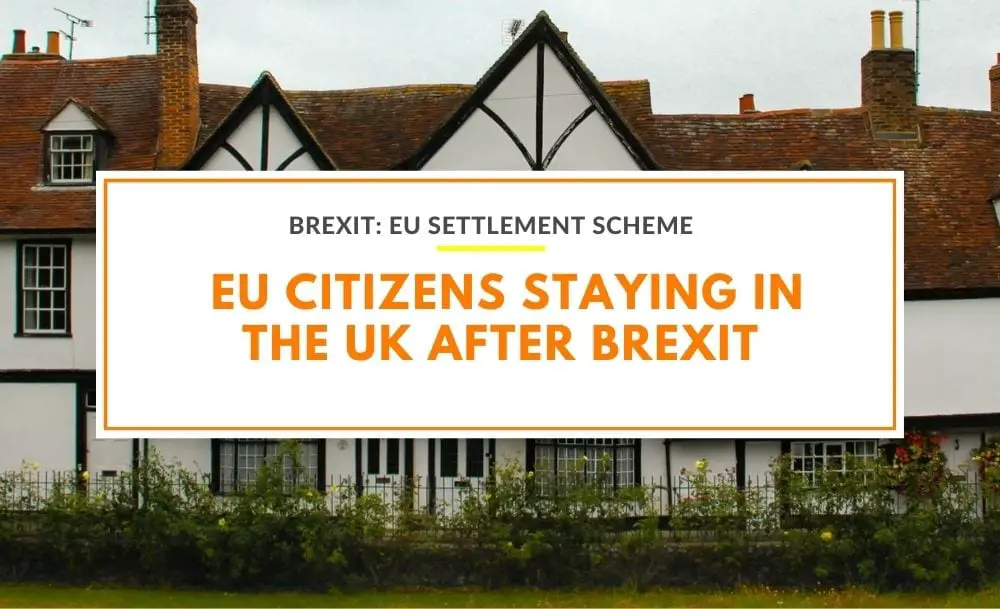 The UK government has finally announced the answer to the question that was preoccupying many EU citizens, "What will happen to us after Brexit?"    
If you are an EU citizen or a family member and would like to stay in the UK after Brexit you will need to apply to the EU Settlement Scheme in order to obtain your new UK immigration status and be able to prove your right to live, work and study in the UK. The application has been fully available since 30 March 2019 and the deadline to apply will be 30 June 2021. However, if the UK leaves without a deal the deadline will be 31 December 2020. 
If you are a non-EU citizen, you MUST either be the spouse, civil or unmarried partner of an EU citizen, for the latter you will need a residence card to prove your relationship. You can also apply if you are related to an EU citizen, their spouse or civil partner as–
a child, grandchild or great-grandchild (under 21), dependent child (over 21);
a dependent parent, grandparent or great-grandparent; or
a dependant relative (with a residence card related).
It is NOT necessary to apply if you are an Irish citizen or have previously obtained indefinite leave to remain or enter (ILR/ILE). 
The Prime Minister announced that from 30 March 2019 onwards it will be free to apply. However, if you applied during the test phases the fee you paid will be refunded. It will be done automatically and you should receive it to the card that you used to make the payment in 10 working days. After your card has been refunded you will receive a confirmation email from Home Office.
EU citizens' status will remain the same until the deadline given, 30 June 2021 or 31 December 2020 if no deal was granted. After, you will have settled or pre-settled status, which will be assigned to you by Home Office once your Settlement Scheme application is successful. 
Settled Status
You will get settled status if you started living in the UK by 31 December 2020 or the day the UK leaves without a deal and if you have had continuous residence in the UK for 5 years (6 months in a 12 month period).
The exceptions to the latter are: 
1. One period of a 12-month absence for an important reason, i.e. childbirth, serious illness, study, etc;
2. military service and
3. time abroad as a Crown servant.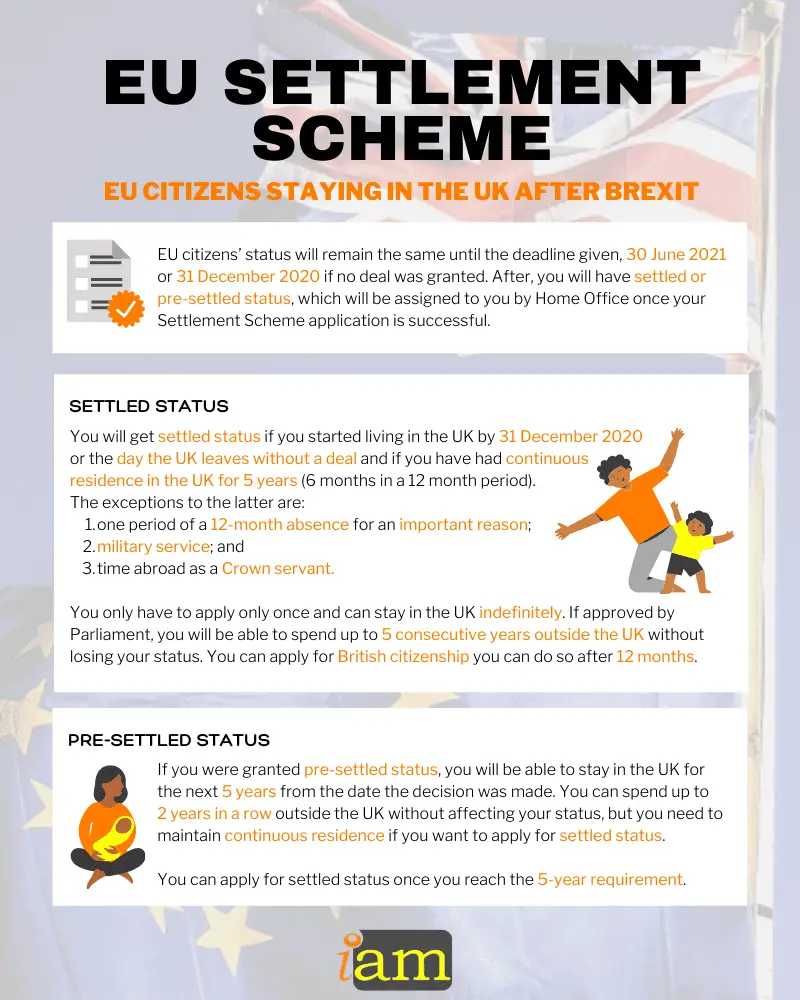 If you are granted settlement you only have to apply once and can stay in the UK indefinitely. If approved by Parliament, you will be able to spend up to 5 consecutive years outside the UK without losing your status. 
If you wish to apply for British citizenship you can do so after 12 months of receiving settled status. 
If you have NOT lived in the UK for 5 years when you apply you will get pre-settled status. You can apply for settled status once you reach the 5-year requirement. 
Pre-settled Status
If granted pre-settled status you will be able to stay in the UK for the next 5 years from the date the decision was made. You can spend up to 2 years in a row outside the UK without affecting your status, but you need to maintain continuous residence if you want to apply for settled status.
The rights with either type of status are:
1. work;
2. NHS access;
3. study;
4. access public funds if you are eligible and
5. travel in and out of the UK.
Applying for EU Settlement
To apply you will need to prove your identity with a valid passport or national identity card if you are an EU citizen. Non-EU citizens can use their passport, biometric residence card or biometric residence permit. Also, you need to provide a digital photo of yourself.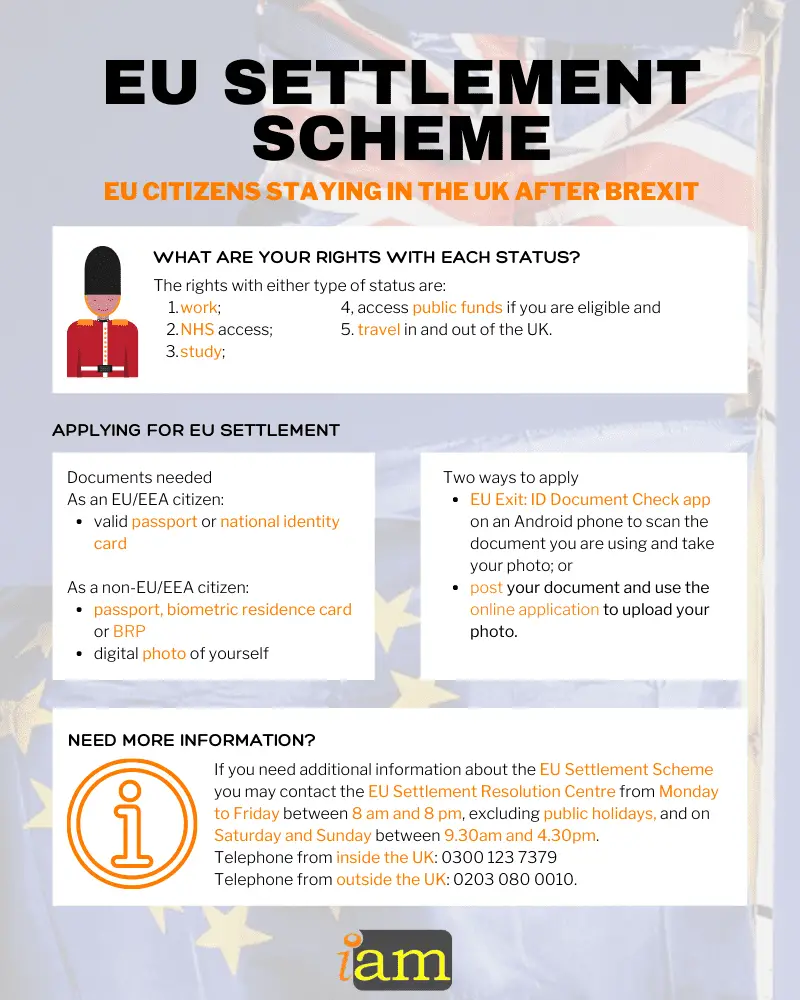 To apply you can either use the 'EU Exit: ID Document Check' app on an Android phone to scan the document you are using and take your photo. You can use someone else's Android since your private details do not remain on the phone or the app. The other option is to post your document and use the online application to upload your photo.
To prove your continuous residence you can provide your National Insurance number and an automated check will be done based on your tax records. If successful you will not have to provide further documents to prove your residence. On the other hand, the Home Office will advise you immediately after you apply. If you are asked to provide further documentation, please refer to this link for samples of acceptable evidence.
You can apply through the UK government website using any device, for example, a laptop, Android device or iPhone. The application itself is fairly simple and it should take you about 25 minutes to complete, but it varies depending on your personal circumstances.
EU citizens will receive an email with a link from the Home Office to view and prove their status. If you are not from the EU, EEA or Switzerland you will get a physical document. Be aware that you must update your personal details through the UK government website if they change.
If you need additional information about the EU Settlement Scheme you may contact the EU Settlement Resolution Centre from Monday to Friday between 8 am and 8 pm, excluding public holidays, and on Saturday and Sunday between 9.30am and 4.30pm. Telephone from: inside the UK: 0300 123 7379  and outside the UK: 0203 080 0010.
Still not sure about the EU Settlement or what to do to prepare for Brexit? Comment below.
IaM can help with your visa application to the United States, the UK & other countries
If you need help with a US visa, a UK Visa, or visa to Europe, including help with appointment booking obligations, IaM can help. For more information and advice on US immigration, UK immigration law and US visa applications or if you need any help or assistance please, reach out to your Visa Coordinator at IaM.