Belgium Schengen Visa UK – Your Guide to Getting a Belgium Visa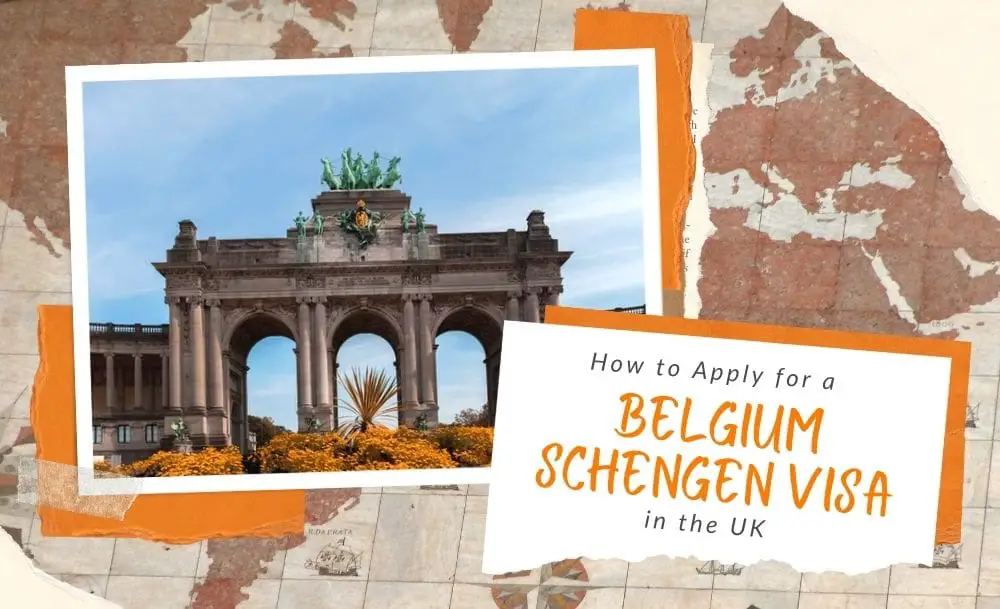 Getting a Belgium Schengen visa in the UK is a very detailed process that requires a lot of preparation before you even begin to apply. To help with the process, we've put together a guide on how to apply for a Schengen visa from the UK if you're planning a trip to Belgium.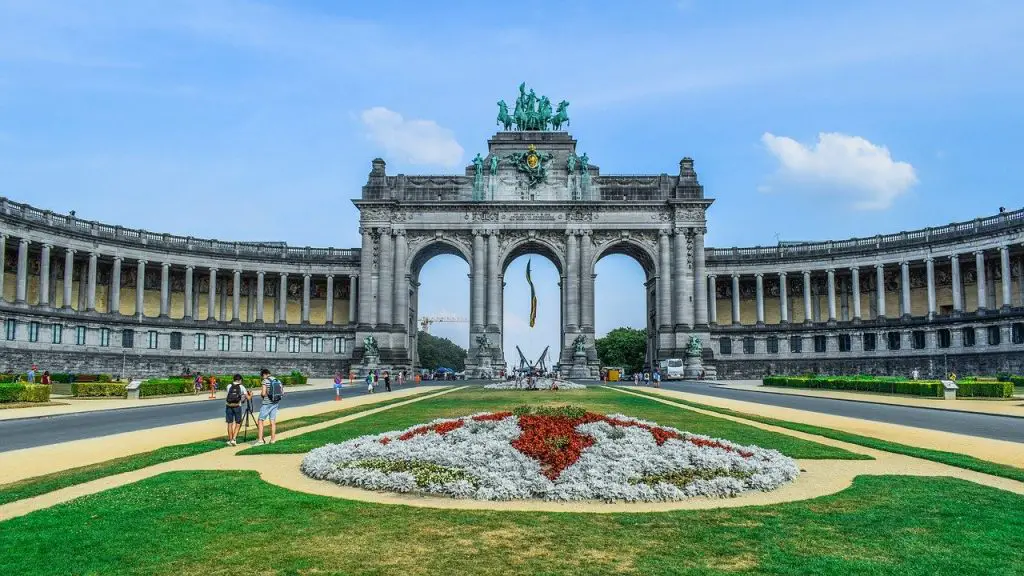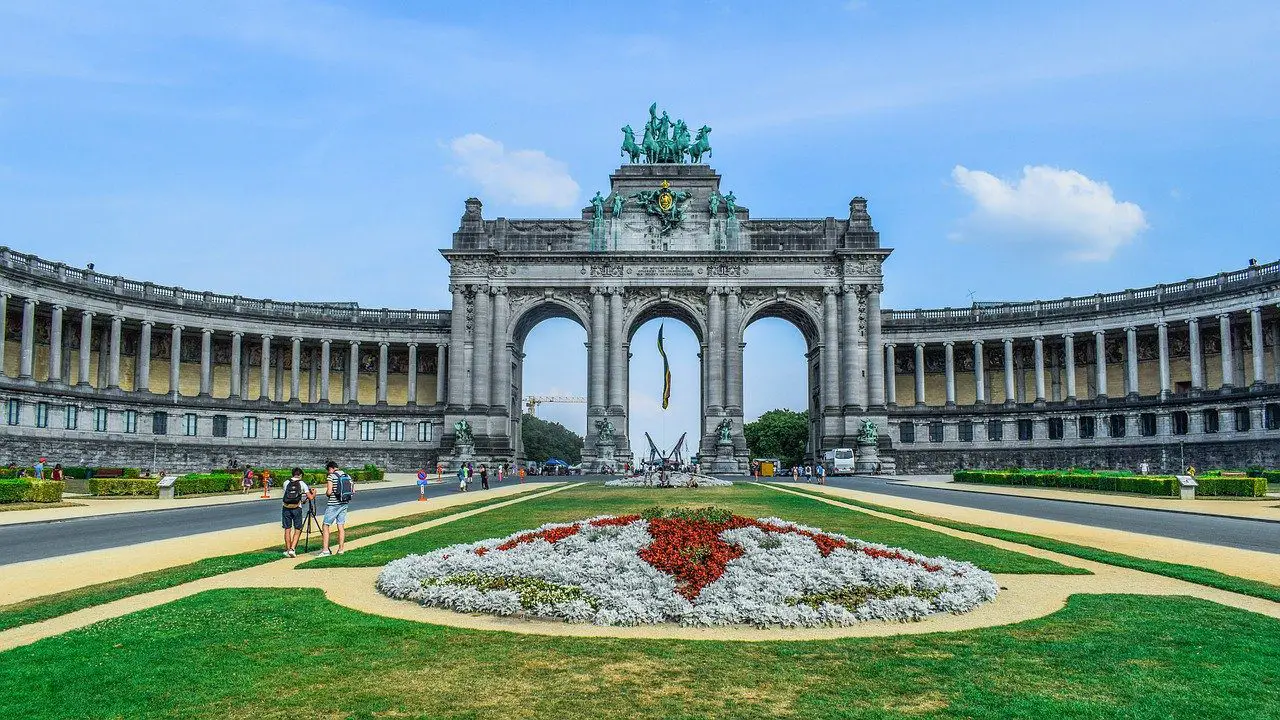 Belgium Travel & Tourism
Belgium is an exciting travel destination, especially for visitors from the UK. With shared history between the two countries, there's plenty of things to see and do during your travels in Belgium.
Belgium has lots of UNESCO World Heritage Sites and is recognised as one of the top tourist destinations in the world – visit the Grand Palace in Brussels, or visit the old town squares surrounded by some of the most stunning architecture in Europe.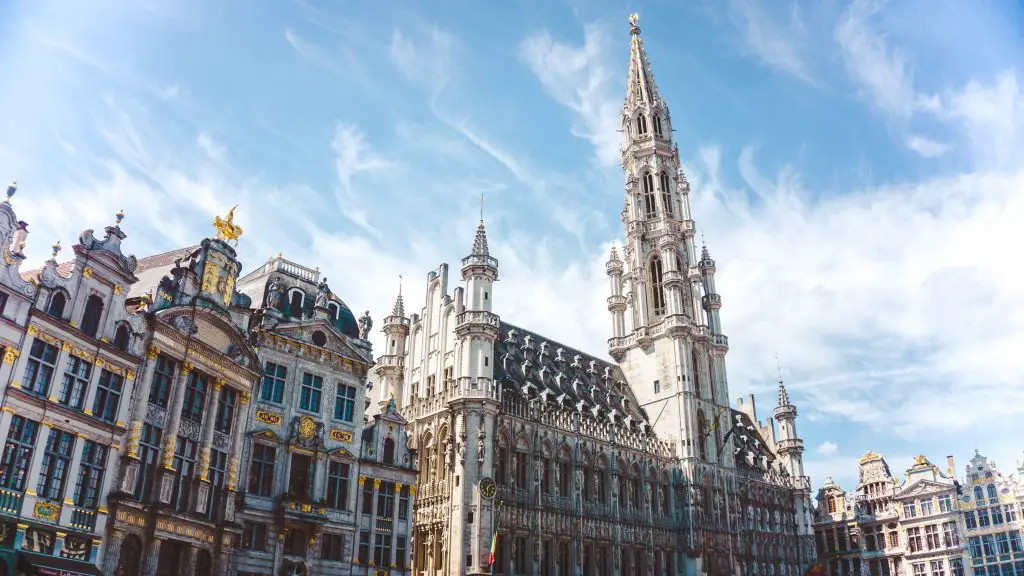 Don't miss out on the exciting travel destinations around Bruges and Antwerp, two of the top destinations in the country outside of the capital.
Visit  Bruges to see the iconic Onze Lieve Vrouwekerk, the towering spire of the Church of Our Lady or take a romantic boat ride along the Minnewater, the city's most notable canal.
Explore the beautiful flag-covered facade of the Grote Markt in Antwerp's old town or view the historic works of art inside the Cathedral of Our Lady, the largest Gothic church in Belgium.
Explore one of the two national parks in Belgium or visit the rolling countryside where you'll discover the site of the iconic Battle of Waterloo.
The culture in Belgium extends far past it's country borders – it showcases a crossroad of cultural elements from neighboring countries such as France, Germany, and the Netherlands.
Belgium is the birthplace of cricket, one of the favourite past times in Britain, and globally recognized for its culinary delights from rich chocolate to mussels to chips!
Belgium is also ranking the second country in the European Union that invests the most on environmental care: it spent about 1.3% of its Gross Domestic Product on 2018 on ecological protection, which is really impressive for one of the smallest country in the EU.
Belgium is one of the best travel destinations in Europe's Schengen zone.
Why do you need a Schengen visa to travel to Belgium?
The Schengen zone is a designated area of Europe consisting of 26 countries – including Belgium (one of the five first countries that joined the Schengen Area in 1985!). Since the UK is not a part of the Schengen zone, travelers must have a visa to visit Belgium. 
In recent years, Belgium approved 179,357 Schengen visas from the UK out of 219,687 applications submitted. It represents just over 80% acceptance rate for travelers applying for a Belgium visa from the UK. Belgium is the second hardest country to get a Schengen Visa.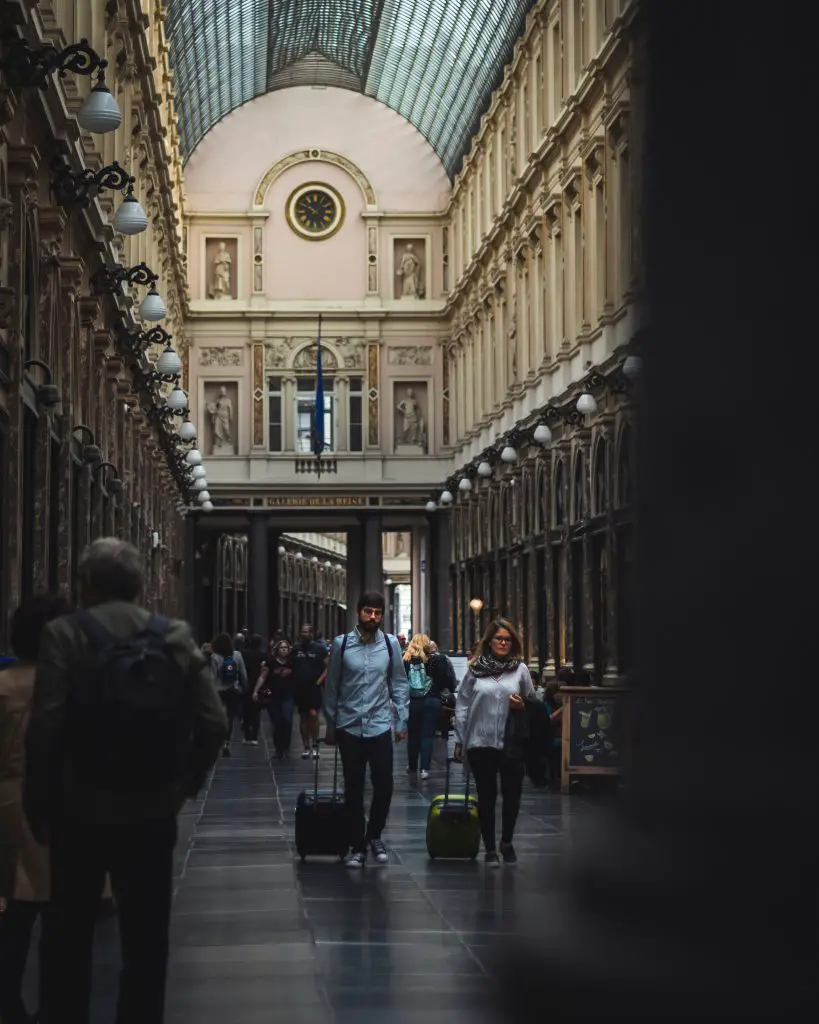 The UK is among the top countries in the world for visitors arriving in Belgium with an average of just under one million tourists annually. Belgium receives approximately 6.4 million international visitors every year, with nearly half visiting Flanders and another 40% spending their time in Brussels.
There are various rules and eligibility to determine if you'll need to apply for a Schengen visa before traveling to Belgium, or if you can obtain a visa upon arrival from the UK.
Types of Schengen Visas
Travelers who have a Schengen visa can travel to any of the Schengen visa countries without needing to apply for additional visas. For example, if you apply for a Belgium Schengen visa UK and get approved, you can travel to other countries such as Spain and Italy on the same visa and with the same visa allowances and conditions.
*See our FAQs section for a list of all the countries included in the Schengen Zone.
Whether you're planning to spend your entire trip in Belgium or have plans to explore some of the other Schengen countries, you must apply for the correct visa to support your travel plans.
Short-term Schengen visa vs. Long-term visa
A short-term visa to Belgium is the most popular. The short-term Schengen visa allows you to stay in Belgium for up to 90 days in any 180 day period.
A short-term Schengen visa is also the easiest to get and generally applies if you're travelling for tourism, business visit purposes or visiting friends and family. These visas are usually granted upon arrival, if you don't need to apply in advance, or through the application process, depending on who is travelling.
Long-term visas include several types of visas. A long-term visa grants access to Belgium and other countries in the Schengen Zone for any intended trip lasting more than 90 days.
Make sure to apply for the correct visa based on your expected travel duration to ensure that you'll be allowed to remain in the country.
Tourist Visa, Business Visit Visa and Visit Visa
Travelers can apply for a short-term tourist visa or a long-term tourist visa. A short-term tourist visa is the only visa given upon arrival in Belgium for UK nationals. All other trips require prior application to your departure date from the UK traveling to Belgium.
Apply for a tourist visa if you're planning on sightseeing, attending a public event, visiting friends, and other non-business-related activities while in Belgium.
Tourist visas to Belgium are the most common trip types, reserved for people who plan to visit the Belgium for only leisure purposes. Any other travel plans while in Belgium require you to apply for the specified visa.
Apply for a Belgium Business Visit Visa if you intend to conduct business meetings and other work related matters for a short time but not for working and earning money directly from the local market. Business or Conference visas are for a maximum of 90 days stay in Belgium and/or the Schengen area at a time.
A Belgian Visit Visa is for the purpose of visiting friends and family in Belgium. This is slightly different from a tourism visa but the differences overlap. Generally, for a Belgium visit visa, you will get a letter of invite from the family member or friends that you intend to visit.
Belgium Work Visa
Travellers should apply for a work visa if they plan to conduct any kind of work-related or business-related activity during their time in Belgium. A Belgium work visa permits someone to work within the country, either for a national company or international company with offices established here.
Work visas permit visitors to remain in the Schengen zone for more than 90 days and can last several years.
Applying for a work visa is different than applying for a tourist, visit or business visit visa and requires additional documents and information to submit when sending in your application.
Belgium Student Visa
If you are attending a local university in Belgium for a study abroad program or as a full-time student, you must have a student visa, which permits you to study there.
Schengen student visas are considered long-term visas, allowing you to remain in Belgium for more than 90 days and through the duration of your program.
Just as with a work visa, applying for a Belgium student visa has a specific requirement in the application process for showing proof of your intentions to study during your time in the country.
Other Miscellaneous Belgium visas
In case your travel plans don't involve work, study, or tourism, you may qualify as a particular case and need a visa more tailored to your travel plans. There are more specific visas that you can get for your trip to Belgium, but may require additional steps such as a consultation of the validity of your trip.
Some of the miscellaneous travel purposes include a Belgium medical visa for travel, emergency visas, volunteering, and other humanitarian issues. These visas may require specific time allowance in the country and proof of travel plans before approved for them.
Single vs. Multiple Entries
The standard visa that you'll receive is for a single-entry only. Unless specified in the application process, you'll only be allowed to enter Belgium and, after leaving, will need to apply for another visa before returning to Belgium or the Schengen zone.
Some travel purposes require entry and exit to Belgium (or other countries in the Schengen zone) multiple times. For such purposes, you can apply for a multiple-entry visa if you need to travel in and out of the zone during the permitted travel time. 
Travelers arriving for business or study may need to return to their home country temporarily before returning to Belgium, in which the multiple-entry visa is the ideal visa to have to avoid issues when traveling between countries.
Who should apply for a Belgium Schengen visa UK?
Getting a Schengen Visa to travel to Belgium is different depending on who is applying. In case you're unsure about which category you are in, feel free to use our eligibility checker to determine if you have to apply for a visa.
British Nationals
British Nationals are travelers who have a UK passport and permanent residence in the UK. It also includes foreigners and immigrants who have already received their UK citizenship.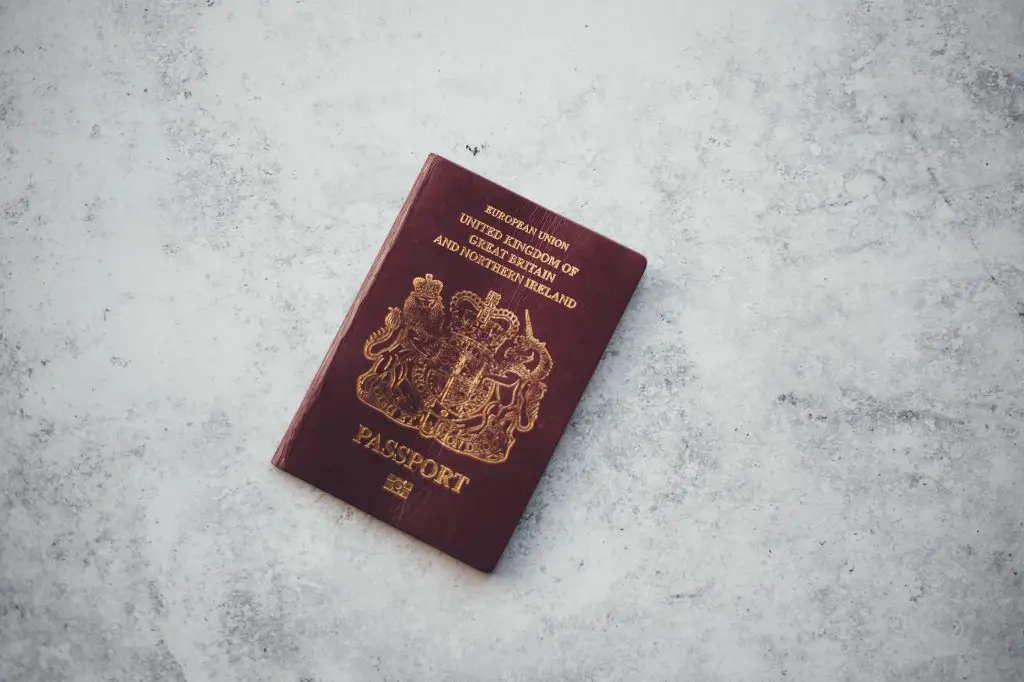 British Nationals with a full UK passport or a British Overseas Territories Citizen (BOTC), British Overseas Citizen (BOC), British Protected Person (BPP) or British Subject (BS) passport can travel to Belgium without the need of a visa.
British Nationals have the easiest process for getting a Belgium Schengen visa in the UK. Travellers with a UK passport are automatically deemed to have a short-term Schengen visa upon arrival in Belgium by virtue of the UK's membership to the EU. You will not have to apply for the visa if you will only be staying in the country for less than 90 days.
If you are intending to stay in Belgium for longer than 90 days, it will be wise to register as a resident in Belgium as the UK has left the EU as of 31st January 2020.
Travelers who must apply for another type of visa other than a tourist visa, or need to remain in the country for more than 90 days will need to submit a visa application before travelling.
This current situation will last at least until 31st December 2020 whilst the UK negotiates it's relationship with the EU whilst in this transition period.
Travelling from the UK to Belgium with a foreign passport
Most foreign travellers who are non-EU nationals who live in the UK are required to get a Schengen visa to travel to Belgium. As a non-EU national, you are eligible to apply for a Schengen visa in the UK, for all visa types. Whether you're traveling for a short-term and only need a tourist visa or an extended school or business trip in Belgium, you must submit an application in either scenario.
Foreigners traveling without a UK passport must apply for the appropriate Belgian visa before their trip. Certain foreign countries, however, allow travellers from the UK also to receive a short-term tourist visa upon arrival.
If you are traveling with a passport to any of these countries, you generally will need to apply for a Schengen Visa. One of the main requirements is that your current UK visa is valid for more than 3 months. But if it isn't, you can overcome this requirement by having an onward proof of travel.
If you're unsure whether your passport allows you to receive a visa upon arrival or if you'll need to apply beforehand, input your nationality and your country of residence into our Schengen visa eligibility checker to confirm if you have to apply.
If you are a EU/EEA National family member resident in the UK and have an EU Family member residence card, you are also exempt from having to obtain a Belgium visa if you are travelling with that EU/EEA Family member. This does not apply to family members with EU settlement under the UK's EU Settlement Scheme, if you only have the EU settlement status confirmation.
Where to apply for your Belgium Schengen visa in the UK?
There are general rules about travellers who are permitted to apply for a Belgian Schengen visa in the UK. One of the most important determining factors is whether you have a right of residence in the UK.
Residents of the UK can submit applications and schedule their visa interview at the Belgium Embassy or Consulate.
Travellers with a right of residence in the UK can apply for a Schengen visa locally – the policy applies for people with a UK passport or a foreign passport.
Therefore, if you're currently on a long-term visa in the UK that lasts more than three months after you return, you are permitted to apply for a Belgian Schengen visa in the UK. It also means that foreign travellers on a long-term visa can apply for a Belgium Schengen visa locally in the UK under the specified conditions.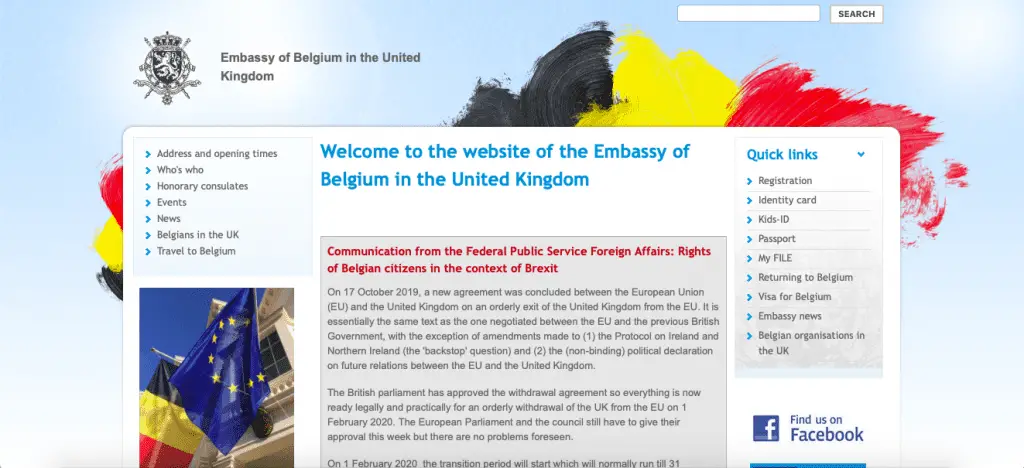 *Please reference our FAQ for contact and location details for the nearest embassy office.
Anyone who does not have the right of residence in the UK should apply for a Schengen visa in their home country, regardless if you're currently in the UK for travel.
But with this being a general rule, the Government of Belgium is one of three Schengen countries, in the UK, that overlooks this general rule. It therefore means that technically you can apply to Belgium Consulate for a Schengen visa in the UK if you are only visiting the UK for a short term or only have a tourist visa.
But be aware, if you are a tourist or on a short term visa in the UK, applying for a Belgium Schengen visa UK will mean that your application will take up to four weeks, instead of the usual 15 days.
…you can apply to Belgium Consulate for a Schengen visa in the UK if you are only visiting the UK for a short term or only have a tourist visa.
If you're planning to travel to more than one location in the Schengen zone, you should still apply to the Embassy of Belgium if:
•    You're staying the longest in Belgium during your trip duration, or
•    Belgium is the first destination you're traveling to in the Schengen Zone, if you are visiting each country an equal number of days
Schengen Visa Requirements
The best way to ensure you will be approved for your Schengen visa is by submitting all of the required information. It also helps with preventing any delays in receiving your visa so that you'll be ready before your travel dates. See below for details on everything you'll need to get a Belgium Schengen Visa in the UK:
Belgium Schengen Visa UK application form – you must submit a completed visa application providing details such as personal information, travel plans, who you're traveling with, etc. There are 37 questions on the online Schengen visa application form.
*Please note that the online visa applications need to be submitted directly to the Visa Application Centres (currently TLS). You must register and login through the site before starting you visa application.

Schengen Visa Application Cover letter – your opening letter should provide information supporting your reason for traveling to Belgium and why you should be granted the specific visa that you're applying for.
Travel itinerary – you must submit your travel plans during your trip to Belgium, even if you're planning to travel to other countries in the Schengen zone. You travel itinerary should include:

Flight details
Accommodation reservations
Proof of onward travel – since there are 26 countries in the Schengen zone, your onward journey must be to a destination outside of the zone. Any round-trip ticket is sufficient evidence.
Proof of funds – you have to provide evidence that you can sustain yourself during your entire travel duration. It's generally advised for at least €95 per day.
Proof of residence – travellers applying for a Schengen Visa in the UK need to show proof of residence in the UK to verify your citizenship or ability to apply in the UK. Your residency must also be valid for 3 months.
Passport valid for three months – your passport must be valid for three months AFTER your return date home and must also have more than two blank pages for visa stamps.
Passport photos – you must provide TWO identical passport-sized photos (51 x 51 mm) on a white background and taken within the last six months.
Copy of ID or Passport – photocopy the passport page with your identity information and any pages that have visa stamps on them.
Travel insurance – you must have travel insurance, namely health insurance, coverage for traveling in the Schengen zone.
Letter of employment – if you're applying for a work visa, you'll need to provide an official employment letter from a local company or international company with operations in Belgium.
Proof of Occupation – if you're currently employed/working, you'll need to provide an official employment letter from the company you work for.
University letter – if you are applying for a student visa, or you are currently a student, you'll need an official letter from the university showing your acceptance and program dates and progression, if you are already studying.
Company Information – if you're also self employed, you'll need to submit the legal and tax information about your company to verify the legitimacy of your trip.
EU/EEA Spouse Marriage application documents – EU dependant couples traveling together must verify their spouse using the following documents:
Original and photocopy of the marriage certificate and an official translation, if not in English, French or Dutch.
Partnership certificate/accreditation of marital coexistence for one year/proof of joint parenthood.
Proof of joint travel to Belgium (i.e., confirmed tickets to travel to Belgium both for the applicant and the EU/EEA nationals), or of the intention to join the EU/EEA national who already is in Belgium.
If you are a minor traveling to Belgium, as well as the above, you must have a copy of your parent(s) passports, a letter of consent to travel, and present your birth certificate.
If you are a minor travel WITH your parent(s) to Belgium, you will just need to have your birth certificate.
What to expect in your Schengen visa interview
The primary objective of the interview process is to verify the details that you provide in your visa application. The visa officer must be sure that you will be traveling to Belgium for your specified reason and will exit the zone within the time permitted with the visa.
The process serves as protection for citizens of the Schengen zone to not allow any threats to the country to travel.
If you have not had your fingerprints taken in the last 4 years, every applicant (for short term visa) aged 12 years and over must apply in person in order to have fingerprints taken. Children under the age of 6 do not need to have their fingerprints taken.
Extending your Schengen visa
In case of any reasonable cause that you'll need to stay in Belgium for longer than you initially planned, you can apply for a visa extension. The application process is similar to applying for your initial visa. The most significant difference is providing evidence as to why you have to extend it.
The best way to get a Schengen visa extension, you must submit the request far in advance before your current visa expires. You can do so while in Belgium and must be submitted through the Home Affairs FPS – Immigration Office in Belgium.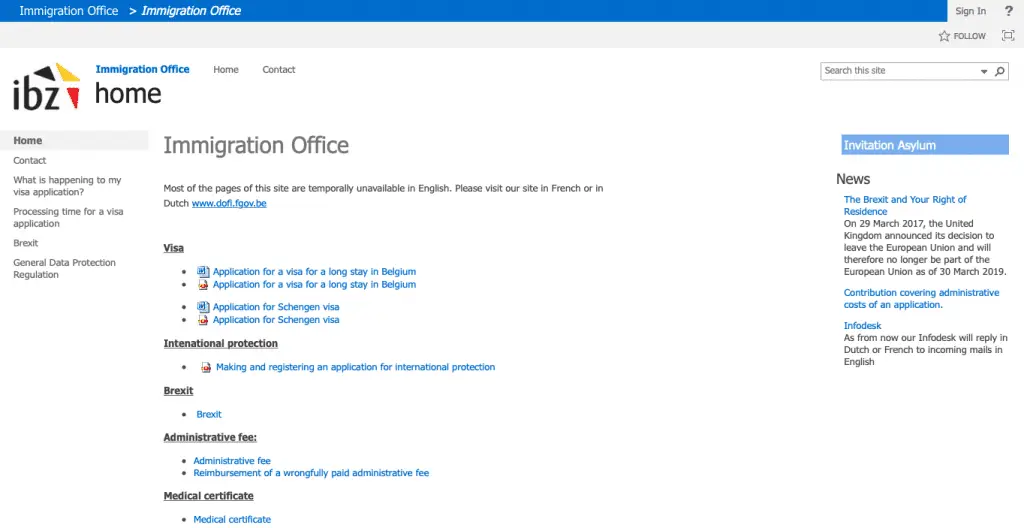 Once the Foreigners Department has approved your request to extend your stay, you must apply to the FPS Foreign Affairs (Rue des Petits Carmes 27, 1000 Brussels – Monday to Friday, 9h30 am – 11h30 am) in order to submit your passport and, if necessary, to pay the fee (€ 30). 
Some of the valid reasons for requesting a visa extension include:
Late entry or arrival to the Schengen zone
Humanitarian or medical reasons
Home country conflict
Personal reasons – important to provide thorough details
Frequently Asked Questions

Latest posts by Bryan Shelmon
(see all)