Post Study Work Options: How to Get a Work Visa for Luxembourg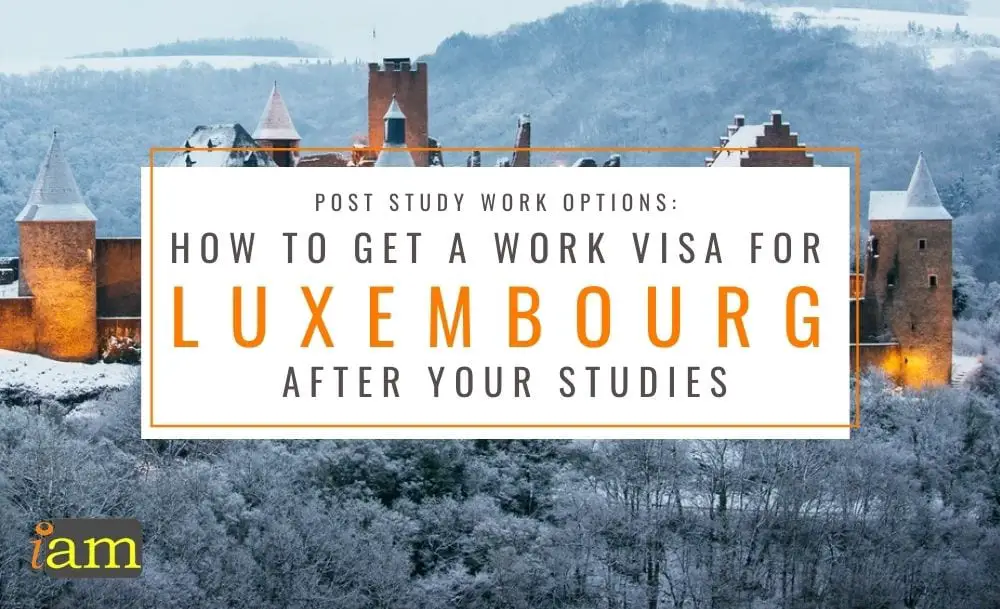 Luxembourg is a small landlocked country in western Europe. Luxembourg City is one of the three official capitals of the European Union, as well as being the seat of the European Court of Justice.
The country's long and interesting history has led to it having a mix of Dutch, German and French cultures. Considering that almost half of the residents in Luxembourg are foreigners, people are more open-minded with immigrants, which is good news for international students who want to continue to live in the country.
Luxembourg is a developed country with an advanced economy and one of the world's highest GDP per capita. The country is also renowned for being one of the safest nations in the world, making the perfect destination for any international student. The country's excellent telecommunications infrastructure, economic stability, and access to other European financial centers make working in Luxembourg an compelling option.
Depending on where you are from, you may require a visa to stay in Luxembourg after completing your studies. Luxembourg is a Schengen country and part of the European Union thus EU/EEA and Swiss nationals do not need to obtain a visa.
If you are from any other country, you will need to obtain a visa to stay in Luxembourg. Third-country students who are qualified graduates in Luxembourg can apply for a jobseeker or start a business residence permit which is valid for nine months. 
When the Brexit transition period ended on 31 December 2020, the UK became a third-country. Thus, UK citizens will also need to apply for a permit if they wish to stay in Luxembourg after their studies.
Being in a foreign country is not easy, so knowing your options after your studies will guide you through your career decisions. For post-study options elsewhere, like the USA, Canada, Australia, New Zealand, the UK, or other parts of Europe, check out our other post-study blog posts!
Residence Permit –  Jobseeker or Start a Business
Third-country students may stay in Luxembourg to look for a job or start a business after completing their studies. They must apply for a residence permit for the purposes of finding a job or setting up a business at least 30 days before the expiry of their current student residence permit.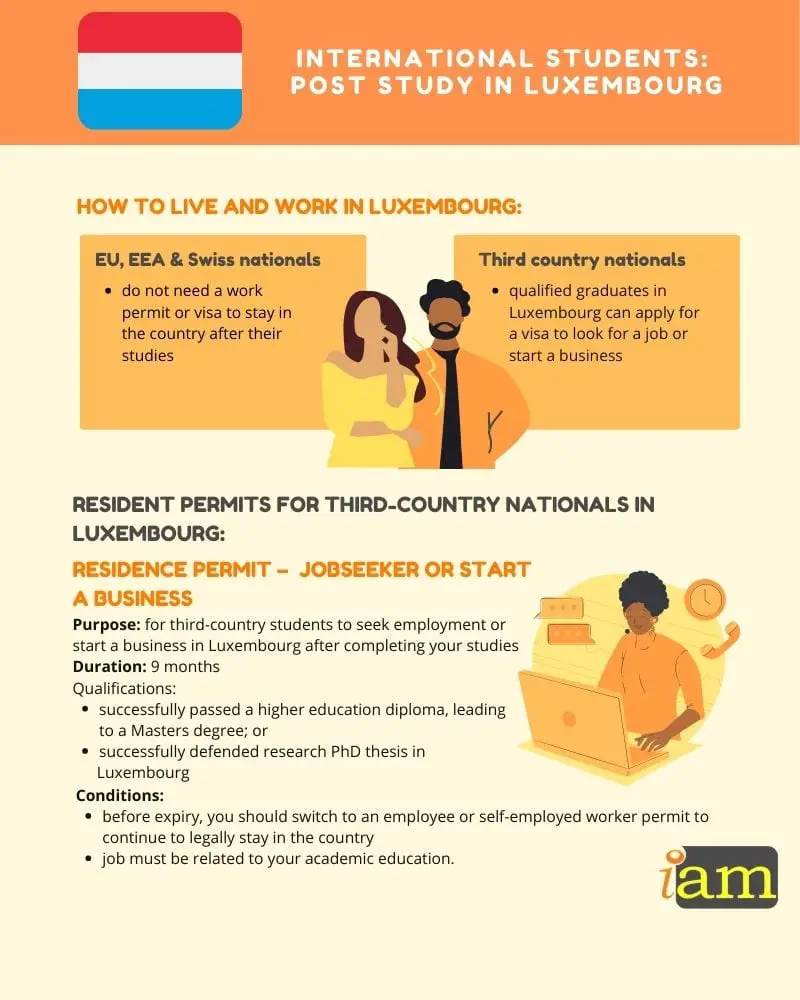 Third-country students can apply for the permit if the meet the following conditions: 
they have successfully passed their higher education diploma, leading to a Masters degree; or
they have successfully defended their research PhD thesis in Luxembourg.
To apply, you need to prepare the following documents:
a copy of valid passport
a recent extract from the criminal record in Luxembourg
proof of comprehensive health insurance valid in Luxembourg (travel insurance)
proof of successful completion of a higher education diploma leading to a Masters degree, or proof that a PhD research thesis has been successfully defended in Luxembourg;
proof that they have sufficient resources to cover living expenses during their stay, and their return trip. Their monthly resources must amount to at least 80 % of the level of the social inclusion income in force in Luxembourg. The following may be used as proof:

a certificate of scholarship or student loan stating the amount and its duration; or
a bank certificate; or
an undertaking to provide financial support (formal obligation) by a guarantor living in Luxembourg
The process usually takes 90 days. Before the expiry of this permit, you should be able to switch to an employee or self-employed worker permit to continue to legally stay in the country. Your job must be related to your academic education.
Related articles:
Residence Permit for Employees
Once you have found a job, you should switch to a residence permit for salaried workers. This permit is valid for one year and can be renewed for a maximum of three years as long as the same conditions are met and you can prove that you have effectively worked for the duration of validity of the residence permit.
To apply, you must prepare the following documents:
a copy of valid passport
a copy of the current residence permit
a copy of the declaration of arrival established by the communal administration;
proof of suitable housing
* Additional documents may be required
The application process usually takes four months. Once the application is approved, you will be required to provide your biometric data and after a few days, you will be able to get your residence permit in person. The residence permit takes the form of a chip card containing the biometric data and also contains the work permit.
Residence Permit for Self-Employed
If you are going to start up a business after your studies then this permit is for you. The residence permit for self-employed is valid for a maximum of 3 years and can be renewed for another 3 years as long as the conditions for obtaining the permit is met.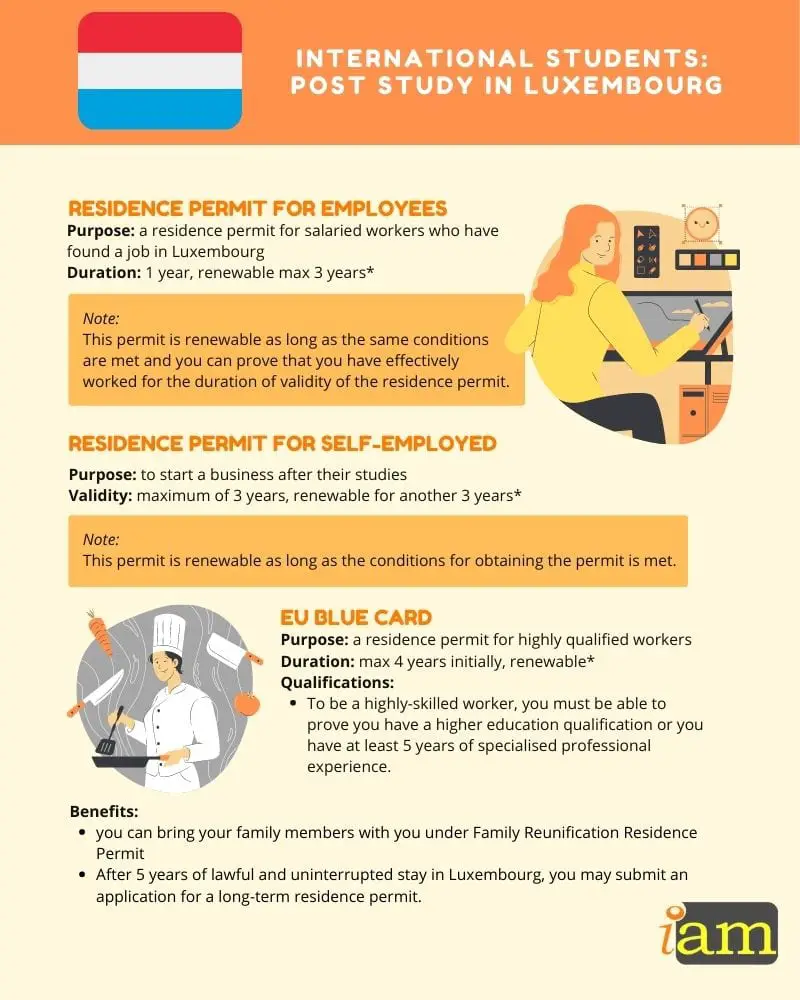 To apply, you must prepare the following documents:
provide proof of required qualifications to carry out the planned activity and, where applicable, in order to be registered with the respective professional body in the relevant professional register
where applicable, ensure they fulfil the conditions set out by law to access the professions of craftsman, trader, industrialist and certain liberal professions
provide proof that they have sufficient resources to carry out the desired activity in Luxembourg
ensure that the activity carried out serves the interests of the country in terms of social or cultural interest, or economic benefit

as a response to an economic need;
in terms of integration in the national or local economic context;
in terms of viability and sustainability of the business project;
in terms of creating jobs;
and in terms of investment, namely in research and development, innovation or specialisation.
* Additional documents may be required
EU Blue Card – Salaried Employee for Highly Qualified Worker
To be a highly-skilled worker in Luxembourg, you must be able to prove you have a higher education qualification or you have at least five years of specialised professional experience. Highly qualified workers are not subject to the obligation of a labour market test. The first residence permit for highly qualified workers is valid for a maximum of four years and can be renewed as long as you still meet the conditions.
To qualify, you must meet the following conditions:
have an employment contract of at least one year for highly qualified work
have an offer for a remuneration:

at least equivalent to 1.5 times the amount of the Luxembourg average gross annual salary (EUR 78,336 in 2019); or
at least equivalent to 1.2 times the Luxembourg average gross annual salary (EUR 62,668.80 in 2019) for work in one of the following professions and for which the government has noticed a particular need to employ third-country nationals:

mathematicians, actuaries and statisticians;
systems analysts;
software developers;
web and multimedia developers;
applications programmers;
software and application developers and analysts, multimedia developers not listed elsewhere;
database designers and administrators;
systems administrators;
computer network professionals;
database and network professionals not elsewhere classified;

show a document proving that they possess the high professional qualifications required for the activity or sector mentioned in the employment contract, or that they meet the requirements to carry out the regulated profession indicated in the employment contract.
With this permit, you can bring your family members with you under Family Reunification Residence Permit. After 5 years of lawful and uninterrupted stay in Luxembourg, you may submit an application for a long-term residence permit.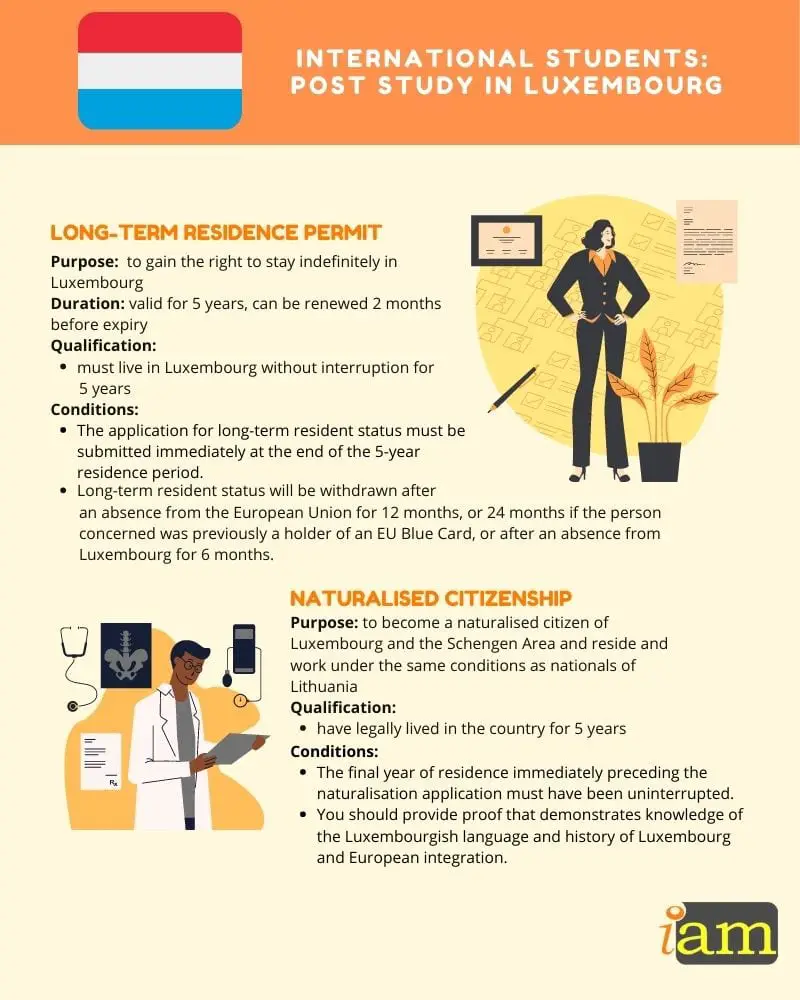 Long-term Residence Permit
After five years of lawful and uninterrupted stay on the territory of Luxembourg, third-country nationals may submit an application for a long-term residence permit. The application for long-term resident status must be submitted immediately at the end of the 5-year residence period. This permit is valid for five years and can be renewed within two months before the expiry of the current permit.
To qualify, you must meet the following conditions:
have continuously and lawfully resided in Luxembourg (i.e. have a residence permit) for at least 5 years;
hold a valid passport;
have stable, regular and sufficient resources to support themself and the family members under their care, without having to resort to social welfare (REVIS);
have suitable housing;
have a health insurance certificate for himself and his family;
not constitute a threat to public order or public safety.
Long-term resident status will be withdrawn after an absence from the European Union for 12 months, or 24 months if the person concerned was previously a holder of an EU Blue Card, or after an absence from Luxembourg for 6 months.
Naturalised Citizenship
After five years of legally living in the country, you will be eligible to apply for citizenship. The final year of residence immediately preceding the naturalisation application must have been uninterrupted. You should provide proof that demonstrates knowledge of the Luxembourgish language and history of Luxembourg and European integration.
So, are you ready to make the move to Luxembourg? Comment below.
IaM can help with your visa application to the United States, the UK & other countries
If you need help with a US visa, a UK Visa, or visa to Europe, including help with appointment booking obligations, IaM can help. For more information and advice on US immigration, UK immigration law and US visa applications or if you need any help or assistance please, reach out to your Visa Coordinator at IaM.