Post Study Work Options: How to Get a Work Visa in Latvia After Studies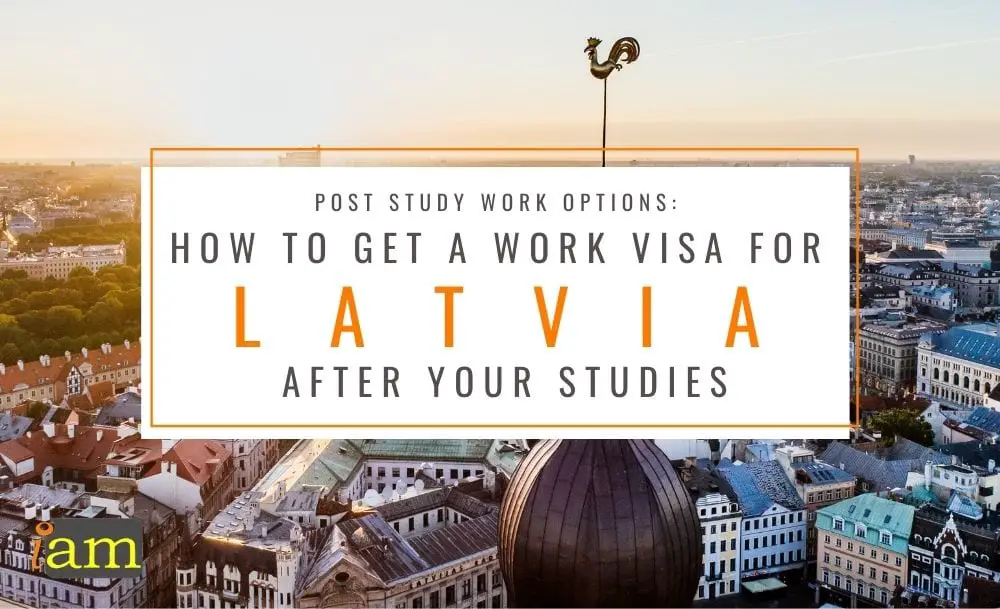 Latvia is a country on the Baltic Sea between Lithuania and Estonia and has direct rail links with nearby Belarus, Estonia, Lithuania and Russia. Its landscape is marked by a wide and spectacular coastline as well as dense, sprawling forests.
The country is a multi-ethnic country that is highly rich in different cultural and educational traditions. It is an ideal destination for foreign nationals to study and work as English is widely spoken and although you are required to learn the local language if you want to apply for a permanent resident. The government has given special emphasis on education and has made many educational reforms. 
Latvia is one of the fastest growing economies in Europe. The country boasts diverse top sectors with great opportunities in international industries. Due to its location and geography, Latvia's economy is heavily reliant on the production and processing of export products, including timber, electronic goods, machinery, and food products.
As a Schengen country and part of the European Union, your permit to stay in the country depends on your nationality. EU/EEA and Swiss students enjoy freedom of movement and residence in Latvia.  Anyone who wishes to stay in the country after completing their studies can continue to reside in the country and look for a job as you are exempt from obtaining a visa or residence permit. You are entitled to a permanent residence card after residing in the country for five continuous years.
Non-EU/EEA and Swiss students need a residence and work permit to remain in Latvia after completing their studies. Your student visa expires as your study programme ends. At present, the Latvian government has not issued a provision to allow students from a third-country a temporary residence permit in order to look for a job. 
During the course of your studies, it is important to decide if you want to remain in Latvia after completing the study programme so you can plan ahead in order to obtain the next residence permit. You need to land a binding job offer and apply for the necessary permit before your current permit expires otherwise you need to leave Latvia. You can still work in Latvia and apply for a work and residence permit in your home country.
Non-EU/EEA and Swiss students who have a reason to reside in Latvia after the completion of studies such as a job offer or marriage to a Latvian resident can apply for a temporary residence permit.
We hope that this post will help you determine your next step to advance your career. You can also check out your post-study work options in Italy, France, the United Kingdom and the other EU countries to help you decide the final path you want to take.
Residence and Work Permits for Third-Country Nationals
Temporary Work Permit
There are two types of temporary residence permit which is tied to the duration of the job contract. The process varies and may take up to four months.
Temporary Short-term Work Permit
Temporary Long-term Work Permit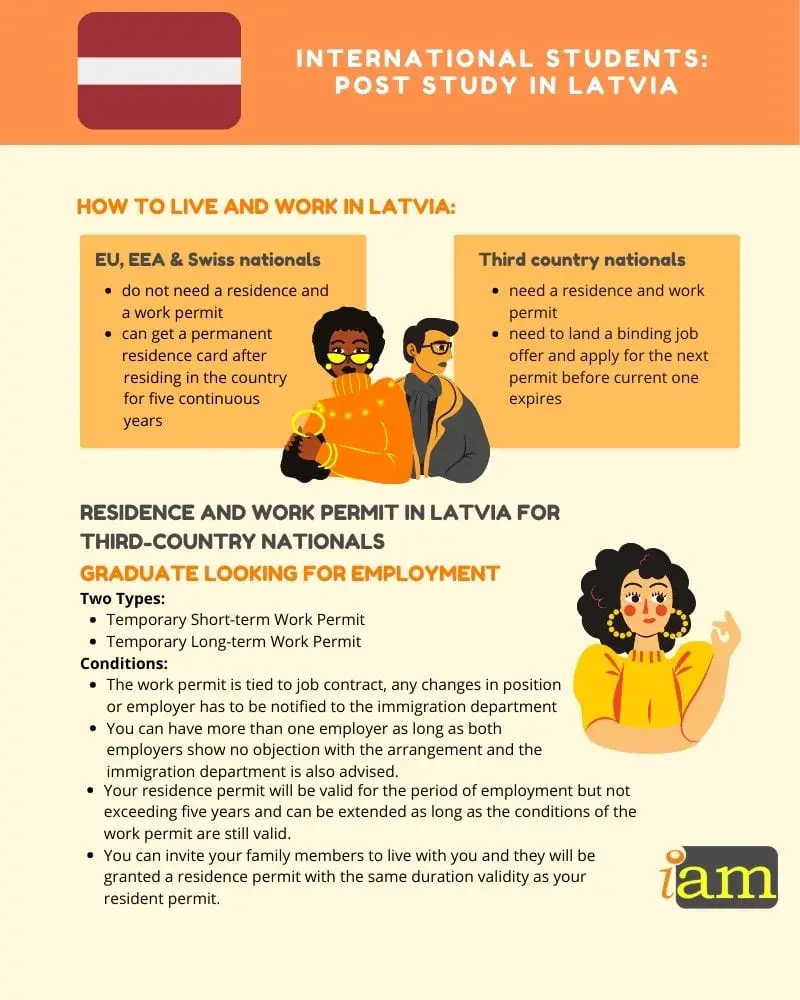 Once you have a job offer, your employer will submit an application for invitation at Office of Citizenship and Migration Affairs along with employment contract, job position details, qualification details and your academic transcripts. Once approved, an invitation letter will be issued under your name and you can apply for a temporary work and resident permit.
To apply for the permit, you need the following documents
Valid Passport
Two recently taken passport size photographs
Completed and signed employment permit application form
Proof of financial means (€1,004 per month before taxes)
Medical examination certificate 
Visa application fee paid receipt
Employment Contract
Invitation Letter from Employer
Letter of intent from employer
Your work permit is tied to your job contract. Any changes in position or employer has to be notified to the immigration department. You are also allowed to take more than one employer as long as both employers show no objection with the arrangement and the immigration department is also advised.
Your residence permit will be valid for the period of employment but not exceeding five years and can be extended as long as the conditions of the work permit are still valid.
You can also invite your family member to live with you in Latvia and they will be granted a residence permit with the same duration validity as your resident permit. 
Self-Employed Residence Permit
If you are working as a freelancer or starting your own business, you need to apply for this permit. To qualify for, you must submit the following:
Residence permit request
Passport photo
Document confirming the necessary subsistence (€2,008 per month before taxes)
Document confirming the state duty payment
Business plan approved by a sworn auditor for the envisaged operation period
Documents confirming sufficient personal financial means to commence the activities stipulated in the business plan;
A permit (a licence, a certificate) if you are engaged in activities which require these documents;
A business plan checked by a sworn auditor if the former business plan has already been fulfilled (starting with the second year of operation).
Related Articles:
EU Blue Card
This permit is issued to highly qualified third-country nationals.
To qualify for the Blue Card, you must hold a university or college diploma from an educational programme that lasted three years or more. The permit will allow you to live and work in Latvia as a highly-qualified employee.
The maximum processing time for issuing a Blue Card is 30 days.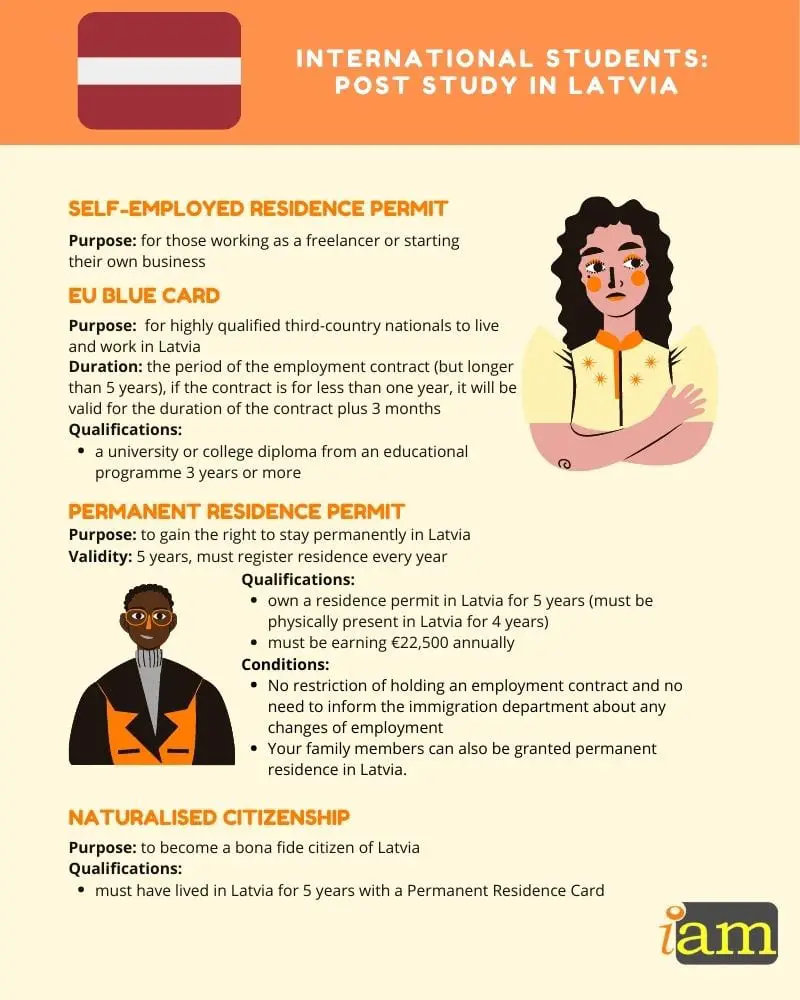 To apply, the you must:
have a valid work contract or binding job offer for highly qualified employment with a duration of at least 1 year
meet the minimum salary threshold (€1,506 per month before taxes)
for regulated professions: present documents proving that the national legal requirements are met
for unregulated professions: present documents proving that the relevant higher professional qualifications are met
present a valid travel document, an application for a visa or a visa (if necessary), and a valid residence permit or a national long-term visa (if appropriate);
present a valid health insurance (or a proof of having applied for it)
You must not pose a threat to public policy and may also be required to provide an address in Latvia.
The EU Blue Card is issued for the period of the employment contract and no longer than five years. If the employment contract is for less than one year, the EU Blue Card shall be issued for the duration of the contract plus three months.
Permanent Residence Permit
The rules to get a Permanent residency in Latvia are simple. One must own a residence permit in Latvia for 5 years and you must be earning €22,500 annually to qualify for a Permanent Residency. Out of those five years, you must be physically present in Latvia for at least four years. 
To apply, you must prepare the following documents
Valid passport
Residence address in Latvia
Candidate's personal details including marriage, children, parents, qualification, knowledge of languages
Tax payment documents
Proof of financial means
Confirmation from legal authorities of Latvia that the candidate has a clean criminal record and during his stay he has been following rules of regulations of Latvia as a responsible citizen.
Health insurance policy (if supported by employer, the details of health insurance coverage paid by employer)
Proof of Latvian language proficiency
This permit is valid for five years however you must register your residence every year. Permanent resident card holders are not required to spend a certain amount of time in Latvia to keep their Permanent Residence status.
With this permit, there is no restriction of holding an employment contract and no need to inform the immigration department about any changes of employment. Your family members can also be granted permanent residence in Latvia.
Naturalised Citizenship
After living in the country for five years with a Permanent Residence card, you can apply for the Latvian citizenship. The Latvian government does not allow dual citizenship so you must renounce your current citizenship.
To apply, the following are required
Details of your residence in Latvia for the past 5 years
Prove proficiency in Latvian language, knowledge about Latvian Constitution, you must have known the text of Latvia's national anthem and knowledge about Latvia's history and culture
Proof of source of income is legal
Provide documented proof of the renunciation of their previous citizenship
So, are you ready to explore your options in Latvia? Comment below.
IaM can help with your visa application to the United States, the UK & other countries
If you need help with a US visa, a UK Visa, or visa to Europe, including help with appointment booking obligations, IaM can help. For more information and advice on US immigration, UK immigration law and US visa applications or if you need any help or assistance please, reach out to your Visa Coordinator at IaM.