Immigration Bill 2015 – 2016 – New sanctions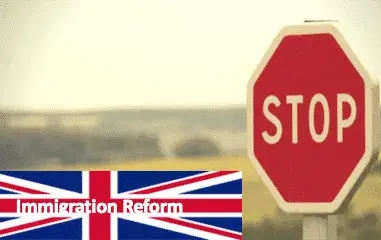 This Immigration Bill will introduce new sanctions on illegal immigration, protect public services and tackle exploitation of low-skilled workers in the UK:
Part 1  Labour market and illegal working – will deal with exploitation in the labour market by:
providing a logical enforcement strategy to crack down on serious exploitation of workers by establishing a new director who will oversee the relevant enforcement agencies

making it a criminal offence to work illegally, seizing illegal workers' earnings as the proceeds of crime

making it easier to prosecute employers who deliberately or 'turn a blind eye' to employing illegal workers, and making sanctions tougher

creating powers to close businesses and apply special compliance measures to employers who continue to flout the law

ensuring that licenses for the sale of alcohol and late night refreshments are subject to compliance with immigration laws
Part 2 Access to services – will make it harder to live and work in the UK illegally by:
making it easier for private landlords to evict illegal migrant tenants

creating a new criminal offence for rogue landlords, dishonest landlords and agents who exploit migrants and repeatedly fail to carry out right to rent checks

ensuring that those unlawfully present in the UK are not able to drive

preventing illegal migrants from retaining UK driving licences

delivering the Prime Minister's commitment to require banks and building societies to take action against existing account holders who are unlawfully residing in the UK

placing a duty on banks and building societies to carry out periodic checks of the immigration status of existing current account holders
Part 3 Enforcement – will strengthen our immigration enforcement response by:
creating new powers for immigration officers, including search and seizure

delivering on the manifesto commitment to tag all foreign criminals who are not detained but awaiting deportation

reforming the legal framework to simplify the conditions that apply to illegal migrants who are not detained
Part 4 Appeals – will bring forward the point at which we can remove those with no right to be here by enabling illegal migrants to be removed before they appeal, so long as this does not cause serious irreversible harm.
Part 5 -Support for certain categories of migrants – redresses an imbalance between failed asylum seekers, who can and should leave the UK, and other categories of illegal migrant by removing the support that is currently available to failed asylum seekers but not to others who similarly have no right to be in the UK.
Safeguards are also put in place through these measures to prevent them impacting disproportionately on the vulnerable, or those who genuinely cannot leave the UK.
Part 6 Border security – will strengthen our borders by:
giving Border Force new powers to target people smugglers in UK territorial waters

ensuring that airlines and airports present arriving passengers to the immigration control

ensuring that international travel bans are automatically applied
Part 7 Language requirements for public sector workers – will ensure there is no language barrier to British Citizens accessing public services by delivering the manifesto commitment to make sure those public sector workers who have customer facing roles can speak fluent English.
Part 8 Fees and charges – will reduce demand for migrant labour in jobs that can be filled by domestic workers and consolidates charging arrangements for Home Office services by:
introducing an immigration skills charge for employers who preferentially employed skilled migrants

enabling civil registration to become financially self-supporting through fees, rather than relying on central government funding

allowing the Registrar General to receive funding, from the registrars and superintendent registrars, for the services they currently provide for free

maximising the flexibility of the passport fees framework to allow for cross-subsidy and over-cost recovery powers, while keeping down the cost of a standard passport application
The debates regarding the Immigration Bill 2015 – 2016 are continuing in the Parliament next week.