Estonia To Stop Issuing Tourist Visas To Russians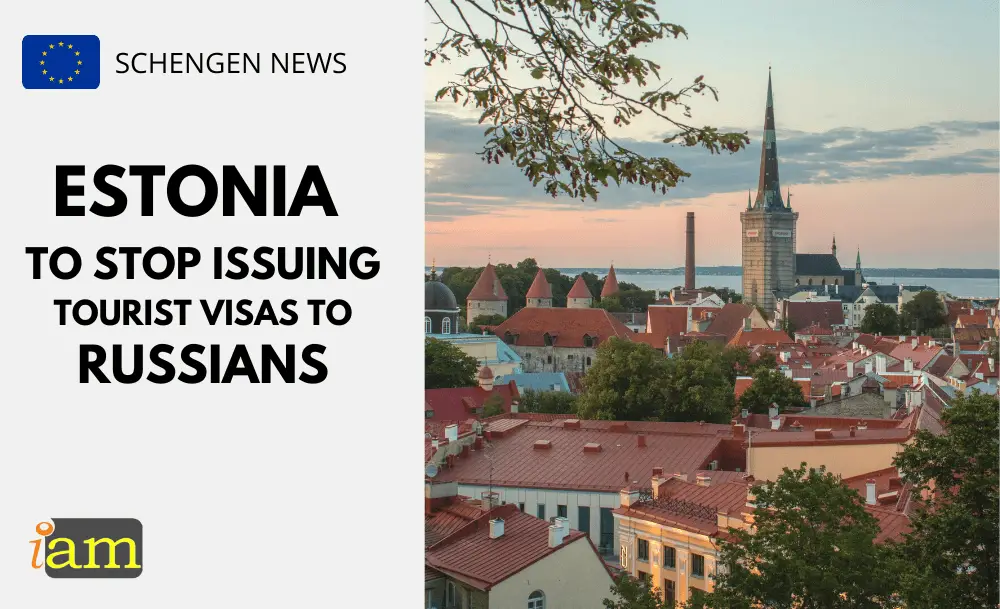 The Estonian government on 11 August 2022 announced that it will bar Russians with Estonian-issued Schengen visas from entering the country.
"We see that the number of Russian citizens passing through Estonia or coming to Estonia from Russia has increased massively,"

"The possibility for Russian citizens to visit Estonia en masse or through Estonia to Europe is not in line with the purpose of the sanctions we have imposed."

Estonian Foreign Minister Urmas Reinsalu
Estonia and Russia share a nearly 300-kilometre-long border.
The sanction applies from 18 August 2022. 
Calls To Stop Issuing Visas to Russians
Last week, Estonian and Finnish leaders urged fellow European countries to stop issuing tourist visas to Russian citizens, saying they should not be able to take vacations in Europe while the Russian government carries out war in Ukraine.
Estonian Prime Minister Kaja Kallas wrote on Twitter that "visiting Europe is a privilege, not a human right" and that it is "time to end tourism from Russia now".
A day earlier, her counterpart in Finland, Sanna Marin, told Finnish broadcaster YLE that "it is not right that while Russia is waging an aggressive, brutal war of aggression in Europe, Russians can live a normal life, travel in Europe, be tourists."
Visas issued by Estonia and Finland are valid across most of Europe's "Schengen area" which is made up of 26 countries: 22 EU nations plus Iceland, Liechtenstein, Norway and Switzerland.
The Czech Republic became the first EU country to stop issuing visas to Russian citizens in late February, and both Finland and Latvia are calling for all EU countries to impose a full ban on Russian travellers. Finnish Prime Minister Sanna Marin said she expected the issue to be discussed at upcoming EU leaders' summits.
The Commission said current visa sanctions targeted Russian oligarchs and people close to the Kremlin, not citizens.
Exemptions to the Rule
Once the sanction will be implemented, Russians will be unable to travel to Estonia for tourism purposes. 
The following are exemptions to the rule:
Russian citizens with visas issued by other EU countries 
Russian citizens who have a long-term residence in Estonia
Russian diplomats and their family
Russian workers in the field of international transporting goods and passengers
Russians visiting close relatives, 
Russian students unable to complete their studies in Estonia
Russian citizen travelling for humanitarian reasons
What are your thoughts on this issue? Talk to us in the comment section below.
Check out the deals we have found below and tell us your travel plans.
Check out the offers and discounts from:
And because of the pandemic, don't forget to get your travel insurance, which will cover you for flight disruptions and pandemic related matters.
IaM can help with your visa application to Europe, the United States, the UK & other countries
If you need help with a US visa, a UK Visa, or a visa to Europe, including help with appointment booking obligations, IaM can help. For more information and advice on US immigration, UK immigration law and US visa applications or if you need any help or assistance please, reach out to your Visa Coordinator at IaM.
Some of our posts include affiliate links. If you choose to purchase any of these products, we might get a small commission. For more information, check out our TOS.