Post Study Work Options: How to Get an Estonia Work Visa After Your Studies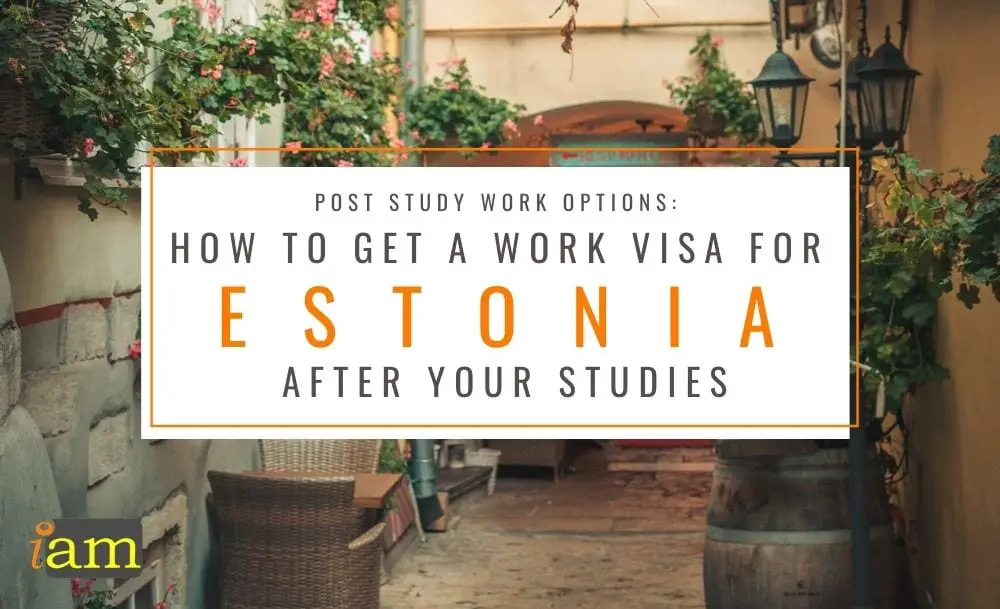 Estonia is in Northern Europe dotted with castles, hilltop fortresses and medieval architecture. Estonia is the most entrepreneurial country in Europe and is the leading digital society in the world. The country is renowned for its clean environment with low crime rate.
The cost of living such as rental expenses is lower compared to other European countries and the safety index is high. The free public transport and access to health care benefits provide you with more disposable income. Estonia also has a strong startup culture and you can gain support both from state and private entities. These reasons are a big draw for students and graduates to stay back after completing their studies. English is also widely used in the country making communication easier.
Residence Permit after graduation in Estonia
EU/EEA and Swiss citizens
Estonia is part of the European Union thus EU/EEA and Swiss nationals and their family members have the right to stay in Estonia and do not need a residence permit in Estonia, but they shall register their right of residence if the stay is longer than three months.
The right of temporary residence is valid for a period of five years. After completing your studies and you decided to continue living in the country, you need to ensure that you extend your temporary residence no lesser than a month before the expiration date by registering at the local Service Office. Once you find a job, your employer would just register you in the Employment Register, just like any local worker.
If you have continuously lived in the country for five years with temporary residence, then you have the option to apply for a permanent residence as an EU national.
Non-EU citizens
Non-EU students who want to pursue a career in the country can stay in Estonia for additional 9 months after their graduation (with the permission of the university) to look for a job. During this time, you are still allowed to work in Estonia. Upon landing a suitable job after graduation, you can apply for a temporary residence permit for work. Processing the work permit application takes about a month.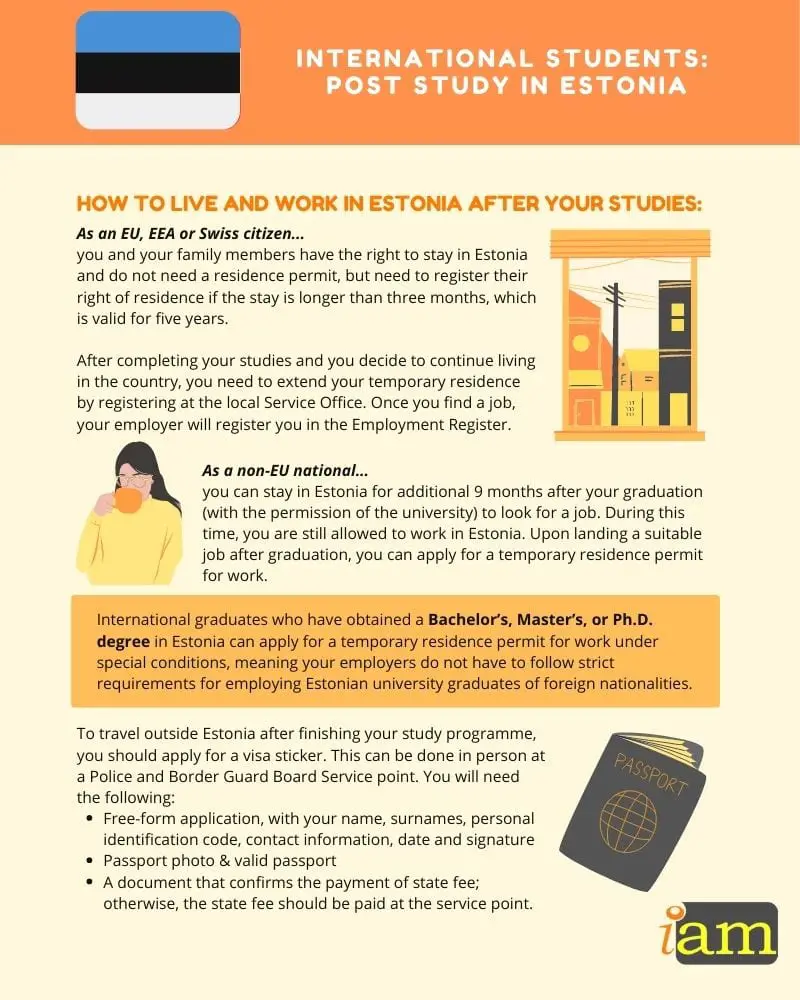 It is to your benefit if you have part-time or full-time work during your studies to gain experience for your long-term career goals and to test the waters if staying in the country is the best for you. Employers are increasingly looking for evidence of such dedication to your future career.
After experiencing what it is like working in Estonia and if you find that Estonia is not for you, you can check out your options with other European countries like Germany and the United Kingdom which is arguably the top European choice for international students, or go across the ocean like Canada and the United States.
From September 2013, all international graduates who have obtained a Bachelor's, Master's, or Ph.D. degree in Estonia can apply for a temporary residence permit for work under special conditions. This means that their employers do not have to follow strict payment/fee requirements (obligatory for other international temporary residence for work applicants) and these employers are not obligated to have the permission of Eesti Töötukassa (Estonian Unemployment Insurance Fund) for employing Estonian university graduates of foreign nationality.
If you need to unwind and travel outside Estonia after finishing your study programme during those 270 days, it is a good idea for you to apply for a visa sticker to formalise your stay, so other Schengen countries know that your stay is legal. Formalisation can be done in person at a Police and Border Guard Board Service point.
For formalisation, you must prepare the following:
Free-form application, with your name, surnames, personal identification code, contact information, date and signature
Passport photo
Valid Passport
A document that confirms the payment of state fee; otherwise, the state fee should be paid at the service point.
Temporary Residence Permit for Employment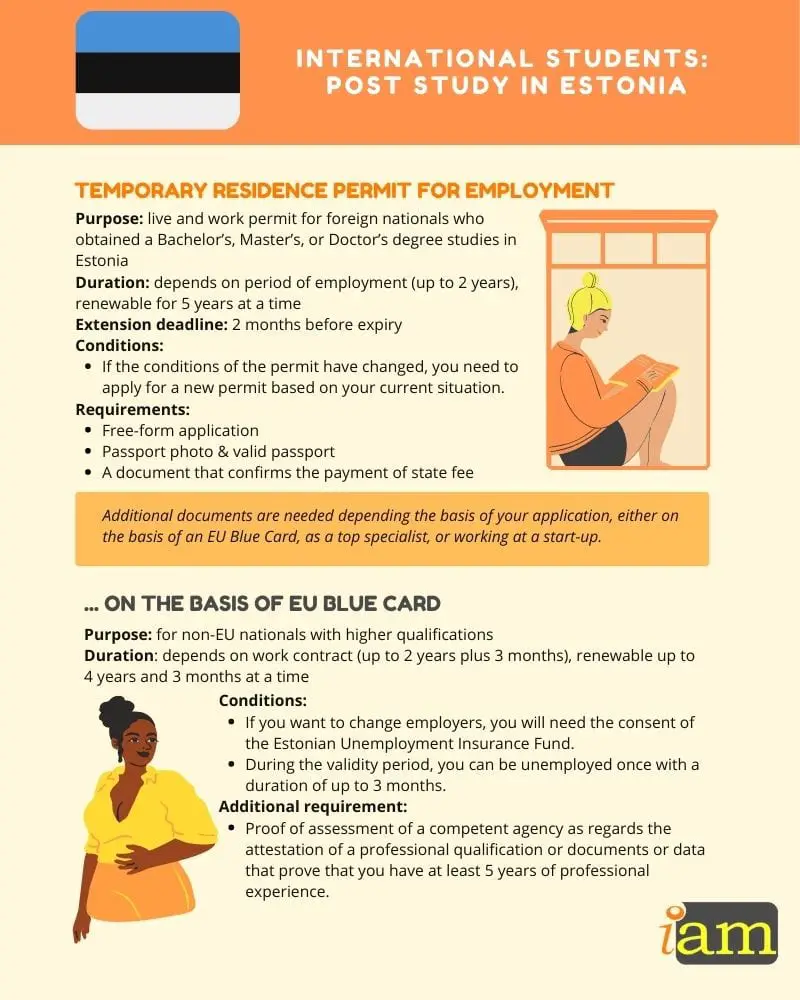 You qualify for this permit once you have acquired higher education in Estonia in Bachelor's, Master's, or Doctor's degree studies. A residence permit for employment is issued for a period of guaranteed employment in Estonia by an employer with a period of validity of up to 2 years and it can be extended for up to five years at a time. Application for extension of the permit should be 2 months before the expiry date.
Temporary residence permits usually take 2 months to process. If the conditions of the permit have changed then you need to apply for a new permit based on your current situation. Changes like terminating your employment during the validity period of the permit and joining a new employer, then you need to apply for a new residence permit.
To apply, you need to prepare the general documents
Free-form application, with your name, surnames, personal identification code, contact information, date and signature
Passport photo
Valid Passport
A document that confirms the payment of state fee
* Additional documents are needed depending on what you base your residence application
Temporary Residence Permit on the basis of EU Blue Card
This permit is granted to a non-EU national who is offered a job that requires higher qualifications. The permit is valid depending on the work contract and should not exceed 2 years plus 3 months. The permit can be renewed for up to 4 years and 3 months at a time.
If you want to change employers during this time, then you need the consent of the Estonian Unemployment Insurance Fund. During the validity period of the EU blue card, you can be unemployed once with a duration of up to three months.
Additional Requirement:
Proof of assessment of a competent agency as regards the attestation of a professional qualification or documents or data that prove that you have at least five years of professional experience.
Related posts:
Temporary Residence on the basis of employment as a top specialist
Residence permit for employment as a top specialist can be granted without applying the requirement for the permission of the Estonian Unemployment Insurance Fund. As a top specialist, you should be with appropriate professional training or experience in any sphere, with a professional work salary that is at least equal to the latest annual average wages in Estonia published by Statistics Estonia.
Additional Requirement:
Company less than 12 months – submit documents or information reflecting data on the receipt of investment or loan from the state or a private management company licensed by the Financial Supervision Authority or data on the receipt of support from a public support measure
Company has been operating for at least 12 months and the annual turnover of the parent company amounts to at least ten million euros, show documents or data to prove it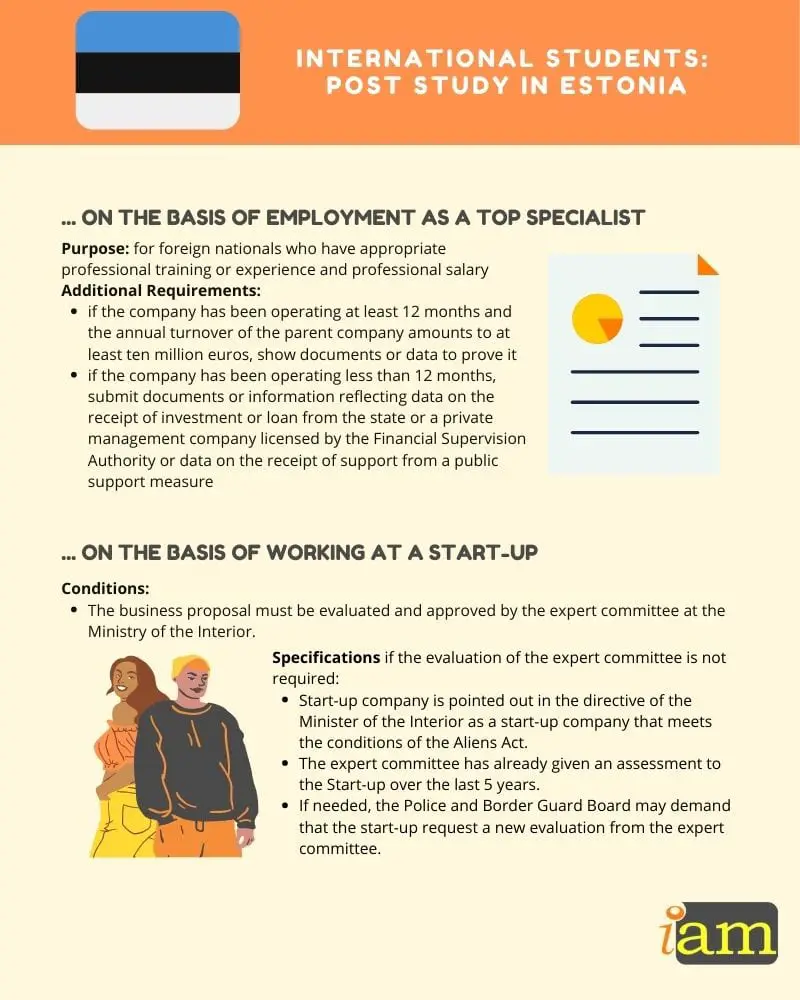 Temporary Residence Permit on the basis of working at a start-up
To qualify for this permit, the business proposal is evaluated by the expert committee at the Ministry of the Interior before submitting the application to the Police and Border Guard Board. The expert committee gives their opinion on whether it is a start-up within 10 working days following the receipt of all the required information and evidence from the applicant.
Specifications in case the evaluation of the expert committee is not required:
Start-up company is pointed out in the directive of the Minister of the Interior as a start-up company that meets the conditions of the Aliens Act.
The expert committee has already given an assessment to the Start-up over the last five years. However, if needed, the Police and Border Guard Board may demand in the course of the procedure that the start-up request a new evaluation from the expert committee.
Temporary Residence Permit for Settling Permanently in Estonia
Foreign non-EU nationals who have a doctorate degree may be issued a residence permit for permanent residence without the prior five years of residence, adaptation and the requirement of the purpose of residence permit, on the condition that the compliance of the non-EU national's higher education qualification with the doctorate degree has been assessed by the Estonian ENIC/NARIC centre and the foreign national has been previously granted a residence permit on another basis.
This permit can be granted for up to five years and can be renewed at least two months before the expiry date.
Temporary Residence Permit for Business
To qualify for the permit, you should meet one of these conditions.
you have a holding in a company, or you operate as a sole proprietor and you have invested in business activity in Estonia at least 65,000 euros of capital (in the case of a self-employed person, 16,000 euros).
for conducting business at a start-up
as a major investor – if you have made a direct investment of at least 1,000,000 euros in a company entered into the commercial register of Estonia that invests mostly into the Estonian economy, or an investment in an investment fund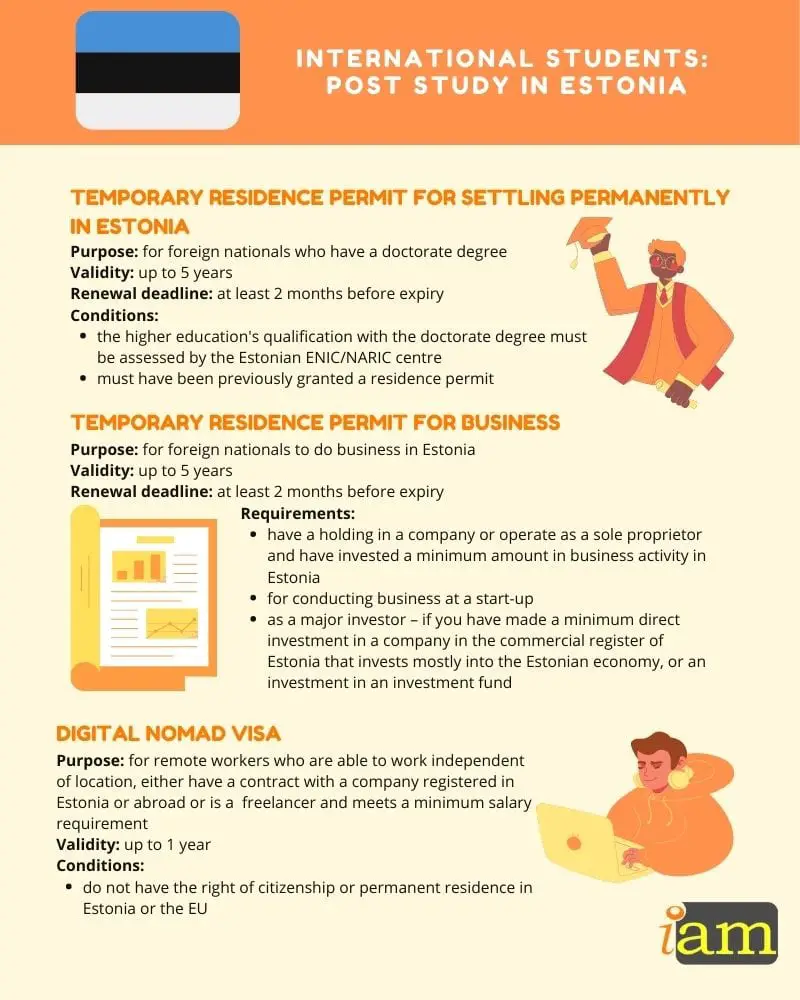 The process usually takes 2 months upon submission. A residence permit for business may be granted for up to 5 years. You can extend the permit and you should submit a request 2 months before the expiry date.
Digital Nomad Visa
Estonia recently launched the Digital Nomad Visa especially for remote workers who are able to work independent of location, may either have a contract with a company registered in Estonia or abroad or a freelancer. You also need to prove a monthly income of €3,504.
Once granted a visa, you have the right to temporarily stay in Estonia for up to 1 year although you do not have the right of citizenship or permanent residence in Estonia or EU. The process only takes up to 30 days.
Long Term Residence Permit
You will qualify for this permit if you have resided in Estonia permanently for five years on the basis of a temporary residence permit directly prior to submitting an application for a long-term residence permit. Only half of the duration of the time you have spent under the temporary residence on the basis of study will be counted. Your temporary residence permit should still be valid and your current place of residence has been entered into the population register of Estonia. You also need to present proof of financial means with health insurance and have at least B1 level knowledge of the Estonian language.
You should submit your application at least 2 months before your current permit expires.
You should prepare the following documents:
Proof of adequate legal income
Valid Identity Document
Proof of B1 Level of Estonian language proficiency
Passport photo
A document that confirms the payment of state fee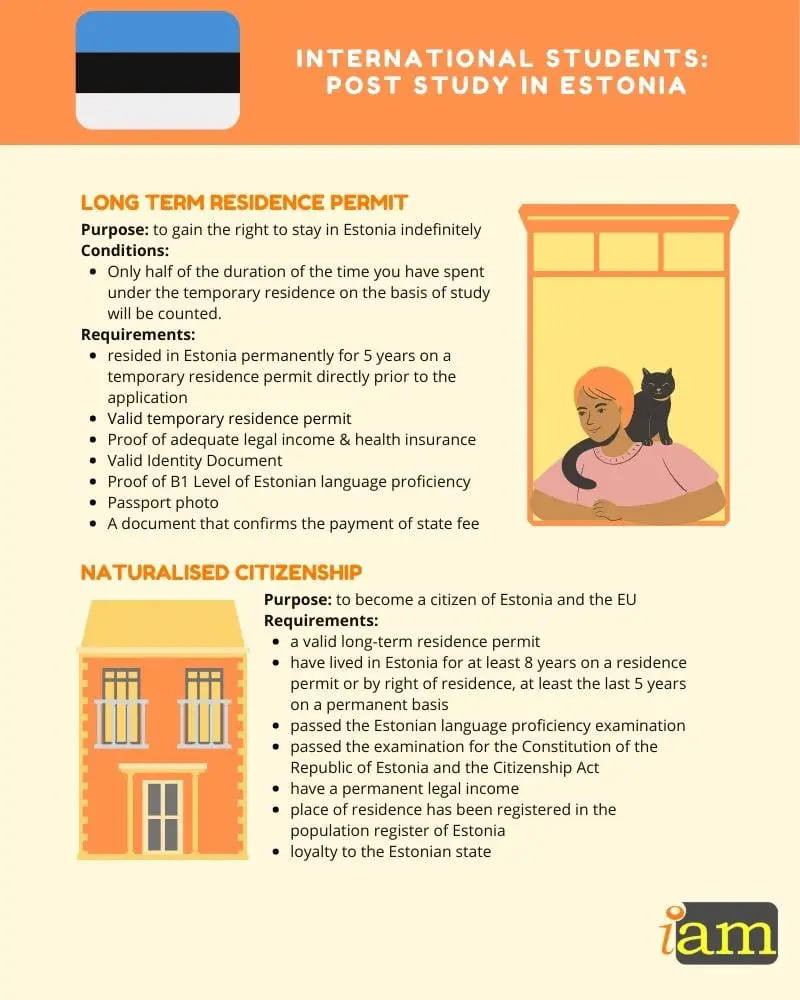 Naturalised Citizenship
To qualify for citizenship, you need to meet the following conditions:
you have a valid long-term residence permit
you have lived in Estonia, for at least eight years on the ground of a residence permit or by right of residence, of which at least the last five years on a permanent basis
you have passed the Estonian language proficiency examination (this exam is not required, if you have acquired the basic, secondary or higher education in the Estonian language)
you have passed the examination of knowledge of the Constitution of the Republic of Estonia and the Citizenship Act
you have a permanent legal income
your place of residence has been registered in the population register of Estonia
you are loyal to the Estonian state
After the submission of an application, the documents will be transmitted within 6 months to the government office for the decision.
As an Estonian citizen, you have the same rights as an EU citizen with visa-free travel within the EU and Schengen Areas and in many other countries. You can work without a permit anywhere in the EU and you can conduct business anywhere in the EU.
Need help with your Estonia post study work visa or have any other questions? We'd love to hear from you. Comment below.
IaM can help with your visa application to the United States, the UK & other countries
If you need help with a US visa, a UK Visa, or visa to Europe, including help with appointment booking obligations, IaM can help. For more information and advice on US immigration, UK immigration law and US visa applications or if you need any help or assistance please, reach out to your Visa Coordinator at IaM.