What do you need to know about Pride London 2015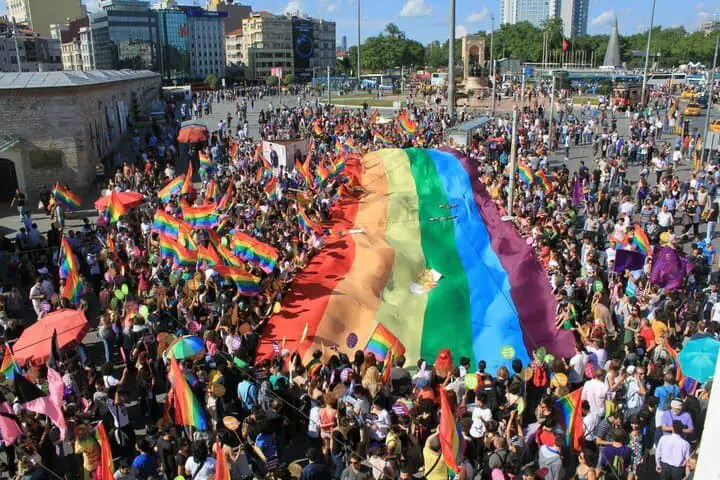 Tomorrow, June 27, London will be more colourful than ever.
Community Pride takes place at Mitre House, 160 Aldersgate Street, London EC1A 4DD – from 7:30 am to 12:00pm.
The first London Gay Parade was held  in 1972.
Pride London was formed in 2004 and since then a political rally in Trafalgar Square has been held straight after the parade.
It was awarded registered charity status in 2004.
Famous rainbow flag measuring 100m was presented in March 2008.
The Mayor of London, Boris Johnson has been a vocal supporter of Pride in London.
The 2014 March included groups such as Stonewall, ASDA supermarket's LGBT staff, London Ambulance Service, and Macmillan Cancer Support, together with the main sponsor Barclays Bank.
The Employment Equality (Sexual Orientation) Regulations 2003 are secondary legislation in the United Kingdom, which prohibited employers unreasonably discriminating against employees on grounds of sexual orientation, perceived sexual orientation, religion or belief and age. They are now superseded by the Equality Act 2010.
The regulations are brought into force under the terms of the European Communities Act 1972 as they are intended to implement within the United Kingdom the provisions of the EU Equal Treatment Directive covering discrimination on the grounds mentioned in the Amsterdam Treaty (disability, religion or belief, sexual orientation and age – with race and sex discrimination dealt with in other Directives – See EU Anti-Discrimination Directive).
Wondering the meaning of LGBTQ+?
LGBTQ+ stands for Lesbian, Gay, Bissexual, Transgender, Queer/Questioning, and the plus sign is for Others.
After a research I made, you can read more information here (be aware there is plenty of other websites where you can read regarding sexual orientation):
Lesbian – A sexual orientation; a female who is sexually attracted to other females.
Gay – A sexual orientation; a male who is sexually attracted to other males. Can also be an umbrella term for same sex attraction.
Bisexual – A sexual orientation; is somebody who is attracted to both the male and female gender.
Transgender – A gender identity; when someone's sex and gender identity don't match. For example a sex based female who identifies as a male.
Queer – Is a fluid sexual identity; meaning that the person doesn't conform to society's sexual identity boxes.
Questioning – Someone exploring in the LGBTQ+ identity; this means the person is unsure of their sexual identity and is in the process of figuring it out.
In the "Others" category is included as well for example:
Androgynous – A gender identity; it is where someone exhibits female and male gender characteristics.
IAM Immigration and Migration do same-sex partner applications. Call us now on 033 3006 4506.
Latest posts by Maria Pintado
(see all)