Post Study Options: How to Get a Work Visa for Croatia After Your Studies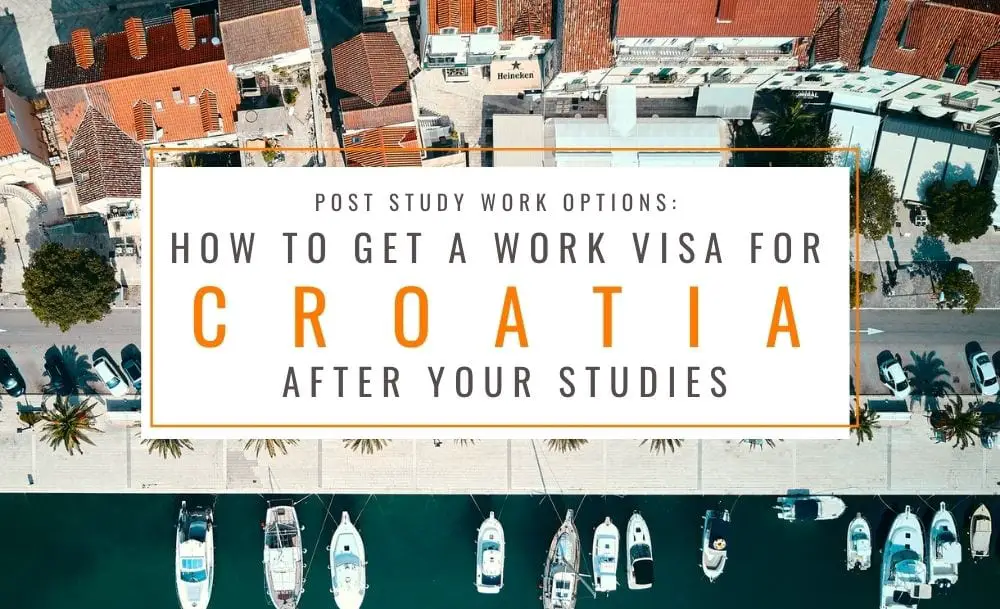 Croatia is a small country with a population of around 4 million people. Studying and living in Croatia is relatively affordable compared to other European countries. The international student organisations in the country work in the field of exchange and mobility programmes, international cooperation and agreements; organize seminars, summer courses, internships, etc.
Croatia is known for its breathtaking and stunning natural attractions. Tourism has become a significant part of Croatia's economy along with the service industries, shipbuilding, pharmaceutical processing and information technology. A major percentage of international students are part of the medical industry.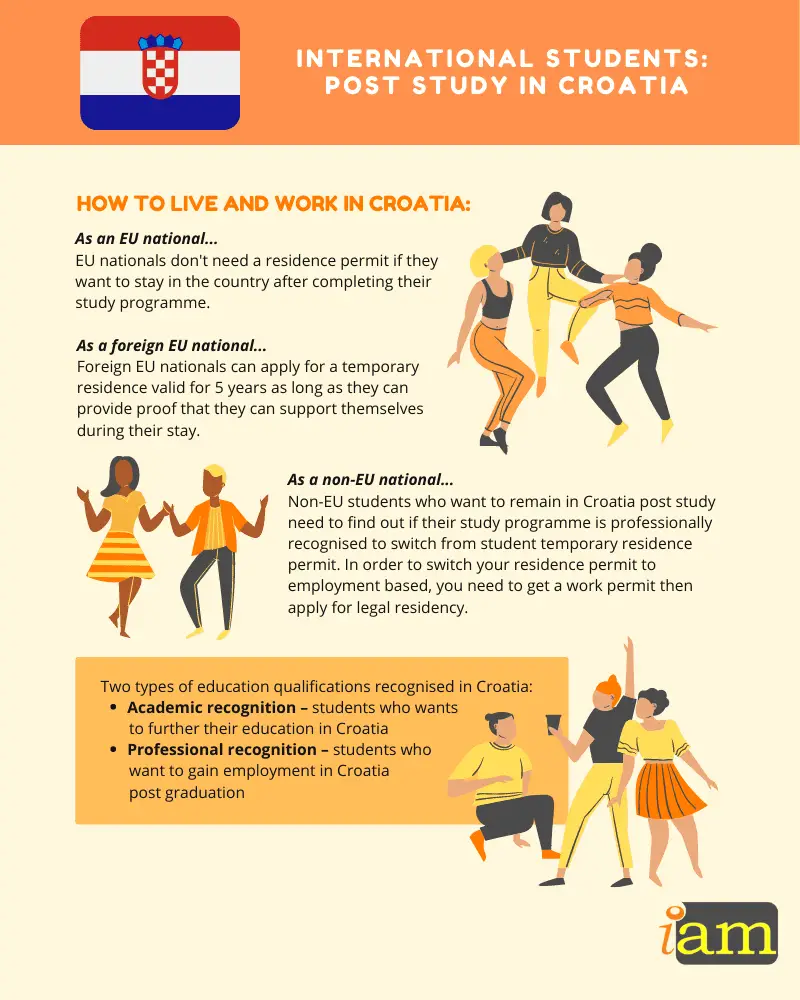 Croatia is one of the few EU member states that is still in the process of applying to be part of the Schengen Zone. A visa is what you need to get into Croatia as a tourist, worker, or businessman however a residence permit is what you need to stay in Croatia long term. As part of the European Union, foreign residency in the country varies depending on your nationality, heritage, and purpose of your stay.
EU nationals have the right to live and work in any member state, due to this privilege they do not need to apply for a residence permit if they want to stay back in the country after completing their study programme. Foreign EU nationals can apply for a Temporary residence in Croatia valid for five years as long as they can provide proof that they can support themselves during their stay.
Non-EU students who want to stay back in Croatia post-study need to find out if their study programme is professionally recognised to switch from student temporary residence permit. In order to switch your residence permit to employment-based, you need to get a work or business visa then apply for legal residency.
There are two types of education qualifications recognised in Croatia:
Academic recognition – students who wants to further their education in Croatia
Professional recognition – students who wants to gain employment in Croatia post graduation
Work Visa
You need a job offer or contract to apply for a work permit. Once you have a job and you can prove it, you can start your application. Your employer needs to submit your application to the administrative police station closest to your residence in Croatia. Once you have the work permit then you can apply for residency.
You will need to prepare the following:
Employment contract, or a written confirmation that you signed such contract or some other appropriate proof of employment
Proof of registration of a company, or a branch office, representative office, crafts trade, association or an institution in Croatia.
OIB identification number
Registered address (if applicable)
Passport photo
A work permit is usually valid for a year and can be renewed. It is highly recommended that you renew your permit at least 60 days before expiration of the permit.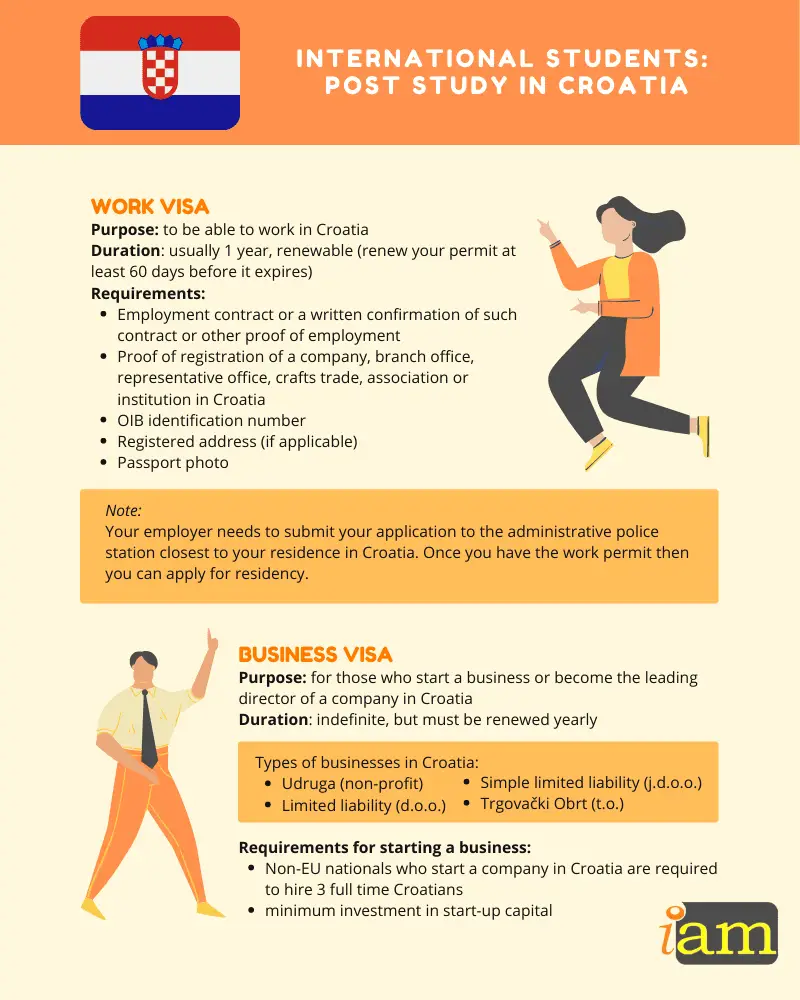 Business Visa
By starting a business in the country or by becoming the leading director of a company then you qualify for this visa. The visa needs to be renewed every year but the duration does not have an end. There are four types of businesses in the country and you should weigh the pros and cons of each type to get the maximum benefits. These business types are:
Udruga – for non-profits and charities
Limited liability company (d.o.o.) – for all types of for-profit businesses
Simple limited liability company (j.d.o.o.) –  usually for businesses with limited or lower start up capital like online businesses
Trgovački Obrt (t.o.) – for individuals who specialise in a professional trade or craft
Non-EU nationals who start a company in Croatia are required to hire 3 full time Croatians. You'll also need to invest at 100,000 HRK in start-up capital.
Once you are granted the business visa then you can apply for a legal residency.
Temporary Residency Permit (privremeni boravak)
A residence permit allows you to live in Croatia long term and may have a validity of one year or five years, depending on your basis for applying for residency. After the application is submitted the purpose of residence can not be altered.
Temporary Residence Permit based on employment
This permit will be initiated once your work permit has been approved and paid. You will be able to get your residence permit after 21 days. You are unable to start your job unless your visa has been received.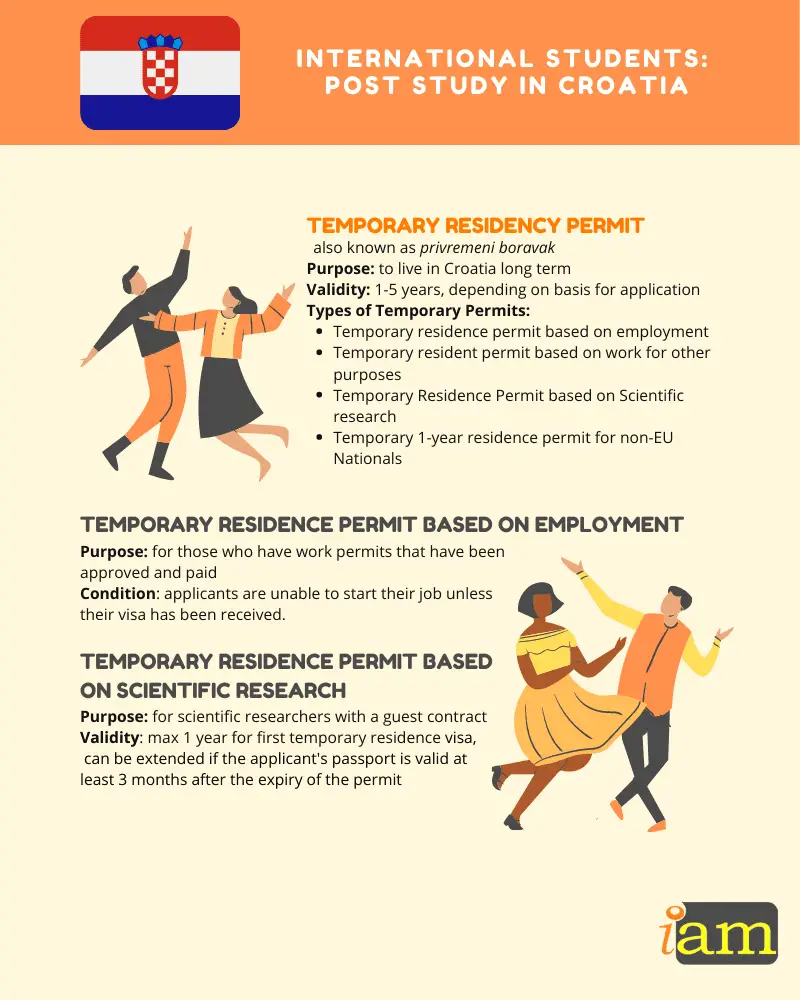 Temporary Residence Permit based on Scientific research
The maximum duration of a first temporary residence permit is one year. This can be extended on condition that your passport remains valid for at least three months after the expiry of the extended temporary residence permit. You should be able to provide proof why you need the residence permit.
Temporary Residence Permit based on Work for other purposes
This is a generic catchall for other work situations like starting your own Croatian company. Once you open the company, you can begin the application for a residence permit. There are two situations under which you may apply for residence through a business:
You are the owner of the business and need a residence permit as a non-EU national
You are the owner of the business and you want to bring in a non-EU foreigner to work for you who needs a work and residence permit
Temporary 1-year residence permit for non-EU Nationals
A temporary stay for up to a year may be granted to non-EU nationals without a concrete purpose for the stay. Please note that this permit cannot be renewed and does not allow you to work and the time spent in the country while on this permit.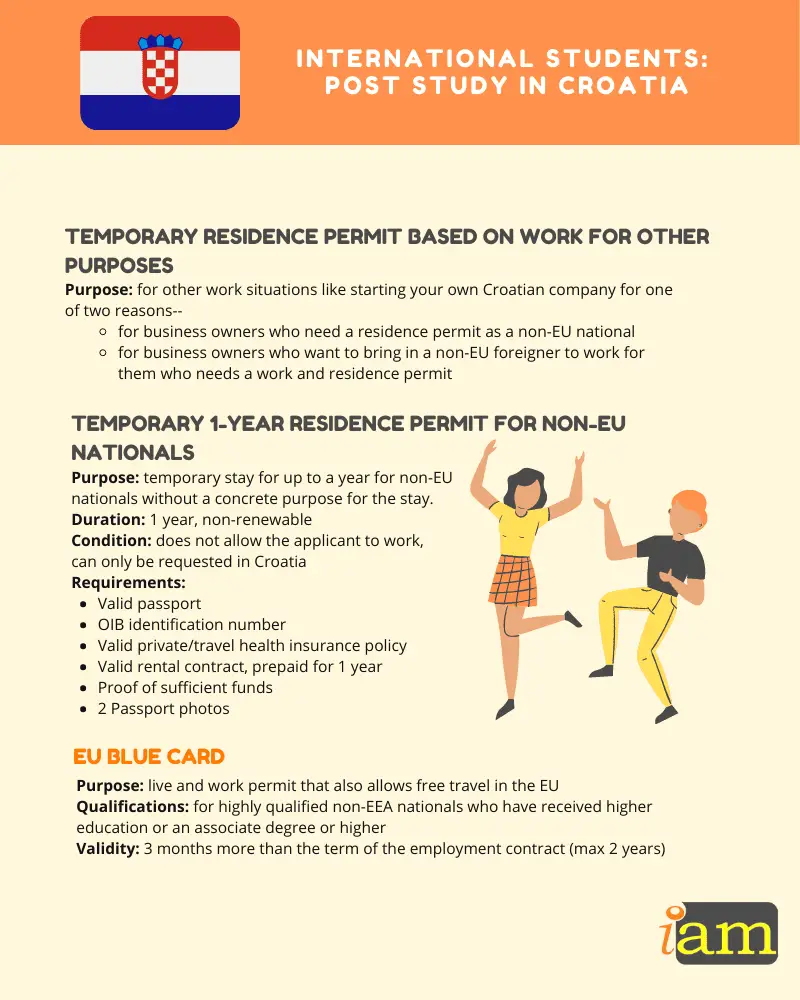 Smaller administrative police stations may not be aware of this permit so do your research and ask around. The permit can only be requested when you are in Croatia. 
To apply, you need to prepare the following documents
Valid passport
OIB identification number (personal identification number given to residents and citizens in Croatia)
Valid private/travel health insurance policy
Valid rental contract, prepaid for 1 year
Proof of sufficient funds (2,400 to 3,400 kuna/month)
2 Passport photos
EU Blue Card
This residence permit is for highly qualified non-EEA nationals who have received higher education or an associate degree or higher. Once you have been hired or given a binding work offer for a highly qualified position within Croatia, you may apply for a Croatia residence permit that allows you to work. This visa is valid for three months longer than the validity of the employment contract.
Related posts:
Permanent Residency Permit (stalni boravak)
After five continuous years of temporary residence, you may then apply for permanent residence. Within five years you should not be absent for a total of 10 months or up to 6 months at once. You should be in Croatia while the process is on-going.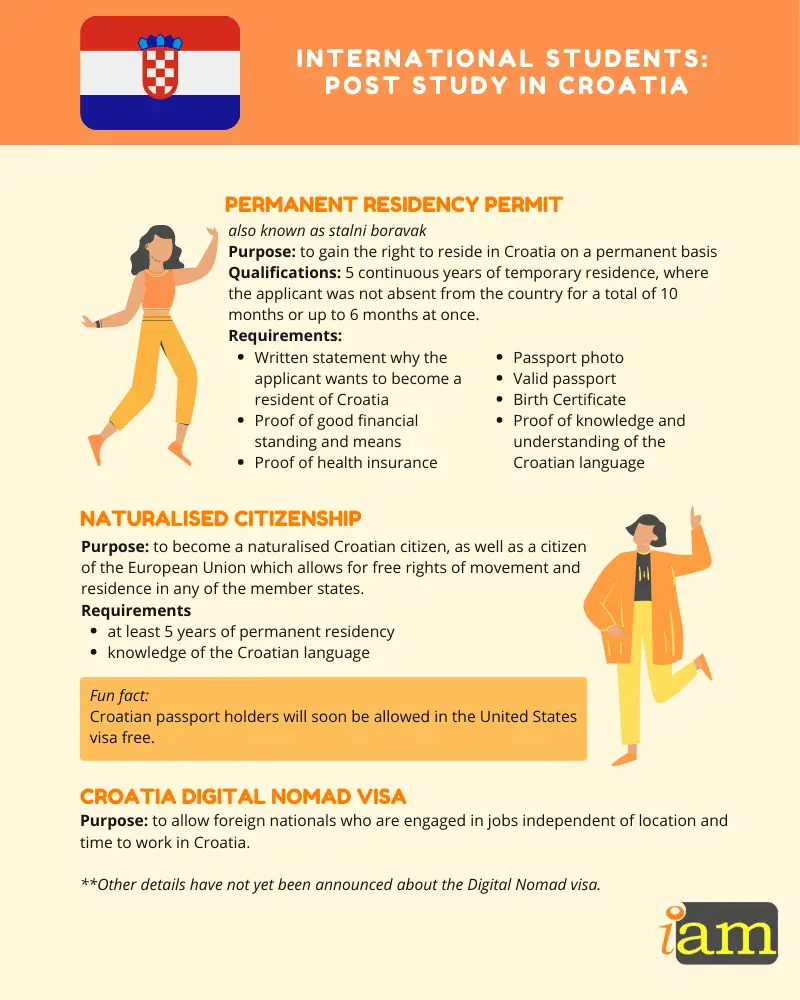 You need to prepare the following to apply for the permit
Written statement of why you want to become a resident of Croatia
Passport photo
Valid passport
Proof of good financial standing and means
Proof of health insurance
Proof of knowledge and understanding of the Croatian language
Birth Certificate
Naturalised Citizenship
After five years of permanent residency, non-EU nationals can apply for Croatian citizenship. You'll be required to know the Croatian language. To acquire citizenship by naturalisation, you have to renounce your first citizenship. This rule does not apply to those applying for citizenship based on marriage, descendants and those deemed by the authorities to be of interest of the country.
Once you have gained your citizenship, you are also a citizen of the European Union which allows for free rights of movement and residence in any of the member states. Soon, Croatian passport holders will be allowed in the United States visa free.
Croatia Digital Nomad Visa
Croatia is in the process of ironing out the steps to provide a Digital Nomad Visa, which will allow foreign nationals who are engaged in jobs independent of location and time to work in Croatia.
No further details have been released about the Digital Nomad visa yet, however as more and more countries are offering a similar scheme, the Croatia government will most likely announce more information soon.
Are you excited for Croatia's Digital Nomad visas to start working remotely in Europe? Comment below.
IaM can help with your visa application to the United States, the UK & other countries
If you need help with a US visa, a UK Visa, or visa to Europe, including help with appointment booking obligations, IaM can help.For more information and advice on US immigration, UK immigration law and US visa applications Or if you need any help or assistance please, reach out to your Visa Coordinator at IaM.