Travel Warning For Americans Over French Vaccine Pass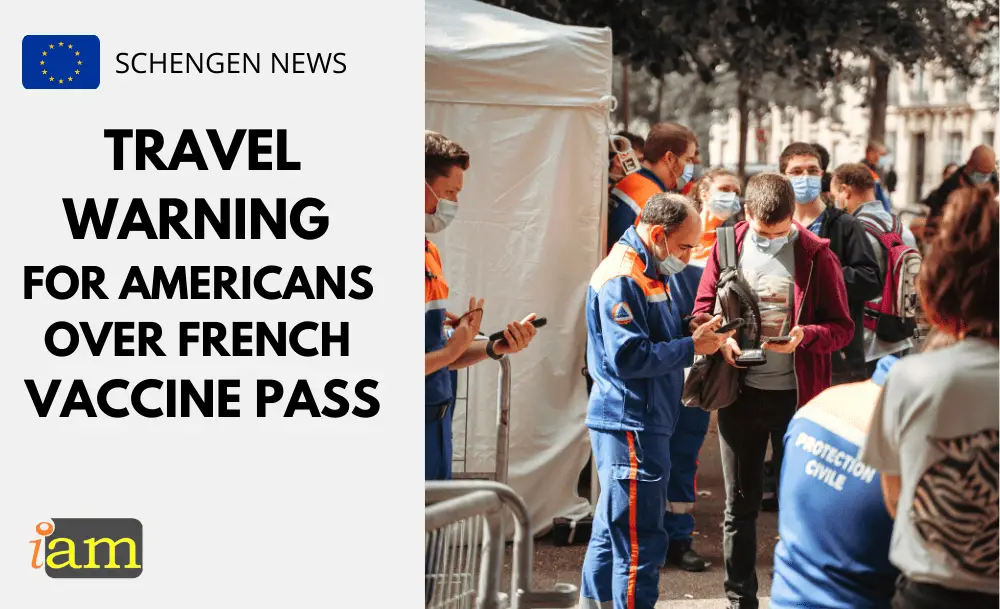 France has implemented a "vaccine pass" on 24 January 2022. It replaces the country's "health pass" and means those testing negative for the disease are no longer able to enter such venues.
The vaccine pass will allow those recently recovered from the disease or fully vaccinated to access bars, restaurants, inter-regional transport and other public spaces.
According to French officials "As of the 24th of January 2022, the vaccine pass comes into effect for those 16 years and older and replaces the health pass in places where it was applied."
The US Embassy in Paris has issued a warning to American tourists over the French vaccine pass, which has created travel headaches for visitors from the United States.
The US Embassy in Paris stated that it "strongly recommends" that Americans do not travel to France until they have received a booster shot.
US Vaccine Card
French authorities accept the CDC card as evidence of vaccination for entry into France, but it is not accepted as a French health or vaccine pass required for domestic travel within France or to enter cultural sites, museums, theatres, restaurants, bars, and some other facilities. 
This means that at the border, American travellers can use a US CDC card as proof of vaccination. However, once you're in France, you will need to get a "vaccine pass" to visit tourist sites or dine at restaurants.
How To Get A Vaccine Pass
Many countries issue vaccination certificates that are compatible with the French vaccine pass, but unfortunately, the US is not one of them.
That means if you were vaccinated in the US, once you are here in France you will need to visit a pharmacy in order to swap your vaccination certificate for a QR code that the French pass will read.
From 15 February, travellers will be required to get a booster dose if four months have passed since the final dose to get a vaccine pass.
The four-month limit is likely to pose a problem for visitors from many countries where boosters are not routinely offered after such a short gap, which includes most US states.
Alternative To Booster Jab
Alternatives to the booster to get the vaccine pass are limited. Under the old heath pass system, people had the option of presenting a negative Covid test instead, but this is no longer accepted as France moves to push more people into getting vaccinated.
There is an option for a Certificate of medical exemption but the process is complicated as to be virtually inaccessible to those who don't live in France.
The final option is proof of a recent recovery from Covid.
The French vaccine pass also accepts a positive Covid test certificate that is more than 11 days old but less than six months old. Those who are vaccinated but caught Covid before they could get the booster are also able to show a recent positive test instead of a booster shot certificate.
However, there is a problem with this option for those who tested positive in the US due to the lack of a QR code on the majority of American test certificates.
If you caught Covid while in France or another EU country, your positive test result certificate will have a QR code on it that can be scanned for the vaccine pass.
A number of non-EU countries also provide tests recognised by the bloc.
The non-EU countries are Albania, Andorra, Armenia, Cape Verde, El Salvador, the Faroe Islands, Georgia, Israel, Iceland, Lebanon, Lichtenstein, Moldova, Monaco, Montenegro, Morocco, New Zealand, North Macedonia, Norway, Panama, San Marino, Serbia, Singapore, Switzerland, Taiwan, Tunisia, Togo, Turkey, Ukraine, the UAE, the United Kingdom, Uruguay, and Vatican City. 
Unfortunately, the US is not on this list, and the lack of a QR code on certificates is a barrier to any agreement being put in place on mutual recognition of certificates.
As a result, American tourists in France might find themselves unable to obtain the necessary documentation to access museums, restaurants, trains, and other spaces. 
What are your thoughts on this issue? Talk to us in the comment section below. Or if you need more advice on the above, contact us for further travel & immigration advice.
Check out the deals we have found below and tell us your travel plans.
Check out the offers and discounts from:
And because of the pandemic, don't forget to get your travel insurance, which will cover you for flight disruptions and pandemic related matters.
IaM can help with your visa application to Europe, the United States, the UK & other countries
If you need help with a US visa, a UK Visa, or a visa to Europe, including help with appointment booking obligations, IaM can help. For more information and advice on US immigration, UK immigration law and US visa applications or if you need any help or assistance please, reach out to your Visa Coordinator at IaM.
Some of our posts include affiliate links. If you choose to purchase any of these products, we might get a small commission. For more information, check out our TOS.