Malta Risks Losing Visa-Free Travel to the US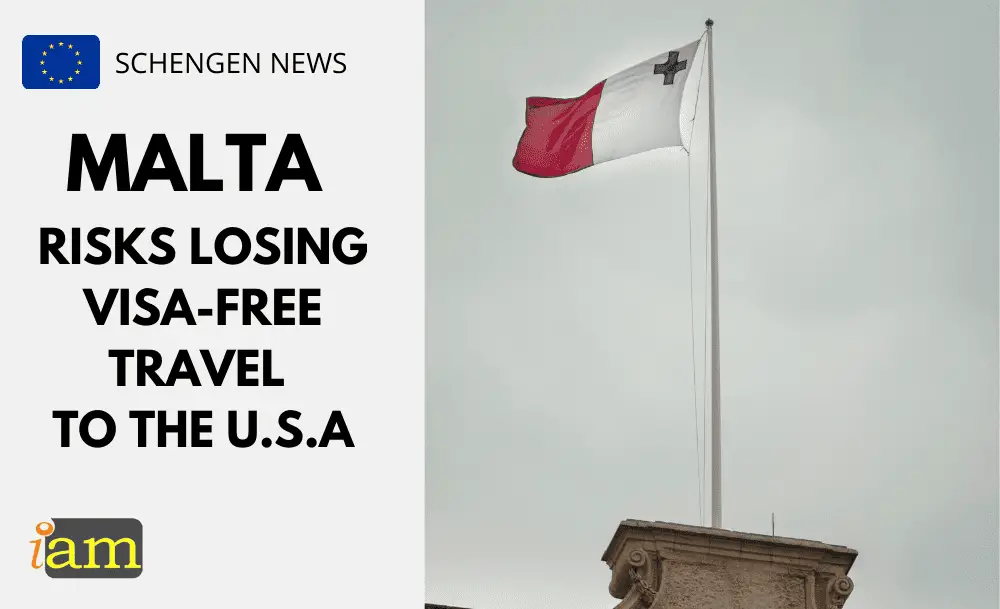 Travelling to the United States (US) could get a lot more difficult for citizens of Malta.
American lawmakers proposed a bill wanting to ban Malta from the US Visa Waiver Programme, citing the risks that the Maltese citizenship by investment scheme poses for the US.
Currently, Malta is one of 40 countries in Europe that benefits from a program that allows people to travel to the US without having to obtain a visa, as long as they plan to stay in the country for 90 days or less.
Representatives of the US Congress, Burgess Owens (UT-04) and Steve Cohen (TN-09) on 3 March introduced the 'No Travel for Traffickers Act' in Congress. If the bill passes, it could essentially revoke a country's eligibility for the US Visa Waiver Programme if they participate in citizenship for investment practice of selling passports in exchange for economic investment.
Citizenship by investment is commonly known as "golden passports" are often criticised for their lack of transparency, enabling criminals to gain citizenship of one particular country and enjoy its benefits.
According to a press release issued on March 3 by a United States Congressman, Russians are amongst the most common beneficiaries of these schemes, SchengenVisaInfo.com reports.
Commenting on these schemes, Rep. Owens noted that the kingpins of human trafficking and other international criminal enterprises rely heavily on their passports' purchasing power to travel freely around the world, to open bank accounts, or even to avoid liability.
No Travel for Traffickers Act
The No Travel for Traffickers Act will include banning countries that sell passports from participating in the US visa waiver program and will also mandate that the Executive Branch publicly list all countries with investment citizenship or "Golden Passport" programs.
In addition, this program will lead the Executive Branch to work with the United Kingdom and the European Union to eliminate visa-free travel to the Schengen area for countries selling passports and to ban the use of US taxpayer funds to verify "golden passport" applicants so that taxpayer dollars are not used to enable these corrupt programs.
According to Rep.Cohen, many countries sell citizenship to traffickers through fake 'investments' such as real estate, which should be stopped. At the same time, this passport purchase gives them the right to travel the world and escape responsibility for their crimes.
In this regard, European Union Parliament Members have called on member states to end such schemes by operating programs that give foreigners citizenship to invest in their territory.
EU's Golden Passport Scheme
Known as the Individual Investor Programme (IIP), Malta's golden passport scheme was launched in 2013 and has been a topic of controversy ever since, with a number of investigations showing how the people who eventually bought Maltese citizenship had little to no links with the island.
Currently, Bulgaria, Cyprus, and Malta are the only EU member states currently running schemes to issue passports to investors. While Bulgaria and Cyprus have already decided to end these schemes, Malta, on the other hand, has not yet given any indication of this.
US Visa Waiver Program (VWP)
The US Visa Waiver Program is a scheme managed by the US Department of Homeland Security in cooperation with the State Department that permits travellers from 40 countries to enter the US for purposes like tourism or business and stay in the country for a maximal period of 90 days without being obliged to obtain a visa before the trip.
To become part of the VWP, a country must meet several requirements, mainly related to counterterrorism, law, immigration, document security, and border management, as well as a rate of nonimmigrant visa refusals below 3%.
In order to travel without a visa on the VWP, Croatians must obtain authorisation through the Electronic System for Travel Authorization (ESTA) prior to departure. In most cases, ESTA will be valid for two years. 
What are your thoughts on the application and documents required for a Schengen visa? Talk to us in the comments section below.
Check out the deals we have found below and tell us your travel plans.
Check out the offers and discounts from:
And because of the pandemic, don't forget to get your travel insurance, which will cover you for flight disruptions and pandemic related matters.
IaM can help with your visa application to Europe, the United States, the UK & other countries
If you need help with a US visa, a UK Visa, or a visa to Europe, including help with appointment booking obligations, IaM can help. For more information and advice on US immigration, UK immigration law and US visa applications or if you need any help or assistance please, reach out to your Visa Coordinator at IaM.
Some of our posts include affiliate links. If you choose to purchase any of these products, we might get a small commission. For more information, check out our TOS.