Post Study Work Options: How to Get a Work Visa in Dubai After Studies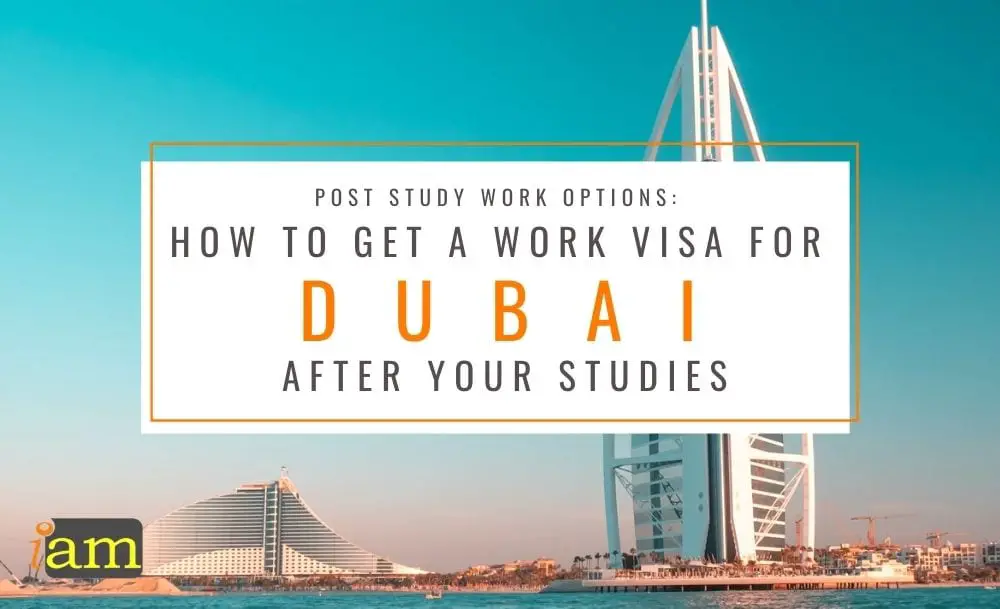 Dubai is the second wealthiest emirate in the United Arab Emirates (UAE) after Abu Dhabi, which is the capital state, and it is known to be the most populous city in UAE. The city is highly developed, has unique architecture, multicultural environment, overseas property demand and top tourist attractions. Dubai is also referred to as the 'City of Gold', as the city houses nearly 250 gold shops.
Dubai is home to a number of architectural wonders, such as the Burj Al Arab and Burj Khalifa and major tourist and leisure attractions. In the coming years, you can expect more impressive attractions to be added to its long awe-inspiring list.
Most people believe Dubai's revenue comes primarily from oil but only a moderate amount of oil reserves were used to generate the required infrastructure for trade, manufacturing and tourism, in order to build up Dubai's economy. So far oil has accounted for less than 1% of Dubai's GDP and tourism produces 20% of the GDP. These figures explain why Dubai has become a more dynamic and diversified economy in order to survive the decline of fossil fuels.
Dubai has also established itself as an international tech hub that service industries such as finance and IT. Dubai Internet City, along with Dubai Media City forms the TECOM (Dubai Technology, Electronic Commerce and Media Free Zone Authority), which is an enclave that houses well-known IT firms such as EMC Corporation, Microsoft, Hewlett-Packard, Dell and media organisations such as BBC, MBC, CNN, Reuters and Sky News.
In recent times tourism has emerged as an important driver of its GDP. Dubai welcomed 15.93 million visitors in 2018. Dubai has a relatively lower cost of living than other comparable global cities in the USA, UK, Australia and Canada, and is one of the safest countries in the world.
Arabic is the main language spoken in Dubai but English is also widely spoken since more tourists and foreign students come into the UAE each year. Islam is the official religion of the UAE and this should be a factor to consider if you wish to move to Dubai.
Until recently, international students in Dubai could not work, but that has changed. International students can take up part-time jobs and internships in Dubai as long as they fulfil the legal criteria and their respective university's requirements. The student visa still doesn't allow full-time jobs for foreign students in Dubai.
If you wish to stay and work in Dubai after completing your studies, you need to know how to go about securing your residence visa. But, if Dubai is not for you or you want to explore your other options, read our other blog posts on post-study options to know how to get a work visa for the UK, USA, Canada, Australia, New Zealand, or countries in Europe, Asia, and Africa!
Work Permit
Foreign nationals are divided into three work categories, based on their academic qualifications/skill sets:
Category 1: If you have at least a bachelor's degree
Category 2: If you have a post-secondary diploma in any field
Category 3: If you have a high school diploma
Once you secure a job, you need to prepare the following documents:
original passport along with a copy of your passport
passport-size picture, in line with UAE requirements
Copies of your academic qualifications. Your qualifications have to be authorized by the UAE Embassy or consulate in your country as well as from the Ministry of Foreign Affairs of your country.
Medical certificate, issued by a government-approved health center in the UAE.
Documents from the company hiring you, such as the commercial license of the company or the company card
Your employer will initiate the work permit application on your behalf. It is the Ministry of Human Resources and Emiratisation (MoHRE) that's in charge of issuing work permits for the UAE. Once the work permit is approved, your employer will arrange your Residence Visa, Labour Card and Emirates ID Card
Golden Visa – Long-term Residence Visa
In 2019, the UAE implemented a new system for long-term residence visas. The new system enables foreign nationals to live, work and study in the UAE without the need of a national sponsor and with 100 per cent ownership of their business on the UAE's mainland. These visas will be issued for 5 or 10 years and will be renewed automatically.
Qualified individuals are:
investors
entrepreneurs
specialized talents and researchers in various fields of science and knowledge
bright students with promising scientific capabilities
Investor Visa
Investors in public investments of at least AED 10 million and eligible for a 5-10 year visa.
The investment may take many forms such as:
A deposit of at least AED 10 million in an investment fund inside the country
Establishing a company in the UAE with a capital of not less than AED 10 million
Partnering in an existing or a new company with a share value of not less than AED10 million
Having a total investment of not less than AED 10 million in all areas mentioned, on condition that the investment in sectors other than real estate is not less than 60 per cent of the total investment.
For 10 year visa, you must meet the following conditions:
The amount invested must not be loaned.
The investment should be retained for at least three years.
There should be a financial solvency up to AED 10 million.
Visa can be extended to include business partners, on the condition that each partner contributes AED 10 million. The long-term visa can include the spouse and children, as well as one executive director and one advisor.
For 5 year visa, you must meet the following conditions:
The investor must invest in a property of a gross value of not less than AED 5 million.
The amount invested in real estate must not be on a loan basis.
The property must be retained for at least 3 years.
Business/Entrepreneur Visa
Professionals from any country with entrepreneurial experience are eligible to apply for the business visa. An eligible entrepreneur is anyone who has set up a business of his own at some point in his career, and wishes to do so again in the UAE.
To be eligible for the visa, you must:
be able to substantiate your experience as an entrepreneur
have been a majority shareholder of a start-up or a member of its senior leadership
be willing to relocate to the UAE and legally establish a business in one of the seven emirates
have a business idea or a business plan that you wish to bring to life in the UAE.
In addition, you must successfully pass the requirements of the Federal Authority for Identity and Citizenship, including a background check and health assessment.
In order to apply for a business visa, you will need to have your nomination approved by an incubator supported by the UAE government (currently, AREA2071 in Dubai). Once your nomination has been approved, you will be invited to apply for the visa through the Federal Authority for Identity and Citizenship.
If your nomination is successful, you will receive a link to upload the required documents and complete your application for the visa. If your nomination is not approved, you can apply again after 90 days.
Once approved you will be issued a 5-year visa and you will be allowed to sponsor dependents subject to the conditions and requirements as set out by the Federal Authority for Identity and Citizenship.
Persons with specialised talents
This includes specialised talents and researchers in the fields of science and knowledge such as doctors, specialists, scientists, inventors, as well as creative individuals in the field of culture and art. The visa advantage extends to the spouse and children. All categories are required to have a valid employment contract in a specialised field of priority in the UAE. This visa is valid for 10 years.
To qualify you must meet the following conditions:
Scientists must be accredited by Emirates Scientists Council or holders of the Mohammed Bin Rashid Medal for Scientific Excellence.
Creative individuals in culture and art must be accredited by the Ministry of Culture and Youth.
Inventors must obtain a patent of value, which adds to the UAE's economy. Patents must be approved by the Ministry of Economy.
Exceptional talents must be documented by patents or scientific research published in a world-class journal.
Executives must be owners of a leading and internationally recognized company or holders of high academic achievement and position.
Doctors and specialists must meet at least two of the following conditions:

a Ph. D. degree from one of the top 500 universities in the world 
an award or certificates of appreciation in the field of the applicant's work
contribution to major scientific research in the respective field of work
published articles or scientific books in distinguished publications in the respective field of work
membership in an organisation related to the field
a Ph. D. degree, in addition to 10-year professional experience in his field
specialisation in areas of priority to the UAE.
Outstanding Students
To qualify for the visa, you must meet the following conditions:
outstanding students with a minimum grade of 95 per cent in public and private secondary schools
university students within and outside the country having a distinction GPA of at least 3.75 upon graduation.
Qualified individuals will be issued a 5 year visa.
Naturalised Citizenship
If you have continuously and legally resided in Dubai for 30 years then you will be eligible to apply for naturalised citizenship. You must able to speak Arabic, be legally employed in the Emirates, and be of good character.
The UAE recently allowed dual citizenship, so you will not have to give up your current citizenship if you want to become a citizen of the UAE.
What are your thoughts on the Post Study Options in Dubai? Is there anything we missed or anything you need clarification on? Comment below.
IaM can help with your visa application to the United States, the UK & other countries
If you need help with a US visa, a UK Visa, or visa to Europe, including help with appointment booking obligations, IaM can help. For more information and advice on US immigration, UK immigration law and US visa applications or if you need any help or assistance please, reach out to your Visa Coordinator at IaM.