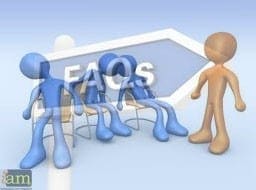 UK Tier 2 FAQ: The Tier 2 list of the Frequently Asked Questions (FAQ).
1. Can I work in the time remaining on my Tier 4 student visa after my course ends?
Most students can stay in the UK for around four months after their course finishes. During this period, you can work full-time in a temporary job until your student visa expires.
You can also consider making the switch into Tier 2 General visa at any time between your course ending and your visa finishing.

2. What is Tier 2 General?
Tier 2 (General) is part of the UKBA Points Based System and is a visa for those that have a graduate level job offer from a UK company. This type of visa can lead to obtaining settlement in the UK.

3. Can I switch from a Tier 4 (Student visa)
Yes, provided you have successfully completed a course in the UK that was at least equivalent to a Bachelor's degree, you can apply to switch before your student visa expires.

4. Do I need to have a minimum salary?
Yes, your employer must pay you a salary that is appropriate for the job you are doing (a minimum of £20,000). However, it may be higher depending on the job.

5. Can the job offer be with any company?
The company must be registered with the UKBA (the company will be known as a 'sponsor') or willing to become registered.
6. Are the number of Tier 2 visas issued limited?
Yes, but if you switch from Tier 4 (student visa) you will not be subject to the limit. If you are applying from outside the UK you will probably be subject to the limit which is currently set at 20,700 for 2012/13.
7. This information is correct as of July 2012. How many points do I need for a Tier 2 visa?
You need 70 points:
– 50 points for a job offer at the correct skill level that pays the correct salary;
– 10 points to score for English language requirements 10 points to score for maintenance.
Please, check if you have enough points.
8. What are the maintenance requirements?
You need to show that you have had £900 available to you for 90 days – or your Tier 2 sponsor (employer) may be able to make a guarantee on your behalf.
9. What are the English language requirements?
If you are switching from Tier 4 you will most likely be awarded points automatically as long as your degree was at least equivalent to a Bachelor's.
10. Can my dependants be included on my visa?
Yes. You would need to show that you have had an additional £600 per dependant available to you for 90 days. This is to show that you will not claim public funds to maintain yourself or your dependants.
11. Can I change my employer?
Yes, provided you get a job offer from another employer who is registered with UKBA as a company sponsor and you meet the point's requirements. You will need to make a new application if you go to work for another employer.
12. Where can I find out more information and the application forms I need?
For more information of Tier 2 check out here
Free Assessment available