United States Visas: Couples Re-Unite, US K Visas to Resume Urgently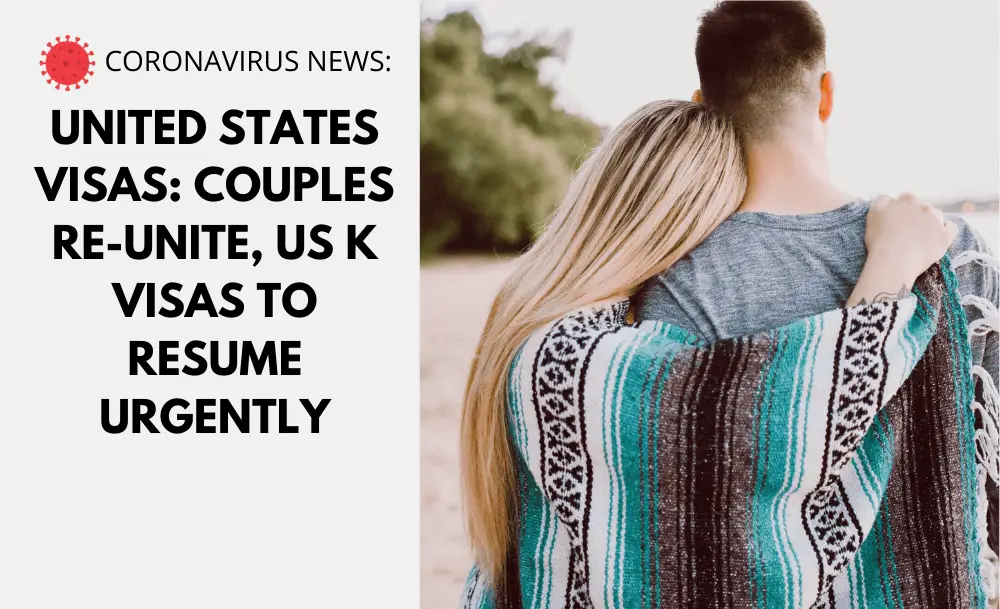 US Resumes Processing K Visas, as a Priority
The United States government has announced that the processing of K visa applications will be resumed with high priority, according to the United States Department of State announcement.
K visas are US visas created for international citizens who are married or plan to marry a citizen of the United States. For those not married, It is referred to as the fiancé(e) K-1 nonimmigrant visa.
The K-1 visa allows the foreign-citizen fiancé(e)s to travel to the United States and marry his or her U.S. national, or Lawful Permanent Resident (LPRs), within 90 days of arrival.
The foreign-citizen can then apply for adjustment of status to a permanent resident (LPR) with the Department of Homeland Security (DHS), U.S. Citizenship and Immigration Services (USCIS).
Because a fiancé(e) visa permits the holder to immigrate to the U.S.U.S.U.S. and marry a U.S. citizen shortly after arrival in the United States, the fiancé(e) must meet some of the requirements of an immigrant visa.
Eligible children of K-1 visa applicants receive K-2 visas.
The United States travel ban
Since then, the US has started re-opening embassies and consulates and resuming visa processing operations, with limited visa types being permitted.
The new announcement of the Department of State also clarifies the process of the applications which have been subject to the temporary suspension of visa's processing.
The I-129F Petition for Alien Fiancé (e) is typically valid for four months; however, consular officers may revalidate the I-129F petition in four-month increments.
For most cases impacted by the suspension of routine visa services or COVID-19 travel restrictions it will not be necessary to file a new I-129F petition
Related posts:
The United States K visa category
The United States K visas are categorised into four main types: K1 visas, K-2 visas, K-3 and K-4 visas.
The K-1 visa is for overseas national fiancés to enable them to temporarily enter the US for the purpose to marry their petitioning, US citizen fiancé.
K-2 visas permit overseas national fiancés to bring your children with you into the United States.
But, the applicant must be aware that both K-1 and K-2 visas have specific requirements and guidelines, which must be seen.
K-3 visas are awarded to spouses of US citizens from a foreign country, whereas K-4 visas are for spouses of US citizens to bring your children.
K-3 & K-4 visas are for entering the U.S. to apply for lawful permanent resident status.
Love is Essential and Love is Not Tourism