Maximising Travel Budget: How the €49 Ticket Can Help Tourists See More of Germany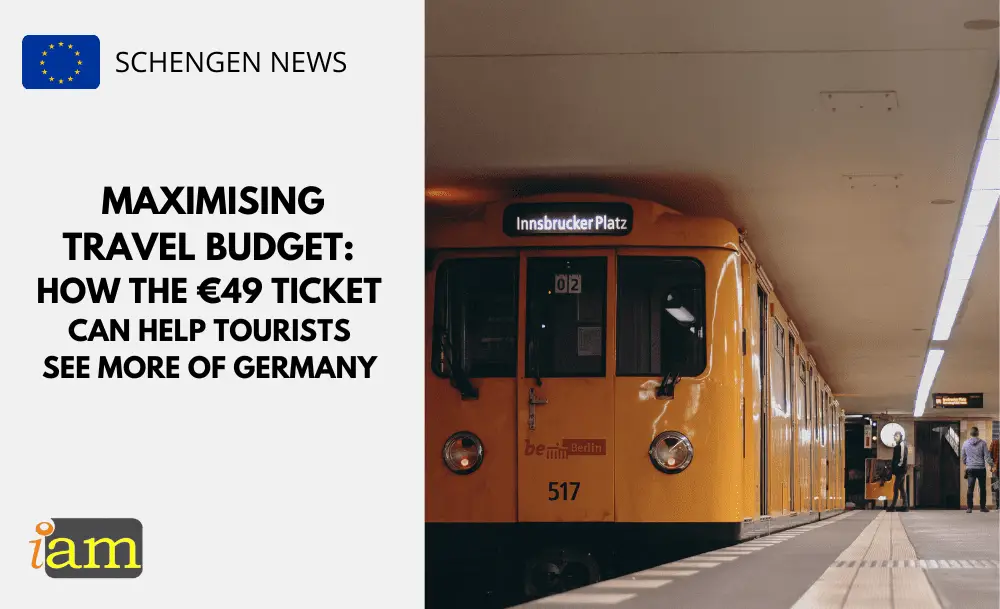 On 3 April, Germany's monthly €49 nationwide public transport ticket went on sale.
Passengers can now pre-purchase the 'Deutschland-Ticket' or 'D-Ticket' on Deutsche Bahn's website and app, and from transport companies across Germany. It is available as a digital subscription that can be cancelled monthly.
The initiative is being introduced to help ease the cost of living while making public transport simpler, more affordable, and thus more attractive for commuters.
However, long-distance travel on buses, as well as on trains is not covered by the ticket.
It was originally slated to be available in January but will now come into force in May.
How Tourists Benefit From It
Tourists who plan on visiting Germany after 1 May and want to reach different parts of the country by using public transport can purchase the ticket upon their arrival, use it during their period of stay in Germany, and then cancel their subscription when they leave the country.
The ticket can be used for all buses and trains operating in short and medium distances and allows unlimited travel on trains, buses, and trams throughout Germany
Tourists can take advantage of the ticket to discover the hidden gems of Germany.
Perhaps the most obvious benefit of the €49 monthly ticket is that it can save tourists a lot of money. Traveling by train, bus, or tram in Germany can be expensive, especially if you're constantly buying individual tickets. With the €49 monthly ticket, you can travel as much as you want for one flat rate. Plus, you won't have to worry about the hassle of buying tickets every time you want to travel.
It also allows tourists to be flexible with their travel plans. If you wake up one morning and decide to visit a nearby town, you can do so without worrying about the cost of transportation.
When To Purchase the Ticket
Individuals can pre-order their €49 Deutschlandticket ticket now, but it will only be valid for use from the beginning of May.
A crucial factor for the validity of an individual's subscription is the purchase date. To ensure that your subscription remains active for the upcoming month, it is important to have purchased it before the 20th of the current month. For instance, if you wish to utilise your €49 ticket at the start of May, it is crucial to purchase it before the 20th of April. Conversely, if purchased after the 20th of April, the ticket will only be valid for the following month.
Those who purchase the ticket will be required to prove their identity in the event of checks and the ticket is available for individuals above six years old as those under six can use public transport for free. You will be asked to provide a German address and fill in a European international bank account (IBAN) number.
The German authorities have explained that the €49 ticket cannot be passed from one person to another.
If you're only in Germany for a few days, this deal might not be worth it. But if you're planning on exploring several cities or taking day trips, the ticket can definitely save you some cash.
What are your thoughts on this issue? Talk to us in the comment section below. Or if you need more advice on the above, contact us for further travel & immigration advice.
Check out the deals we have found below and tell us your travel plans.
Check out the offers and discounts from:
And because of the pandemic, don't forget to get your travel insurance, which will cover you for flight disruptions and pandemic related matters.
IaM can help with your visa application to Europe, the United States, the UK & other countries
If you need help with a US visa, a UK Visa, or a visa to Europe, including help with appointment booking obligations, IaM can help. For more information and advice on US immigration, UK immigration law and US visa applications or if you need any help or assistance please, reach out to your Visa Coordinator at IaM.
Some of our posts include affiliate links. If you choose to purchase any of these products, we might get a small commission. For more information, check out our TOS.