Spain Extends Ban On Unvaccinated British Tourists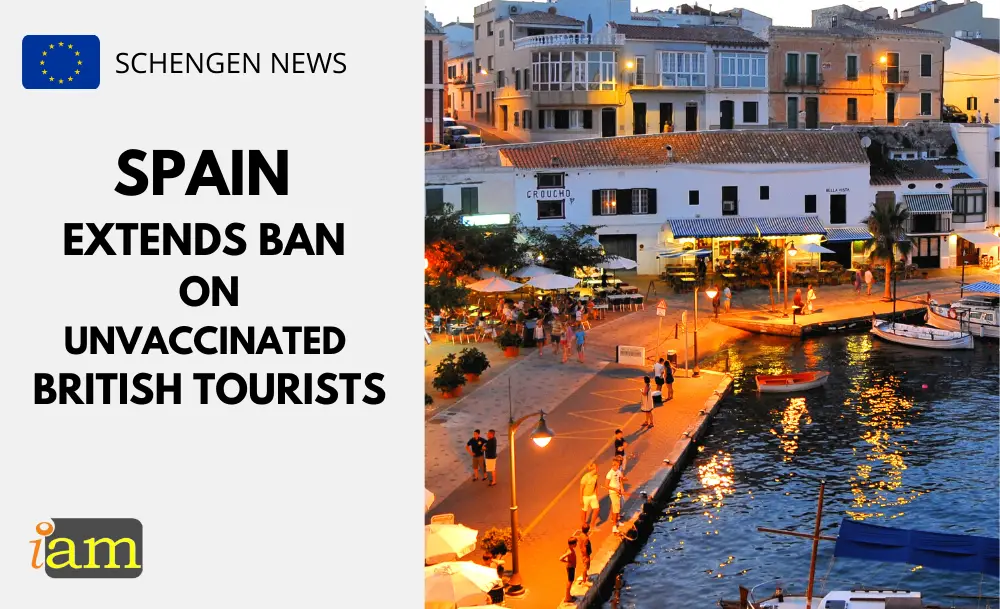 The Spanish government has again extended temporary restrictions for non-essential travel from most third countries, but this time only for two weeks.
Non-EU travellers who reside outside of the EU and haven't been fully vaccinated against Covid-19 or recently recovered from the illness cannot go on holiday to Spain until at least 15 May 2022.
This means that Spain continues to not accept negative Covid-19 tests from British, American, Canadian, South African or other third-country nationals who are neither vaccinated nor recently recovered. 
Earlier extensions of the July 2020 regulation were usually for another month, but on 30 April 2022, Spanish health authorities announced they would only extend the restrictions on non-essential travel from outside of the bloc for just 15 days.
This suggests that it may be only a matter of weeks before Spain fully reopens to all non-EU/Schengen tourists even if they aren't vaccinated or recently recovered from Covid-19. 
Spain's Current Entry Rules
Those who were fully vaccinated against Covid-19 more than two weeks before travelling to Spain will need to show a valid vaccination certificate with an EMA or WHO-approved vaccine.
In order to be considered fully vaccinated in Spain, an individual must have received their second jab at least 14 days prior to their trip.
Spain has set an expiration date of 270 days on vaccine passports. This means booster jabs will be required if your second jab was more than nine months ago.
But there is no requirement for 14 days to have passed since getting any further booster jabs and entering Spain and there is currently no expiration date for booster jabs.
Non-EU travellers who have recovered from Covid-19 in the past six months, they will need to show proof a recovery certificate to enter Spain.
According to Spain's Health Ministry, recovery certificates accepted as valid are "issued at least 11 days after the first positive NAAT or RAT, and up to a maximum of 180 days after the date of sampling" and issued by the relevant authorities.
How The Unvaccinated Can Enter Spain
Spain continues to have a small list of low-risk third countries whose travellers visiting Spain for non-essential reasons can enter without having to present proof of Covid-19 testing, recovery or vaccination.
If you're not vaccinated, recently recovered or from low-risk countries, the exceptions to travel to Spain from third countries are:
You are a resident in the EU or Schengen country.
You have a visa for an extended stay in an EU or Schengen country.
You work in transport, such as airline staff or are in a maritime profession.
You work in diplomatic, consular, international organisations, military or civil protection or are a member of a humanitarian organisation.
You have a student visa for a country in the EU or Schengen zone.
You are a highly qualified worker or athlete whose work cannot be postponed or carried out remotely.
You are travelling for duly accredited imperative family reasons.
You are allowed entry due to force majeure or on humanitarian grounds.
And as mentioned earlier in the article, if you have a vaccination certificate that Spain's Ministry of Health recognises and any accompanying minors (unless they're under 12 years of age).
When do you plan to visit Spain? Talk to us in the comment section below.
Check out the deals we have found below and tell us your travel plans.
Check out the offers and discounts from:
And because of the pandemic, don't forget to get your travel insurance, which will cover you for flight disruptions and pandemic related matters.
IaM can help with your visa application to Europe, the United States, the UK & other countries
If you need help with a US visa, a UK Visa, or a visa to Europe, including help with appointment booking obligations, IaM can help. For more information and advice on US immigration, UK immigration law and US visa applications or if you need any help or assistance please, reach out to your Visa Coordinator at IaM.
Some of our posts include affiliate links. If you choose to purchase any of these products, we might get a small commission. For more information, check out our TOS.