USA Updates Travel Advisory
The US Department of State and the Centers for Disease Control and Prevention (CDC) continue to strongly advise Americans to refrain from travelling to almost half of Europe due to COVID-19, weeks ahead of the entry ban removal for vaccinated travellers.
Popular destinations in Europe such as the UK, Ireland, Greece and Croatia remain at Level 4. The US has not raised the alert "Level 4: Do Not Travel" for any new European countries.
However, Singapore has been moved to Level 4 alert, just after Singapore gave the green light to Americans to travel to the country. Singapore is the only nation to be added to the Level 4 list in the latest round of travel advisory updates.
Fully vaccinated travellers from the US are allowed into Singapore under the country's newly extended Vaccinated Travel Lane (VTL) program. Arrivals in Singapore need to show proof of vaccination and they need to test negative on two PCR tests, once 48 hours before departure and again upon arrival. 
Level 4 Travel Advisory
Level 4 is the highest alert level. Countries that register more than 500 new cases of COVID-19 over the past 28 days per 100,000 population are designated to the CDC's Level 4 list. Under CDC guidelines, people are asked to "avoid travel" to Level 4 destinations but if they must travel, they should be fully vaccinated.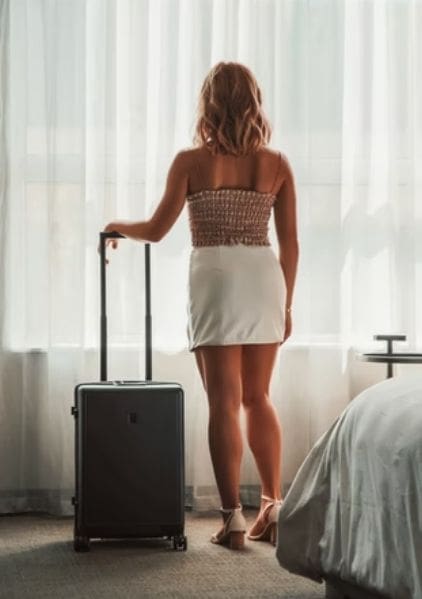 As many as 12 EU and Schengen Area countries remain part of the Level 4 list.
Austria (since October 4)
Bulgaria (since September 27)
Croatia (since October 4)
Estonia (since August 30)
Greece (since August 2)
Ireland (since August 2)
Latvia (since October 4)
Lithuania (since September 13)
Norway (since September 27)
Romania (since October 12)
Slovenia (since September 13)
Switzerland (since August 30)
Travel advisories are guidelines, not rules. You are still permitted to travel to these places, but if you choose to go to a country the government is advising you to avoid, you do so at your own risk.
To keep updated with the US COVID-19 travel recommendations, check the CDC website.
The US Reopening for International Travel
In spite of the advice against travel, the US is set to reopen its borders for vaccinated travellers from the Schengen Area, the UK and Ireland on 8 November. 
Those vaccinated with any of the vaccines approved by the US Food and Drug Administration (FDA), as well as those approved by the World Health Organization (WHO), will be permitted to enter. Those with mixed vaccines will also be considered fully vaccinated, which is widely practised throughout Europe.
What are your thoughts on this issue? Talk to us in the comment section below.
Check out the deals we have found below and tell us your travel plans.
Check out the offers and discounts from:
And because of the pandemic, don't forget to get your travel insurance, which will cover you for flight disruptions and pandemic related matters.
IaM can help with your visa application to the United States, the UK & other countries
If you need help with a US visa, a UK Visa, or visa to Europe, including help with appointment booking obligations, IaM can help. For more information and advice on US immigration, UK immigration law and US visa applications or if you need any help or assistance please, reach out to your Visa Coordinator at IaM.
Some of our posts include affiliate links. If you choose to purchase any of these products, we might get a small commission. For more information, check out our TOS.