Brazil Postponed Visa Requirement for Citizens of Australia, Canada, and the United States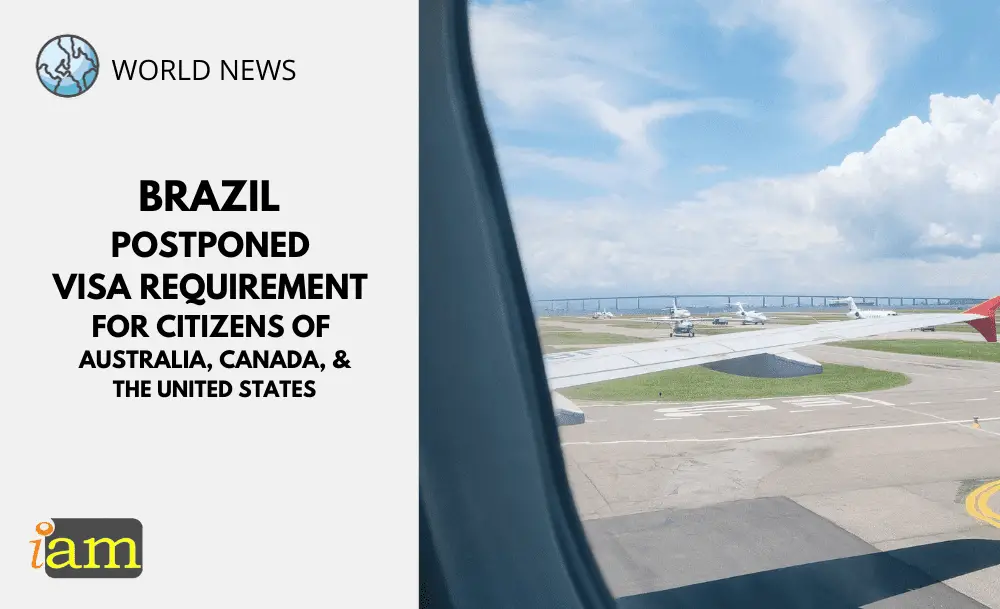 Authorities in Brazil have postponed reinstating the visa requirement for nationals of Australia, Canada, and the United States until 2024.
If you're planning a trip to Brazil in the new year, there's one more thing you should do. 
Starting 10 January 2023,  travellers from Australia, Canada, and the United States will need to acquire an e-visa in order to enter Brazil for business as well as pleasure.
Until then, citizens of these countries will be able to visit Brazil without these short-term visitor visas. Officials expect to open the online platform to obtain these e-visas at least 30 days before the enforcement date. Further details about the cost and length of stay have yet to be announced.
Brazil had previously announced it would reinstate visitor visa requirements for citizens of Australia, Canada, and the United States on 01 October 2024.
Visa Agreements With Brazil
Australia, Canada, and the United States all have reinstated visitor visa requirements for Brazilian nationals and as a general rule, Brazil does not grant visitor visa exemptions without reciprocity. 
Brazil had previously included Japan in these measures but removed the country after renegotiating their mutual visa exemption policy. 
The bilateral agreement allows Japanese citizens to travel to Brazil without a visa and stay for up to 90 days. It's provisionally until September 29, 2026, however, it could become indefinite.
Under this new policy, Brazilian passport holders can also travel to Japan without a visa.
The Brazilian government pushed back the visa launch date for the three countries in hopes it can strike similar visa waiver arrangements with their governments as well.
Do you have plans to visit Brazil? Talk to us in the comment section below. Or if you need more advice on the above, contact us for further travel & immigration advice.
Check out the deals we have found below and tell us your travel plans.
Check out the offers and discounts from:
And because of the pandemic, don't forget to get your travel insurance, which will cover you for flight disruptions and pandemic related matters.
IaM can help with your visa application to Europe, the United States, the UK & other countries
If you need help with a US visa, a UK Visa, or a visa to Europe, including help with appointment booking obligations, IaM can help. For more information and advice on US immigration, UK immigration law and US visa applications or if you need any help or assistance please, reach out to your Visa Coordinator at IaM.
Some of our posts include affiliate links. If you choose to purchase any of these products, we might get a small commission. For more information, check out our TOS.