India Suspends Visa Issuance To Canadians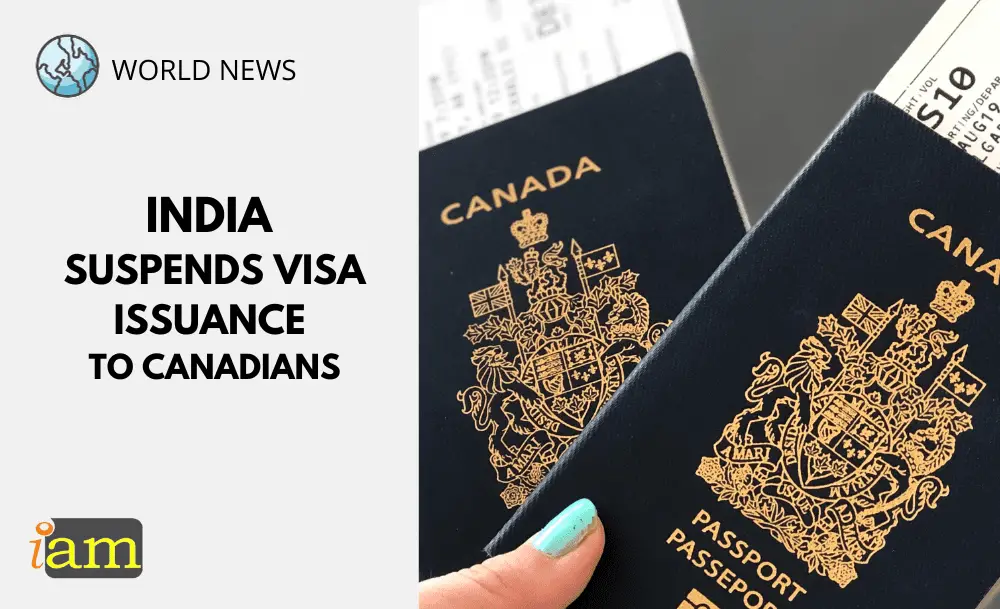 The Indian government suspended visa processing for Canadian nationals as tensions rose between the two countries. 
This suspension applies to all categories of Indian visas and will remain in effect until further notice. Moreover, Canadian citizens are currently barred from applying for Indian visas in any third country such as the US.
The announcement was made by Arindam Bagchi, the spokesperson for India's Ministry of External Affairs, on September 21, 2023. Citing concerns for the safety and security of individuals, Bagchi emphasised that the situation will be subject to periodic reviews.
The move comes in response to charges made by Canada that the Indian government was involved in the death of Hardeep Singh Nijjar, a Sikh activist and naturalised Canadian citizen. 
According to tourist data, Canada is one of the top five source countries for international visitors to India.
Impact on Canadian Travellers
For Canadian citizens with imminent plans to visit India and those currently in the process of applying for an Indian visa, the suspension will have a significant impact until visa services are reinstated.
Those who hold a valid visa can travel as there is no travel restriction. 
If a Canadian national in India needs a visa extension, they will be rejected. Visa holders are permitted to travel back and forth as long as their visa remains valid.
Indian Residents in Canada
Canada has a large Indo-Canadian population with deep ties to India. It is a popular choice for Indians looking to study abroad, and Indian residents top the list of immigrants in Canada.
India has also issued a travel advisory to all its citizens living in Canada to exercise 'utmost caution' in light of growing anti-India activities and 'politically-condoned' hate crimes.
The Ministry of External Affairs advisory referred to 'threats' targeting Indian diplomats and sections of the Indian community and an 'anti-India agenda', asking Indian nationals to avoid travelling to regions and potential venues in Canada which have seen such incidents.
In light of the advisory, Canada's Immigration Minister Marc Miller sought to reassure Indian nationals that it is safe to travel to the country.
As of now, there is no indication that Canada will impose similar visa restrictions on Indian citizens planning to travel to Canada.
Do you have plans to travel in the coming days Talk to us in the comment section below. Or if you need more advice on the above, contact us for further travel & immigration advice.
Check out the deals we have found below and tell us your travel plans.
Check out the offers and discounts from:
And because of the pandemic, don't forget to get your travel insurance, which will cover you for flight disruptions and pandemic related matters.
IaM can help with your visa application to Europe, the United States, the UK & other countries
If you need help with a US visa, a UK Visa, or a visa to Europe, including help with appointment booking obligations, IaM can help. For more information and advice on US immigration, UK immigration law and US visa applications or if you need any help or assistance please, reach out to your Visa Coordinator at IaM.
Some of our posts include affiliate links. If you choose to purchase any of these products, we might get a small commission. For more information, check out our TOS.